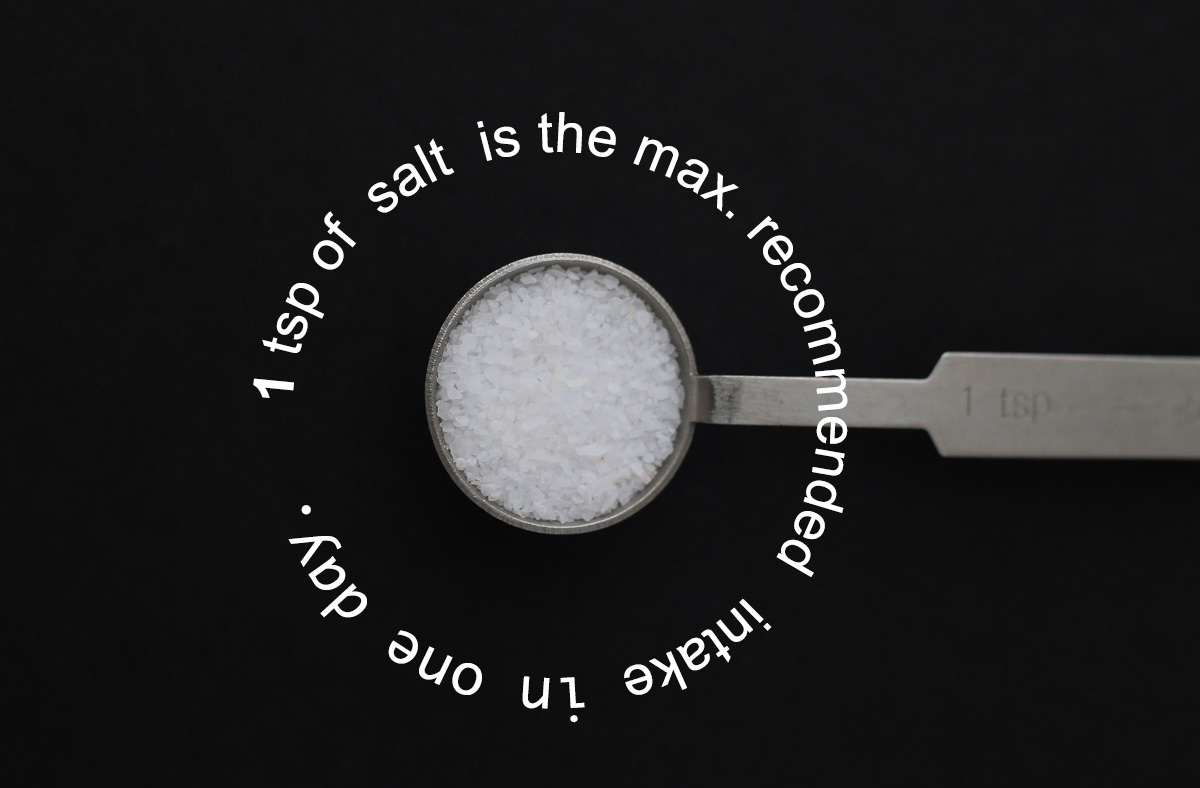 I grew up, like most people in the world, eating food prepared with salt. There was nothing special about this cheap, non-negotiable ingredient that never failed to deliver on its promise every time—make the food taste good. I had come to expect it to be in food, much like something that you notice only when it is missing.
But when I was in middle school, salt was the hot topic in class one day as we discussed Mahatma Gandhi's Dandi March (a.k.a. Salt Satyagraha)—the 25-day march from Sabermati to Dandi to defy British Salt Acts, which prohibited Indians to make their own salt and buy tax-levied British salt. Around the same time, watching the movie "Gandhi" enameled the historic event in my memory and made me realize that salt, owing to its history in India, was not really as cheap as I thought.
Fast-forward three decades. In 2013, an ABC news article titled "1 in 10 U.S. Deaths Blamed on Salt," stirred my memories of Salt Satyagraha. However, this time, it was not the shortage but the excess of salt in our diets that was jeopardizing human lives. The article, citing a Harvard study reported that excessive salt consumption was responsible for 2.3 million cardiovascular deaths worldwide in 2010.
A week ago, a Google search for the phrase "salt killing people" brought in more than 7 million results. Undoubtedly, SALT continues to be a big discussion as far as human lives are concerned and one that is not disappearing anytime soon.
How does salt jeopardize our health and lives?
Table salt is a natural mineral composed of two elements—sodium and chloride. Although there are salts available in the market with elements other than these two, table salt is the type most widely used for cooking at home as well as by restaurants and processed food manufacturers. Sodium is ESSENTIAL for our bodies to function optimally. But we need very little of it, less than 500 milligrams (mg) per day, according to the American Heart Association (AHA) (R&R: 1). This amounts to a quarter of teaspoon per day. But a close examination of our sodium intake would suggest that we don't really need to worry about having too little sodium in our diets.
Ideally, an adult should consume 1,500 milligrams (mg) of salt a day per the AHA recommendations ((note that the AHA cautions that these guidelines do not apply to those who lose large amounts of sodium through sweating or other reasons). Do not let the thousand count in this number throw you off—this amounts to only a little more than half a teaspoon. If this seems really low to you, you can increase it to 2,300 mg of sodium or roughly 1 teaspoon of salt in a day. But remember this is the upper limit for sodium intake for a healthy adult (R &R: 1,2) .
It is notable that the sodium intake guidelines are even lower, about half-a-teaspoon, for high-risk groups, which the health agencies recognize as those aged 51 and over, those who already have high or slightly above-the-normal blood pressure, people with diabetes, and African-Americans .
Although the individual sodium intake would vary from person-to-person, an average American adult consumes 3,400 mg sodium (one-and-a-half teaspoons) per day— 50% more than the recommended limit. While  it may not seem like much, the surplus of half a teaspoon of salt everyday adds up to 3.6 cups of extra sodium in our bodies in one year.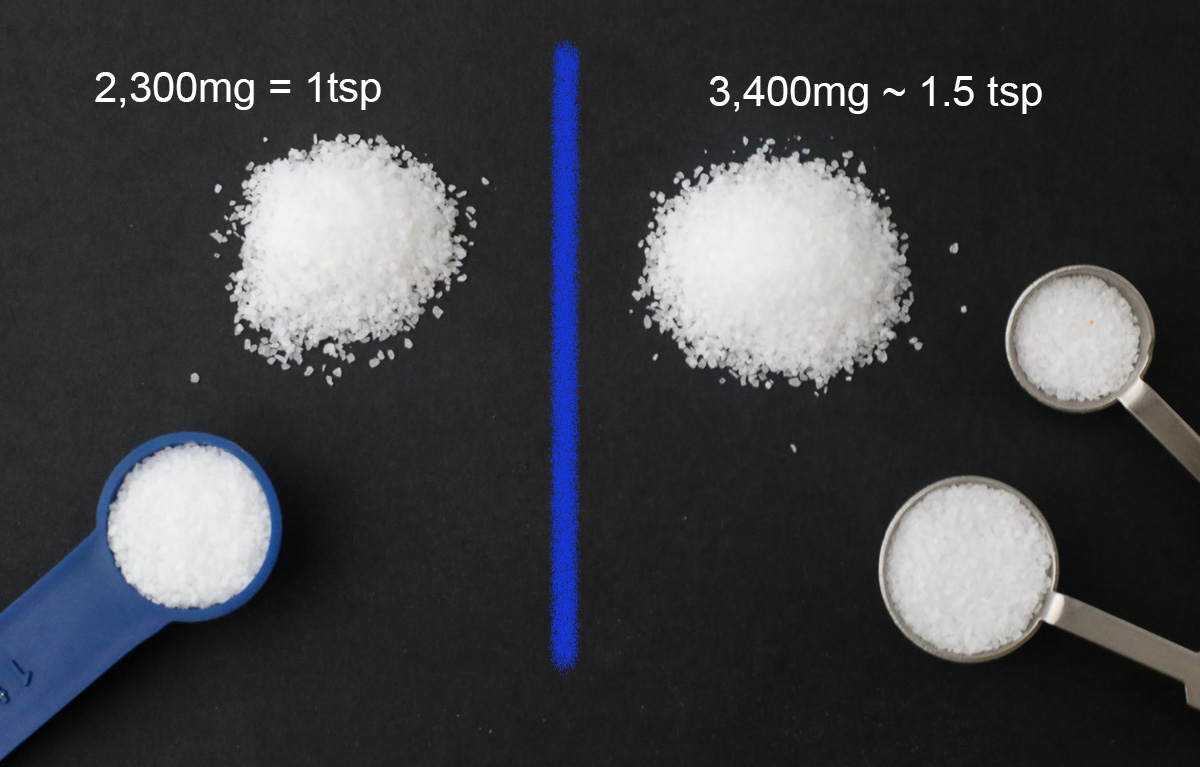 Guess what? Our kidneys get overburdened. Imagine 3.6 cups of extra salt going through kidneys, slowly, when kidneys are already working to their maximum capacity to maintain the body's sodium, potassium, and water balance among myriad other duties.
So what happens if sodium becomes in excess? Well, it is kind of important to maintain the balance between water and sodium at all times for our bodies to work properly (R&R: 1).When there is too much sodium in the body, kidneys need to figure out a way to increase water content to bring that balance back to normal. To do that our bodies start holding onto water to dilute that extra sodium. The details of the mechanism of how bodies start holding onto water is beyond the scope of this blogpost, but the net result is increased fluids and volume of blood in the bloodstream. What happens next? According to a Harvard School of Public Health article, "increased blood volume means more work for heart and more pressure on blood vessels. Over time, this extra work and pressure can stiffen blood vessels, leading to high blood pressure, heart attack, and stroke and can also lead to heart failure."
High blood pressure accounts for 62% of all strokes and 49% of all coronary artery diseases, according to research published by British researchers in the Journal of Human Hypertension (R&R: 3). Although high blood pressure is the most visible negative health effect, excess sodium intake is also linked with stomach cancers and osteoporosis.
Where does sodium come from in our diets?
Recognizing high sodium sources is the most helpful step in tempering excessive intake. There are three major sources of salt in our diets (R&R: 4):
Salt intake from processed and Restaurant food—77% of total sodium intake
Researchers have established that around three-quarters of total salt intake in American diet comes from pre-packaged processed food and restaurant food. It's a long story why manufacturers and restaurateurs add such a high amount of sodium to food, but this is a BIG incentive to start cooking your own meals.
2. Salt intake from natural foods-12% of total sodium intake
Some 10-12% of the total sodium we eat occurs naturally in foods. These kinds of foods normally include (but not limited to) animal products—dairy, meat, seafood, and eggs; vegetables; and fruits. For example, 1 cup of chopped celery contains 81 mg of sodium.
3. Salt intake from food cooked at home and adding at the table—11% of total sodium intake
Cooking at home can offer a lot of flexibility in adding the amount of sodium to our food. After my husband's heart surgeries, I had a real eye opener as I needed to cook without any added salt for a few weeks. This experience made me aware that stretching one teaspoon of salt over a day even in home cooking can pose a significant challange. This motivated me to come up with strategies to cook without salt (which becomes the subject for another blogpost, stay tuned.)
I have formed a new relationship with this once irreplaceable ingredient--I still love salt in my food, but only to the extent where it does not hurt my (or my family's) health. To a great extent, salt has become a negotiable ingredient in my cooking where I do not hesitate to replace it with something more flavorful, something more friendly.
Note: This blogpost mainly builds on research data for American diet. Therefore, if you live in a different country, the numbers--consumption, recommendation-- may be different.
References and Resources (R&R)