Chocolate brownies have long been enjoyed as a decadent dessert. Regular brownies are overloaded with sugar and unhealthy fats, not to mention the white flour. While it wouldn't hurt to eat this decadent dessert once in a while, during the holiday season, easy availability and overeating of such desserts can bring down your energy levels. Try the easy protein-packed easy black bean brownies; these are actually energizing and the taste is not too far off from the sugar- and fat-loaded regular brownie. You can either keep it as one of the many dessert assortments on your party table or enjoy it on your own before heading to a party.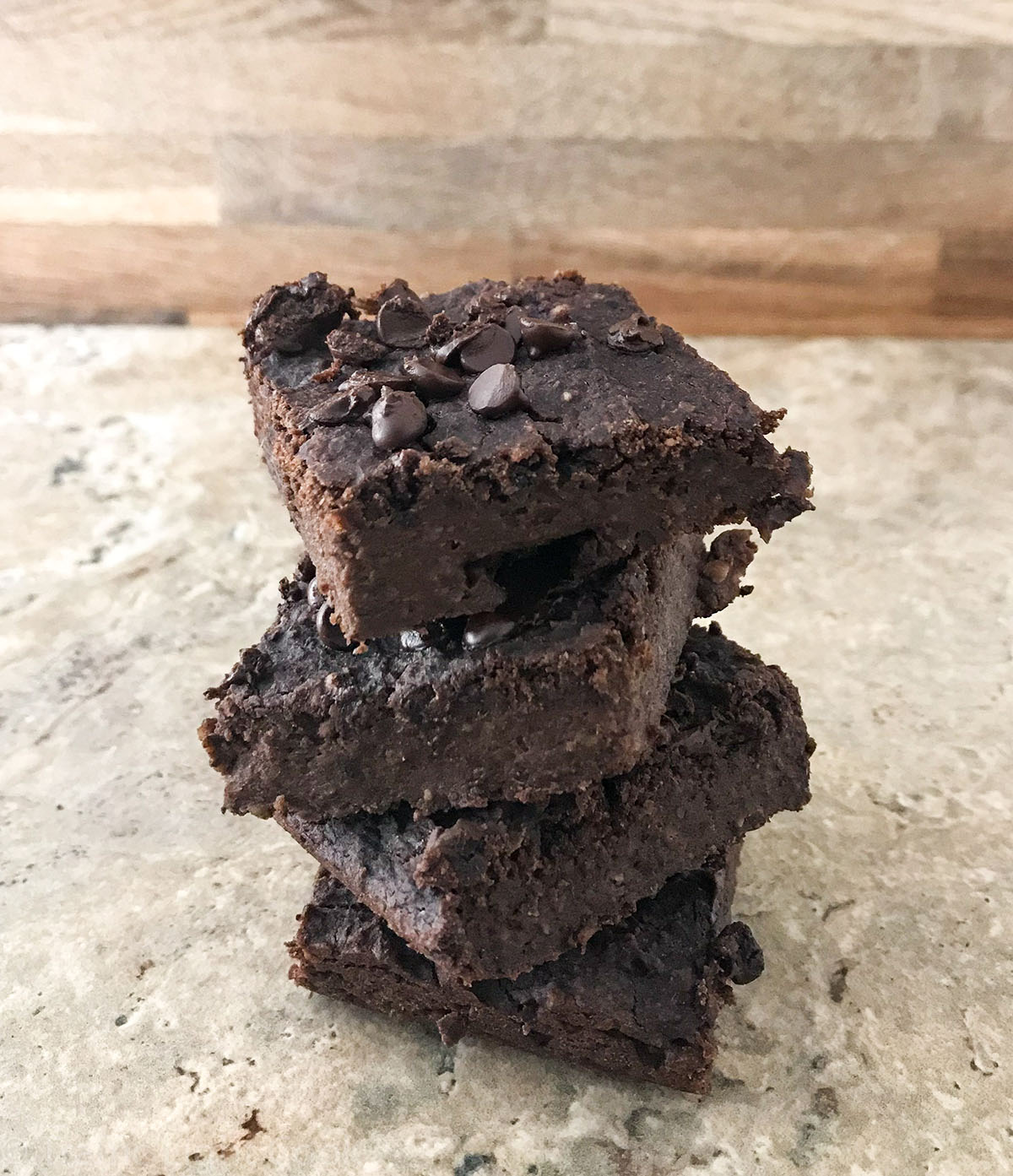 Dessert made out of beans!
I can feel many emotions percolating just with the idea of putting beans and lentils in a dessert. While the idea may be new to many Western countries, beans and lentils have long been incorporated in desserts in Indian subcontinent and many oriental countries. In India, it is customary to make barfi (fudge), halwa (dessert), and kheer (pudding) out of lentils. Similarly, I have enjoyed black bean pastry and bean desserts a number of times in Singapore.
While black bean brownie is somewhat a newer trend on the block, brownies as a dessert are also not that old in the culinary history. The first published recipe of brownies appeared in the late 1890s [1]. This is only 120 years old in the eons of human culinary history. Maybe, at some point in future, black bean brownies may also become a mainstream trend given its win-win proposition of healthy as well as tasty.
These brownies have similar texture to
Let's make the easy black bean brownies
The main ingredient, as the title of the recipe give away, are black beans. I have used canned organic black beans. It's make the whole process super quick and easy. However, if you want to batch cook black beans for your main meals, you can add extra 3/4 to one cup dry black beans for the brownie as well. Just remember to cook without no or very little salt. Whichever version you are using, it is very important that there is not liquid in the beans. To do that put them in a find-mash sieve and let it sit over a bowl. If using canned, be sure to wash the beans under running water in a sieve.
Sweeteners and Oil-free
Most desserts on Traffic Light Cook use a combination of dates and maple syrup. If you are wondering if these are a better option than the regular processed sugar, then the quick answer is YES. However, it is best to consume sugar, even if it comes from natural sources, in moderate amounts for maintaining high energy levels.  For the best results, it's best to soak dates in warm water for at least 10-15 minutes prior to adding to the brownie mix.
Method
This is the best part. You don't need a whole lot of utensils or follow a number of fancy steps. This brownie comes together in about 10-15 minutes, if you count the time to make the chia egg (or flax egg). Put all the ingredients in a food processor (or a high-speed blender) and process until all the ingredients have attained a smooth, even consistency. It's best to scrape the sides of the food processor intermittently for even mixing.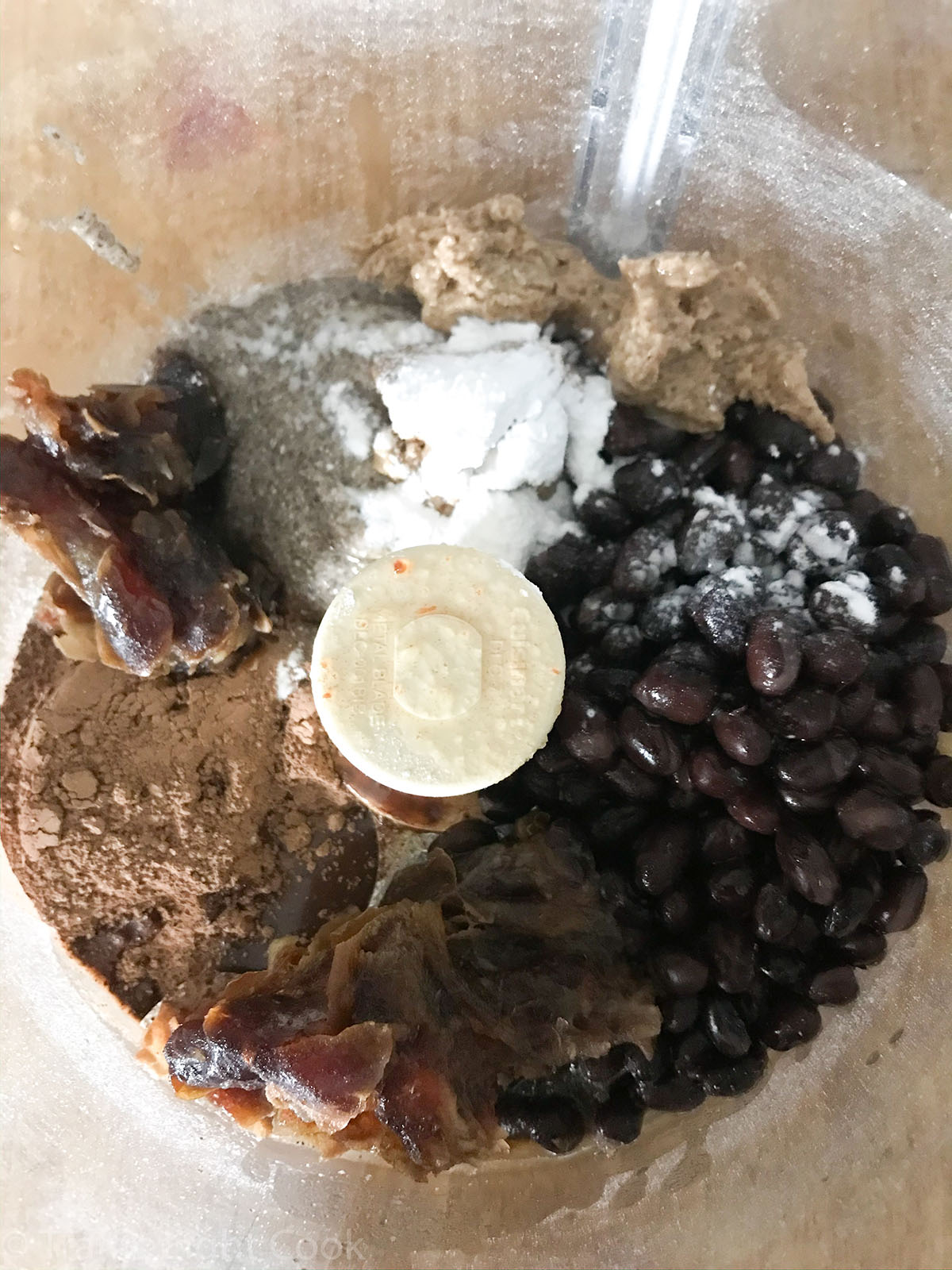 Flavor and texture
So the only comment I got when the taste testers gave their verdict that it needed more sugar and texture was just right. Of course, at that point I hadn't told them about it being a bean-based brownie. The texture of these easy black bean brownies is very moist, much like a cake. And, yes, you can't detect the black bean flavor at all.
Meal plan easy black bean brownies
If you want to use home-cooked beans, than add about one cup extra (dry) to the batch you are cooking for your main meals. Just make sure to add no or very little salt. Or if you are short on time, canned beans work great. Just remember to put it on your grocery list.
You can store these easy black bean brownies in an air-tight container in refrigerator for about one week. Be sure to cool the brownies completely before storing. Reheat slightly in a toaster oven or microwave for about 30 seconds.
You can freeze these brownies for about 3 weeks in portion sizes. After thawed, it's best to eat them within a day or two of taking out of freezer.
Step-by-step recipe of easy black bean brownies
Black Bean Brownies: Healthy and Tasty
These vegan, gluten-free, brownies taste great without the addition of any unhealthy ingredients--white flour, oil/butter, and processed sugar.
Ingredients
1/2

cup

gluten-free oats

(quick-cooking or traditional, can sub with non-gluten free)

1-15oz

can

black bean

(preferably organic, low-sodium, can sub with about 2 cups salt-free black beans)

2

tbsp

ground chia seeds

(or sub with equal amount ground flax seeds)

6

tbsp

water

(room temperature, to make chia egg)

2

tbsp

almond butter*

(can sub with equal amount coconut oil or avocado oil or any other)

1

tsp

baking powder

2

pinches

Himalayan pink salt

(or any other)

1/3

cup

cacao powder

(or sub with equal amount 100% pure cocoa powder; for more intense flavor increase the amount to 1/2 cup)

1/2

cup

water

(warm to touch)

6

medjool dates**

(or any other variety)

1/4

cup

maple syrup**

4

tbsp

chocolate chips

(divided equally in two parts)

1

tsp

oil***

(for preparing the baking dish)
Instructions
Start out by making the chia egg. Mix ground chia powder with water and mix well with a fork or small whisk until a gelatinous mixture forms. Set it aside for at least 10-15 minutes.

Add seeded dates to 1/2 cup warm water; keep for at least 10 minutes. Alternatively, you can add seeded dates to 1/2 cup water and microwave for a 1 minute.

Pre-heat oven to 350°F (~176°C). Prepare an 8x8 baking dish by smearing oil and wiping the excess with a paper towel.

Add canned black beans to a sieve and wash thoroughly under running water. Let the water drain completely.

Add oats to a food processor and process until grounded into fine powder. Add black beans, soaked dates with water, maple syrup, baking powder, almond butter, chia egg mixture, salt, cacao powder, and 2 tbsp chocolate chips. Process until well mixed. Scrape the mixture intermittently for even mixing.

Take the mixture out in the pre-prepared baking pan and bake in the pre-heated oven for 35 minutes. At around 30 minutes, test with a fork or toothpick. When inserted into the brownie, the fork (or toothpick) tip should be clean. Take the pan out of oven and let it cool over a wire rack for about 10 minutes. Cut the brownies in the desired denomination and let cook on the cooling rack. Enjoy with Multipurpose Almond whipped cream.
Notes
*can sub with equal amount cashew butter. For a nut-free version replace either with equal amount coconut, avocado, or any other oil or your choice OR with sunflower seed butter. 
**You can substitute dates with 1/2 cup room temperature water and 1/2 cup sugar.
**You can substitute maple syrup with 1/4 cup room temperature water and 1/4 cup sugar. 
**substitute dates and maple syrup with 3/4 cup water and 3/4 cup sugar. 
***to avoid using oil completely, use parchment paper cut out to 1" bigger than the baking space on the pan. 
Nutrition
Serving:
1
Piece
Calories:
113
kcal
Carbohydrates:
20
g
Protein:
3
g
Fat:
3
g
Saturated Fat:
1
g
Cholesterol:
1
mg
Sodium:
53
mg
Potassium:
212
mg
Fiber:
4
g
Sugar:
11
g
Vitamin A:
22
IU
Calcium:
50
mg
Iron:
1
mg