Pumpkin is synonymous with the fall season. This bright-colored, versatile seasonal fruit is used in many different types of recipes, from pumpkin spice lattes to soups to desserts. Pumpkin puree serves as the base for many of these recipes. Learn how to roast the pie pumpkin to make the puree easily at home.
Pie pumpkin puree is the base for many recipes (see the introduction) ranging from soups to desserts. Pumpkin is a variety of squash and, though generally considered a vegetable, is a fruit.
Ingredients
This recipe uses the pie pumpkin (preferably organic) and water.
Pie pumpkin: pie pumpkins come in different sizes, from very small to gigantic. For easy handling, I prefer the small size, weighing approximately 2-4 lbs.
Water: it's unnecessary to use oil to roast the pumpkin as water accomplishes the task admirably.
See the recipe card below for quantities.
Instructions
Start by washing the pumpkin under running water and pat dry.
Cut the pumpkin in half with the sharpest and biggest knife you can handle safely. To make things easier, microwave the pumpkin for 5 minutes and proceed.
Scoop out the seeds and fiber completely with an ice cream scooper or a big spoon. Add water and rub it all over each of the pumpkin halves.
Turn the pumpkin halves upside down and pop into the oven preheated to 350°F to 400°F.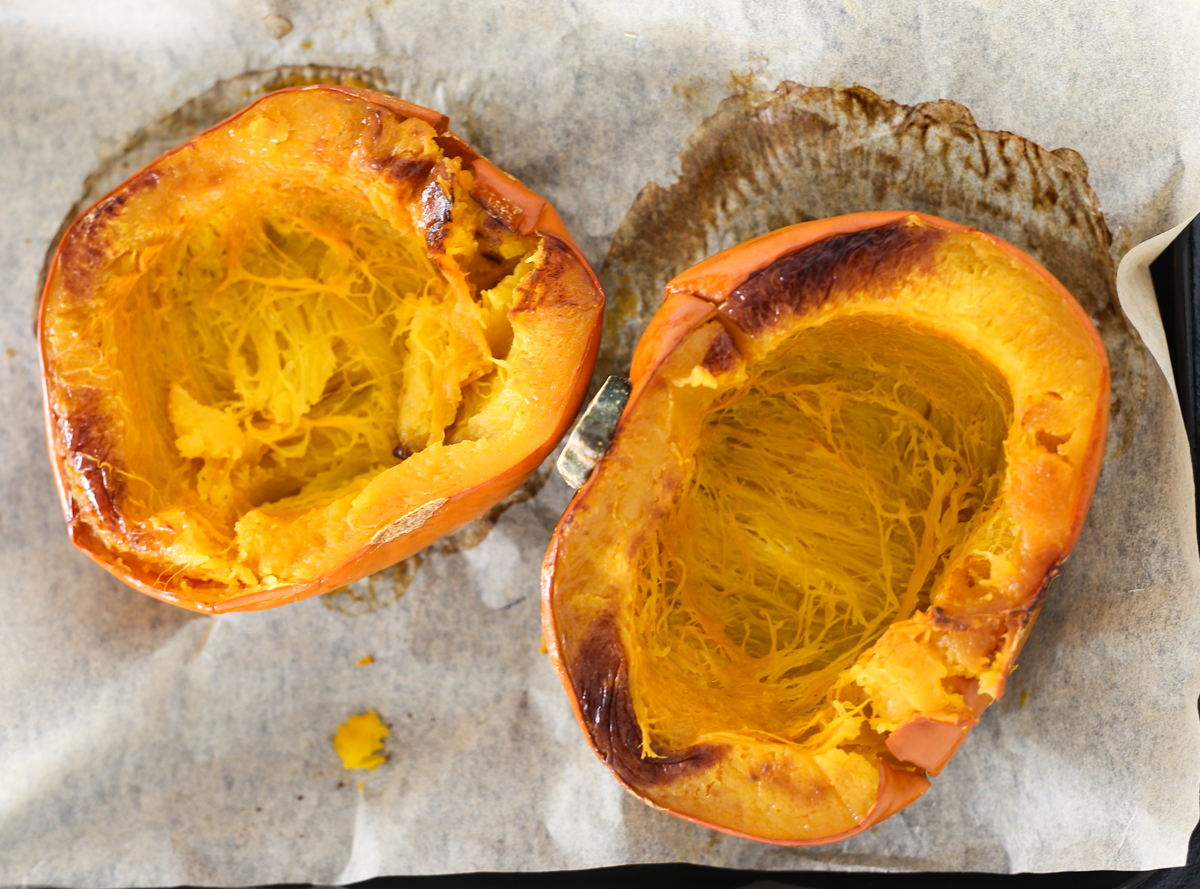 Once done, take it out of the oven and let it cool completely. The skin would come off easily.
Recipe highlights+health coach tips
Pumpkin contains carotenoids: the plant pigments found in yellow, orange, and red plants like carrots, pumpkins, squash, avocadoes, tomatoes, and more. Carotenoids are known to fight the effects of free radicals in your body and are found to be beneficial for eye health, heart health, and improved cognitive function. They may also fight certain cancers and age-related disorders [1].
Substitutions
If you have time, homemade pumpkin puree is healthier than the canned version, as it doesn't contain unnecessary ingredients like sodium and can't match the taste of freshly baked pumpkin.
However, life can get busy, and buying canned pumpkin puree sometimes becomes inevitable. Here are the things to look for in canned pumpkin puree.
Buy organic: I have tried both inorganic and organic canned pumpkin puree, and the latter tastes much better.
Buy a brand that uses non-BPA can liners. Bisphenol A, a hormone-disrupting chemical, is often found in the liners that line the canned foods. Read the label to buy the ones that say, "BPA-free liner" or "liner not derived from BPA."
My favorite brand is Farmer's Market Pumpkin Puree.
Can you use another variety of squash to replace pumpkin puree? Maybe, depending upon which recipe the puree is going to be used in. While it may be easier to replace other types of squash puree in savory dishes, it may be hard to do so in desserts, especially if you are married to the sweet pumpkin taste. If you absolutely need to, you can try replacing pumpkin puree with homemade honey nut squash puree (follow the same process as in how to roast a pie pumpkin).
Equipment
For small jobs like roasting a small pumpkin, I use my toaster oven instead of the regular oven. A good set of knives is a must in any kitchen. Be sure to use knives per your comfort zone. Don't use super big and very sharp knives if you are not used to doing so.
To make the puree out of roasted pulp, you can use either a high-speed blender or a food processor.
Storage & Meal Planning tip
The roasted pulp or pureed pulp can be stored in an airtight container for about 5 days in a refrigerator.
It's best to convert the pulp into puree before freezing. You can freeze the puree for about a month for the best taste.
Related
Looking for more pumpkin or fall squash recipes? Try these:
How to roast a pie pumpkin
Pumpkin puree forms the base of many desserts, beverages, and soups. Learn how to roast pie pumpkin to make the fresh and tasty puree at home.
Ingredients
1

pie pumpkin

(small, 2-4lbs)

2

tbsp

water
Instructions
Preheat oven to 375°F. Then, turn the pumpkin halves face down and bake for 40 minutes. The baking time will depend on the individual oven and the size of the pumpkin. But at around 35-40 minutes, it is good to check for doneness.

Wash the pumpkin well and pat dry with a kitchen towel. Take a big knife that you can safely handle and cut the pumpkin vertically in two h alves.

Keep the pumpkin halves face up on a baking sheet and sprinkle 1 tbsp of water on each half.

Then, turn the pumpkin halves face down and bake for 40 minutes. The baking time will depend on the individual oven and the size of the pumpkin. But at around 35-40 minutes, it is good to check for doneness with a fork. You should be easily able to pierce the pumkin through the skin.

Take it out of the oven and let it cool completely. Add the pulp to a blender or a food processor to make the puree.
Notes
You can keep the oven temperature anywhere between 350°F to 420°F. It will take longer with a lower temperature and a shorter time with a higher temperature. However, it is thought that more nutrients are lost while roasting at higher temperatures.
To make it safer and easier to cut, put the washed pumpkin on a plate in a microwave and cook for 5 minutes. Then, cut the pumpkin in half and follow the rest of the process.
The actual yield from pumpkin to pulp may be different based on the weight and size of the pumpkin. 
Food safety
Some cooking tips from TLC:
Do not use the same utensils on cooked food, that previously touched raw meat.
Wash hands after touching raw meat.
Don't leave food sitting out at room temperature for extended periods
Never leave cooking food unattended.
Always have good ventilation when using a gas stove