These meat (less) balls are inspired by the Indian-style kofta--made with minced vegetables, spices, & herbs-- bound together in ball shape with the help of wet flour base (stay tuned for healthy kofta recipe). Kofta is often deep-fried before being added to a thick gravy. You probably already know that I have very limited skills when it comes to frying anything. So, I make these meat(less) balls by baking-- a much healthier alternative to deep frying in a pan-full of oil. These meat (less) balls are quite versatile--add these to your pasta, make a sub out of it, top salads, or enjoy just the balls as a snack with your favorite dressing. You can also make multiple batches and freeze for at least for one month. Packing lunches becomes a breeze with these meat (less) balls (Italian-style).
Since I have never ever had real meat ball,  I had  somebody from Italian roots taste these balls. The verdict was, "they are different but tasty." So think of these balls as a plant-based (protein) tasty addition to your pasta or subs. By the way, my 13-year-old son is a big fan.
Let's make chia egg first
Chia egg works as a binder (much like regular egg) in baking. To make a chia egg, add one tablespoon of chia seeds to 3 tablespoons of water. Stir the mixture with a small whisk or fork. Give it 10-15 minutes and wait till the mixture congeals. These chia seeds not only help bind the meat (less) balls mixture, they are one of the most concentrated sources of omega-3 fatty acids--the healthiest kind of fat, which helps fight inflammation and is often missing from our diets. Note: You can also substitute chia egg with equal amount of flax egg (find the flax egg recipe here.)
What kind of beans can be used?
I used cannellini beans, but any other types of white beans--navy, Great Northern, or baby lima--should also work. I also tried these with chick peas and those also worked great. I mostly prepare beans from scratch, but you can totally use pre-prepared canned beans. If using canned, just be sure to rinse them well under running water to wash away the metallic taste and extra salt. If using homemade, let the beans sit in a sieve for a few minutes to drain the excess water.
Visualize the recipe as wet and dry ingredients
The recipe includes about 15 ingredients--most of them spices and herbs. Making any recipe, especially if it contains many ingredients, becomes a breeze by gathering all the ingredients in one place before starting. For this recipe, it helps to divide the ingredients into two piles--dry and wet. To make the recipe start with dry ingredients and then add the wet ingredients.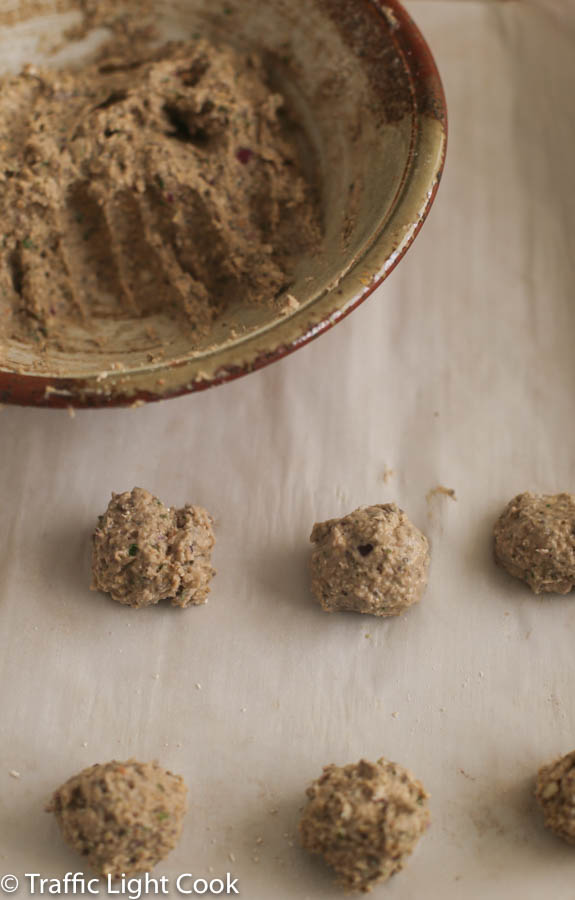 The consistency of the mixture is kind of important. As stated in the recipe below, save some ground oats for adding to the mixture, if it is too wet to form into balls after processing the dry and the wet ingredients together. The mixture should be rigid enough to be formed into balls.
Serving suggestions
These meat (less) balls are quite versatile. We often add these to regular or vegetable pasta. They go really well with Zucchini noodles (also known as zoodles.) If you are curious how to make these yummy noodles, they are super easy. Take a peeler and peel a thin ribbon length-wise, repeat till the whole zucchini has turned into thin noodle-like ribbons. If you get hooked onto making vegetable noodles, you can save a lot of time by investing in a spiralizer. The Mueller brand (no association) on Amazon.com has the best reviews.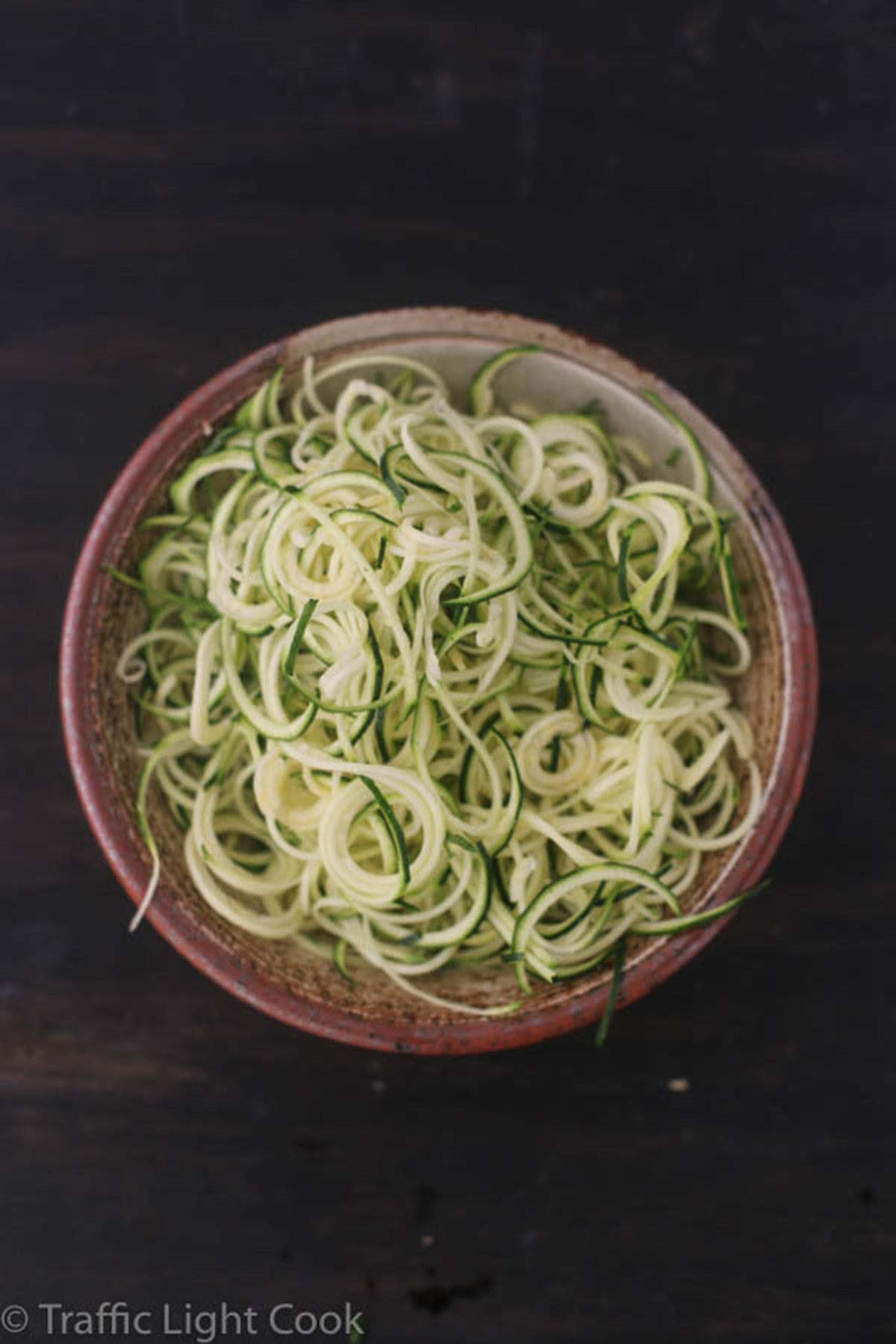 Using these meat (less) balls with Zoodles is super easy. Just heat some oil, add 2-3 cloves of garlic, then add meat (less) balls and stir in the pan till the balls are coated in oil/garlic mixture. Add salt and zoodles and toss till they are slightly soft. Enjoy with some extra-virgin olive oil, pesto, or tomato sauce. These meat (less) balls also work great in sandwiches with stir-fried veggies and dressing.
How to store?
I often make two batches of these meat (less) balls and freeze one for later. These will stay in refrigerator in an airtight container for about five days and in freezer for a month. To freeze, either put them in a freezer-safe airtight container or in freezer-compatible ziplock bags. To thaw, just change the bag location from freezer to refrigerator a night before you plan to use. Enjoy!
Meat (less) Balls (Italian-style)
These vegan, gluten-free, multi-purpose meat (less) balls are packed with flavors. Use them with pasta, in subs, wraps, or on their own with your favorite sauce or dressing.
Ingredients
Dry Ingredients
1

cup

regular oats

(gluten-free, or sub with regular non gluten-free oats)

1/4

cup

sunflower seeds

(can sub with melon seeds, pumpkin seeds, or cashews)

3

tbsp

nutritional yeast

(or sub with 1/2 tbsp gluten-free soy sauce)

1

tsp

oregano

(dried)

1/2

tsp

salt

(or to taste, no more than 3/4 tsp)

1/4

tsp

black pepper

(freshly ground, or to taste)

1/2

tsp

ground fennel seeds

1/4

tsp

cayenne pepper

(or sub with equal amount red pepper flakes, or to taste)
Wet Ingredients
2

tbsp

chia seeds*

6

tbsp

water

(room temperature)

2

tbsp

avocado oil

(or sub with any other type)

1-3/4

cups

cannellini beans

(cooked, or 1, 15-oz can, rinsed and drained)

3

tbsp

fresh basil leaves

(or sub with 1 tbsp dried basil)

1/2

cup

onion

(about 1/2 medium size, any variety works)

4

cloves

garlic
Instructions
Start by making chia egg
Mix 2 tbsp chia seeds with 6 tbsp water in a shallow dish and stir with a whisk or fork. Let it sit for at least 10 minutes before processing with wet ingredients.
Process dry ingredients first
In a food processor** add oats and process into granular powder. Take out 1/4 cup for later. Add sunflower seeds and nutritional yeast*** and dry spices--salt, black pepper, cayenne pepper, ground fennel seeds and oregano. Process till the mixture has a granular consistency.
Add the wet ingredients
To the granular mixture, add chia egg, beans, fresh basil leaves, avocado oil, onion, and garlic cloves. Process till well mixed. Be sure not to over process to make a fine paste. The mixture shouldn't be very wet; should be easily formed into balls. Add the saved oat flour 1 tbsp at a time, if the mixture does not form into balls.

Take the mixture out in a bowl or tray and wet your hands with water or oil. Make about 2" round balls and add them to a parchment paper-lined cookie sheet. leave at least 1.5" space between two balls.

Pre-heat oven to 400°F (205°C). Place the cookie sheet in the oven and bake meat (less) balls for about 25 minutes. Check for doneness by inserting a fork in the middle of a ball. If done, the fork will come out clean. Enjoy these flavor-packed ball in pasta with your favorite sauce, in subs, over salads, and on their own.
Notes
*to make chia eggs. You can sub 2 chia eggs with 2 flax eggs. 
**should work in a blender as well. I haven't made it in a blender yet, though. 
***If using soy sauce instead of nutritional yeast, process after adding wet ingredients. 
Nutrition
Serving:
3
balls
Calories:
92
kcal
Carbohydrates:
5
g
Protein:
3
g
Fat:
6
g
Sodium:
159
mg
Potassium:
116
mg
Fiber:
2
g
Vitamin A:
100
IU
Vitamin C:
1.7
mg
Calcium:
40
mg
Iron:
0.7
mg
Note: Traffic Light Cook is a participant in the Amazon.com Associates Program. If you click on a TLC-recommended (or cited) product link and make a purchase from
Amazon.com , the blog earns a small fee at no extra cost to you. Thank you for your support.