Sweet potatoes are one of the best sources of vitamin A on the planet. And combining this amazing nutrient- and color-rich veggie with peanut butter spells healthy, tasty comfort food.
Did you know that combining sweet potato with fat increases it's bioavailability (the amount that gets absorbed by the body)? The combination of peanut butter (fat) and sweet potato perked up by a few spices tastes heavenly in this West African sweet potato & peanut soup.  If you are allergic to peanuts, no worries. I also have a a nut-free version of this soup.  on using nut- & seed-butters
If you have eaten this soup in restaurants, you have probably noticed that it is often over-loaded with peanut butter. The world of the wide web is replete with West African peanut soup recipes that suggest using about 2 tbsp to 2.5 tbsp peanut butter per serving. While such offerings may taste great due to high fat content, it is hard to enjoy these regularly without packing unnecessary pounds. This is because nut and seed butters are a calorie-dense food, with most of the calories coming from FAT. While fat is an essential nutrient in our diets (stay tuned for demystifying fats in our diets), excess of it can not only lead to (unintended and unwanted) weight gain, a diet consistently high in dietary fat is also associated with heart disease and certain types of cancers.
Therefore, in this soup I definitely wanted the peanut butter flavor but reduce the amount of fat to make it more nutritionally balanced to enjoy it on a regular basis rather than as an occasional treat. One trick is to replace extra peanut (or seed) butter with any type of white beans, which mimic the texture of butter and take on the the flavor of whatever they are added to. In this West African sweet potato and peanut soup, I have replaced some amount of peanut/seed butter with cannellini beans.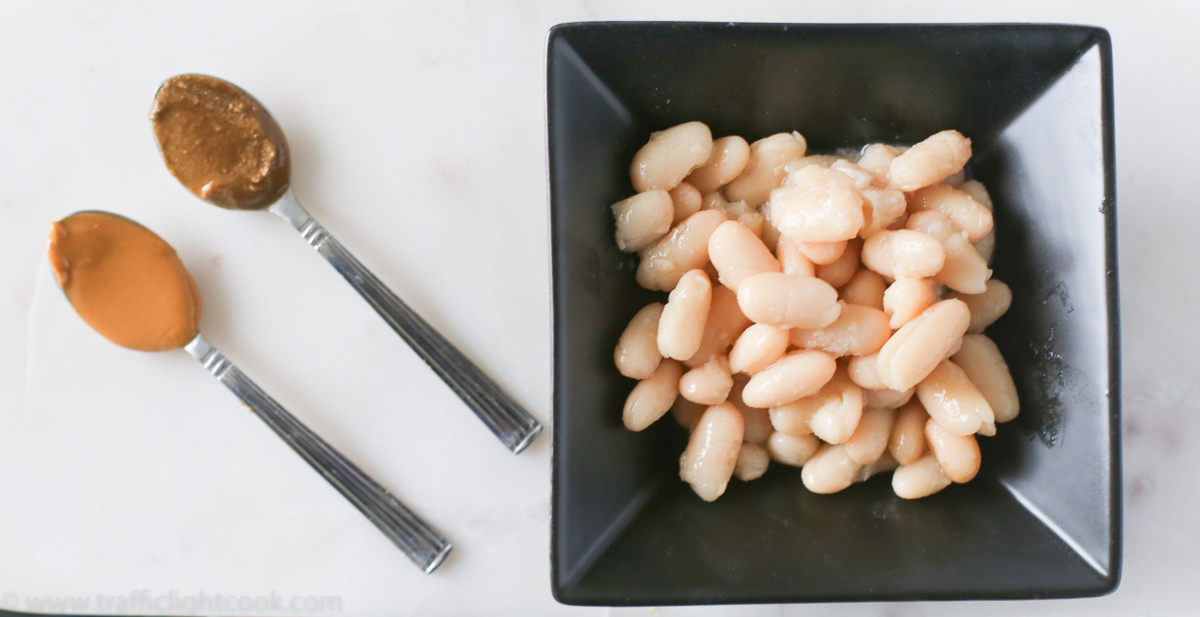 To make nut-free version
If you are allergic to nuts and peanuts, definitely try the peanut-free version. As one of the family members is allergic to nuts, all of my recipes at home have two versions--nut/peanut and seeds. To make it peanut free, replace peanut butter with sunflower seed butter in equal amount and top with toasted (or raw) sunflower seeds.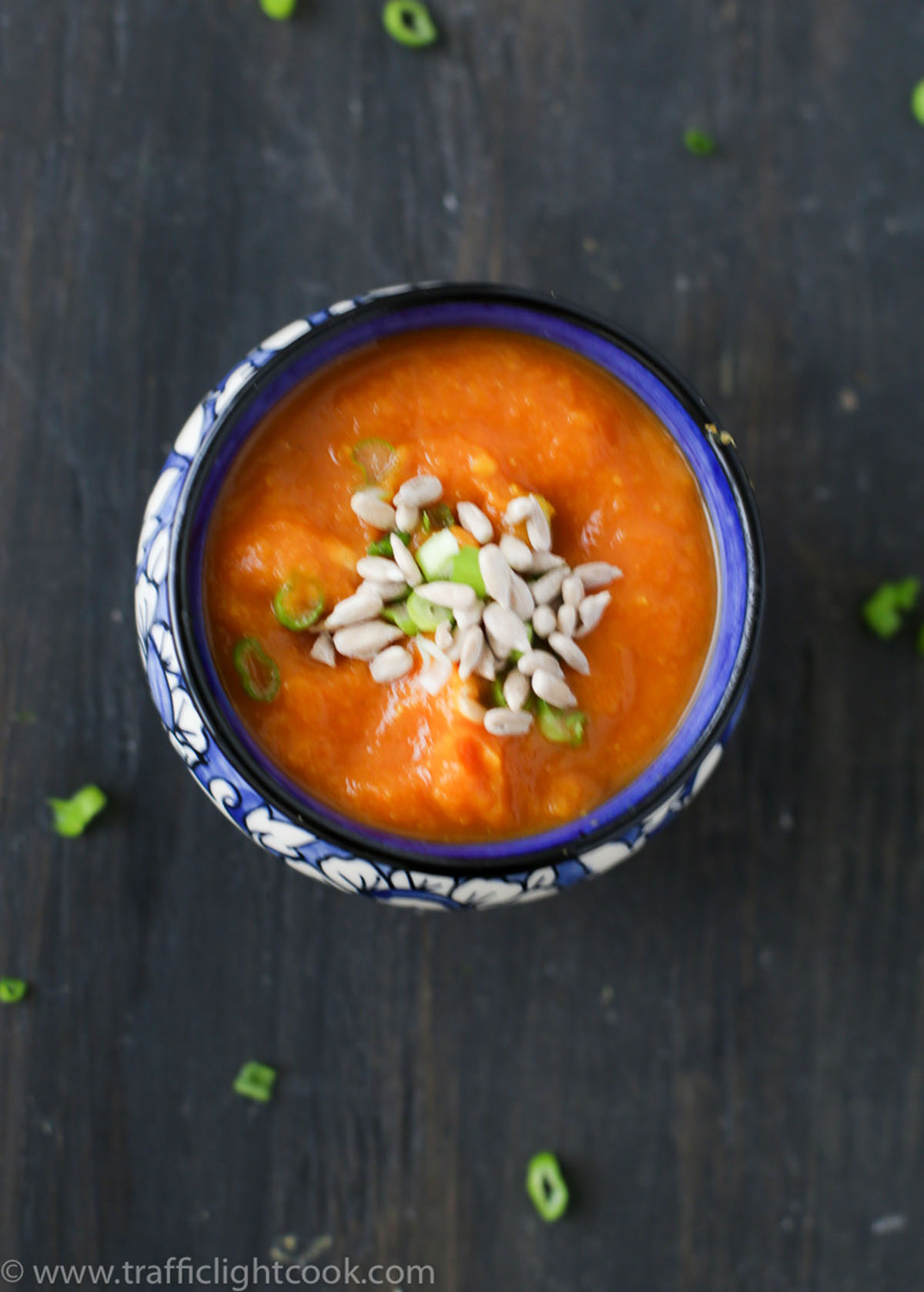 Now try the recipe!
The sweet potato season is almost on the wane, so hurry if you want to try this recipe. You can enjoy this soup by itself with a garlic toast or on a bed of brown rice. I would love to hear from you, if you make this West African sweet potato and peanut soup. Please leave a comment below or rate the recipe.
West African Sweet Potato & Peanut Soup
This vegan, gluten-free West African Peanut Soup, made with beta carotene-packed sweet potatoes and just the right amount of peanut butter, spells tasty, nutritious comfort food. Serve with a garlic toast or on a bed or brown rice.
Ingredients
1

onion

(medium, chopped, ~1 scant cup)

2

tbsp

fresh ginger

(grated)

2

tbsp

fresh garlic

(minced)

2

sweet potatoes

(~1 lb, diced in 1/2" cubes)

2

carrots

(medium size, finely diced)

1

tsp

ground turmeric

(optional)

1

tsp

Coriander powder

(can sub with 3/4 tsp coriander seeds)

4.5

cups

homemade vegetable broth*

(or store-bought low-sodium broth)

1/4

tsp

cardamom powder

(optional, can sub with equal amount ground cinnamon)

2

pinches

cayenne pepper

(ground, or to taste)

1

cup

tomatoes

(crushed, fresh, jarred, or canned, can sub with 4tbsp tomato paste)

5

tbsp

homemade vegetable broth

3/4

tsp

Pink Himalyan sea salt

(or to taste, preferably no more than 1 tsp, or any other type)

6

stems

green onions

(finely chopped, for topping)

3

tbsp

unsalted peanut butter**

6

tbsp

roasted peanut kernels

(halves)

1/2

cup

cannellini beans

(home cooked or canned, can sub with equal amount great northern white beans or chick peas)
Instructions
In a heavy-bottom pot, add 3 tbsp broth and cook till it starts steaming. Add chopped onions and cook for 2-3 minutes--until soft and translucent. Add sweet potatoes and carrots. Cook for 5-7 minutes, stirring often until soft. Add a tbsp or two of vegetable broth if the veggies become too dry or start sticking to the bottom of the pot.

Add coriander powder, turmeric powder (if using), and cardamom powder. Stir to mix spices and vegetables. Add homemade vegetable broth and let the soup come to a boil over medium-low heat. Add peanut butter to crushed tomatoes and mix well with a whisk. Add the mixture with cooked cannellini beans to the simmering soup. Cook for another 10-15 minutes. Take it off the stove and let it cool for about 15 minutes.

Add to a blender and blend till it reaches a creamy texture. Top with 1 tbsp each of finely chopped green onion and roasted peanut kernels. Enjoy either with a garlic toast or over a bed of brown rice.
Notes
*this soup is quite thick in consistency, almost like wading through soft peanut butter. But if you like your soup to be more soupy, increase the broth amount to 5-6 cups. 
**can use lightly roasted peanuts instead of peanut butter (replace 1 tbsp of peanut better with 14-18 whole peanut kernels). Add these in the beginning with sweet potato and carrots so that they soften by the time soup is cooked and ready to blend. 
Low-fat variation
Reduce peanut/seed butter to half the amount given in the recipe.
Omit peanut/seed butter altogether and add a few roasted peanut kernels/seeds as a topping. 
Nut-free variation: replace peanut butter with sunflower seed butter in equal amount. 
Nutrition Facts
West African Sweet Potato & Peanut Soup
Amount per Serving
% Daily Value*
* Percent Daily Values are based on a 2000 calorie diet.
Nutrition
Serving:
1
cup
Calories:
190
kcal
Carbohydrates:
23
g
Protein:
7
g
Fat:
9
g
Saturated Fat:
1
g
Sodium:
529
mg
Potassium:
507
mg
Fiber:
5
g
Sugar:
6
g
Vitamin A:
9800
IU
Vitamin C:
9.1
mg
Calcium:
70
mg
Iron:
1.8
mg