This Green Squash Soup with Basil garneres only positive reviews, even among those who don't like this summer vegetable. Basil and green onions add plenty of flavors to summer squash.
I first made this Green Squash Soup with Basil with a home-grown, over-sized, pumpkin-shaped (almost) green squash while visiting family on the West Coast, i.e. California this summer (pic below on the left.) I was a bit ambivalent because kids outnumbered adults at the dinner table. But this soup turned out so good (read tasty) that even children asked for a second serving.
To me Green Squash soup with Basil almost feels like a nutritional reset, especially when you are back from a travel. One serving of this soup provides recommended daily intake of 78% of vitamin A, 21% of vitamin C, and 6% of iron. This soup builds on my immunity-boosting winter minestrone. Here is how to make it:
To ensure great-tasting soup, it is best to start with the freshest vegetables you can find. In this case, fresh (preferably) organic summer squash is an essential ingredient as we are going to use the squash with skin on. I have only used green squash so far, but if you have a lot of golden-hued squash in your CSA share or refrigerator, go ahead and try it with the golden variety.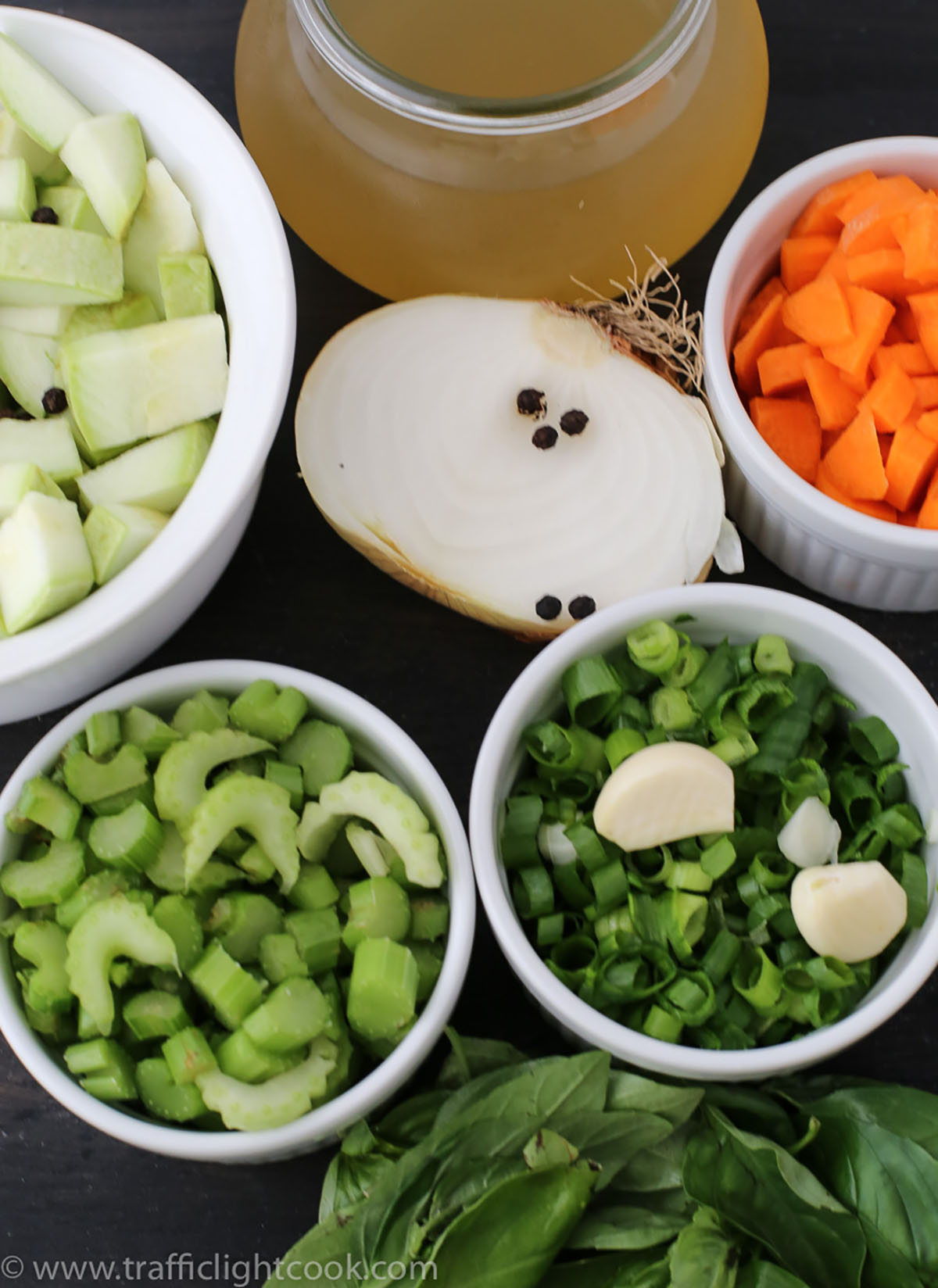 With the exceptions of carrot, onion, and vegetable broth, every ingredient brings a green hue to the soup. In fact, you can replace white onions with leeks to increase the already green quotient of the soup. Chop all the vegetables before you start making the soup. Accomplishing this step before turning the stove on makes the whole soup-making operation go smoothly.
Start by sweating the vegetables on medium heat. You can either use a high-smoke point oil such as avocado or coconut oil or if avoiding fat, omit the oil altogether and use ditch-the-oil sweating method. Start by onion and garlic followed by carrots and celery. Before adding squash, make sure that the carrot and celery have somewhat softened. Add the squash and vegetable broth. Bring the soup to a near boil and lower the heat to low-medium. Once the soup has simmered for about 20-25 minutes, add the green onion and basil in the last five minutes of cooking. This keeps the flavor of fresh basil intact. Set the Green Squash Soup with Basil aside to cool and toast some pumpkin seeds in a toaster oven or on stove top in an iron skillet.
Puree the Soup  once cooled. If you are in a hurry and need to puree the hot soup, make sure that the blender jar is no more than one-quarter full at a time and one side of the jar lid is lifted open to avoid building the steam pressure. I don't do a great job of pureeing soups using hand blender. However, if that's your favorite equipment, please go ahead. It definitely saves the time and effort it takes to clean the blender. The green color of the soup depends  on the variety of the green squash you use. Serve with toasted pumpkins seeds. We usually have this soup with pasta or sandwiches. Enjoy!
More summer soups at TLC..
Creamy Vegan Tomato Basil Soup
Easy Gazpacho: Antioxidants in a soup bowl
Green Squash Soup with Basil
This vegan, gluten-free summer green squash soup almost feels likes a nutritional reset; and is so tasty that even kids would ask for seconds.
Ingredients
1

tsp

(5mL) avocado oil

(or any other)

1

cup

(160g) onion*

(about 1 big, any variety, chopped)

2

cloves

garlic

(chopped)

3

cups

(370g) green summer squash

(chopped, about 1 big or 2 medium, any variety)

1

cup

(128g) carrots

(about 2 small, chopped)

1/2

cup

(50g) celery

(about 2 stems, chopped)

3/4

cup

(75g) green onion

(2-3 stems, both white and green parts, chopped)

10

basil leaves

(fresh, chopped)

3/4

tsp

(4.5g) salt**

1/4

tsp

(0.5g) black pepper

(freshly ground)

4

cups

(~1L) homemade vegetable broth

(or store-bougth low-sodium vegetable broth)

3

tbsp

pumpkin seeds***
Instructions
Heat the oil in a soup pot on medium-low heat. Add the chopped onions and garlic. Cook for 1-2 minutes. Add chopped celery, carrots, and salt and partially cover the pan. Cook for about 5-7 minutes. Add the chopped summer squash and cook for another 3-5 minutes in the partially covered pot.

Add the vegetable broth and cook partially covered for about 20-25 minutes (until vegetables have thoroughly cooked.) Soup will start to simmer and veggies will disintegrate. Add chopped green onions and basil leaves along with freshly ground black pepper. Simmer the soup for another 5 minutes. Take the soup pot off the stove and bring the soup to room temperature.

While the soup cools down, toast the pumpkin seeds in a toaster oven or iron skillet over stove top. Seeds will change color in 2-3 minutes. Make sure not to over-toast.

Puree the soup in a blender and top with toasted pumpkins seeds and garnish with a basil leaf. Enjoy!
Notes
*you can replace onion with equal amount of finely sliced leeks.
**if you are used to eating more salt, the soup may taste a little bland. If that's the case, add no more than 1/4 tsp extra salt.
***can sub with sunflower or melon seeds.
Make it non-fat
Instead of using oil sweat the veggies by ditch-the-oil sweating method. 
Nutrition
Serving:
1
cup
Calories:
71
kcal
Carbohydrates:
8
g
Protein:
3
g
Fat:
3
g
Sodium:
324
mg
Potassium:
365
mg
Fiber:
2
g
Sugar:
4
g
Vitamin A:
3900
IU
Vitamin C:
17.3
mg
Calcium:
40
mg
Iron:
1.1
mg