This antioxidant-rich creamy vegan tomato basil soup makes a great side to your main meals. Although the fresh tomato season is on the wane, try this soup with fresh tomatoes. Make two batches and you can freeze a batch for later.
Tomatoes: a rich source of antioxidants
The main ingredient in this soup, tomatoes, are a rich source of carotenoids--plant pigment that gives tomatoes its resplendent red color. Lycopene, the bright red carotenoid found in tomatoes, is linked with a host of health benefits. In scientific studies, lycopene has emerged as the most potent antioxidant to deactivate singlet oxygen--a harmful free radical [1]. This means that tomatoes can slow the aging process.
Bone Health: Lycopene is also linked with promoting bone health. A study uncovered that participants with higher levels of lycopene in their blood were less likely to experience hip fractures [2]. Another study found that postmenopausal women who included lycopene in their diet for four months, experienced decrease in bone breakdowns [3].
Heart Health: Lycopene intake is also associated with decreased stroke risk in a study conducted solely on middle-age men [4].
Lycopene in tomato gets better absorbed from cooked tomatoes and creates synergistic effect when consumed with fat.
Interested in other soup recipes?
Soups are one of the best ways to get a dense dose of nutrition and multiple vegetable servings. It's a great idea to include soups 3-4 times per week in your diet. Here are some vegan soups on TLC that may pique your interest.
Energizing celery and sweet potato soup (vegan)
West-African Sweet Potato and Peanut Soup
How to Make creamy vegan tomato soup?
Fresh tomatoes work really great in this soup, but I have also tried this recipe with fire-roasted canned tomatoes. Canned tomatoes are a great alternative to fresh tomatoes as they keep their most nutrients intact upon cooking. As discussed above, lycopene in tomatoes gets better released when tomatoes are cooked. When buying canned tomatoes be sure to choose organic, low in sodium, and in BPA (Bisphenol A)-free cans.
Most creamy soups have dairy (milk or cream) as an essential ingredient. The practice of adding dairy to soups in the form of milk or cream is a harmful practice according to Ayurveda. Milk and salt are considered to be opposing foods; when combined and consumed they can give rise to a host of diseases. If you are wondering what makes this creamy vegan tomato basil soup so creamy: It is the addition of a secret ingredient, ALMONDS. It is best to soak almonds in warm water for at least 4-6 hours and then peel before adding to the soup.
Meal plan the tomato basil soup as a side
If you have received a ton of tomatoes (like I did) in your farm share, then put those tomatoes to a delicious use by making this creamy vegan tomato basil soup. You can totally replace fresh tomatoes with organic whole peeled canned tomatoes. Make sure that the can lining is BPA-free, which should be noted on the label.
Similarly, replace fresh basil with dried basil. Just make sure that the dried basil you buy has a lot of nice basil smell. This is why it is best to buy dried spices and herbs from bulk bins in smaller quantities.
You can make two batches and eat within 3-4 days. Most nutrients, especially water soluble nutrients such as vitamin c, in veggies significantly decline after three days.
You can make two batches of this soup and freeze one for up to four weeks. Once you are ready to eat, you can take the soup out a night before and reheat in a pan before eating. Although it comes at the cost of some nutrients, a home cooked soup is still a better choice over a store-bought option.
Step-by-step recipe
If you make this soup, please let me know in comments. Enjoy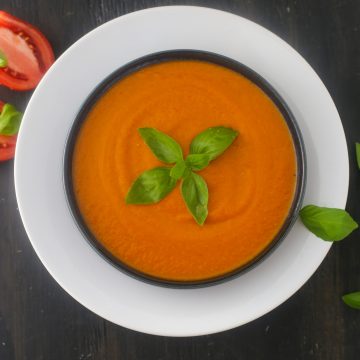 Creamy Tomato Soup (Vegan)
This antioxidant-rich tomato soup is super creamy, thanks to the secret ingredient almonds. Fresh basil and freshly-ground black pepper perfectly complement this soup.
Ingredients
2

tbsp

water*

(for sweating veggies, or sub with 1 tsp avocado or any other oil)

2

white onions

(chopped)

2

cloves

garlic

(chopped)

2

lb

fresh tomatoes

(~7-8 medium-size roma or any other variety except cherry tomatoes, chopped, or replace with 28-oz can fire-roasted tomatoes, low-sodium

2

carrots

(medium, grated, ~1 cup)

4

tbsp

almonds

(soaked for at least 6 hours and peeled)

1/4

tsp

freshly-ground black pepper

(or to taste)

3/4

tsp

sea salt

(or to taste, no more than 1 tsp)

1/2

tsp

dried basil

(optional, roughly chopped)

4

tbsp

fresh basil

(or sub with 3 tsp dried basil, roughly chopped)

2

cups

Homemade vegetable broth

(or sub with store-bought low-sodium broth)
Instructions
Heat a heavy bottom soup pot over low-medium heat. Add a minute add a drop or two of water; the water should sizzle. Add 2 tbsp of water followed immediately by chopped onion, garlic, and salt. Cook the onion and garlic until soft (~3-4 minutes).

Add carrots, almonds, and dried basil (if using) and cook for another 3-4 minutes, stirring often. Add the chopped tomatoes and freshly-ground black pepper and cook for another 3-4 minutes, with the pot partially covered.

Add the vegetable broth and bring it to a boil (~15 minutes) over medium high heat. Add the fresh basil and simmer over medium-low heat, partially covered for about 10 minutes.

Once done, rest the soup for about 10 minutes. Add to a blender and blend until well-mixed and creamy. Enjoy with your favorite croutons or a dash of olive oil.
Notes
*I often use no-oil sauté method to sweat the veggies, especially if using other ingredient with fat, in this case almonds. Please look up
Ditch-the-oil Cooking Method. 
Nutrition
Calories:
109
kcal
Carbohydrates:
16
g
Protein:
4
g
Fat:
4
g
Saturated Fat:
1
g
Sodium:
382
mg
Potassium:
629
mg
Fiber:
5
g
Sugar:
8
g
Vitamin A:
5699
IU
Vitamin C:
30
mg
Calcium:
66
mg
Iron:
1
mg
More delicious and nourishing soups on TLC....