If you have been to an Indian restaurant and have had any kind of savory appetizers, then you have likely enjoyed it with tamarind (imli) chutney. Fruit chutneys often accompany Indian food to add the sweet and savory experience to the culinary palate. Tamarind chutney can be viewed as the "KING" of fruit chutneys as it offers loads of flavor in a spoon. There are a ton of recipes for this chutney, but this one is an heirloom recipe--an authentic, traditional recipe that has been passed down to my mom by my grandmother. This tamarind chutney is the perfect combination of tangy and sweet.
This post may contain Affiliate (Amazon) links. Please read the Disclaimer.
Tamarind chutney: the traditional context
My mom has never used a cookbook; the recipes she makes come from my grandmother or other relatives in the family or friends. They were never formally written down in a cookbook. This is why I call this an heirloom recipe. It is unaltered from the time my mom learnt from my grandmother.
This tamarind (tamarind in Hindi = imli) chutney is quite heavy on sugar. In the modern context, it is almost always paired with fried, high-sodium, savory foods such as samosas or fritters. But the traditional context of using this Indian tamarind chutney is quite different. While the fried savories are now easily available in restaurants and supermarkets, in my grandmother and mom's times, they were not eaten as frequently as we do now. Fried foods like samosas were made at home only twice a year and ordered for a take out from restaurants once a month. However, this tamarind (imli) chutney was made a few times a year to enhance the experience of everyday simple food. Here are two takeaways from the traditional context of this recipe:
Condiments were made at home and didn't come out of a bottle purchased from a grocery store. By buying condiments in a bottle, we have certainly cut down on the work to make it at home. But the practice has also opened doors to many unintended CHEMICALS (such as sodium benzoate) in our diet. CONDIMENTS ARE ONE OF THE BIGGEST SOURCES OF CHEMICALS IN OUR MODERN DIET.
Traditionally this chutney was eaten in moderation to alleviate the monotony of everyday simple food. But in modern diet, condiments often accompany unhealthy foods, i.e., ketchup with french fries and tamarind chutney with samosa. The easy availability of condiments and unhealthy snacks may have created an imbalance of healthy versus unhealthy food in the favor of the latter.
Health coach tips
Read food labels to spot SODIUM BENZOATE in food. It is often found in packaged sauces, chutneys, condiments, salad dressing, and even some yogurts with toppings. If you have these foods in your pantry, it's best to remove them from your kitchen and your diet.
Enjoy your favorite pairing of condiments and snack foods (fried, unhealthy) in moderation. Use the 80/20 rule: eat healthy without feeling deprived to enjoy the favorite comfort food that you like but your body doesn't.
Tamarind--an antioxidant-rich fruit with health benefits
Tamarind is a tropical fruit with a host of health benefits. It is used around the world, particularly in Asian, African, and Mexican cuisines. The culinary uses often include sauces, curry base, beverages, and chutneys. In the southern part of India, tamarind pulp is diluted with water and used in everyday recipes such as lentils and veggies. Tamarind also adds sweet/sour taste to many curries. This versatile fruit is high in polyphenols--plant-based micronutrients that offer host of health benefits. Tamarind, due to its anti-inflammatory properties, is said to protect from heart disease, diabetes, and cancer [1].
Let's make the Indian tamarind chutney
This Indian tamarind chutney offers loads of flavor in one small spoon. While sweet and sour is the main taste profile, you also get to experience the hot spices--red chili powder and garam masala. Its' super easy to make it if you have tamarind pulp and other ingredients at hand.
The secret ingredient in this recipe is Himalayan Black Salt (knowns as kala namak in Hindi). Black salt, quite popular in many Asian countries, has become popular in many mainstream vegan cafes, at least in the U.S., where it is often used to make vegan eggs due to its eggy flavor. You can find it in Indian stores as well as on Amazon. You can find the link for tamarind paste, black salt, and garam masala from Amazon.
.
If you like Indian food, here are some based on traditional Indian recipes on TLC
Homemade sweet and sour tomato chutney
Veggie-loaded quinoa & split chickpea upma
How to make tamarind pulp?
I mostly make the tamarind pulp at home from a dried block of tamarind, which you can find in Asian and Indian grocery stores. Here is the five step process to make tamarind pulp from dried tamarind.
Unwrap and wash the block of dried tamarind under running water to dislodge any dirt.
Soak the block of tamarind in about 4 cups water (the amount of water would depend on the size of the dried tamarind block). I used 4 cups water for a 7oz block.
Cook the soaked tamarind in soaked water until the pulp and seed separate, for about 15 minutes. Add more water if the mixture becomes too thick.
Pass the mixture through a fine sieve.
Use the pulp as needed.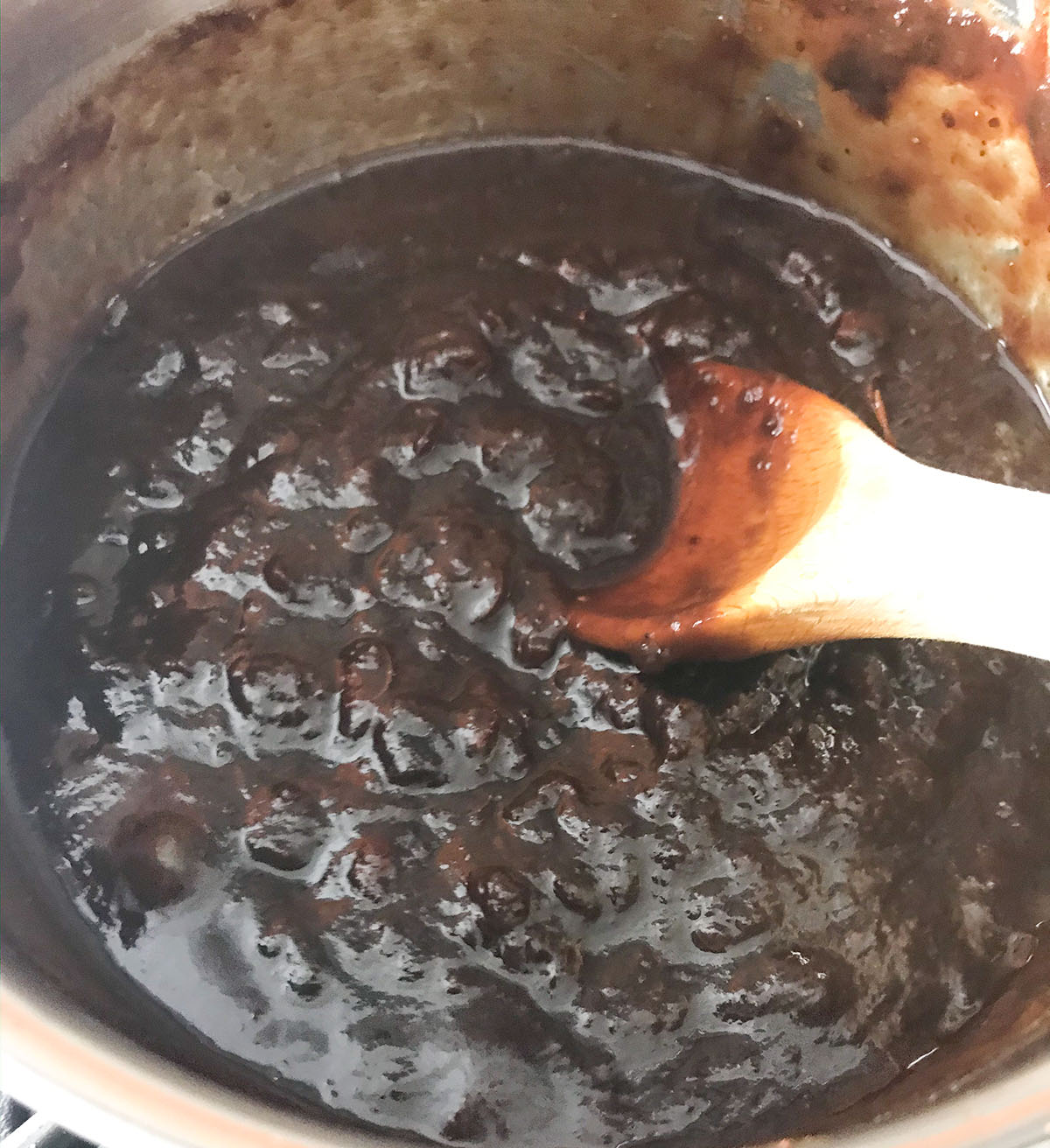 To make the tamarind chutney, just add the pulp with spices and bring it to a boil. It is worth mentioning that black salt and garam masala are usually added at the end of cooking for best taste.
How to store tamarind chutney?
This tamarind chutney lasts for about 3-4 weeks in an airtight bottle in refrigerator and for about 3 months in freezer. I usually freeze it in small batches. Be sure to follow the two cardinal rules of keeping the chutney from getting contaminated:
Don't put a wet teaspoon in the chutney; the unsterilized water can spawn mold in the chutney.
Make sure that the container is completely dry before storing the chutney.
How to use Indian Tamarind chutney?
The Indian tamarind chutney is not just a companion to Chaat. I often also use it in the following recipes:
to liven up the curry base
In Thai food and many other Asian recipes.
In boosting the flavor profile of other herb-based chutneys.
Step-by-step recipe of Indian Tamarind (Imli) chutney
Indian Tamarind (imli) chutney (an heirloom recipe)
Tamarind chutney is a constant companion to chaat (Indian savory snacks). This recipe, that has been passed down through generations in my mom's family, promises the authentic taste of Indian tamarind chutney.
Ingredients
1/2

cup

tamarind pulp

(preferably homemade)

1/2

cup

jaggery (gur)

(or sub with coconut palm sugar or brown sugar)

1/2

tsp

Himalayan black salt*

(also known as Kala Namak)

1/4

tsp

pink Himalayan salt

(can sub with table salt)

1

tsp

garam masala

1/8

tsp

red chili powder

(or to taste; can sub with equal amount cayenne pepper powder)
Instructions
Add the tamarind pulp, jaggery, chili powder, and pink Himalayan salt to a small, heavy-bottom pot and cook over medium heat, stirring to mix the two ingredients. Once the mixture has come to a boil, add the garam masala and Himalayan black salt. Stir to mix well and take the pot off the stove.

The chutney consistency is similar to that of cake batter and shouldn't be too runny. Enjoy with your favorite snacks or with main meals as a condiment.
Notes
*if black salt is not available, move on with regular table salt. 
Nutrition
Serving:
0.5
tbsp
Calories:
36
kcal
Carbohydrates:
9
g
Protein:
1
g
Fat:
1
g
Saturated Fat:
1
g
Sodium:
110
mg
Potassium:
24
mg
Fiber:
1
g
Sugar:
8
g
Vitamin A:
5
IU
Vitamin C:
1
mg
Calcium:
5
mg
Iron:
1
mg