When you are sick with seasonal cold and flu, hot herbal teas become a great companion to offer comfort not only from the pesky symptoms, but also from the sub-zero temperatures outside. This Indian-inspired immunity-boosting herb and spice tea is a version of what Indian grandmothers and moms use during winter months to alleviate cold and flu symptoms.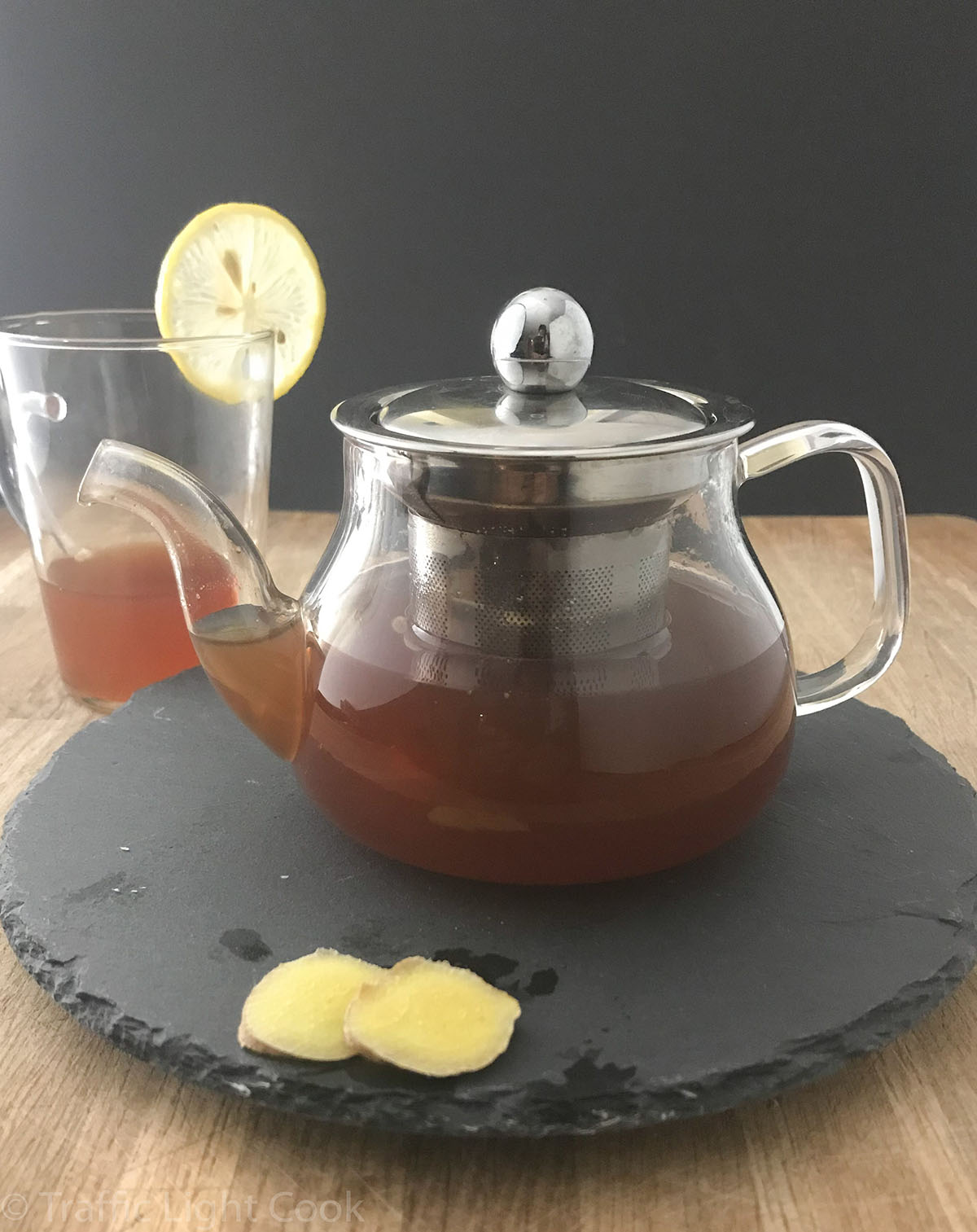 Flu and cold viruses are not treatable by antibiotics, your doctor has probably told you that already. So, if you are down with flu or a cold, the best way to ride it out is to relieve the symptoms. I have covered the cold/flu prevention strategies in the following blogpost:
5 Tips to Smoothly Ride Out the Cold/Flu Season
*The products listed on this page contain affiliate links; however, the choice of products is based on my personal experience and research. Traffic Light Cook earns a small fee if you make a purchase through any of the links below (at no extra cost to you). Ordering through these links helps Traffic light Cook keep publishing FREE content and recipes for you! Thank You.
A herbal tea rooted in Ayurveda
In Ayurveda--the 5,000-year-old practice of holistic medicine--herbs and spices that produce a warming effect on your body help keep the body warm and boost immunity. I have covered the importance of keeping your body warm to prevent flu/cold HERE. The following herbs and spices are recommended in Ayurveda to assuage the symptoms of cold/flu. It is important to note that in Indian households, all of the following herbs and spices in different variations are steeped in everyday cup of tea, particularly during the winter months to prevent cold/flu or alleviate the symptoms. But you can enjoy this spicy, aromatic tea anytime by adding your favorite tea bag and non-dairy milk.
Indian Basil (Tulsi): Indian holy basil is often used in (Hindu) religious rituals. Most Indians (Hindus) believe that it is auspicious to have plant of Holy Basil at home. Indian basil is considered an adaptogenic herb. Adaptogens are believed to have a balancing effect on human physiological processes without showing any side effects with long-term use [1]. In simple words, they are said to increase energy, achieve hormone balance, improve organ functions, and work toward increasing overall wellbeing. One tsp of basil steeped in one cup water is said to relieve flu symptoms [2]. What about the basil as we know it? The Italian basil also has somewhat similar properties as the Indian basil, but is considered less potent [2]. I have tried but haven't been able to grow an Indian basil plant in the upstate New York cold weather. Therefore, I use the dried version of it. I have tried a number of brands and have come to rely on Starwest Botanical.
Ginger: ginger is a rhizome that enjoys global popularity and has been used both in food and medicine for 5,000 years. Ginger has anti-inflammatory properties and helps relieve congestion and nausea [2]. Since ginger is a root vegetable, it is best to use it organic. Fresh ginger works best, but you can surly replace it with dried ginger root or dried ground ginger.
Black Pepper: black pepper is rich in antioxidants and has anti-microbial and digestion-boosting properties [3]. Top your salads and soups with extra black pepper during winter months to give an extra boost to the immunity.
Cinnamon: is another spice with warming and health-promoting benefits. In Ayurveda it is often used to relieve cold and congestion [2].
Clove: clove packs a lot of punch for its size and contains more antioxidants compared to many fruits, vegetables, and spices. Cloves contain eugenol, eugenol acetate, and gallic acid--compounds that are rich in phenolic acid. Clove's antimicrobial activity has been proven against several bacteria and fungi [4]. Clove is another warming spice that helps fight germs and boost immunity.
Let's make the Immunity-boosting herb and spice tea
The tea is super easy to concoct. Bring a cup of water to boil and add all the herbs and spices. Let the tea simmer for a couple of minutes. Turn the heat off and let the tea steep for another couple of minutes. To make this tea even healthier, add fresh lemon juice. Enjoy hot or warm!
Should you add honey to your tea?
Honey is prized for its multiple health benefits. In Ayurveda, it is considered an expectorant--it helps loosen cough and aids in expelling it effectively. Honey is also considered an excellent transporter, meaning that it can reach the deepest tissues [5]. Therefore, using honey can increase the effectiveness of other health-promoting ingredients in this tea.
However, there are some rules to guide using honey correctly in food if you want to enjoy its health benefits.
Always use raw honey: processing changes the chemical composition of honey removing its health-promoting properties. You can find raw honey easily in your local co-op. If you can't find raw honey locally, Amazon has a couple of great brands. Manuka Honey from the Southern Hemisphere--Australia and New Zealand is said to be the best raw honey for its health-promoting benefits. And you don't have to visit either of these countries to get it as it is easily available on Amazon (see Easy Amazon Links). I have tried it and it's really great, but I try to stick to the local raw honey that I get from my co-op.
Don't use honey in hot tea/liquids: much like processing, boiling honey either by heating it or by putting it into hot, boiling liquids changes its chemical composition, rendering its health benefits ineffective. In fact, Ayurveda equates heated honey to poison. I believe heated/boiled honey may not send you to a hospital but it may also not give you the health benefits you are looking out of it. if you want to add honey to this immunity-boosting herb and spice tea, let the tea cool to the room temperature.
Enjoy!
Easy Amazon Links
.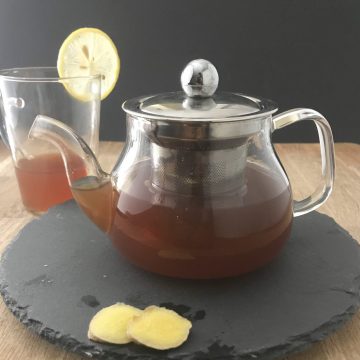 Immunity-boosting Herb and Spice Tea
Enjoy this delicious, aromatic, Ayurveda-inspired herbal tea to boost immunity and soothe those pesky cold/flu symptoms.
Ingredients
1

cup

filtered water

(add 1 extra tbsp to count for evaporation)

1/4

tsp

grated ginger

(fresh, preferably organic)

1/4

tsp

ground cinnamon

(or sub with 1/2 inch piece of cinnamon stick)

1

clove

2

pinches

freshly ground black pepper

1/2

tsp

dried Indian basil leaves

(preferably sub with 1 tsp fresh Indian basil leaves)

1

tsp

maple syrup*

(optional)

1/4

fresh lemon

(optional)
Instructions
In a small, heavy-bottom pan, bring filtered water to a boil over medium heat. Add all the spices and herb . Simmer over low heat for two minutes. Turn the heat off, cover the pan with a lid and let the spices and herb steep for another two minutes. Use a tea strainer to transfer the tea without the spices and add lemon through the strainer. Enjoy hot with a tsp of maple syrup.
Notes
*In India this tea is often consumed with honey. However, if you do use honey, the best health benefits come from using RAW HONEY. Also, to preserve the raw honey benefits, it is best to mix with tea when at room temperature. Hot temeperatures bring about a change in honey rendering its health-perserving benefits useless. 
Variation #1: add a decaffeinated black tea bag after turning off the heat. Steep for 2 minutes with other spices in the tea. Serve with a dash of non-dairy milk. 
Variation #2: add a dash of non-dairy milk if you find the spices to be too strong.
CAUTION: if you are experiencing (women 40+) hot flashes due to perimenopause or menopause, first drink in small amounts as warm spices can trigger hot flashes. 
Nutrition
Serving:
1
cup
Calories:
35
kcal
Carbohydrates:
9
g
Protein:
1
g
Fat:
1
g
Saturated Fat:
1
g
Sodium:
15
mg
Potassium:
37
mg
Fiber:
2
g
Sugar:
5
g
Vitamin C:
14
mg
Calcium:
11
mg
Iron:
1
mg
Remember: this post is for informational purposes only and may not be the best fit for you and your personal situation. It shall not be construed as medical advice. The information and education provided here is not intended or implied to supplement or replace professional medical treatment, advice, and/or diagnosis. Always check with your own physician or medical professional before trying or implementing any information read here.