The world of the wide web is replete with articles on the benefits of drinking warm lemon water first thing in the morning. Is it a healthy practice? Read on to find the answers.
If the proof were to be found in celebrity lifestyle, a few actors/models--Gwyneth Paltrow, Beyonce, and Gisele Bündchen to name a few-- confess starting their day with warm lemon water in the morning. My own introduction to the morning lemon water started more than a decade ago, out of curiosity after reading an article in some magazine. After following the practice religiously for two weeks, I noticed a significant increase in energy throughout the day. Ever since, I have traded my morning cup of tea with a tall, warm glass of lemon water.
A spotlight on lemon
Lemon is a hardy citrus, known to be originated in India and China. The fruit made its way to the West with Christofer Columbus, when he carried the seed to the West Indies on his second voyage in 1493. In the U.S., Florida was the first state to grow lemons when the fruit made its way from Haiti [1]. The use of lemons to remedy certain health conditions and general wellness is documented in 5000-years-old Ayurvedic texts where the fruit is said to have digestive and laxative properties and stimulate salivation and digestive juices. In a scientific study, the consumption of citric acid--found in most citrus fruits including lemons--was linked to anti-inflammatory effect on brain in rats.
Benefits of drinking lemon water first thing in the morning
Rehydrate:

During sleep at night, around 7-8 hours, the body gets dehydrated. Drinking water, with or without lemons, first in thing in the morning helps body hydrate and reenergize. Remember that dehydration makes our minds a bit foggy. This is why drinking water first thing in the morning boosts our brain power as well. It is important to keep the water temperature to lukewarm as the body needs to work hard to bring cold water to the body temperature and hence may lose energy instead of gaining.

Rejuvenate skin (aka make it glow): Skin is the biggest organ in our bodies, which needs to hydrate frequently. Drinking a glass of lemon water not only hydrates the skin, it also offers a little boost of vitamin C--an essential vitamin needed to make collagen--the structural backbone of skin.
Stimulate digestive system: As stated above, lemons can stimulate the digestive system, starting the body on a right note in the morning. As we age, our digestive system slows down. Therefore, over age 40, drinking lemon water can help fire up the digestive tract.
Myths around drinking lemon water
It detoxifies the body: Drinking plenty of water helps eliminate waste from our bodies (aka pee and poop). However, there are no studies that have proven that lemon water eliminates waste at the cellular level.
It prevents cancer by alkalizing the body: Nope! If you have read that drinking lemon water creates alkaline environment, which prevents the growth of cancer cells, then that claim remains scientifically unproven.
Lemon is a natural diuretic: No. Any foods with potassium tend to make you pee more. That would mean most fruits and vegetables, including lemons. However, lemons don't have any special diuretic properties. Just the act of drinking more water will make you pee more.
How to make the morning lemon water?
Take around 12-17 ounce of filtered water. If you are not used to drinking water in the morning, start by 8 ounce of water first.
Warm the water. Most of the time I use a pan, but if in a hurry I just microwave for 25-30 seconds. The water should be warm to touch not hot and definitely not boiling. Adding lemon to boiling water can diminish its vitamin C. Add about half a lemon to 12-17 ounce of water. If you are starting out with 8 ounce, add quarter of a lemon.
Wait for about 20-30 minutes before eating or drinking anything else.
Protect your teeth enamel, use a straw to drink lemon water
Lemons tend to be acidic. If you drink lemon water every morning, it may wear away the teeth enamel. By the way, drinking acidic soda or fruit juice, i.e. orange juice, has the same effect on your teeth. Here are a couple of tricks to keep your teeth happy.
Use a straw: I use a steel straw to drink lemon water, most of the time. You can use a plastic straw as well, but I have been trying to minimize plastic in my house. Moreover, most plastic straws have BPA--a chemical found in plastic that can disrupt hormones. I have included the link to the steel straws I have been using. These come with a nifty cleaning brush.
2. Don't brush your teeth right after drinking lemon water: Brushing right after eating a citrus fruit or drinking citrus juice (or soda) can harm teeth enamel. Wait for at least 20-30 minutes to your teeth after drinking or eating acidic foods.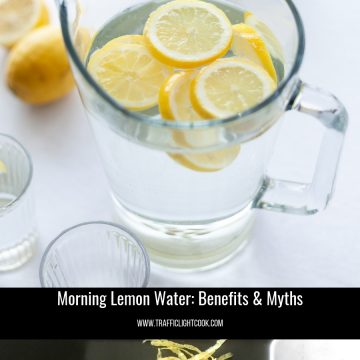 Morning Lemon Water
Morning lemon water: Get energized for the rest of the day.
Ingredients
12

ounce

water

(filtered)

1/2

lemon*

(fresh, preferably organic)
Instructions
Warm the water and squeeze the lemon. Drink immediately with a straw.
Notes
*Please don't use pre-bottled lemon juice. 
Nutrition
Serving:
12
ounce
Calories:
15
kcal
Carbohydrates:
5
g
Sodium:
18
mg
Potassium:
74
mg
Fiber:
1
g
Sugar:
1
g
Vitamin C:
28.9
mg
Calcium:
30
mg
Iron:
0.4
mg
Resources and Recommendations
Book: The Illustrated Encyclopedia of Fruits, Vegetables, & Herbs by Chartwell Books
Picture source--www.pexel.com