Kickstart your morning with this energizing, vitamin- and mineral-rich, glowing green smoothie bowl. It tastes like a dessert in a bowl. Perfect for quick morning breakfast or aftenoon pick me up snack.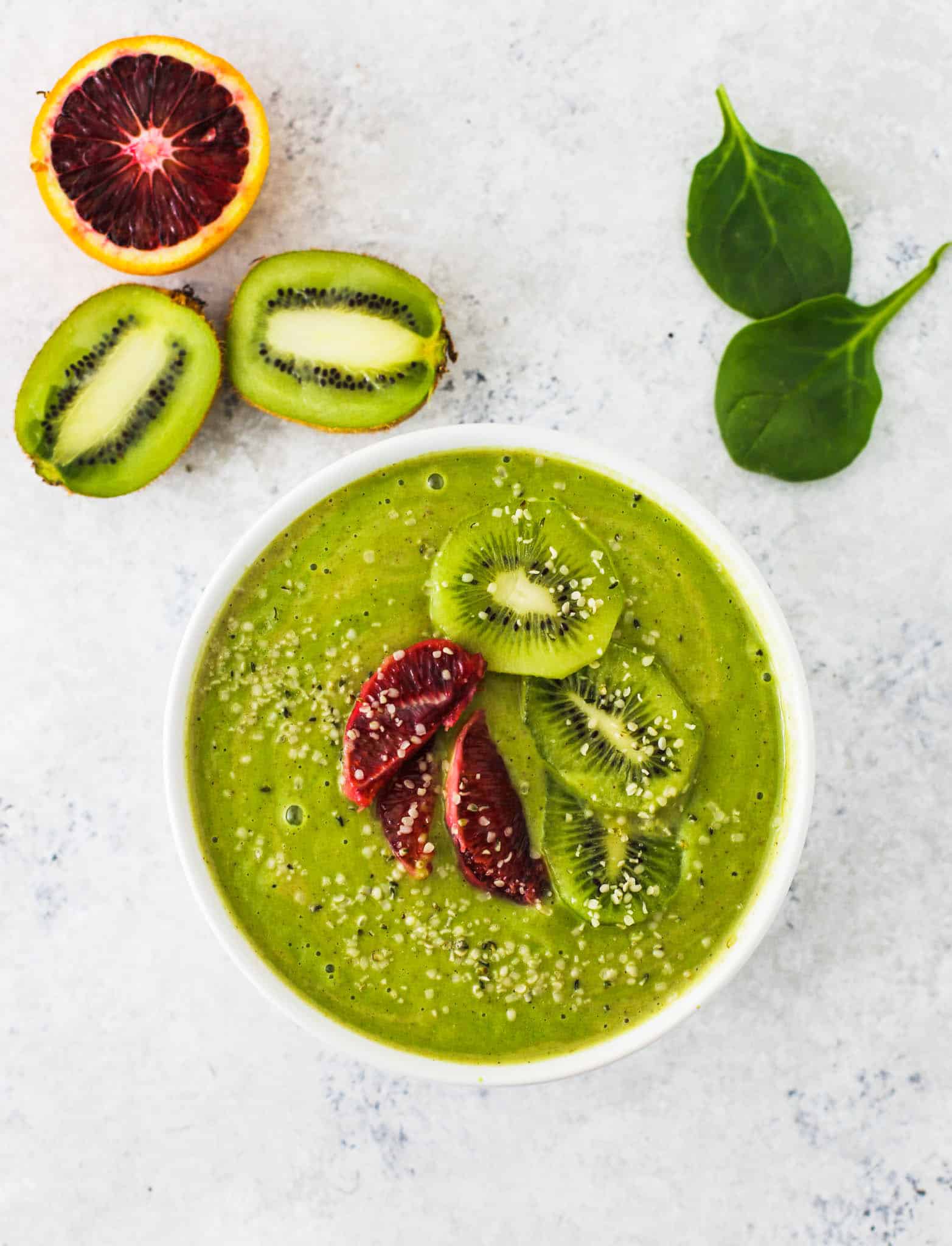 Ingredients that taste good and bring a glow inside-out
A food is as healthy and delicious as its ingredients. And this glowing green smoothie bowl is packed with REAL, good-for-you and tasty stuff.
Banana: if banana is not your favoite, replace with 1 small carrot.
Kiwi: a great source of vitamin C
Walnuts, hemp seeds, ground flax seeds: great sources of healthy OMEGA-3 fats, the kind that is largely missing in our diets. You can replace hemp seeds with equal amount ground flax seeds.
Ginger root: offers anti-inflammatory benefits.
Baby spinach: great source of vitamins and minerals. Can be substituted with equal amount baby kale.
Lettuce: I have used romaine lettuce, but other sweeter varities of lettuce, i.e., butter lettuce, should work as well.
Health Coach Tips
Be your own body and mind detective. See how this smoothie works for you. Do you feel energized?
This smoothie works great as a quick breakfast and keeps you full for a long time as it's high in fiber, protein, and healthy fats.
This vitamin- (particularly A and C) and mineral-rich smoothie is great for skin.
If you have kidney stones, replace spinach with kale or lettuce as spinach tends to be high in oxalates.
This glowing green smoothie is high in fiber. Plan on drinking plenty of water throughout the day, otherwise fiber can cause constipation.
If possible, use organic produce. Pesticides in inorganic produce take a heavy toll on our bodies-espeially hormones.
How to meal plan glowing green smoothie bowl?
Just make sure you have all the ingredients at hand.
It's super IMPORTANT to wash all the ingredients thoroughly.
It's best to make this smoothie fresh.
If you are in a hurry, soak the blender jar so that you don't have to spend a ton of time and effort in scraping the dried smoothie.
More smoothie/smoothie bowl recipes on TLC
Protein-rich Berry & Mint Smoothie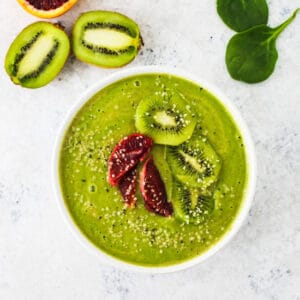 Glowing Green Smoothie
This quick glowing green smoothie tastes like dessert in a bowl. This vitamin- and mineral-rich smoothie offers hyper-nutrition as is great for your skin.
Ingredients
1

cup

water

(filtered)

1/2

banana

(peeled)

1

kiwi

(peeled, use half for smoothie and slice the other half for topping )

1/2

cup

romaine lettuce

(can sub with butter or other type of lettuce)

1/2

cup

baby spinach

(washed, can sub with equal amount baby kale)

1/2

blood orange

(or any other type, for topping, optional)

1/4

tsp

ginger

(fresh, ~1/4" piece, washed and peeled)

1/4

tsp

cinnamon powder

(can increase to 1/2 tsp)

1

tbsp

raw walnuts

(~ 4 walnut halves, preferably soaked overnight)

1

tbsp

raw almonds

(~8 almonds, preferably soaked an peeled)

1

tbsp

hemp seeds

1

tbsp

ground flax seeds
Instructions
Wash all the produce under cold, running water. Add all the ingredients excpet hemp seeds, orange slices, kiwi slices (if using as a topping) to a high-speed blender. Blend until smoooth.

Pour into a bowl or wide-rim glass; garnish with the toppings. Enjoy.
Notes
Replace banana with carrot to lower the sweetness. 
Add 1 tbsp cacao powder if you like the chocolate flavor. 
If you want drinkable consistency, add 1/4 cup of water. 
Nutrition
Calories:
411
kcal
Carbohydrates:
47
g
Protein:
12
g
Fat:
16
g
Saturated Fat:
1
g
Polyunsaturated Fat:
14
g
Monounsaturated Fat:
6
g
Sodium:
21
mg
Potassium:
894
mg
Fiber:
10
g
Sugar:
14
g
Vitamin A:
1507
IU
Vitamin C:
74
mg
Calcium:
151
mg
Iron:
3
mg