Bruschetta (pronounced Bru'sketta) comes from Italy where it is usually served as an antipasto (appetizer or starter dish). Although you can make this quick 10-minute bruschetta in any season owing to the year-round availability of  tomatoes and (fresh) basil, I find myself making this quite often in the summer.
Maybe I wait to get the vine-ripened tomatoes, that have gotten the right amount of sun, and fresh basil from my summer CSA . As you have probably guessed it by now, this antipasto is all about celebrating the flavors of fresh tomatoes and basil. This quick bruschetta with or without sun-dried tomatoes is often a lunch or dinner staple in the summer with lentil or bean soup/salad in my kitchen. This dish also offers a great bang for your buck, in this instance time, if you are cooking for a large crowd. Many guests at my dinner table have asked for the recipe of this quick bruschetta with sun-dried tomatoes.
Here is how to make it: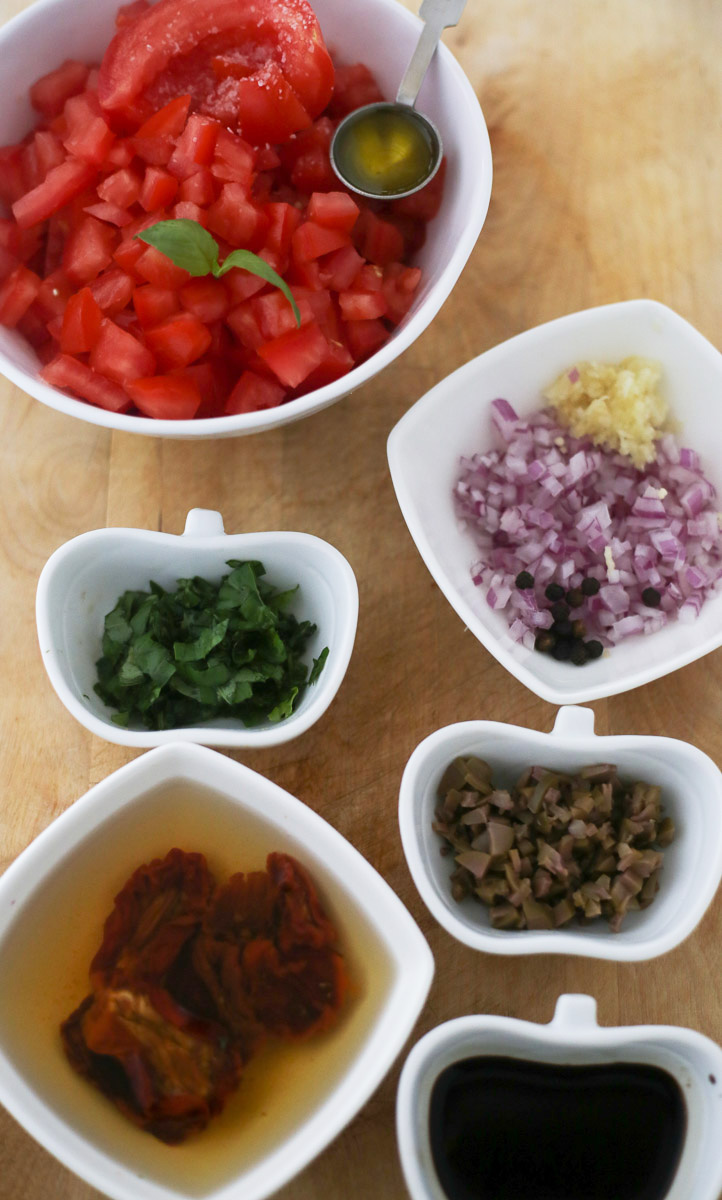 You can use any variety of tomatoes, the only condition is that they should be ripe. Although you can make this quick bruschetta without using sun-dried tomatoes, they add a sweet-tarty flavor and chewy texture to this recipe. Be sure to use the sun-dried tomatoes that are not packed in oil. You can find them in grocery stores at the same place you find the oil-packed variety. Not only oil-packed sun-dried tomatoes tend to add (unnecessary) oil to the recipe, they also monopolize the flavor of bruschetta.
Olives are also optional and you can use any variety--green, black or purple. I like to use olives instead of olive oil as they also add texture and salty/sour taste to this quick bruschetta. if not using olive, you can use olive oil.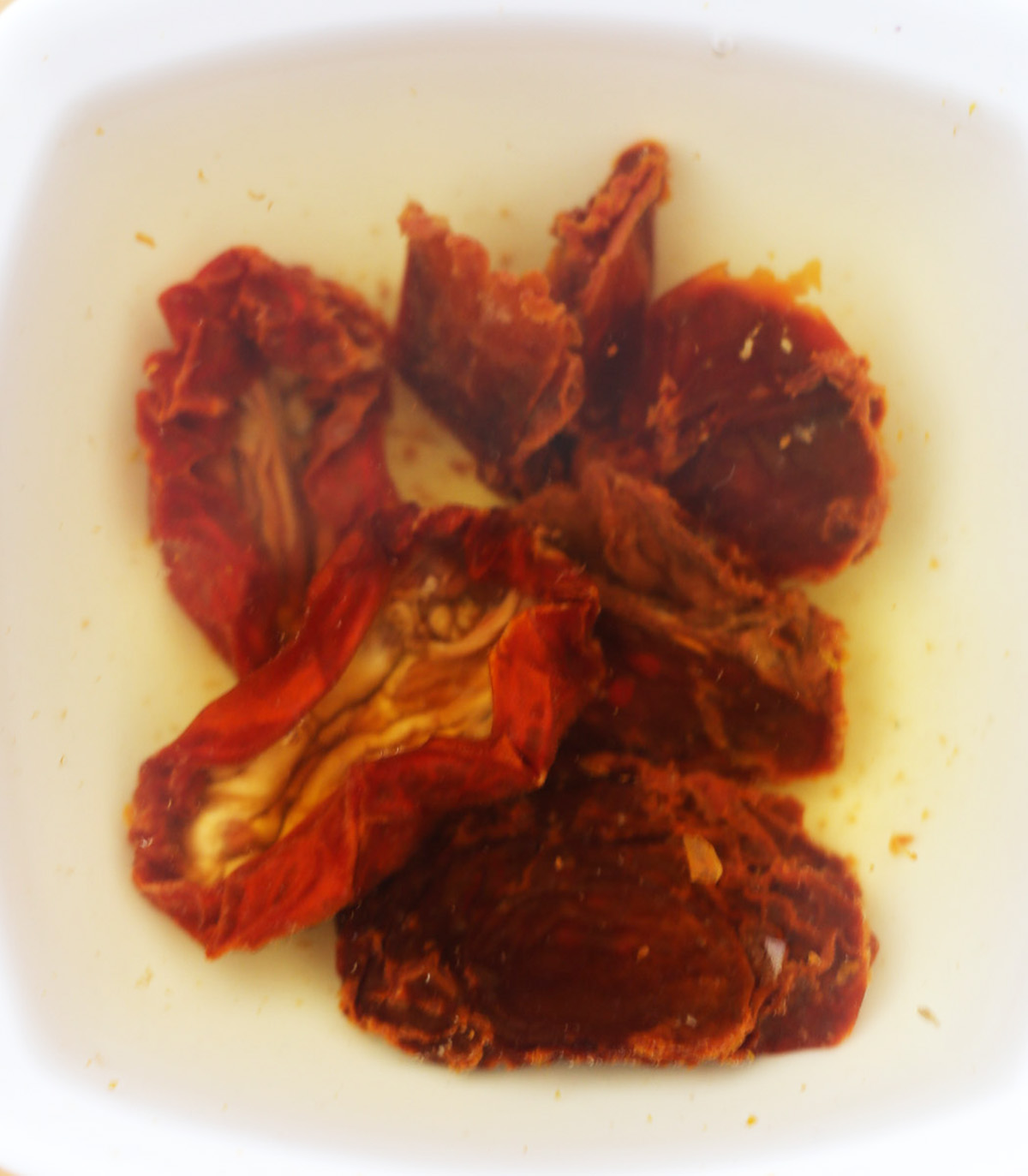 Sun-dried tomatoes that are not packed in oil need to be reconstituted. Just add boiling water to the tomatoes and let it rest till they come to the room temperature before adding to the bruschetta (around 15 minutes).
After mixing all the ingredients, it is best to let the mixture sit, preferably at room temperature, for an hour to meld the flavors. You can also place it in the fridge for an hour, but flavor mixing is best achieved at room temperature.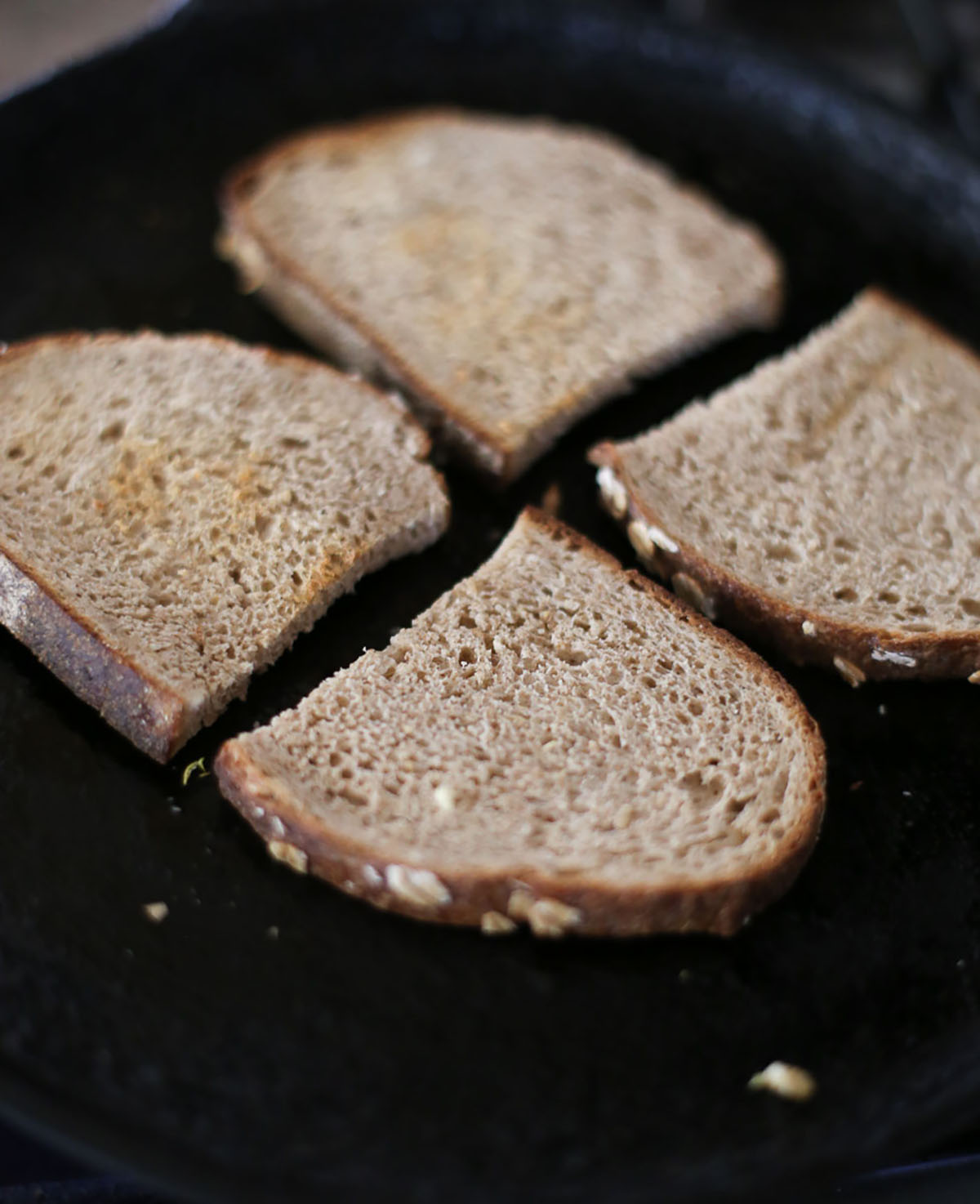 Traditionally, garlic and olive-oil rubbed bread is an essential part of enjoying bruschetta. I usually add minced garlic to the oil and then brush about 1/8-tsp of oil on one side of each toast. You can use any type of bread, in my experience the sourdough tastes the best. I either use sourdough or whole grain bread/baguette. You can make the bread in the oven pre-heated to 350 Fahrenheit. If I am making just for my family, I usually toast the bread on an iron skillet on medium heat. This ensures crispier bread without using too much oil.
Top the bread with tomato mixture and enjoy a burst of flavor in your mouth with each bite! I usually make enough for one occasion as bruschetta flavors tend to get diluted overnight in refrigerator. But, if you have leftovers, you can add them to your pasta the next day.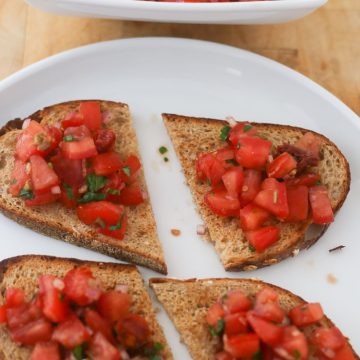 Quick Bruschetta with Sun-Dried Tomatoes
Celebrate summer with this vegan, quick bruschetta with sun-dried tomatoes. Use it as an appetizer or a side dish with bean/lentil soups at lunch or dinner.
Ingredients
3

cups

fresh, ripe tomatoes

(seeded, finely chopped, any variety works)

1/3

cup

sun-dried tomatoes

(about 4, not packed in oil, reconstituted, chopped)

4

tbsp

red onion

(about 1/2 onion, finely chopped)

2

tbsp

green olives

(about 5, finely chopped, optional)

3

cloves

garlic

(minced)

3

tbsp

fresh basil leaves*

(finely chopped)

2.5

tsp

balsamic vinegar

1

tsp

olive oil**

(preferably extra-virgin, optional)
For the bread
1

bread or baguette

1

tb

olive oil

2

cloves

garlic

(minced)
Instructions
First, reconstitute the sun-dried tomatoes by pouring boiling water over them. Keep aside till the water comes to room temperature (around 15 minutes).

Finely chop tomatoes, onions, fresh basil leaves, reconstituted sun-dried tomatoes, and olives. In a bowl, mix all the ingredients with minced garlic, balsamic vinegar, and freshly ground black pepper.

You can enjoy the bruschetta right after mixing all the ingredients, but if you really want to experience the robust flavors of this classic dish, then cover and let it sit at room temperature for about one hour.
To make the bread
Preheat the oven to 350 degrees. Mince the garlic cloves and add to the olive oil. Cut the bread or baguette in thin slices.

Brush the bread with olive oil and arrange it oil side down on a baking sheet with no liner. Bake for 15 minutes.

Top the crisp bread with tomato mixture. Enjoy!
Notes
*I have not tried it, but you can replace fresh basil with 3 tsp dried basil.
**I use olive oil, if I am not using olives. 
Make it gluten-free
Use a gluten-free bread/baguette 
Nutrition
Serving:
2
bread pieces each topped with 2tbsp of tomato mixture
Calories:
68
kcal
Carbohydrates:
11
g
Protein:
1
g
Fat:
1
g
Sodium:
129
mg
Potassium:
102
mg
Sugar:
1
g
Vitamin A:
300
IU
Vitamin C:
5
mg
Calcium:
20
mg
Iron:
0.7
mg