This protein-packed, creamy, calcium-rich risotto made with cauliflower rice and white navy beans is a perfect comforting dinner for the cool fall weather!
Risotto is a traditional Italian dish, which is made with medium- to short-grain white rice. You can now find the brown version of risotto rice as well in grocery stores. This recipe is inspired by the plant-based risotto I had last year in Venice, Italy. I have replaced the risotto rice with riced cauliflower and added white navy beans for protein.
Jump to:
Ingredients
This recipe is heavily inspired from Butternut Squash Soup with Kale & White Beans on this site.
This creamy cauli-rice and white bean risotto relies on almonds and nutritional yeast for its creamy texture and taste. Cauliflower rice replaces risotto rice and beans add protein and texture.
Cauliflower: Riced or grated. A cruciferous vegetable with hosts of health benefits.
Spinach: Leafy dark green vegetables, full of minerals and calcium.
Flavorings: Nutritional yeast, onion, garlic, easy homemade vegetable broth, salt, and black pepper.
Navy beans: Creamy taste and full of calcium and fiber. You can use canned or home-cooked. If using canned, make sure that the can liner is BPA-free (should be listed on the packaging).
Creamy texture: Nutritional yeast and almonds.
Recipe Highlights+Health Coach Tips
This recipe makes it super easy to get three servings of vegetables in one shot.
Calcium-rich navy beans and spinach offer 20% of recommended daily allowance (RDA) of calcium in one serving.
One serving offers 18 grams of protein and 15 grams of fiber.
If you are avoiding carbs, cauliflower rice offers a great low-carb, healthy option.
Instructions
Start out by cooking the beans, if you are making the beans from scratch; otherwise start from step 2.
Cook the beans in a pressure cooker. Instant pot makes this step super easy.
2. Make the creamy sauce by blending almonds, nutritional yeast, and vegetable broth.
3. Cook the garlic, onion with vegetable broth followed by riced cauliflower with the almond/nutritional yeast sauce.
4. Add the beans and spinach and let it cook until the spinach wilts. Add the basil and close the lid for 5-10 minutes to meld the flavors. Add the vegan parmesan cheese (optional).
Substitutions
A recipe is fun to work with if it's not etched in stone. In this creamy cauli-rice and white bean risotto, feel free to make the following substitutions.
Beans - substitute navy beans with equal amount of other white bean varieties like cannellini or Great Northern bean.
Fresh basil - replace 2 tbsp of fresh basil leaves with 1.5 tsp dried basil.
Homemade vegetable broth- substitute with store-bought, low-sodium vegetable broth. You can also use water instead of broth. My favorite brands (in the US) are the low-sodium Pacific Vegetable Broth . A really good cheaper option is 365 Whole Foods Vegetable Broth.
Nutritional Yeast: I haven't tried it yet, but should be able to replace nutritional yeast with 1/2 tbsp lemon juice.
Equipment
I have learnt over the years that a good quality and the right equipment can make a big difference in making cooking easy and more efficient.
A wet and dry spice/coffee grinder is a must in my kitchen to do the small jobs like making quick small-quantity sauces, chutney, and dressings. I use Secura wet/dry coffee & spice grinder.
A wide-mouth, heavy-bottom multi-purpose pan is great for making this creamy cauli-rice white bean risotto.
Pressuring cooking lentils, beans, and grains helps reduce their anti-nutrients. A pressure cooker is a must in the kitchen. I use Instant Pot in my kitchen.
To make cauliflower rice you can use either a hand or box grater or a food processor. I use this Food Processor in my kitchen.
Meal Planning Tips
Cool and refrigerate the risotto within two hours of cooking. You can store this creamy cauli-rice and white bean risotto in an air-tight container for up to 3 days.
If using home-cooked beans, you can make the beans a day or two in advance and store in an air-tight container. Otherwise, make sure to add canned white beans to your grocery list.
It's best to make the cauli-rice fresh, it takes only 5 minutes. But if you are short on time, you can make it a day in advance and store in an air-tight container.
You can freeze this recipe for up to three weeks, but the veggie nutrition will decline. You can freeze the cooked beans and make the recipe fresh.
More Dinner and Lunch recipes
Looking for other lunch or dinner recipes? Try these:
Creamy Cauli-Rice & White Bean Risotto
This creamy cauliflower rice and white bean risotto made with creamy almond sauce is not only mineral-rich but also offers a comforting meal.
Ingredients
For the Risotto
1-1/4

cup

homemade vegetable broth

can sub with equal amount water, divided in 1/4 cup, 1/2 cup and 1/2 cup

1

tbsp

nutritional yeast

2

tbsp

almonds

soaked and peeled, ~14-16 almonds

3/4

cup

white onion

finely chopped, can sub with yellow onion, ~ 1 small onion

2

cloves

garlic

finely minced

3

cups

cauliflower

grated or riced in food processor, ~12 oz without stalks

3/4

cup

navy beans (dry)

~2 cups cooked, or sub with 1.5, 15-oz canned white beans

1/8

tsp

freshly ground black pepper

or to taste

1/2

tsp

pink Himalayan salt

can increase to 3/4 tsp or to taste, can sub with equal amount sea salt

2

tbsp

fresh basil leaves

or sub with 1.5 tsp dried basil, finely chopped

3

cups

baby spinach

~3 oz, roughly chopped
For the Vegan Parmesan (optional)
2

tbsp

raw pumpkin seeds

(sub with equal amount cashews or sunflower seeds)

1

tbsp

nutritional yeast

1/2

pinch

salt
Instructions
To make the Risotto
Add soaked and peeled almonds, 1 tbsp nutritional yeast and 1/2 cup broth to a wet spice grinder or to a blender. Grind (blend) to the consistency of a smooth mixture. Set it aside.

Heat a heavy-bottom, wide-mouth pan over medium heat and add 1/4 cup homemade vegetable broth*. When the broth starts to bubble, add the chopped onion, minced garlic, and pink Himalayan salt . Cook, stirring occasionally, onion and garlic for 4-5 minutes. Onions should be cooked soft and translucent. Add more broth if the mixture starts to dry out and stick at the bottom of the pan.

Add the riced (or grated) cauliflower and black pepper. Cook, stirring often, for 5 minutes. The cauliflower should become soft but not mushy.

Add the almond mixture along with cooked navy beans and chopped spinach and mix with cauliflower rice mixture. (If using dried basil, add here.) Stir for 4-5 minutes and cover for 2 minutes over low heat. Add the chopped fresh basil and stir. Turn and heat off and cover the pot for 10 minutes for extra-flavor. Enjoy warm!
To make the vegan parmesan cheese
Add all the ingredients to a dry grinder and grind to a coarse consistency. Divide in three parts and sprinkle over the risotto.
Notes
*Be sure not to overheat the pan. 
Recipe Notes
Substitute navy beans with other varieties of white beans--Great Northern Beans or Cannellini beans in equal amount. 
Nutrition facts for  vegan parmesan cheese are not included. 
If you like the olive oil taste risotto, stir-in 1 teaspoon extra-virgin olive oil at the end. 
Nutrition
Serving:
1.5
cup
Calories:
296
kcal
Carbohydrates:
50
g
Protein:
18
g
Fat:
7
g
Saturated Fat:
1
g
Polyunsaturated Fat:
2
g
Monounsaturated Fat:
4
g
Sodium:
665
mg
Potassium:
1211
mg
Fiber:
15
g
Sugar:
6
g
Vitamin A:
94
IU
Vitamin C:
90
mg
Calcium:
211
mg
Iron:
7
mg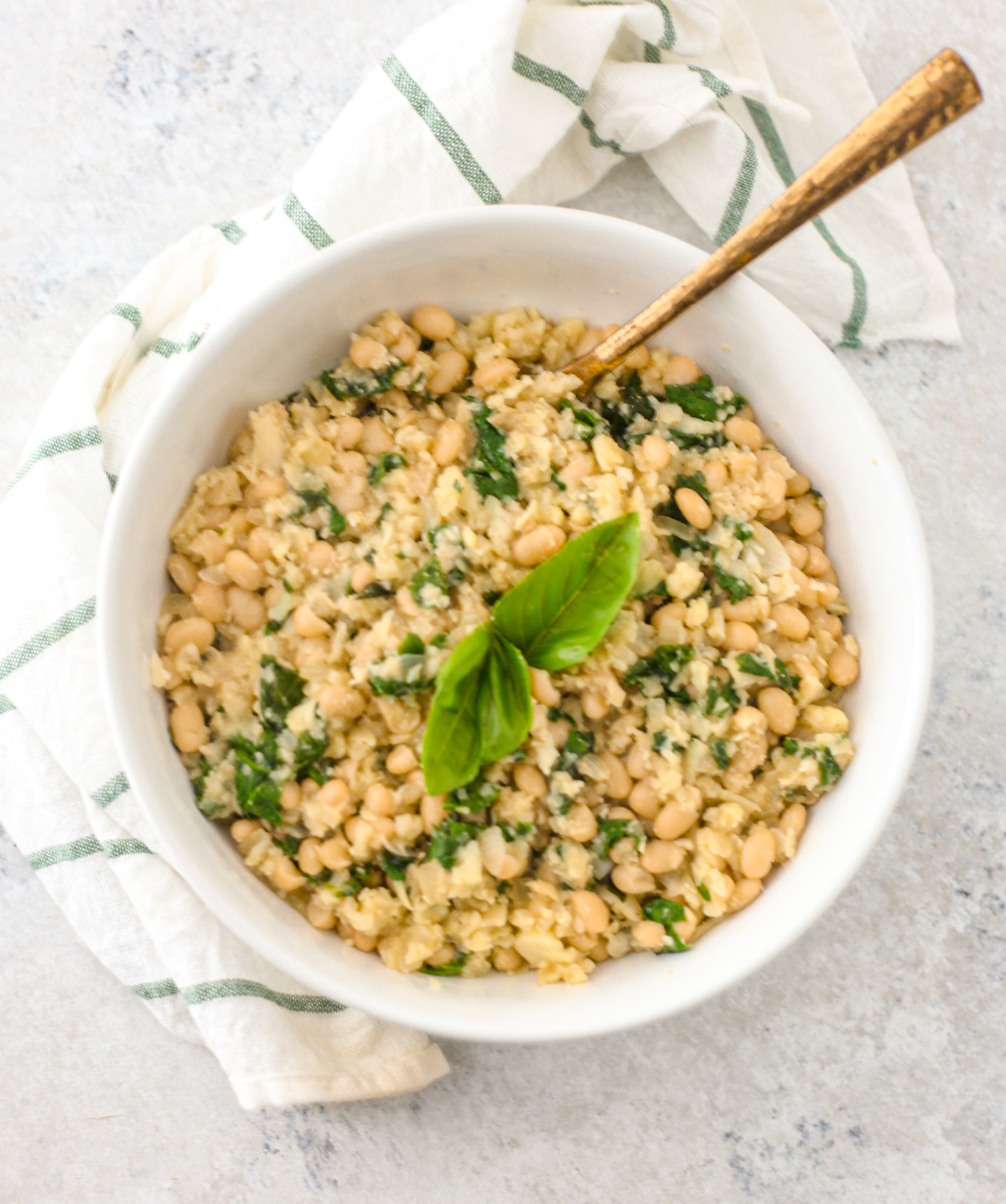 Food safety
We sometimes take for a granted that we have years (or decades) of cooking experience, that the average visitor may not. Add to, or remove from, the list below with health and safety tips.
Do not use the same utensils on cooked food, that previously touched raw meat
Wash hands after touching raw meat
Don't leave food sitting out at room temperature for extended periods
Never leave cooking food unattended
Don't smoke oils.
Always have good ventilation when using a gas stove