This summer cherry and corn salad has sweet and sour notes and come together within minutes. Enjoy it as a side salad or turn it into a full meal by adding chickpeas or your choice of beans.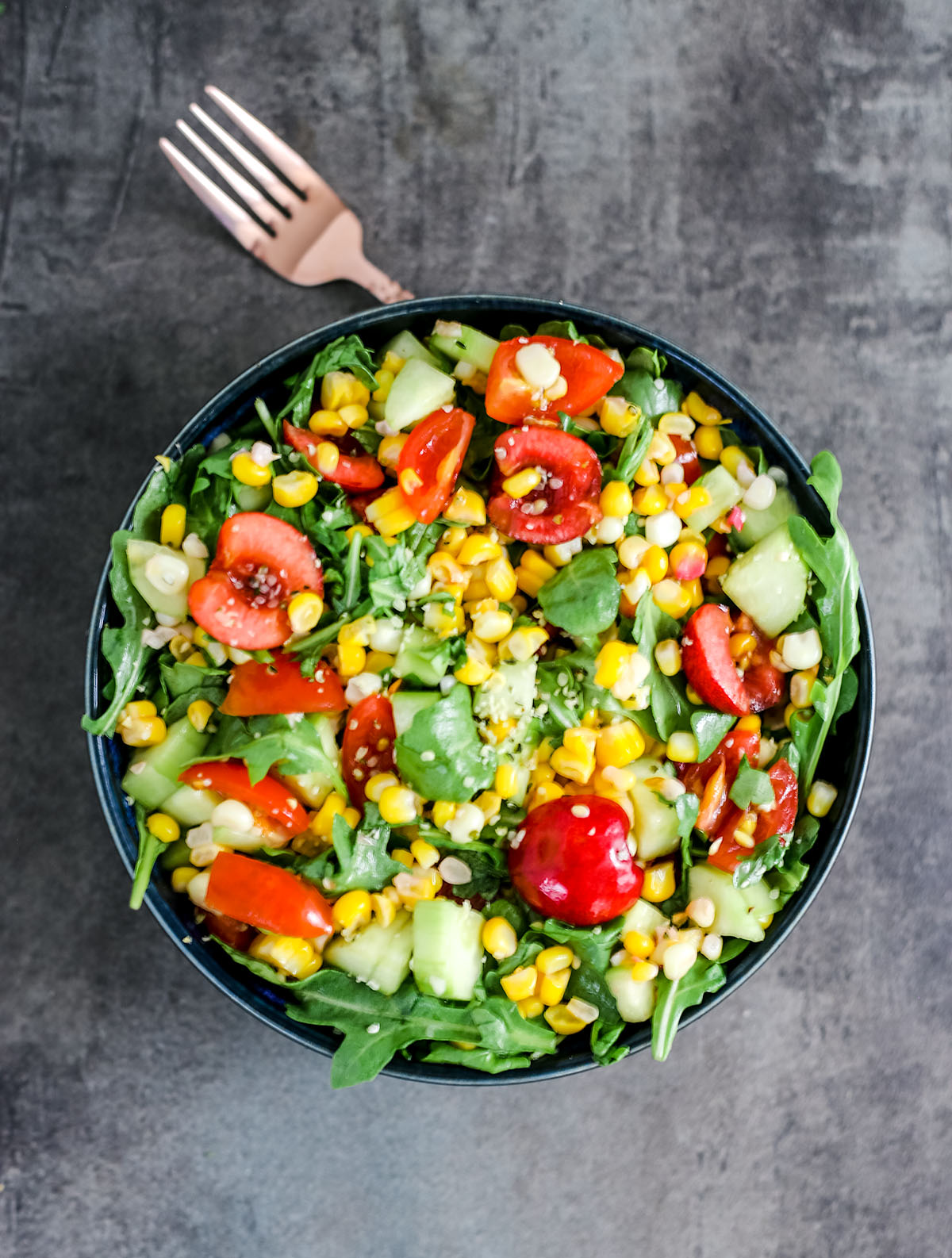 Althought summer is at its tail end, corn continues to show up in supermarkets, farmers markets, and CSA shares. The beauty of seasonal corn is that it's sweet and tender and full of good-for-you nutrients. This summer jewel pairs well with other summer fruits and veggies--cherries, tomatoes, and cucumber.
Healthy & seasonal ingredients
This colorful salad is not only big on flavor, it is also high in vitamins and minerals. One serving of this salad provides almost 10% of daily calcium. It is very important to choose the freshest ingredients, especially in a salad. Here are the main ingredients used in summer cherry and corn salad.
Corn: While corn is often vilified for its high carb content, the fresh, seasonal corn is full of good-for-you fiber as well as vitamins and minerals. It is best to use organic corn as corn is one of the topmost GMO crops. Shop in your local farmers market as small farmers often offer non-GMO, low-pesticide corn.
Cucumber: make sure the cucumbers are firm to touch and fresh.
Tomatoes: you can use any variety of tomatoes. My favorites are Roma, cherry, and grape tomaotes.
Greens: Arugula offers a naturally spicy background to the sweet and sour notes of this salad. You can totally replace arugular with baby kale or baby spinach. If you have lettuce at hand, that would work as well.
Lemon: adds the sour notes as well as big dash of vitamin C. Lime makes a good subsbitute.
Hemp seeds: Hemp seeds are a great plant-based source of omega-3s: a type of healthy fat. You can subsibtitue hemp seeds with equal amount of ground flaxseeds or walnut halves.
Would it be ok to use frozen corn in this recipe? Possibly, but it wouldn't give the same texture and taste. Fresh seasonal corn is sweet and tender, that forms the backbone of this salad. If you opt for frozen corn, make sure it's organic.
How to make summer cherry and corn salad: easy!
Thanks to a small ingredient list and minimal preparation, this salad is super easy and fast to put together.
Start out by steaming the corn--boil water, dehusk and cut corn ears on half.
Save time by chopping veggies while the water boils to steam the corn.
Steam the corn for 5-7 minutes and immediately immerse in cold water for 5 minutes.
Add all the chopped veggies and fruits and season with lemon, salt, and peper.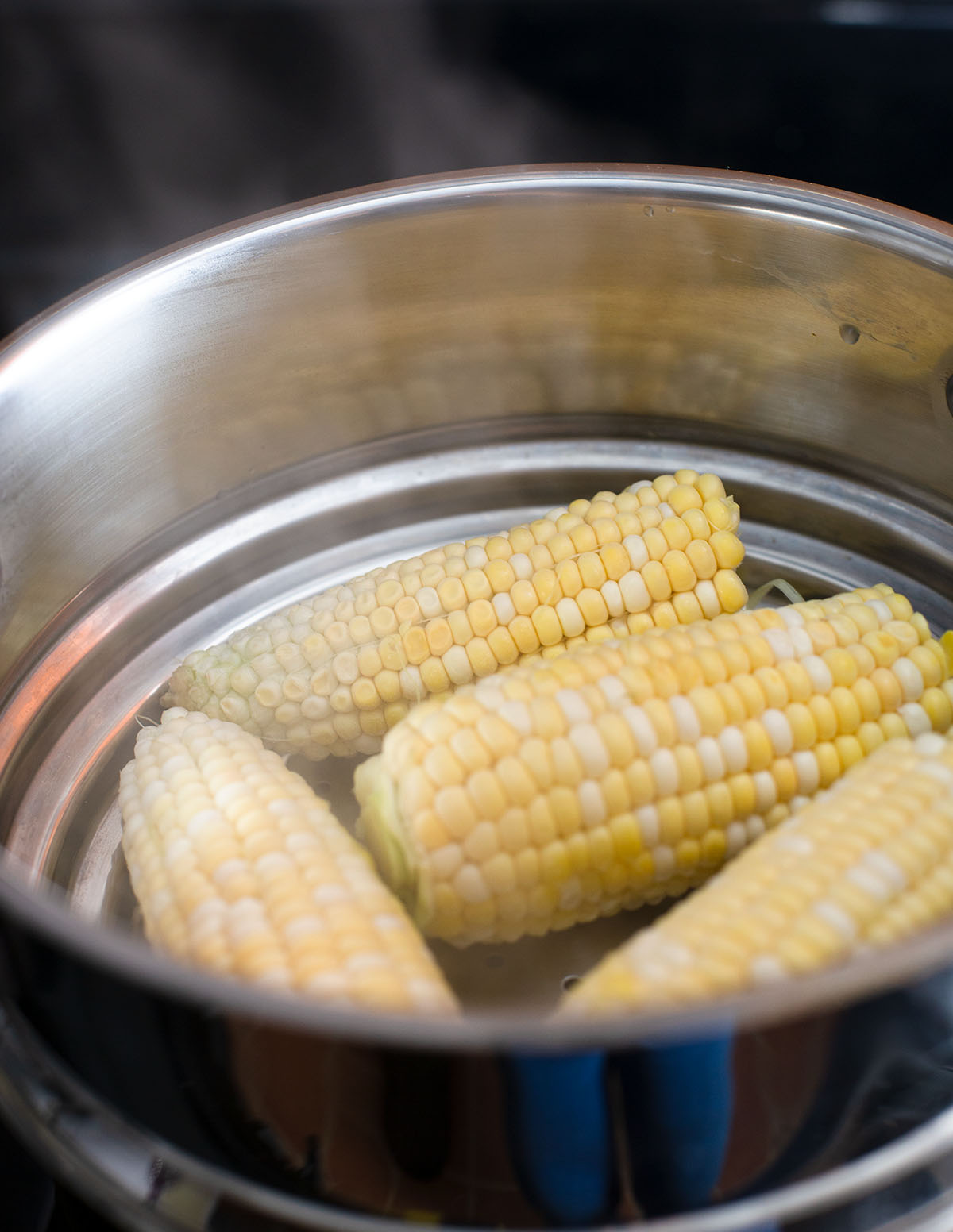 A cherry pitter is very useful for pitting the cherries and I find it an essential equipment in my kitchen during the cherry season.
How to serve and variations
Serve this summer cherry and corn salad as a side with your lunch or dinner. You can also use it as an enerziging snack between lunch and dinner.
Make it a meal: turn this salad into a meal within minutes by adding 1 cup of cooked chickpeas and 1/2 avacado (sliced) per serving to the salad and increase the seasoning per taste. I haven't tried it yet, but you could add cooked lentils or any other type of beans as well.
Add/replace veggies and fruits: red bell peppers would go well with this salad. You could also replace tomatoes with bell peppers and cherries with other strawberries or raspberries.
How to mealplan and store this salad
Since it's super easy and quick to put this salad together, the best mealplanning tips is to have all the ingredients at hand and make it fresh.
You can steam the corn beforehand and store the kernels in an airtight container for upto three days after cooling to room temperatures.
If you would like to store the salad for multiple meals, it would be best to store it in an airtight container without the dressing for salt for upto 2 days. Adding salt would drain the juices from tomatoes, cucumber, and cherries making the salad soggy.
Also enjoy these other summer recipes
Summer Cherry and Corn Salad
This summer cherry and corn salad has sweet and sour notes and come together within minutes. Enjoy it as a side salad or turn it into a full meal by adding your choice of beans.
Ingredients
2

ears

corn

(dehusked and cut up in half)

10

cherries

(any variety, pitted)

1

cup

English cucumber

(or any other variety, ~1/2 English cucumber, peeled & chopped )

1

cup

tomatoes

(chopped, 1 medium tomato or 1 cup grape or cherry tomatoes)

2½

cups

arugula

(roughly chopped, sub with equal amount baby spinach or baby kale)

1/8

tsp

freshly ground black pepper

(~2-3 generous pinches)

1/4

tsp

pink Himalayan salt

(or to taste, can use any other variety)

2

tbsp

lemon juice

(frehsly juiced, ~1 medium lemon, can sub with lime juice)

2

tbsp

hemp seeds

(sub with equal amount raw pumpkin or sunflower seeds or walnut halves)

1

bowl

cold water

(for cooling the steamed corn)
Instructions
Steam the corn
Start out by boiling water for steaming the corn. To make this quicker, I use an electric kettle to boil the water.

Once the water starts boilding, add the halved ears of corn to the steamer basked and steam for 5-7 minutes.

Pick the steamed corn with tongs and add to a bowl of cold water for about 5 minutes.

While the water for corn comes to a boil, prepare cucumber, tomatotes, and cherries. Use a cherry pitter to pit the cherries. If you don't have a cherry pitter, then use a knife to remove the pit.

Keep a big bowl of cold water handy to cool down the steamed corn on the cobb. Once cooled to the room temperature, remove kernels from the cobb with a knife. Add the remaining veggies and season with freshly squeezed lemon juice and salt and pepper. Mix well with a big spoon. You can either enjoy it at room temperature or store in the fridge for 30 minutes before eating. ENJOY!
Notes
If you prefer less sweetness in the salad, reduce cherries to 8. 
You can a pinch or two of ground caynnene pepper to add a little zest to the salad. 
Nutrition
Calories:
152
kcal
Carbohydrates:
14
g
Protein:
8
g
Fat:
8
g
Saturated Fat:
1
g
Polyunsaturated Fat:
6
g
Monounsaturated Fat:
2
g
Trans Fat:
0.01
g
Sodium:
302
mg
Potassium:
453
mg
Fiber:
3
g
Sugar:
9
g
Vitamin A:
1374
IU
Vitamin C:
24
mg
Calcium:
84
mg
Iron:
3
mg
More Salad Recipes...