We are all familiar with sugar cravings. But the downside of this "feel-good" ingredient is that it wreaks havoc on your energy levels. This quick and easy sweet potato pudding soothes your craving for sugar while delivering loads of goodness.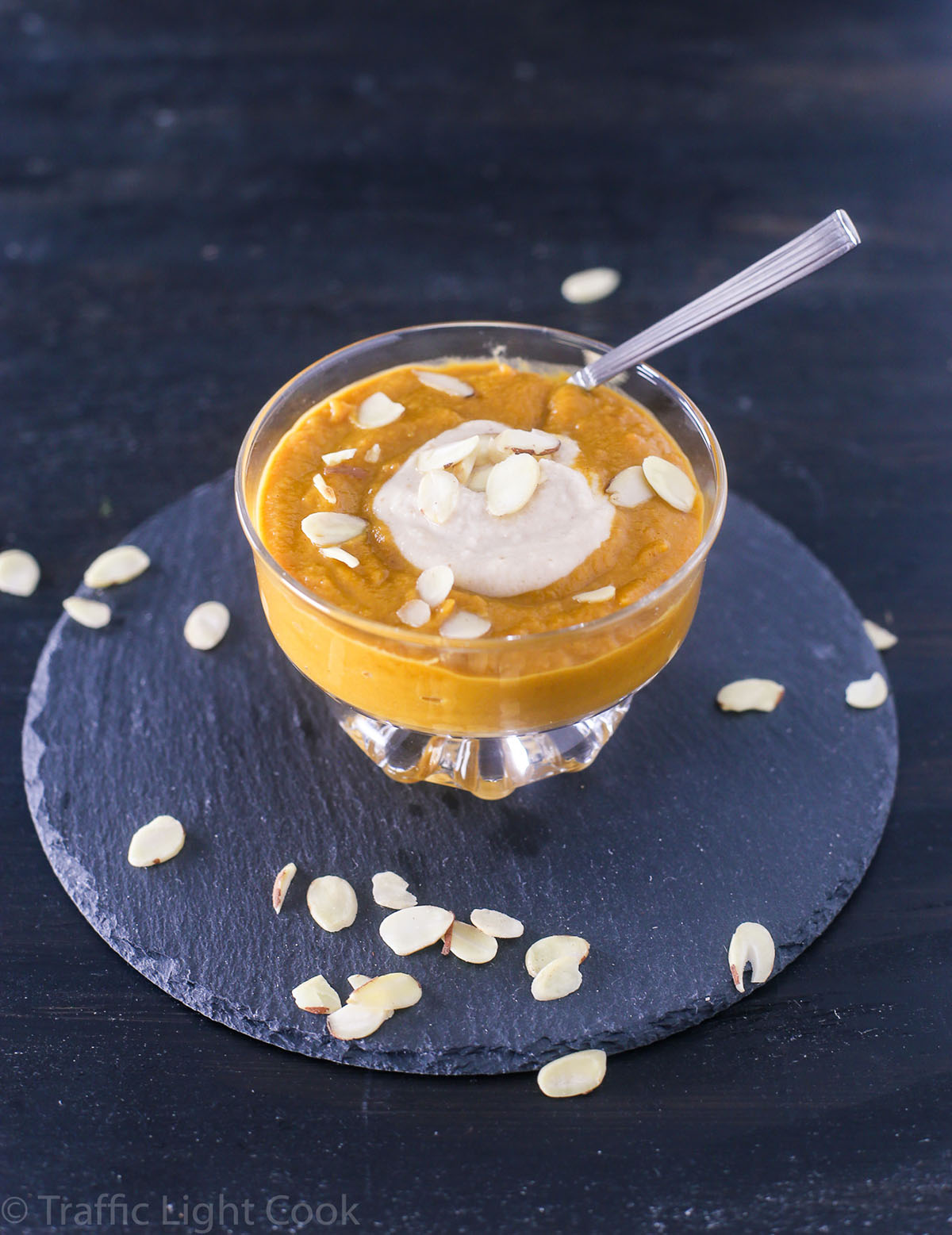 There are some recipes that get etched into your memory so well that you end up trying making those without even thinking. Food recipes that you liked as a child, recipes that your mom or grandma cooked and you couldn't have enough of it. This sweet potato pudding recipe is one of those recipes that I had so many times growing up both in my grandmother's and mom's kitchens. It was super simple: sweet potatoes were either baked under coals or steamed in pressure cooker. Then mixed with milk, cardamom, and a little sugar. It was that simple in the absence of fancy gadgets. The reminiscence of this recipe evoked two thoughts:
We, human beings, consume food as source of life energy, but it is also a conduit for creating timeless bonds with family and friends.
Simple, real, and nutritious food can also be served as "pleasure" food.
Sweet potato is a superfood
The awesome sweet taste is not the only reason to enjoy sweet potatoes. A number of (scientific) studies link them with the prevention of many health conditions including stress, diabetes, promoting gut health, promoting anti-inflammatory activity, may help prevent ulcers, may reduce the risk of cardiovascular diseases among others. Sweet potato also used to be a staple in the diet of the residents of Okinawa, where the population was known to live the longest on this planet. In short, sweet potato is nothing short of a superfood.
Let's make the sweet potato pudding
Last week I got sweet potatoes in my farm share. Although they are out of season, the CSA likely saved some from the winter crop. And that led me to make my favorite dessert--sweet potato pudding.
Baking sweet potato is easier than it seems
The lion's share of work in making this pudding lies in baking the sweet potatoes. It's super easy:
Wash the sweet potatoes, scrubbing well, to remove any grit. Make sure that this step is done with complete diligence as root vegetables tend to harbor a lot of dirt.
Make small cuts (4-5 per sweet potato) with the tip of a sharp knife or fork.
Add 1/4 cups of water (more if using more than two sweet potatoes).
Bake in the oven pre-heated to 375°F (~190°C) for about an hour. I did not cover the sweet potatoes as I wanted a bit of caramelized touch, but you can cover them to expedite the process. Check after 50 minutes for doneness.
Use a fork to check if the sweet potato is completely baked.
Peel and use in the sweet potato pudding. The baked sweet potato makes a simple and tasty snack by itself--just sprinkle with some ground cinnamon or ground cardamom.
You can store baked sweet potatoes in an airtight container for about 3 days. They would last for 5 days as well, but I don't store any cooked vegetable in refrigerator for more than three days.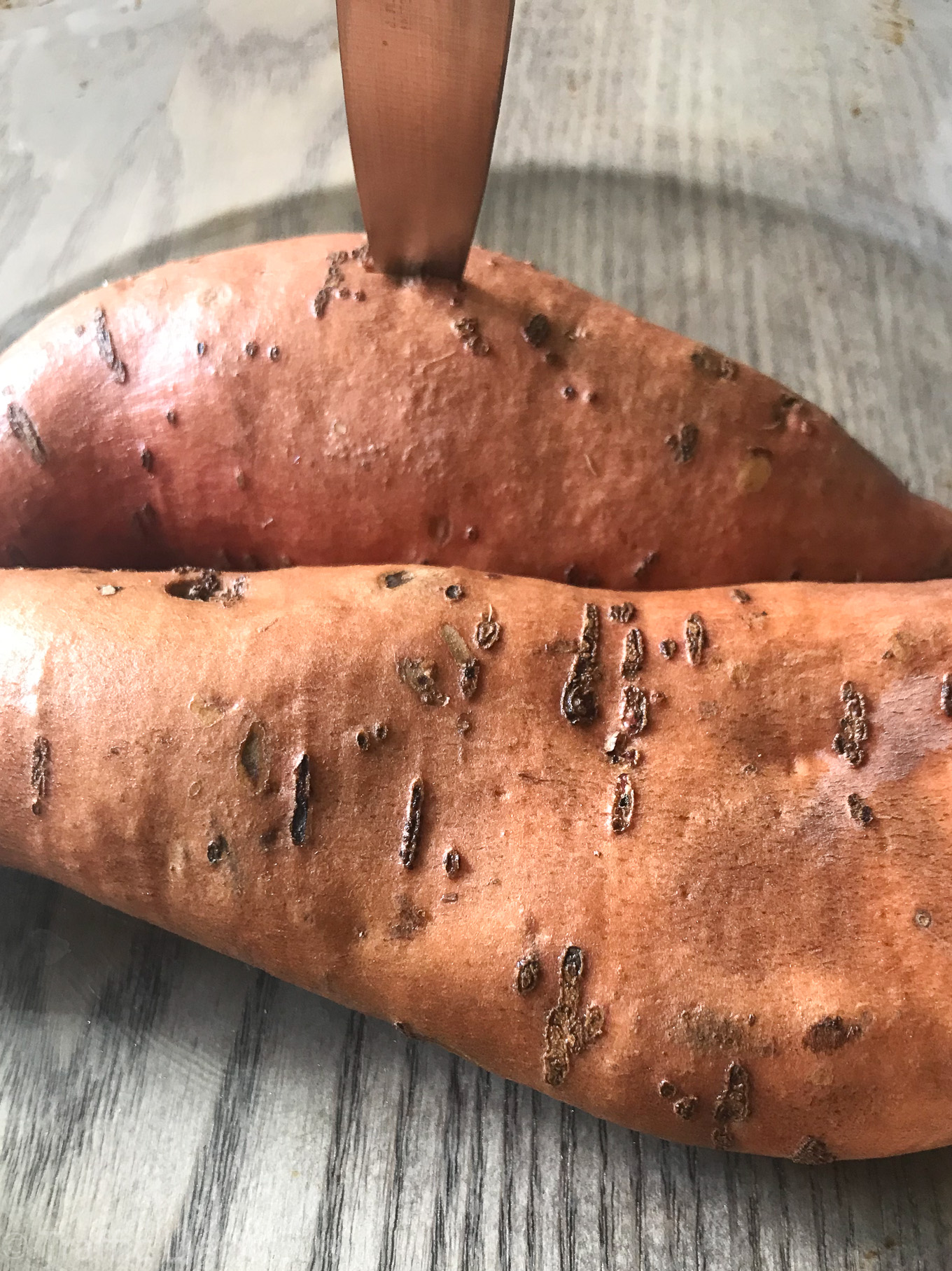 Now just add all the ingredients to a blender or food processor
When my grandma made sweet potato pudding, she would just break the baked/steamed sweet potato with hand into clumps and then add cardamom, milk, and sugar. But I find that my family is more likely to eat this pudding in the pureed form. Blending also helps meld all the flavors. After baking the sweet potatoes all you have to do is to blend them with rest of the ingredients--ground cardamom (or cinnamon), almond milk, dates, and shredded coconut. I often serve it with multipurpose almond whipped cream.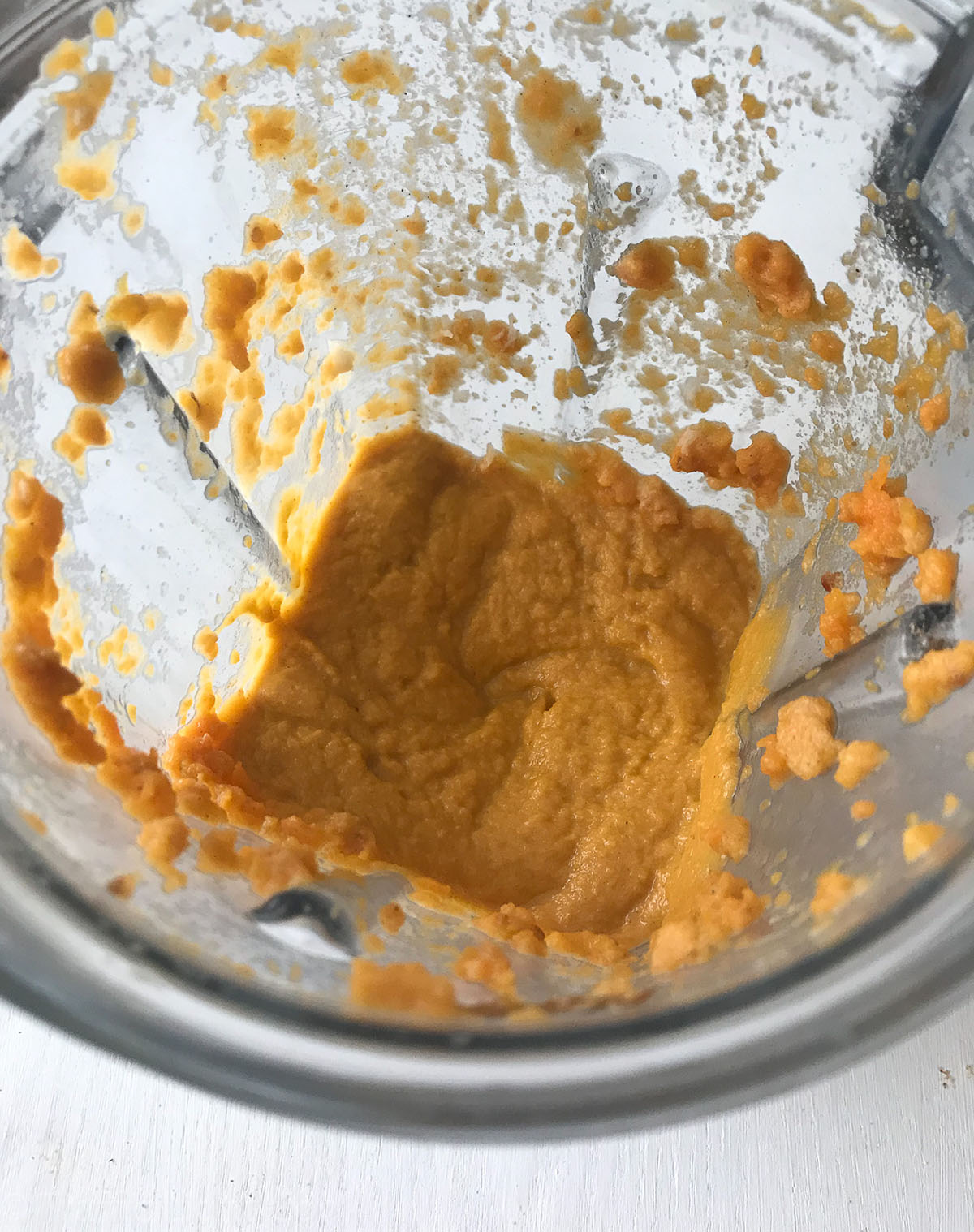 If you have sweet potatoes at hand, you may also like to make these yummy recipes:
Energizing celery and sweet potato soup
Quinoa & adzuki bean burger with sweet potato
West African sweet potato and peanut soup
Meal plan the sweet potato pudding for a quick (processed) sugar-free snack or dessert
It is quite easy to meal plan this sweet potato pudding for a snack or dessert.
Bake the sweet potatoes on a weekend and make fresh pudding within five minutes whenever you feel a craving for sugar.
You can also make the pudding on a weekend and store in an airtight container for up to 3 days in the refrigerator.
Sweet Potato Pudding (vegan, no-processed sugar)
Made with a superfood-sweet potatoes, this tasty, vegan, no-processed sugar added pudding helps satisfy sugar cravings and makes a great snack or dessert.
Ingredients
2

medium-size sweet potatoes

(~10oz, any color; I have used orange)

1/4

cup

water

3/4

cup

No-waste almond milk

(or sub with store-bought)

1

medjool date

(or sub with 2 of any other variety)

1

tsp

maple syrup

(optional)

1

tbsp

dried shredded unsweetened coconut

2

pinches

ground cardamom

(or sub with 1/8 tsp ground cinnamon)

1/2

tbsp

slivered almonds

(raw or lightly toasted, can sub with equal amount toasted pistachio or walnuts)
Instructions
To roast the sweet potatoes
Preheat oven to 375°F (~190°C). Clean the sweet potatoes scrubbing well and rinsing under running water to remove any dirt. Prick with a fork or a sharp knife to make 3-4 small cuts/holes in the sweet potatoes.

Add to an oven-proof, shallow dish with 1/4 cup water.

Cover loosely with an oven-proof lid of aluminum foil making sure that the foil doesn't touch the sweet potatoes. Roast for about 60 minutes.
To make the sweet potato pudding
Let the roasted sweet potatoes come to room temperature. Add the roasted sweet potatoes to a blender with rest of the ingredients and blend till well mixed. Check for any unblended sweet potato chunks. Garnish with Multipurpose almond whipped cream and nuts. Chill in refrigerator for at least 30 minutes before serving. Enjoy!
Notes
Variations
If you are craving chocolate, add 2 tbsp of pure cacao (or cocoa) powder in the blender with the rest of the ingredients.
If you are a fan of cinnamon, add  1/8 tsp of ground cinnamon with 1/2 tsp of pure vanilla extract. I often rotate the flavors. 
Make it heart healthy
Use the regular almond Quick Homemade Almond milk and omit the dried coconut shreds. 
Nutrition
Serving:
0.5
cup
Calories:
210
kcal
Carbohydrates:
40
g
Protein:
4
g
Fat:
5
g
Saturated Fat:
2
g
Sodium:
197
mg
Potassium:
560
mg
Fiber:
6
g
Sugar:
16
g
Vitamin A:
18450
IU
Vitamin C:
3.3
mg
Calcium:
160
mg
Iron:
1.3
mg