I am writing this blog post from Singapore--a city-state that truly epitomizes the "melting pot" metaphor through its multicultural population. The melting pot effect is at its best in the country's countless food courts and hawker markets. The food choices from restaurants (and cafes) and food hawkers range from ethnic to fusion to global, catering to every possible taste as the majority of the population eats out of home. After eating at a few Chinese, Japanese, Thai, and Korean restaurants I noticed that the desserts originating from these countries ditch the cups-full of butter and sugar. In fact, these desserts seem more like an afterthought as they are often prepared from combining grains (likely left over from the main meal) , lentils, dried beans, fruits, a little coconut milk or cream, sometimes vegetables, and very little sugar--in different variations. This Thai sticky rice pudding with coconut milk is one such dessert, which is super easy to put together.
What type of rice is used in making this pudding?
A special type of glutinous rice ( meaning gluey or sticky and not to be confused with gluten), available in white and black varieties, is commonly used to make this pudding. The black variety contains bran and therefore has more fiber. I saw the black variety after buying the white one. Next time I am going to put the black glutinous rice on the shopping list to make this pudding. This variety is easily available in many Asian countries including Singapore. After returning to U.S., I am going to explore Asian stores to find the sticky rice. However, don't look too hard if you can't easily find it. Just make this sticky rice pudding with coconut cream with the rice you normally use. In my kitchen: Brown rice rules.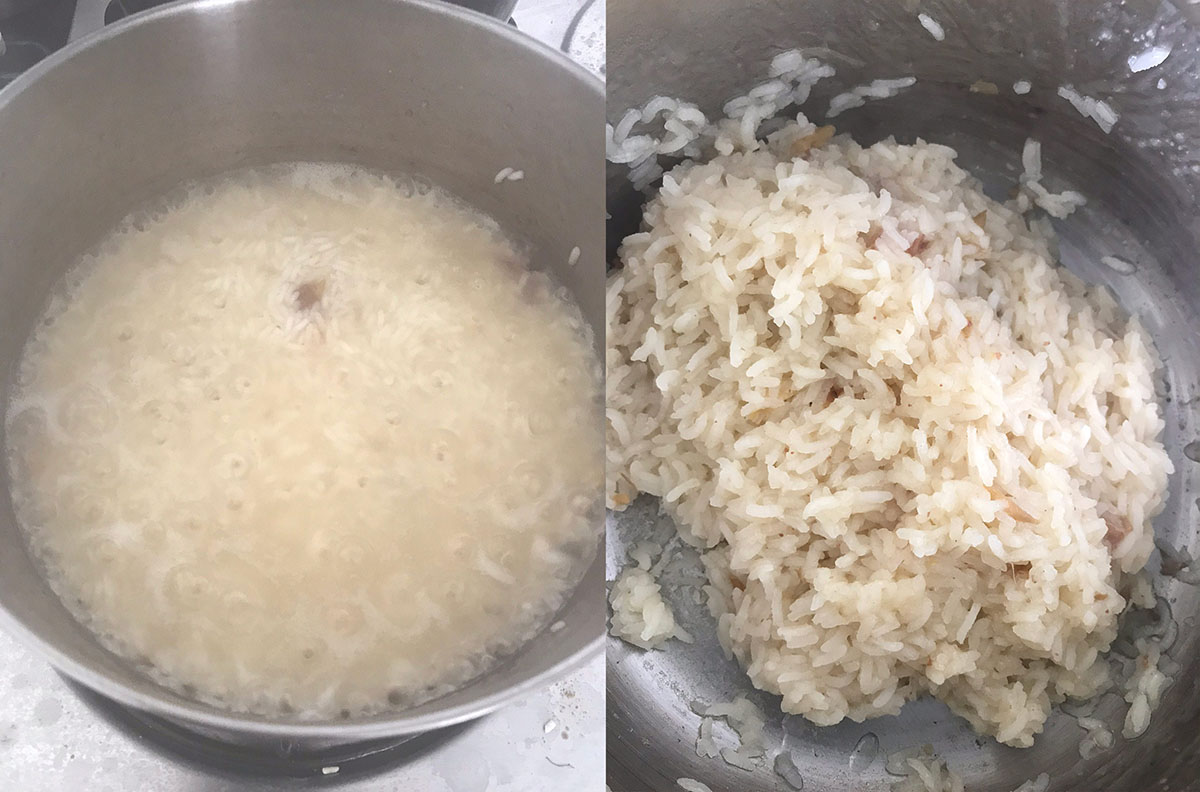 To make this glutinous rice, it needs to be soaked for a long time: At least for two hours but overnight is better. Traditionally, this rice is prepared by steaming in a special contraption consisting of a steamer and a bamboo basket on top. It is available on Amazon.com if you are interested in making it the traditional way. I made it over stove-top just as I do the regular rice (please see the recipe for directions).
Choice of sugar and coconut milk
The  sticky rice in the traditional pudding doesn't taste very sugary, just a hint of it. Usually plain sugar is used to sweetened the sticky rice, but I used dates instead. You can also use maple syrup. To make the coconut cream soak dates in just enough warm water  to cover them. Discard the water and blend with low-fat coconut milk to make the coconut cream.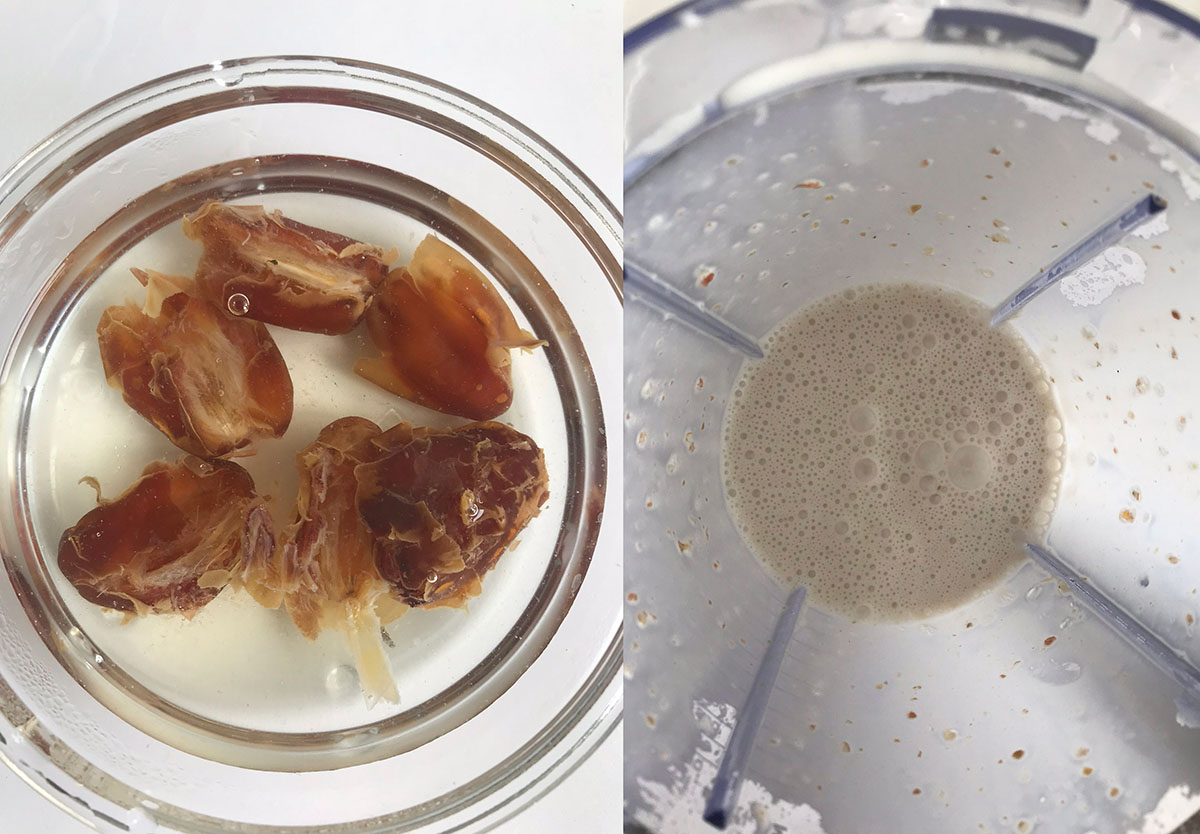 To make the coconut creamI have used low-fat coconut milk. Coconut milk is high in saturated fat and by using the low-fat variety you can cut down on the amount of saturated fat. If you have high cholesterol or any other cardiovascular condition, it is better to use soy milk or watered down homemade almond milk. To add creaminess to low-fat coconut milk or almond or soy milk just add a tablespoon of cooked sticky rice. To give almond or soy milk the coconut flavor just add a tablespoon of dried shredded unsweetened coconut.
Choice of fruit and topping
Thai sticky rice pudding with creamy coconut cream is traditionally served with very sweet mango slices or cubes. In Singapore's hawkers market as well as grocery stores, a few mango varieties are still available sourced from different Southeast Asian countries. However, the mango season is on the wane. I have not tried it yet, but pineapple and strawberry should also work well.
This sticky rice pudding with coconut cream is often served with toasted white or black sesame seeds. I also tried with toasted pistachio nuts and almonds--both tasted great. If allergic to nuts, toasted pumpkin or melon seeds should work fine. To serve this pudding, arrange the chilled fruit over (or on the side of) very hot sticky rice and top with room temperature (or refrigerated) coconut cream. Enjoy!
Thai Sticky Rice Pudding with Coconut Cream
This gluten-free, vegan Thai sticky rice pudding with coconut cream offers a quick-to-make and refreshing alternative to sugar-loaded dessert.
Ingredients
For Coconut cream
3/4

cup

low-fat coconut milk

(canned or aseptic carton)

4

dates*

1

tbsp

cooked sticky rice

(from the sticky rice recipe below)
For Sticky Rice
1/2

cup

glutinous sticky rice

(white or black variety)

3

dates

3/4

cup

water
For topping
1

cup

mango

(refrigerated, ripe, cubed, 2 medium-size mangoes)

3

tsp

white sesame seeds***

(toasted, can sub with black variety)
Instructions
To make coconut cream
Deseed and soak dates in warm water for 10 minutes (or more if still dry). Discard the water and add dates with coconut milk to a blender. Blend till well mixed. To make the mixture creamier add one tbsp of cooked sticky rice. Refrigerate (or keep aside if serving at room temperature).
To make rice
Soak rice for at least two hours or overnight. The longer you soak the rice, the softer and stickier it becomes. Before cooking the rice, wash soaked rice several times, till the water stops being milky liquid.

Add rice to a heavy bottom pan with 3/4 cup of water and dates. Cook on medium heat till water evaporates and rice become soft and sticky. This only takes 7-10 minutes depending upon the soak time and amount of rice. Stir 2-3 times to mash dates and prevent the rice from sticking. Add a teaspoon or two of water, if all the water evaporates and rice is still uncooked. Set aside.
To serve
Add 1/3 cup of hot, steaming sticky rice to a dish; top with coconut cream and cold mango cubes. Top with toasted seeds or nuts or your choice. Enjoy.
Notes
*I used the Deglet Noor date variety. It is smaller and drier than Medjool date. If using Medjool dates, use less number of dates depending upon how sweet you want the rice to be.  Use 2 tbsp of regular sugar, if not using dates. 
**can sub with pineapple or strawberries in equal quantity. 
***can also use toasted pistachio nuts or almonds in equal quantity. Both types tasted awesome as a topping. 
Variations
To lower saturated fat: if watching saturated fat in diet, use equal amount of almond milk and add 1 tbsp of dried shredded unsweetened coconut. 
With Maple syrup: I didn't have any, but next time I will add 1 tbsp of maple syrup instead of dates to sticky rice. Vegetarians can also add honey. 
Make it with regular rice: if sticky rice is not available, go ahead and try with whatever variety you have in your pantry. 
Nutrition
Serving:
0.3
Cup
Calories:
94
kcal
Carbohydrates:
15
g
Fat:
3
g
Saturated Fat:
3
g
Sodium:
45
mg
Potassium:
138
mg
Fiber:
1
g
Sugar:
11
g
Vitamin A:
600
IU
Vitamin C:
19.8
mg
Calcium:
10
mg
Iron:
0.2
mg