Mashed potatoes and mushroom gravy are a combo made in the heaven. A combo that repeats on my Thanksgiving dinner table every year. I love this combination, but I am not a big fan of adding wads of butter or cream to my mashed potatoes. For me the solution is these cauliflower mashed potatoes, which are ultra creamy without any (dairy) cream. While the cauliflower mimics potatoes' creaminess, it doesn't cause the blood sugar spike like white potatoes. The mushroom gravy is a great companion and goes well with (vegan) turkey as well. You can totally make the gravy a day or two in advance to lighten your cooking load on Thanksgiving day.
Fresh herbs to infuse subtle flavors
As I mentioned in my recent Pumpkin and White Bean Bisque recipe, fresh herbs are a great way to add flavors to your foods. My go-to winter herbs are mainly sage, rosemary, and thyme. Occasionally, I would use parsley or chives. You can also add these herbs in dried form, just make sure that they smell fresh when you buy them. Use three times as much fresh herbs as dried when doing a swap. In making the cauliflower mashed potatoes, I experimented with rosemary as well as chives in two different batches. Both turned out great. For the mushroom gravy, I find it hard to replace fresh thyme.
Organize and win
You are going to juggle with making two recipes, so organization is key. I usually chop all the veggies and measure all the ingredients before putting a pot on the stove. I started with making the cauliflower mashed potatoes. I added a potato to the recipe; but I also tried it without adding one. Both came out really well. So it's your choice to add a potato or not. I think I would have totally omitted it, but to keep the tasting judges happy, the addition of potatoes proved to be beneficial. I have used the homemade almond milk (updated no-waste recipe), but you can substitute it with the store-bought version. You can also replace almond milk with rice milk or oat milk. In term of herb-flavor profile, rosemary added a bigger punch than chives. So it is a personal preference if you like muted flavor of chives or robust flavor of rosemary in cauliflower mashed potatoes.
In mushroom gravy, brown rice flour does a great job as a thickener. Here is a confession: I could never make roux--cooking butter and flour together to thicken sauces. I always ended up burning the whole thing, because I cringed at the thought of using a ton of butter or oil.
So I have figured out a solution. I dry roast the flour and make a slurry by mixing with broth and add it back to the gravy. To bring a cheesy, umami flavor to the mushroom gravy, I have added nutritional yeast. Please don't confuse it with regular baker's yeast that is used in leavening bread and doughs. Nutritional yeast is available in supermarkets in the baking aisle. If you can't find it, no worries--it's totally optional.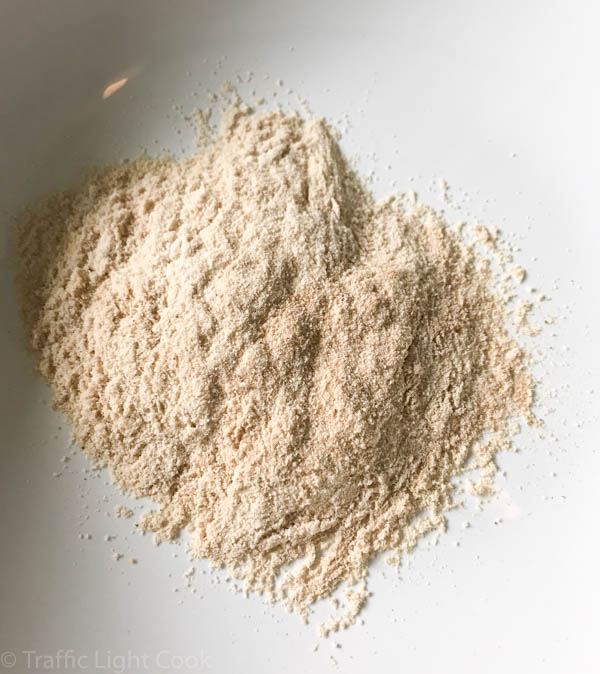 Tips on storing and making ahead
It is best to make the cauliflower mashed potatoes fresh, but you can totally make the mushroom gravy a day or two ahead of Thanksgiving day. Store and refrigerate in an airtight container. To reheat, just add to a heavy-bottom pan. Enjoy!
Have you made this cauliflower mashed potatoes with mushroom gravy?
Please leave a comment below, if you try this recipe. I would love to hear from you.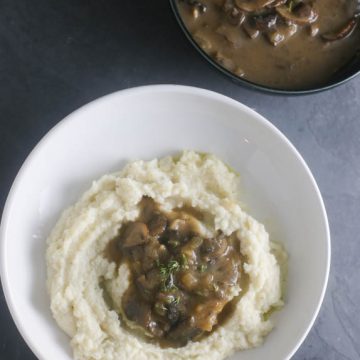 Cauliflower Mashed Potato with Mushroom Gravy
These gluten-free, vegan cauliflower mashed potatoes are shockingly creamy without any cream paired perfectly with comforting mushroom gravy.
Ingredients
For the cauliflower mashed potatos
1

tsp

avocado oil

(or sub with any other)

3

cloves

garlic

(roughly chopped)

1

head

cauliflower

(finely chopped or shredded, about 2lbs)

3/4

tsp

fresh rosemary

(or sub with 1 tsp freshly minced chives)

1/2

tsp

salt

(or to taste, no more than 3/4 tsp)

1

potato*

(small, baked or boiled)

1

cup

No-waste almond milk

(or sub with store bought almond or coconut milk)

2

pinches

freshly ground black pepper

(or to taste)

1/3

cup

water
For the mushroom gravy
1

tsp

avocado oil

(or sub with any other type)

1

white onion

(about 1 cup chopped, can sub with any other type)

3

cloves

garlic

2

portobello mushrooms

(about 1/2 lb, wiped clean and chopped)

1/2

lb

crimini mushrooms

1/2

tsp

salt

2

tbsp

brown rice flour

(or sub with whole wheat flour or 1.5 tbsp corn starch)

2

tbsp

nutritional yeast

(optional)

2

tbsp

low-sodium tamari

(or low-sodium soy sauce)

1.5

cups

Homemade vegetable broth**

3

pinches

freshly ground black pepper

1

tbsp

white wine vinegar

(can sub with rice vinegar or white vinegar, optional)
Instructions
To make the cauliflower mashed potatoes
Warm oil in a heavy-bottom pot and add the chopped garlic. Cook for a few seconds and then add finely chopped (or shredded) cauliflower, rosemary, and salt. Cook the cauliflower till it becomes soft~for about 5 minutes.

Crumble and add the boiled or baked potato and freshly ground black pepper to the mix. Add the no-waste almond milk and water. Bring the mixture to a boil over medium heat and let it simmer for about 15 minutes. All the liquid will evaporate. Set it aside to cool. Either mash with a potato masher or process lightly in a food processor. Enjoy on its own or with mushroom gravy.
To make the mushroom gravy***
In a heavy-bottom pot, dry roast the brown rice flour till it's aromatic and slightly brown in color. Take it out on a plate and let it cook. Put the pot back on the heat and warm the oil. Add onion and garlic; cook for about 5 minutes or till the onion has softened. Add the chopped mushrooms and salt and let the mushrooms sweat till they are cooked (~5 minutes.)

While mushrooms are cooking, add the nutritional yeast, tamari, and dry roasted brown rice flower to one cup of vegetable broth and stir it quickly with a whisk to form a uniform slurry.

Once the mushroom are cooked, add the slurry, remaining vegetable broth, and freshly ground black pepper. Let the mixture cook over medium heat for about ten minutes. The starch in the brown rice flour will cause the mixture to thicken. In the past two minutes of cooking add the white wine vinegar. Enjoy the gravy over the cauliflower mashed potatoes.
Notes
*you can totally omit the potato--the cauliflower-only mash tastes pretty creamy on its own. You may need to decrease the vegetable broth quantity by a couple of tablespoons. 
**add 1/2 cup more broth if you like your gravy a bit on the side of running. 
***to make a soup-style gravy, add one more cup of vegetable broth and once cooled, blend it to a fine, creamy texture. 
Make it heart healthy 
omit the oil in both cauliflower mashed potatoes and mushroom gravy. Use the ditch-the-oil cooking method instead. 
Ditch the potato and just use cauliflower to decrease the carbohydrate load. 
To reduce the sodium load in the recipe, omit the salt completely in the gravy and reduce low-sodium tamari (or soy sauce) to 2 tsp. 
Nutrition
Serving:
0.5
cup gravy/potato each
Calories:
92
kcal
Carbohydrates:
14
g
Protein:
4
g
Fat:
2
g
Sodium:
633
mg
Potassium:
532
mg
Fiber:
2
g
Sugar:
2
g
Vitamin C:
6.6
mg
Calcium:
90
mg
Iron:
1.8
mg