This butternut squash soup with kale and white navy beans is a comforting one-pot meal for cold days/evenings in fall/winter. This mineral-rich, creamy, cheesy, vegan one-pot meal offers hefty 19 grams of protein per serving.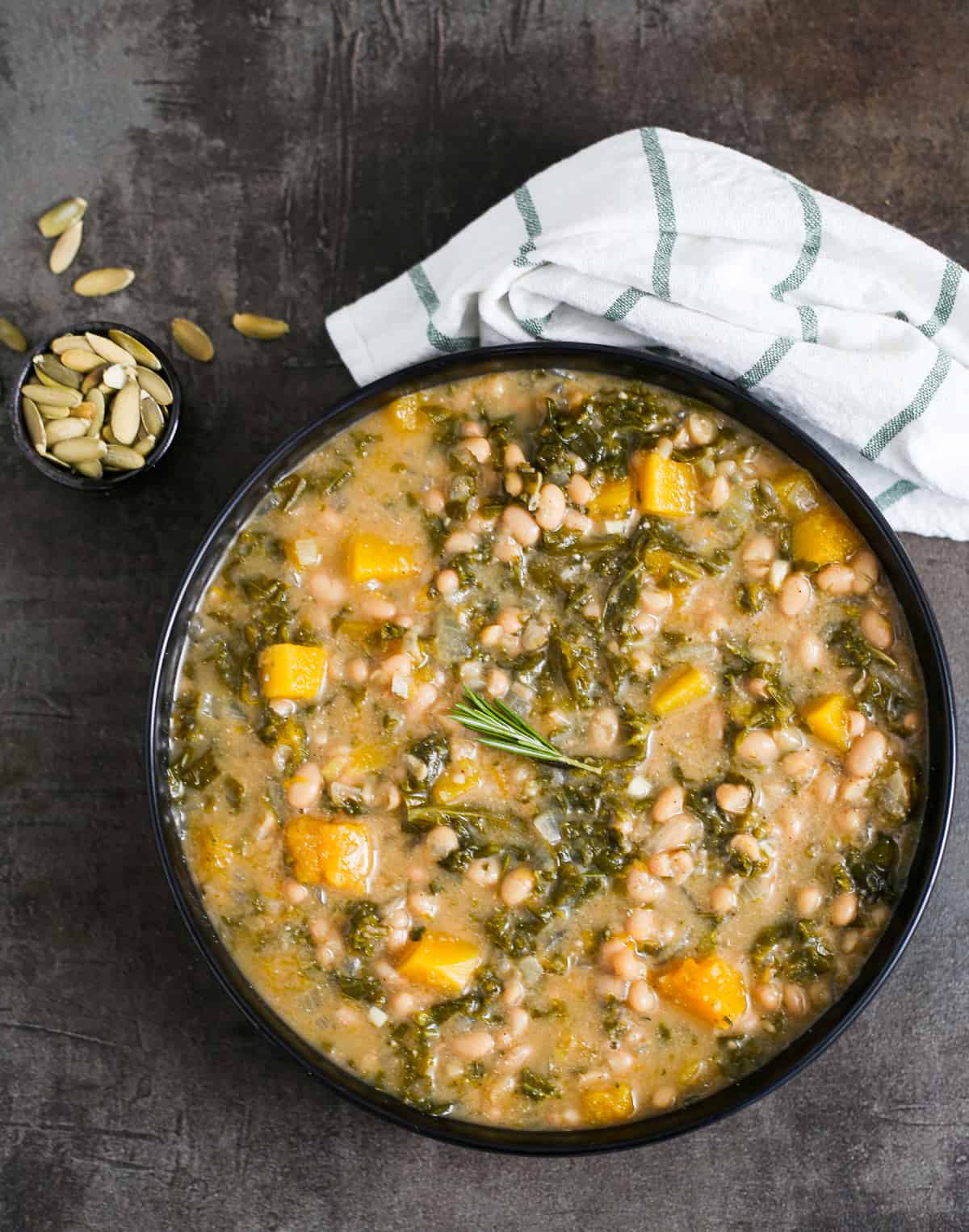 Fall and winter call for warm, cozy soups and stews. The inspiration behind this soup is one of my earlier recipes kale and white bean soup. Although some ingredients overlap, the flavor profile of this soup is markedly different than its inspiration.
This butternut squash soup with kale and white (navy) beans is a one-pot meal. Contrary to the popular belief that plant-based diet is low in protein, this soup offers 19 grams of protein per serving along with a hefty dose of calcium and potassium in one meal: an ideal combination of minerals for keeping our bones strong.
The spices and fresh herb combination used in this butternut squash soup with kale and white (navy) beans make the flavor profile quite complex. The pumpkin seed and nutritonal yeast add cheesy taste and creamy texture.
Ingredients: high-protein and bone-friendly
Butternut squash: Fall/winter squash varieties abound everywhere in this season--grocery stores, farmers's markets, and any other places you can buy vegetables. If you don't have butternut squash at hand, you can totally use acorn squash, pumpkin, or any other fall/winter squash variety.
Kale: Kale is a superfood. It adds an adequate dose of calcium to the soup. If kale is not available, it's ok to replace kale with spinach or swiss chard.
White beans: form the base of this soup and are the main source of protein. White beans are also high in calcium. You can use any variety of white beans: Great Northern beans or Cannellini beans.
Flavor enhancers: onion and garlic work as flavor enhancers.
Spices & condiments: the mixture of pumpkin seeds and nutritional yeast adds a cheesy flavor and creamy texture without the use of oils or cream. Moreover, nutritional yeast is also adds to the protein in the recipe. Pumpkin seeds add a dose of healthy fat as well.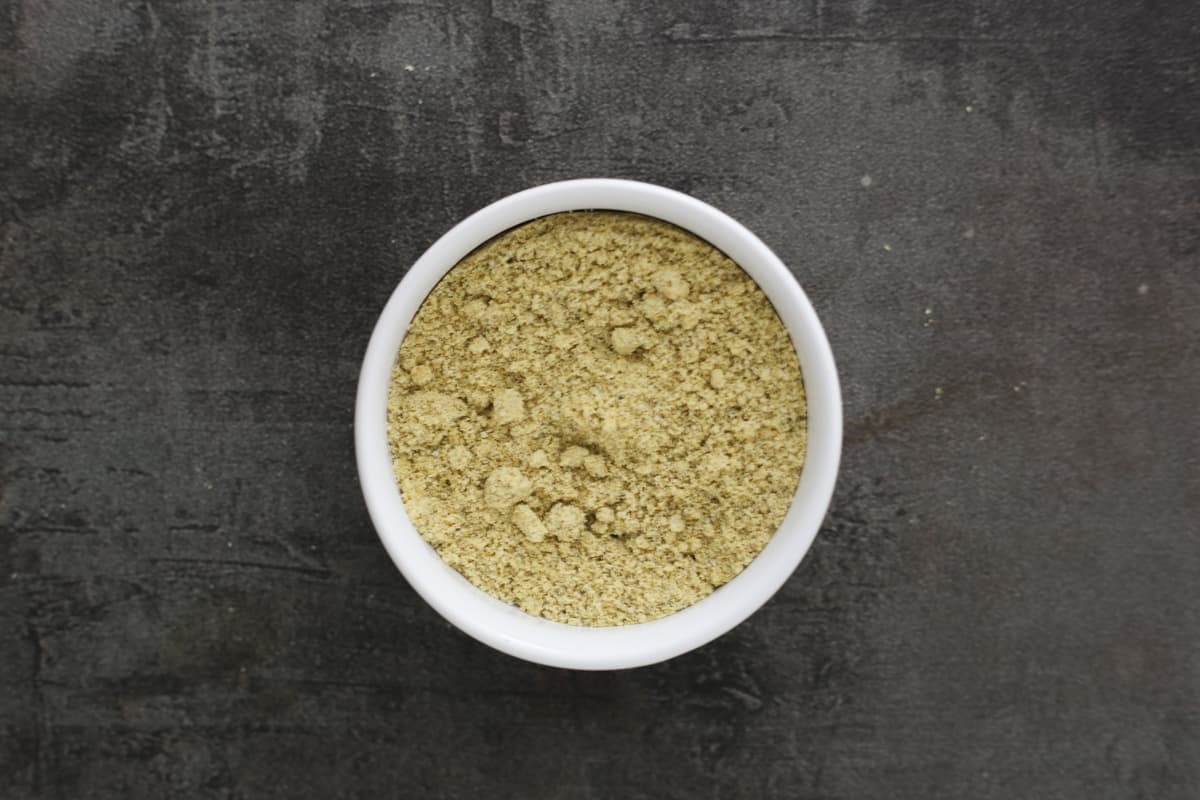 Thyme and rosemary add complex bitter/sweet flavor. Fresh work the best, but it's totally ok to substitute with the dry versions. Smoky paprika adds the sweet, smoky peppery taste.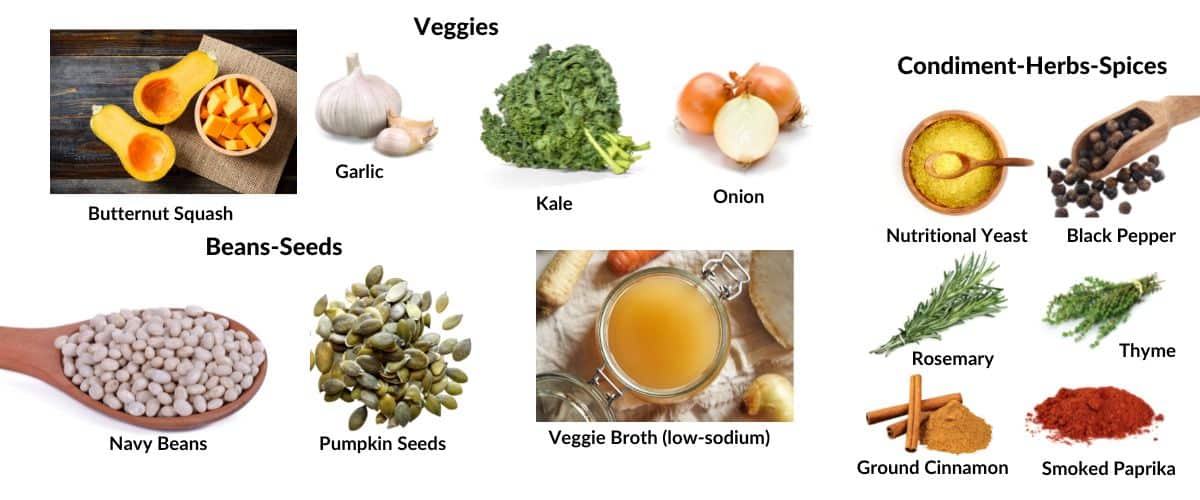 Tips for success
Use a good quality vegetable broth. I often use this Easy Homemade Vegetable Broth recipe from TLC. If using the store-bought broth, make sure it's low-sodium. My favorite is Pacific brand low-sodium broth.
Make sure that the kale is completely cooked before turning the heat off.
If using canned beans, it's best to drain the liquid and wash under running water to remove the metallic taste. Always look for BPA-free packaging for canned beans.
High fiber recipe
This butternut squash soup with kale and white beans is fiber-rich food, supplying almost 70% of the daily recommended fiber intake (based on 2,000 calorie diet). High fiber foods are good for health [1]; and we tend to get way less of fiber than we should in our diets [2]. The Standard American Diet (SAD), high in processed and animal foods is largely devoid of fiber. It is worth noting, that a high-fiber diet should be accompained by high intake of water. Otherwise the fiber can cause constipation.
However, if you don't eat fiber often, eating too much fiber all at once may cause digestive discomfort. Or if you largly eat a whole-food, plant-based diet, you may get discomfort due to eating too much fiber (a separate article in future to explain this is coming up soon). Here are some tips to reduce the fiber content of the recipe:
Use 1/2 the amoung of vegetables used in the original recipe. You will still have a decent amount of vegetable intake.
Reduce the serving size.
Serving suggestions
This butternut squash soup with kale and white beans is a meal in itself. However, if it is not filling enough, you and serve with any of the following:
Well-toasted whole-grain sourdough bread.
Half a cup of cooked whole grains of your choice: brown rice, quinoa, or millet.
With 1/2 a cup of cooked high-protein pasta such as lentil, bean, or quinoa pasta. My favorite brand of high-protein pasta is Explore Cuisine .
Remember, adding any of the above would further enhance the protein quotient of the meal.
Mealplan this recipe
If you are going to cook the beans from scratch, you can cook those a day or two in advance and store in an air-tight container in the fridge. You can also cook beans and freeze them upto a month in advance. Be sure to use the soup within three days if using the month-old beans from your freezer.
You can freeze this soup for upto a month. Before freezing, bring the soup to room temperature; add to freezer-friendly containers and freeze. It's best to freeze in portion sizes that you are most likely to finish in one time. Take the soup out of freezer a night before using and let it thaw for at least 24 hours in the fridge. Reheat over stovetop for the best results.
If short on time, you can also use pre-cut butternut squash in this butternut squash soup with kale and white beans.
More fall/winter soups on TLC
Creamy Roasted Butternut Squash Soup
Butternut Squash Soup with Kale and White beans
This butternut squash soup with kale and white beans is one-pot meal and packs nearly 20 grams of protein.
Ingredients
1/4

cup

water

(for sautéeing vegetables, or sub with 1 tsp avocado oil)

1

cup

white onion

(finely chopped, ~1 large onion, can sub with any other variety)

3

cloves

garlic

(~1.5 tsp finely minced)

4

cups

butternut squash

(1 small, ~1-1/4 lb, cubed into bite-size pieces)

4

cups

kale

(finely chopped, curly or dino work really great, hard stems removed , ~ 12 oz bunch, ~5 oz after removing stems)

4

sprigs

thyme

(fresh, or sub with 1 tsp dried)

1

tsp

smoked paprika

(optional)

2

tsp

rosemary

(fresh, ~1/2 sprig, or sub with 1/4 tsp dried)

1

tsp

cinnamon powder

1-1/4

tsp

salt

(or to taste)

5

cups

low sodium vegetable broth

(store-bought or homemade, can sub with 4 cups broth+1 cup water)

4

cups

navy beans

cooked, 2.5 (15 0z) canned, 1.25 cup dry

2

tbsp

pumpkin seeds

2

tbsp

nutritional yeast

2

tbsp

lemon juice

(~1 large lemon)
Instructions
Add 1/4 cups water to a heavy-bottom stock pot over medium heat. Once the water comes to a boil, add onions and garlic and cook, stirring ocassionaly to prevent sticking, for 4-5 minutes. The onion will become soft and caramalized.

Add the cubed butternut squash and cook for 3-4 minutes. If it starts sticking to the bottom of the pot add 1 tbsp of water at a time.

Add the chopped kale and cook for 3-4 minutes, stirring often to prevent sticking. Add the stock, and bring the mixture to a slow boil over medium heat. Add the cooked navy beans with fresh thyme and rosemary. Turn the heat down and let the soup simmer until vegetables have cooked through (~20 minutes).

Add pumpkin seeds and nutritional yeast to a spice grinder and grind to a fine powder consistency. Add to the soup pot and cook for another five minutes. Add the lemon juice and stir. Turn the heat off and serve hot. Enjoy!
Notes
Which Kale variety is best?
Dino and Curly kale varities work great, but you can use any variety. You will need about 12 oz kale as after removing the stems it will be around 5 oz. You can also substitute kale with spinach or swiss chard. Since spinach is much softer than kale, add it in the last 5-7 minutes of cooking. 
Make it more spicy
Top the soup with a sprinle of pinch or two of crusehd red pepper.
Sub with other types of white beans
You can sub navy beans with other varieties of white beans: cannellini beans or Great Northern beans
Nutrition
Serving:
1.75
cup
Calories:
346
kcal
Carbohydrates:
63
g
Protein:
19
g
Fat:
5
g
Saturated Fat:
1
g
Polyunsaturated Fat:
2
g
Monounsaturated Fat:
1
g
Trans Fat:
0.002
g
Sodium:
151
mg
Potassium:
1317
mg
Fiber:
23
g
Sugar:
7
g
Vitamin A:
17543
IU
Vitamin C:
82
mg
Calcium:
309
mg
Iron:
6
mg
More fall recipes on TLC..