Curried lentil soup has been a staple in my kitchen for many years, especially during the winters. Not only it full of nutritious ingredients, it's also comforting, flavorful, and a one-pot meal. Enjoy it with a salad and garlic toast or just avocado toast.
The best thing about this soup is that it tastes even better the next day. So I make it once and eat twice. And you don't have to repeat the toast/salad combination. The second time around, you can enjoy it on a bed of (brown) rice.
The only downside to making this curried lentil soup is that it takes its own sweet time--around 90 minutes--to make it. But I feel that the time committed to making a soup is totally justifiable as flavors, especially in lentil and bean soups, evolve through slow cooking over 1-2 hours. Therefore, I always try to make time-intensive soups when I have a bit more time on hand. The other trick to saving time is to make a double recipe. MAKE ONCE AND EAT TWICE. Before moving on, you may also like to explore other winter soups on Traffic Light Cook:
Creamy roasted butternut squash soup
Immunity-boosting winter minestrone
Here is how to make the curried lentil soup: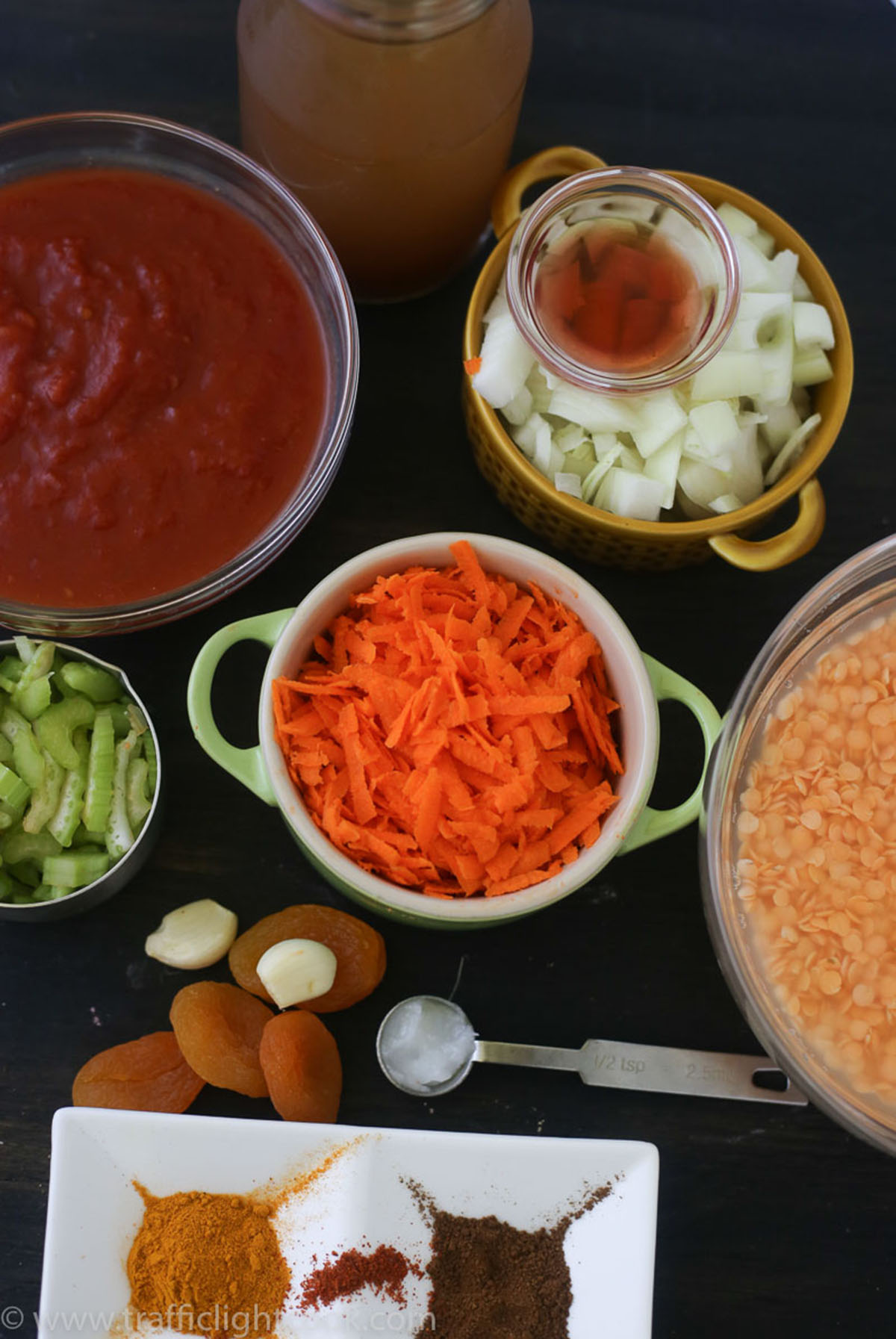 Soak red lentils for at least six hours or overnight. Drain and rinse under fresh running water. Soaking lentils helps reduce anti-nutrients such as phytates (more on this later) as well as cut down on cooking time. Curry powder is easily available in most supermarkets in the U.S. Interestingly, however, my mom or grandmother never used curry powder as it is known in the U.S. If you find it difficult to locate this ingredient in your local grocery store, find an alternative in the recipe card notes. Dried apricots may seem an unusual ingredient in this curried lentil soup, but it adds an interesting texture and a hint of sweetness that bolsters other flavors in the soup.
This soup is quite versatile in terms of pairing with other foods. I love it with garlic or avocado toast (recipe coming soon on TLC); it pairs just as well with plain (brown) rice. Store leftovers in refrigerator in an airtight container for up to 3-4 days. I like to finish it within three days. Enjoy!
Curried Lentil Soup
This one-pot soup offers a lot of flavor and comfort on a wintry day (lunch) or evening (dinner). Make it once and eat it twice as it tastes even better the next day.
Ingredients
1

tsp

avocado oil

(or any other)

1

cup

white onion

(or any other type, finely chopped, about 1 medium)

1

tsp

garlic

(minced, 1-2 cloves)

1

cup

carrot

(grated, 2 small)

1/2

cup

celery

(thinly sliced, 1 stem)

1

tsp

curry powder

1

tsp

ground cumin

1/8

tsp

cayenne pepper

(or sub with 1/4 tsp ground black pepper)

1/2

tsp

ground cinnamon

(optional)

1

cup

red lentils

13/4

cups

crushed tomato

(1 14-oz can, preferably low- or no-sodium added)

1

tsp

salt

4

cups

homemade vegetable broth*

(or any other low-sodium vegetable broth)

2

tbsp

dried apricots

(finely chopped, about 4-5 apricots)

4

tsp

red wine vinegar**

(can sub with white vinegar or lemon)

2

tbsp

fresh cilantro

(or 1 tbsp fresh parsely, finely chopped, optional)
Instructions
Soak lentils for at least six hours (or overnight). Drain the soak water and rinse.

Heat coconut oil in a heavy-bottom pot over medium-low heat. Add onions, garlic, and salt and cook for 2 minutes. Add grated carrots and thinly sliced celery. Cook for for 3-4 minutes in covered pot stirring a couple of times. Add ground cumin, curry powder, cayenne pepper, and ground cinnamon(if using).

Add lentils and crushed tomatoes and stir to mix well with veggies and spices. Add vegetable broth and bring to a gentle boil over medium heat. You can also partially cover the pot to expedite the process. Once the soup has boiled, reduce the heat to medium-low and let it simmer (partially covered) for about 30-40 minutes (stir once or twice while simmering).

Uncover the pot and check if the lentils are soft but still able to hold shape (try mashing a couple of lentil flakes between your fingers, it should mash completely and easily). If the lentil is even slightly hard, cover the pot and cook for another 10 minutes. Once lentils have completely cooked, add red wine vinegar and finely chopped dried apricot. Cook uncovered on medium- heat for another 7-10 minutes. Top with fresh cilantro. Enjoy!
Notes
*you can also use a combination of water and broth. I have tried with 3 cups broth+1cup water, and it tastes almost the same. 
*if you are using store-bought broth you can add a bay leaf to the soup for more intense flavor. 
*This soup inclines more toward stew consistency; if you like it to more more soupy, add one more cup of vegetable broth. 
**if using lemon instead of vinegar, add to the soup after turning off the heat. 
Dried Apricots: adding apricots can be a hit or miss. You can totally omit apricots, if this is something you or the family does not like. 
Curry powder substitute: although it does not exactly replace curry powder, it's pretty close.  you can use 1 tsp garam masala+1/4tsp ground turmeric+1/2tsp fresh minced ginger (or 1/4tsp dry ground ginger)+omit cumin powder. 
Make it low-sodium: if avoiding salt, reduce salt to 1/2 tsp and double the amount of cayenne pepper+ add 2 tsp red wine vinegar to the recipe. 
Make it low-fat: If avoiding fat, use ditch-the-oil cooking method instead of oil. 
Nutrition
Serving:
1
cup
Calories:
191
kcal
Carbohydrates:
36
g
Protein:
10
g
Fat:
1
g
Sodium:
595
mg
Potassium:
862
mg
Fiber:
13
g
Sugar:
11
g
Vitamin A:
4100
IU
Vitamin C:
17.3
mg
Calcium:
90
mg
Iron:
4.5
mg