If you often make Asian-inspired soups, ramen bowls, noodle soup bowls--using this Asian vegetable broth will boost the taste of those recipes to the next level.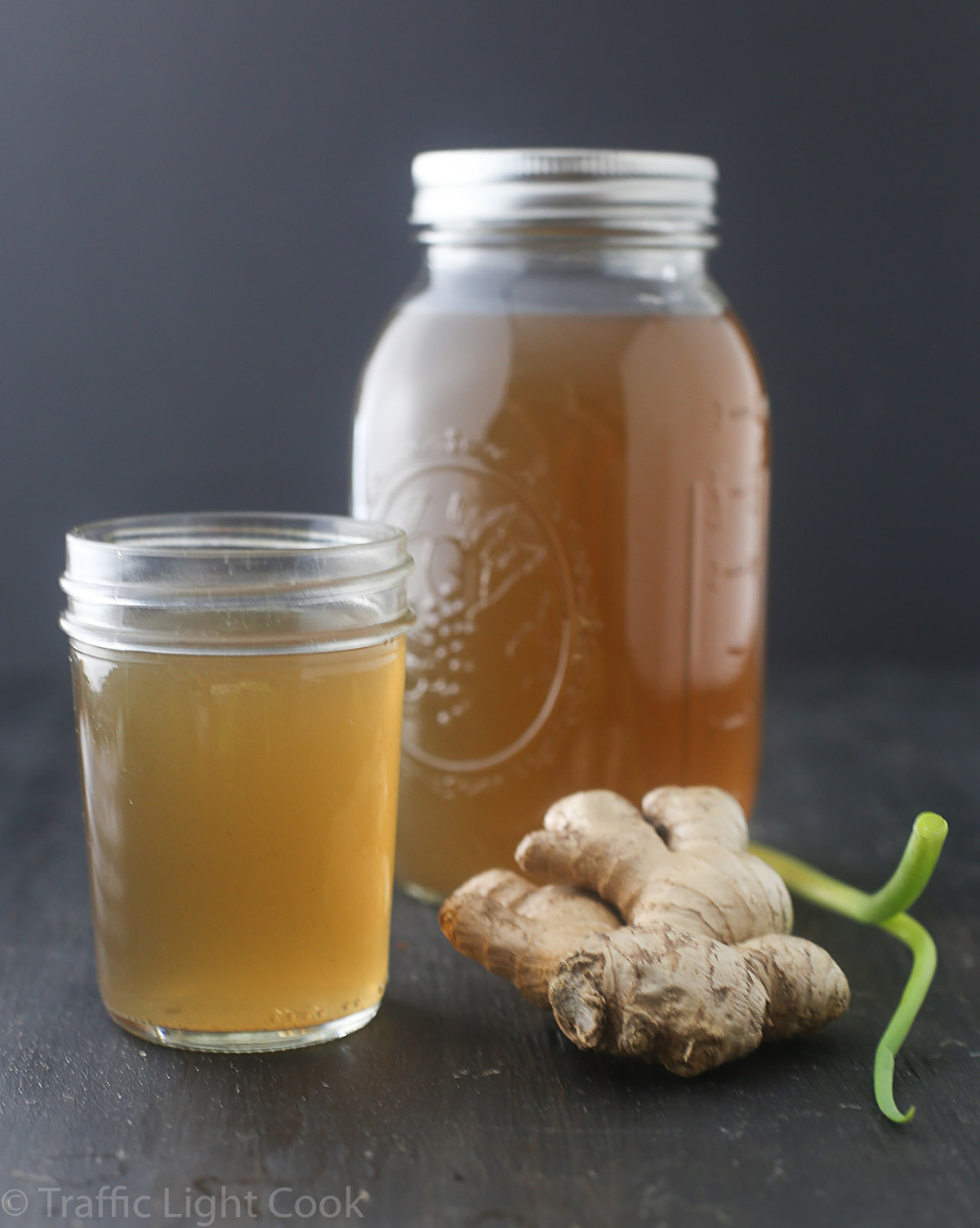 The commercially-available mushroom broth, often used in Asian cooking, is loaded with sodium. This Asian vegetable broth ditches sodium completely and can also be used in African soups like Moroccan lentil soup, Indian lentils and curries, or chilis.
This Asian vegetable broth is highly inspired by my travels to a few Asian countries--Singapore, China (Hong-Kong), and Cambodia. If you are looking for a vegetable broth recipe for European/American soups, the Easy Homemade Vegetable Broth works really well.
Why should you make broth at home?
First, the homemade broth tastes much better than the one bought from store. Second, the commercially-available broths are super high in sodium and if you are watching your sodium intake, and it's a good idea to do so if you are over 40, then homemade broth offers a healthy base for soups and any other recipes that craves broth. If you are short on time, it's fine to buy the packaged broth. However, follow these guidelines to ensure maximum taste and nutrition.
Avoid canned broth--it ruins the natural flavor of the soup or any recipe that calls for broth.
Always look for the sodium content on the nutrition panel and go for no- or low-sodium broth.
My favorite is Pacific Foods' low-sodium, organic vegetable broth. If you are a member of Amazon Pantry, it's available at a lower price than most grocery stores.

Let's make the Asian Vegetable Broth: Step-by-Step
Step 1: Start by choosing the right vegetables. Whereas European/American soups use the combination of parsley and celery to boost the broth flavor, Asian broth relies on a different combination--mushrooms, daikon (or reddish), ginger, and scallion. I have added fennel to mellow the overall flavor profile. This step entails throughly washing and chopping all the vegetables. (Total Time: ~15 minutes)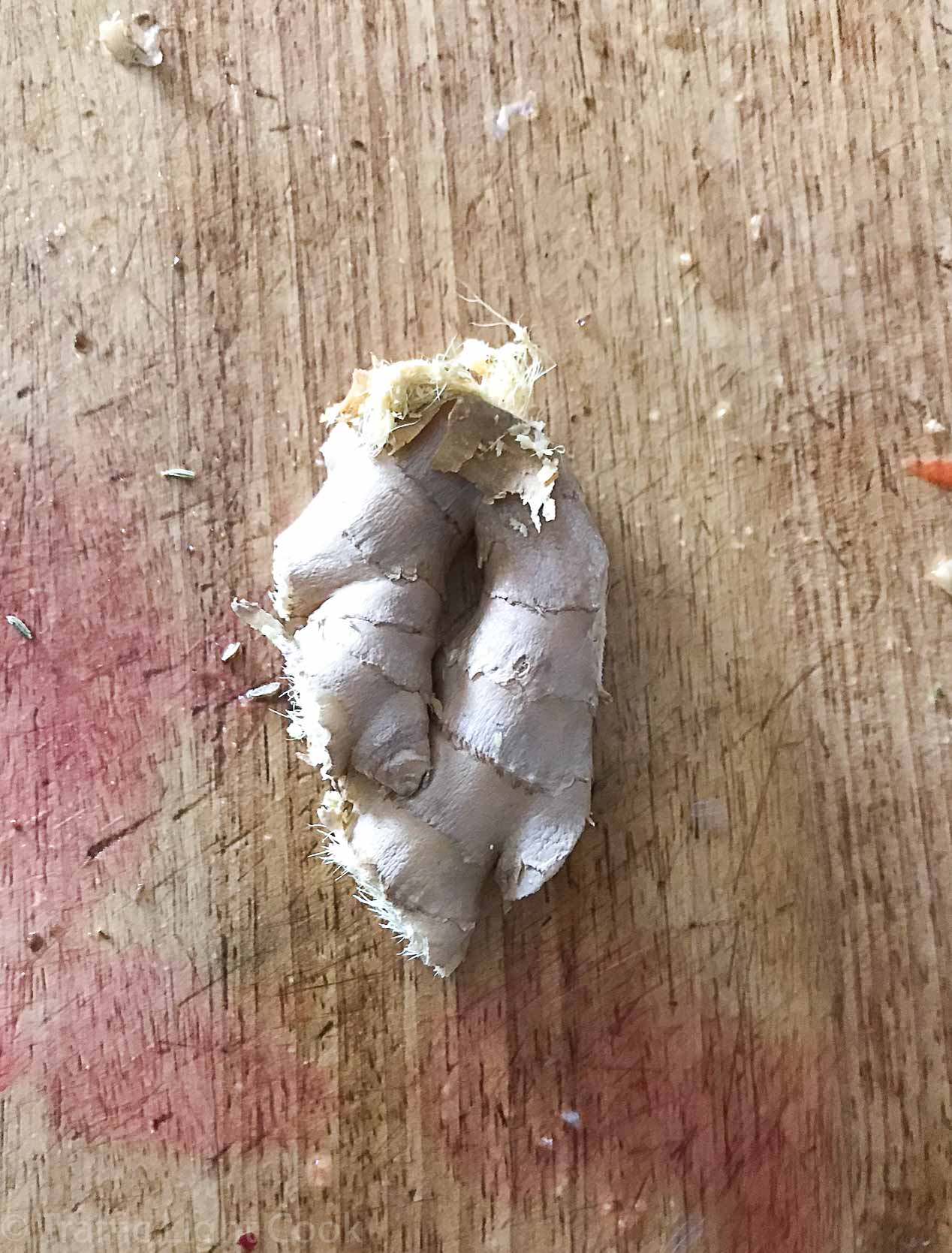 Step 2: You can add all the ingredients to a soup pot full of cold water, if you are short on time. However, to make the broth flavor more intense, first sauté the onions and mushrooms till they are soft (about 5 minutes). Then add water with rest of the ingredients. Bring to a gentle boil and then simmer in partially-covered pot (about 20 minutes). To bring out the flavor of vegetables in the simmering water, it takes its own sweet time. It's best not to hurry this process and let the broth simmer till the vegetables have disintegrated (about 35 minutes). (Total Time: 60 minutes)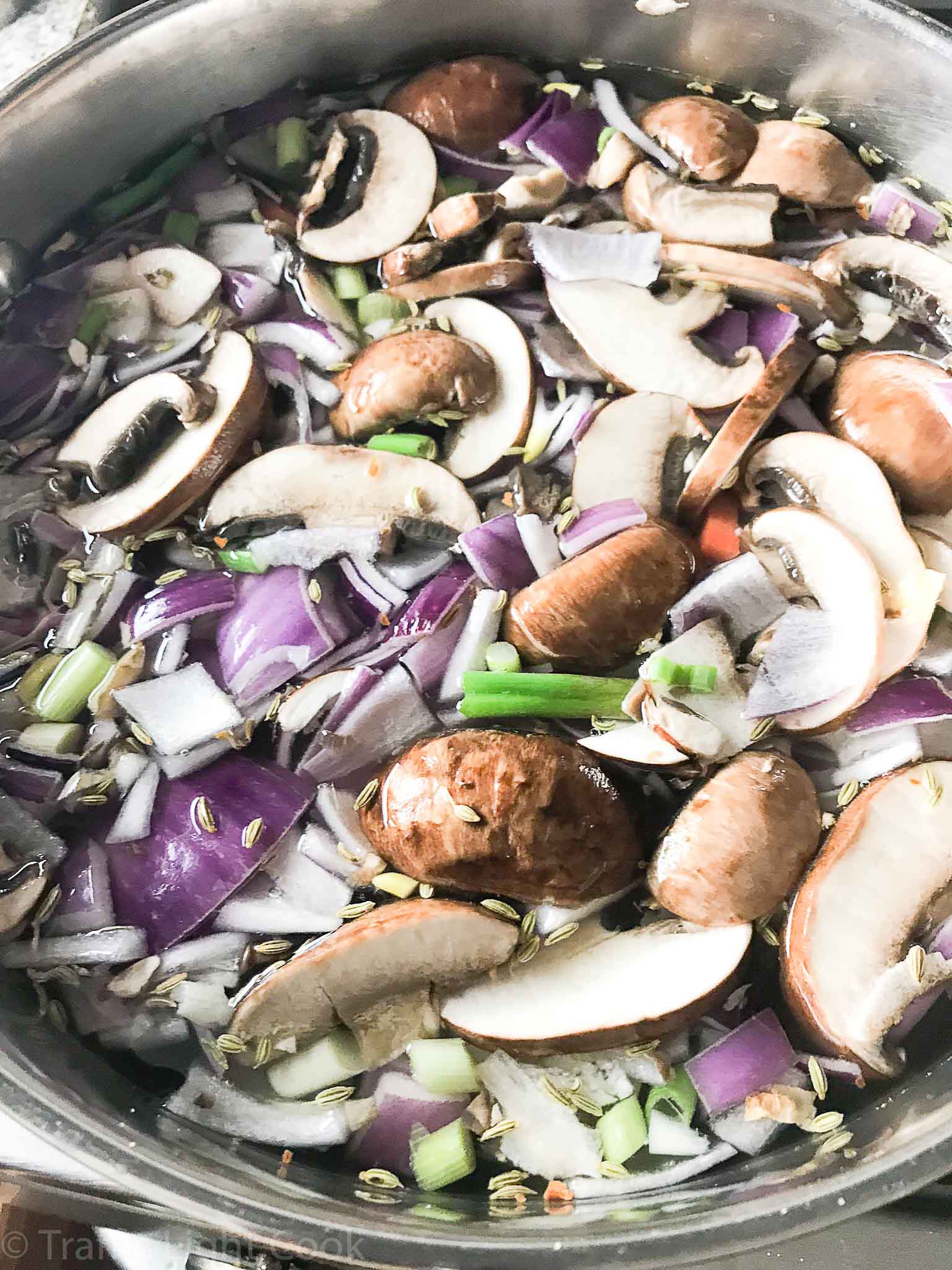 Step 3: Filter the broth through a fine-mash sieve into a wide-mouth pot. Let the broth cool to the room temperature and then store in refrigerator or freezer-friendly bottles/jars. If using glass jars, always use wide-mouth, 2-4 cups jars that are freezer friendly. Always leave around 1"-1.5" of space between broth level in the jar and jar mouth as the broth when frozen willexpand in volume. (Total Active Time: 5 minutes).
Cook once, use multiple times
If you are short on time, it's worth making 2-3 batches of this Asian vegetable broth and freeze for later. This broth will keep fresh in refrigerator for about 3-4 days and in freezer for about four weeks. It's a good idea to freeze in portion sizes that can be used in one recipe. For example, I often freeze in pint-size (2 cups) jars and take out two every time I make a soup. To thaw this Asian vegetable broth, transfer the frozen broth to the refrigerator at least 24-hours in advance. Now go make your favorite Asian noodle soup using this recipe.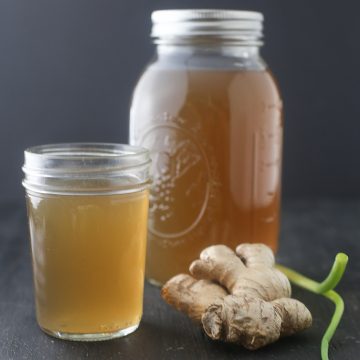 Asian Vegetable Broth
Use this Asian-inspired broth in noodle soups, ramen, and more. This healthy, no-sodium broth brings a robust flavor to your Asian recipes.
Ingredients
1

tsp

avocado oil

(optional)

12

cups

cold water

(preferably filtered)

2

medium

red onions

(roughly chopped, can sub with white)

4

cloves

garlic

4

medium

carrots

(roughly chopped)

1

medium

daikon

(roughly chopped, can sub with 4-5 small radishes)

2

tsp

ginger

(roughly minced)

6

oz

shiitake mushrooms

(about 7-8, can sub with Crimini mushrooms)

1

small buch

scallion

(about 5-6 stems, roughly chopped)

2

bay leaves

1

pinch

crushed red pepper flakes

2

pinches

salt

(optional)

1/2

tsp

fennel seeds
Instructions
Heat avocado oil a heavy-bottom soup pot over medium heat. Add onions, garlic, and mushroom with two pinches of salt. Sauté (cook) onions and mushrooms till both become soft.

Add rest of the ingredients with 12 cups of cold water. Bring the mixture to a gentle boil over medium heat (about 20 minutes). Partially cover the soup pot with a lid. Reduce the heat to medium-low and let the broth simmer for about 35 minutes.

Remove from the stove and filter the broth through a fine-mash sieve. Let it cool to room temperature and store in glass bottles/jars. Use it in your favorite Asian, African, or Indian dishes. Enjoy!
Nutrition
Serving:
1
cup
Calories:
31
kcal
Carbohydrates:
6
g
Sodium:
99
mg
Potassium:
202
mg
Fiber:
1
g
Sugar:
2
g
Vitamin A:
3400
IU
Vitamin C:
9.1
mg
Calcium:
30
mg
Iron:
0.4
mg