Flax egg is a great vegan alternative to eggs. Alhtough you can't flip or scramble it in a pan, flax egg works as a great alternative to eggs in many baking recipes. Flaxseeds are also a treasure trove of great-for-you nutrients including Omega-3, lignans, and many essential vitamins and mineral.
Why flax egg recipe is important?
You are probably wondering why do you need this technique in the repertoire of your cooking hacks. If you are vegan (like me) or allergic to eggs, then flax eggs save the day when baking many of your favorite treats or breads. Even if you are an egg lover, I would highly recommend, even if every now and then, to replace regular eggs with flax eggs in baking. This textured egg adds a great earthy, nutty flavor to whole-grain muffins and quick breads. Moreover, this flax egg not only replaces eggs in baked goods, but also adds nutrients to them.
How to make a flax egg?
You need only two ingredients--ground flaxseed (flaxseed meal) and water. You can either use a spice or coffee grinder to pulvarize flaxseeds just before making the egg or use store-bought cold-milled flaxseed meal. It is important to check for cold-milled label in store-bought flax meal as cold milling allows for preservation of nutrients.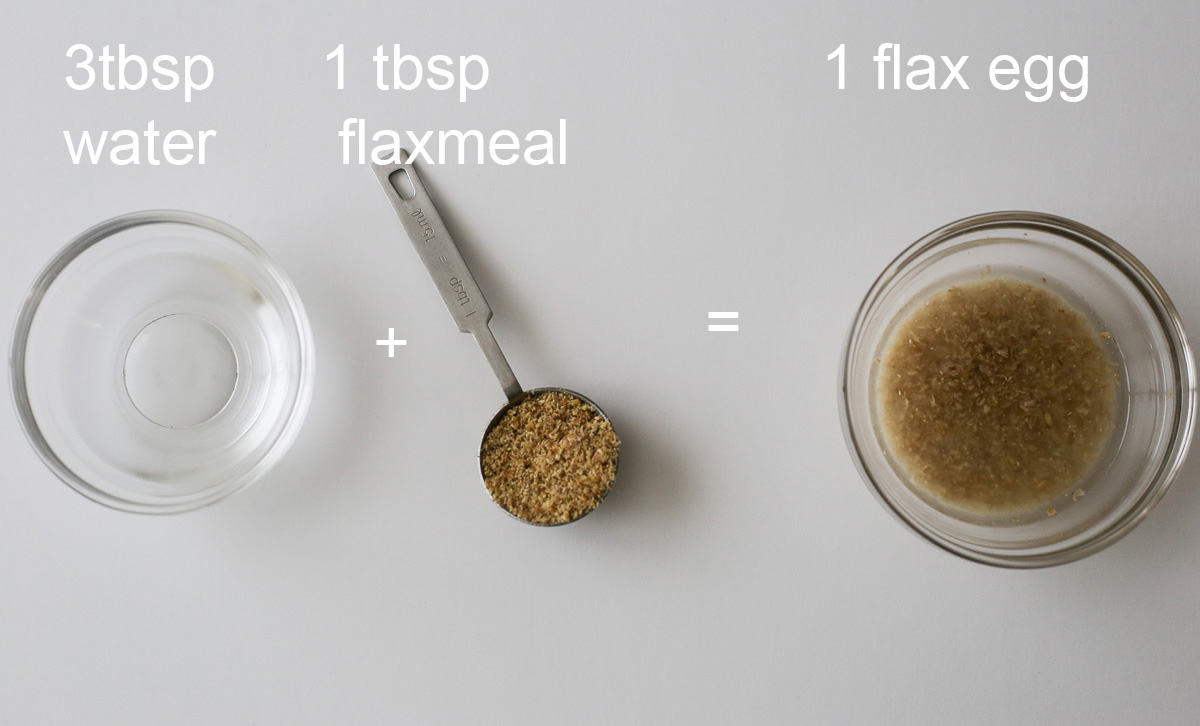 Add 1 tablespoon of ground flax meal to 3 tablespoons of warm water. Let the mixture sit for at lest 5 minutes; 15 minutes is ideal. The mixture will become thick and gooey. I usually whisk the (set) mixture 10-15 times with a baby-size whisk (a fork works just as well.) You can also refrigerate the mixture for 5-15 minutes. Refrigeration helps set the flax egg a bit better. But remember to take it out well in advance to bring flax egg to room temperature (just as you would a regular egg). Once ready, the mixture should have a sticky, gooey texture--needed to bind the ingredients in baked goods. Flax eggs should last in refrigerator for 3-5 days, but I usually make these fresh.
Rules and limitations of using flax egg
You absolutely need to set the flaxseed meal and water mixture aside for 5-15 minutes before using it in the baking process. If you skip this step, your recipe will surely have flax meal and water but miss on having an egg. At the risk of sounding repetitive, the flax egg needs to be gooey and sticky in texture before it can be used in a recipe. Why am I repeating this? I underestimated the importance of sticky texture the first time I used flax eggs--in making cookies. The cookies lacking an egg (alternative) baked to a crumbly texture. And I had to request (read beg) my kids to use a spoon to eat those.
Replace one flax egg for one regular egg in baking. So if your recipe calls for four regular eggs, use 4 tbsp of flaxseed meal and 12 tbsp of water.
Ground flaxseeds have a sweet and nutty flavor and grainy texture. This works well in baked good that use whole grain flours (masks the texture/flavor of flax egg) and strong-flavored ingredients such as chocolate and spices. However, the flax egg flavor and texture shows up, often quite noticeably and undesirably, in recipes using light/white flours, especially those without strong-flavored ingredients. If you are using white/light flour with a strong-tasting ingredient, you can avoid the texture issue by sieving the flax egg. For me that's just too much work. For those recipes I use chia egg (stay tuned).
Enjoy.
How to make a flax egg
A great vegan, gluten-free, healthy alternative to egg in baking muffins, cupcakes, and quick breads.
Ingredients
1

tbsp

flaxseed meal

(ground flaxseeds)

3

tbsp

warm water
Instructions
Add warm water to flaxseed meal. Let it sit for 5-15 minutes.

Stir the set mixture with a small whisk or fork to get a thick, gooey, sticky, mixture. The egg is ready to be used in a baking recipe.
Nutrition
Calories:
55
kcal
Carbohydrates:
2
g
Protein:
1
g
Fat:
4
g
Sodium:
5
mg
Potassium:
83
mg
Fiber:
2
g
Calcium:
26
mg
Iron:
0.6
mg