Using instant pot to make quinoa not only yields fluffy quinoa every time, but also make quinoa healthier by removing/reducing its anti-nutrients.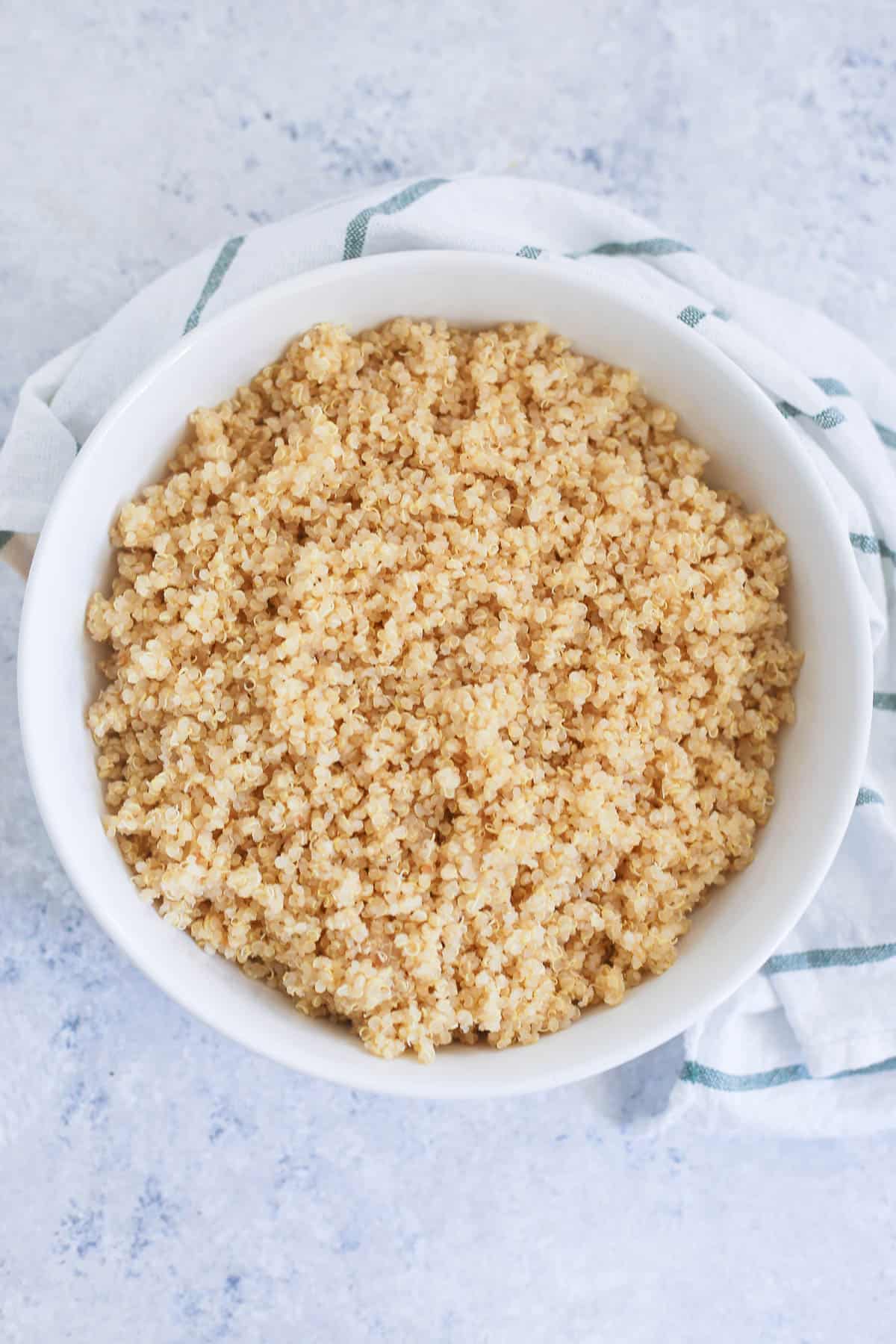 Why is it healthier and easier to pressure-cook quinoa?
Quinoa-like most seeds, grains, beans, and lentils- is high in antinutrients such as phytic acid and lectins (more on this later). In cultures where grains, seeds, and legumes are main ingredients in diets, various methods are used to reduce the antinutritent load of these foods. Soaking and pressure cooking are two methods that help reducing phytates and lectins-antinutrients found in quinoa [1].
While it takes longer to cook quinoa in instant pot, compared to stovetop, the instant pot quinoa is a fool-proof method to get fluffy quinoa everytime. Moreover, you save time by not manning the quinoa cooking in a pot over stovetop. So while quinoa cooks in instant pot, you can do something else simultaneously.
Want to know more about quinoa: Quinoa: Energy-boosting ancient pseudoceral
Ingredients & Equipments
You need only two ingredients: your choice of quiona and water. Any quinoa variety works--white, red, black, or tri- or multi-color.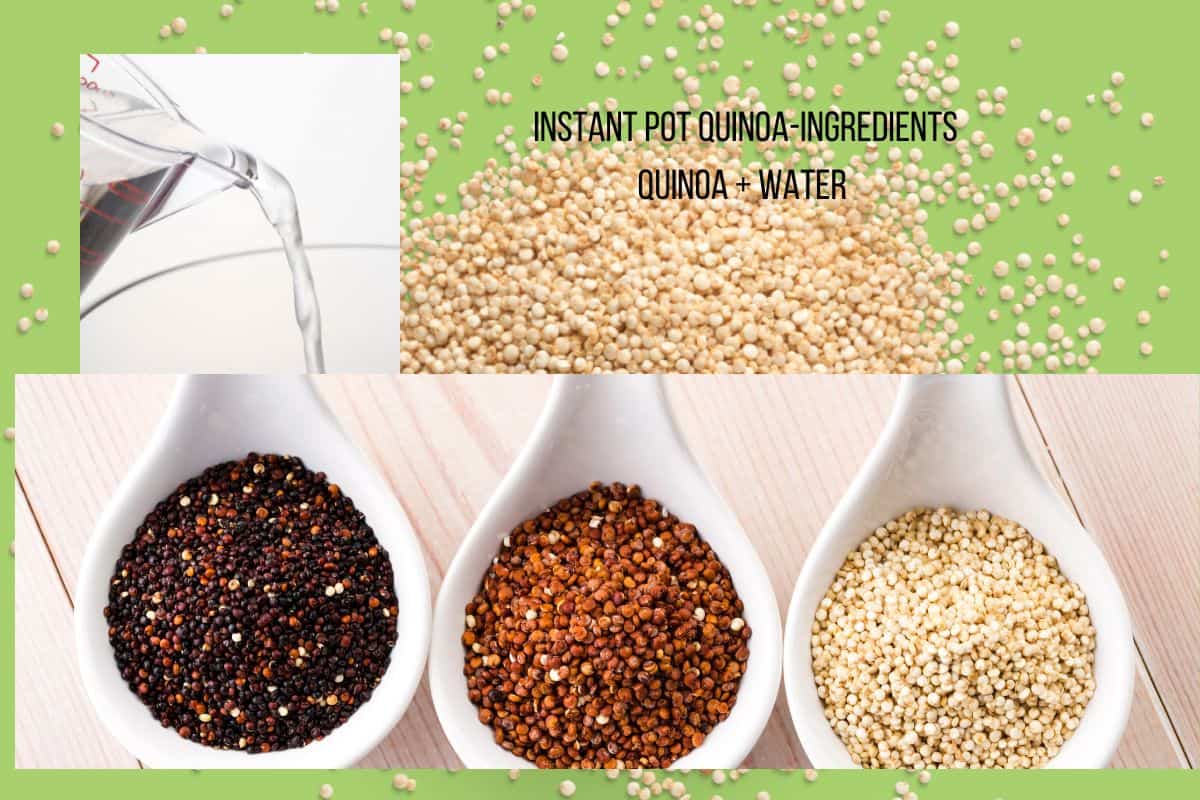 You would need an instant pot to make the instant pot quinoa. You can also use other types of pressure cookers to remove/reduce antinutrients from quinoa. A good wooden spoon is a also a must in a kitchen.
How to cook Instant pot quinoa
Rinse quinoa well under running water: washing quinoa before cooking, even if the package says it's pre-washed, is a must. The washing process removes sapopins-the bitter compounds naturally present in quinoa.
Soaking: if I am cooking quinoa on stovtop, I like to soak it for a couple of hours to remove the antinutrients. When using the instant pot, I often just rinse the quinoa.
Add water to quinoa in instant pot and stir well--this is an important step, otherwise, quinoa tends to stick at the bottom of the pot.
Add 3 minutes on the pressure cook setting (high) on your instant pot and let instant pot do all the work. Add about 10 minutes for pressure buidling and 10 minutes for pressure releasing to the 3-minute cooking time.
Once the pressure has released, slowly open the lid, keeping your face away from the pot to prevent burning from steam. Fluf the quinoa with a wooden spoon.
Meal ideas with quinoa
This instant pot quinoa can be used in multitude of recipes ranging from adding quinoa as a side to your meal to incorporating it in other meals type including burgers, salads, and stir-frys.
How to store cooked quinoa for meal planning
This instant pot quinoa stores well for mealplanning.
The very first step is to cool the quinoa completely before storing. if you are in a hurry, add ice and cold water to a wide-mouth post and let the instant pot insert sit in cold water for an hour or so. Wait for the instant pot insert to come to room temperature before putting it cold water or transfer hot quinoa to another steel pot.
Once quinoa has cooled, store in refrigerator in an airtight containder for about 4-5 days.
To freeze, divide in portion sizes that you are likely to use in future and freeze upto a month. To reuse, thaw in refrigerator 24 hours prior to using or add the freezer container to a pot filled with room-temperature water, or microwave for about 1-2 minutes.
Instant Pot Quinoa (healthy & fluffy)
Cook quinoa in an instant pot pressure cooker to make it healthier and get fluffy quinoa everytime.
Ingredients
1

cup

quinoa

(dry, any variety)

1½

cups

water
Instructions
Add quinoa to a fine-mesh sieve and wash under running water, moving the sieve to run the water through quinoa. Even if the box says pre-washed, it's a good practice to wash quinoa before cooking.

Add the quinoa and water to the instant pot and stir well; this prevents quinoa from sticking at the bottom. Then pressure cook for 3 minutues. It takes about 8-10 minutes to build the pressure. Once the pressure has built and quinoa has cooked for 3 minutes, it would take another 10 minutes for the instant pot to release the pressure.

Open slowly and avoid bringing your face too close to the instant pot, as the residual steam can burn your skin.

Stir well with a wodden spoon and enjoy warm.
Notes
Variation
You can roast quinoa in the instant pot by using the sauté function. This gives quinoa a nutty flavor. 
Nutrition
Calories:
174
kcal
Carbohydrates:
32
g
Protein:
6
g
Fat:
3
g
Saturated Fat:
0.3
g
Polyunsaturated Fat:
1
g
Monounsaturated Fat:
1
g
Sodium:
3
mg
Potassium:
303
mg
Fiber:
3
g
Sugar:
4
g
Vitamin A:
330
IU
Vitamin C:
5
mg
Calcium:
24
mg
Iron:
2
mg
More recipes with quinoa on TLC..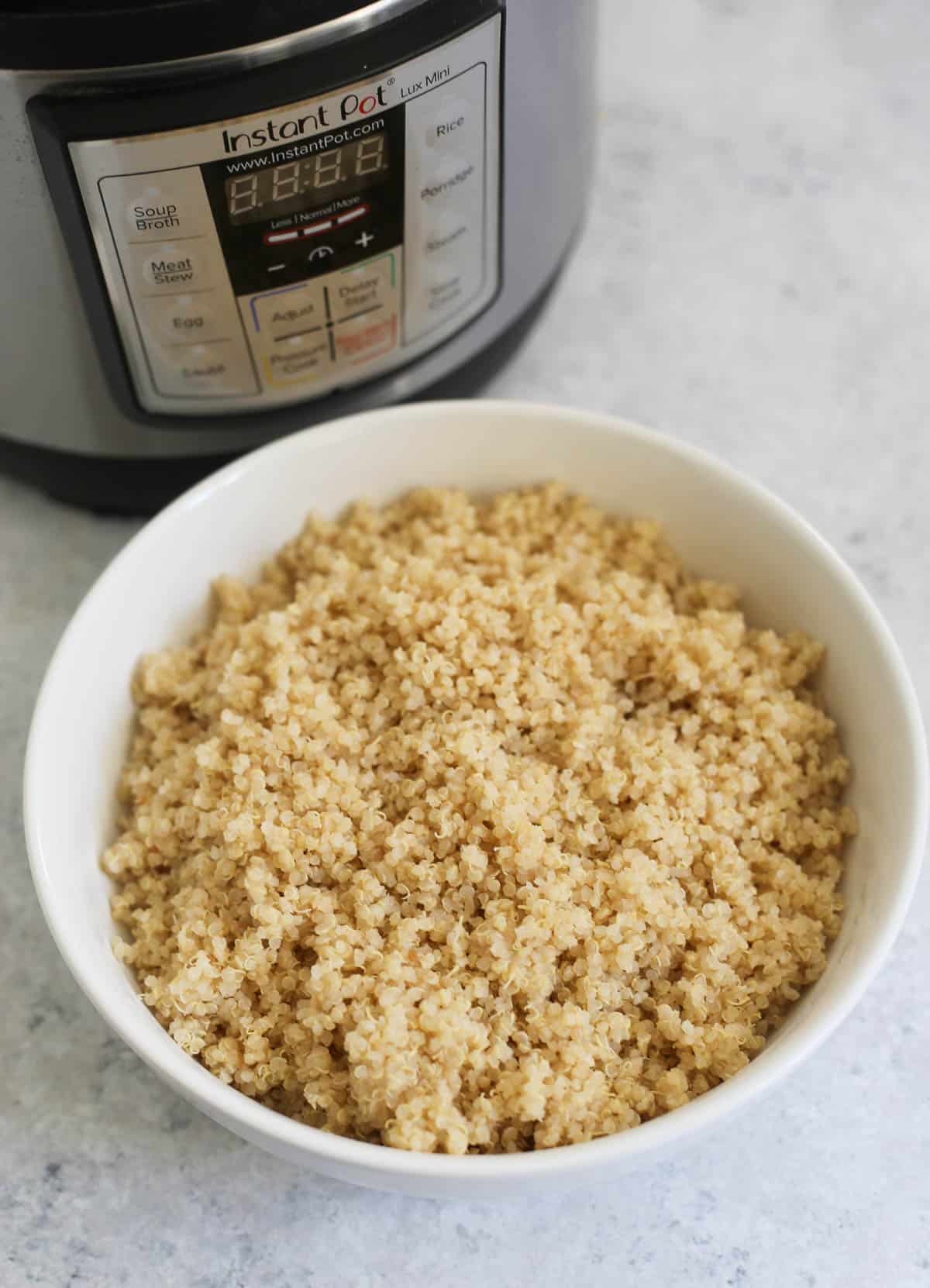 References
Reddy, Rukma, and Shridhar Sathe. Food Phytates. 1st ed., CRC Press, 2019