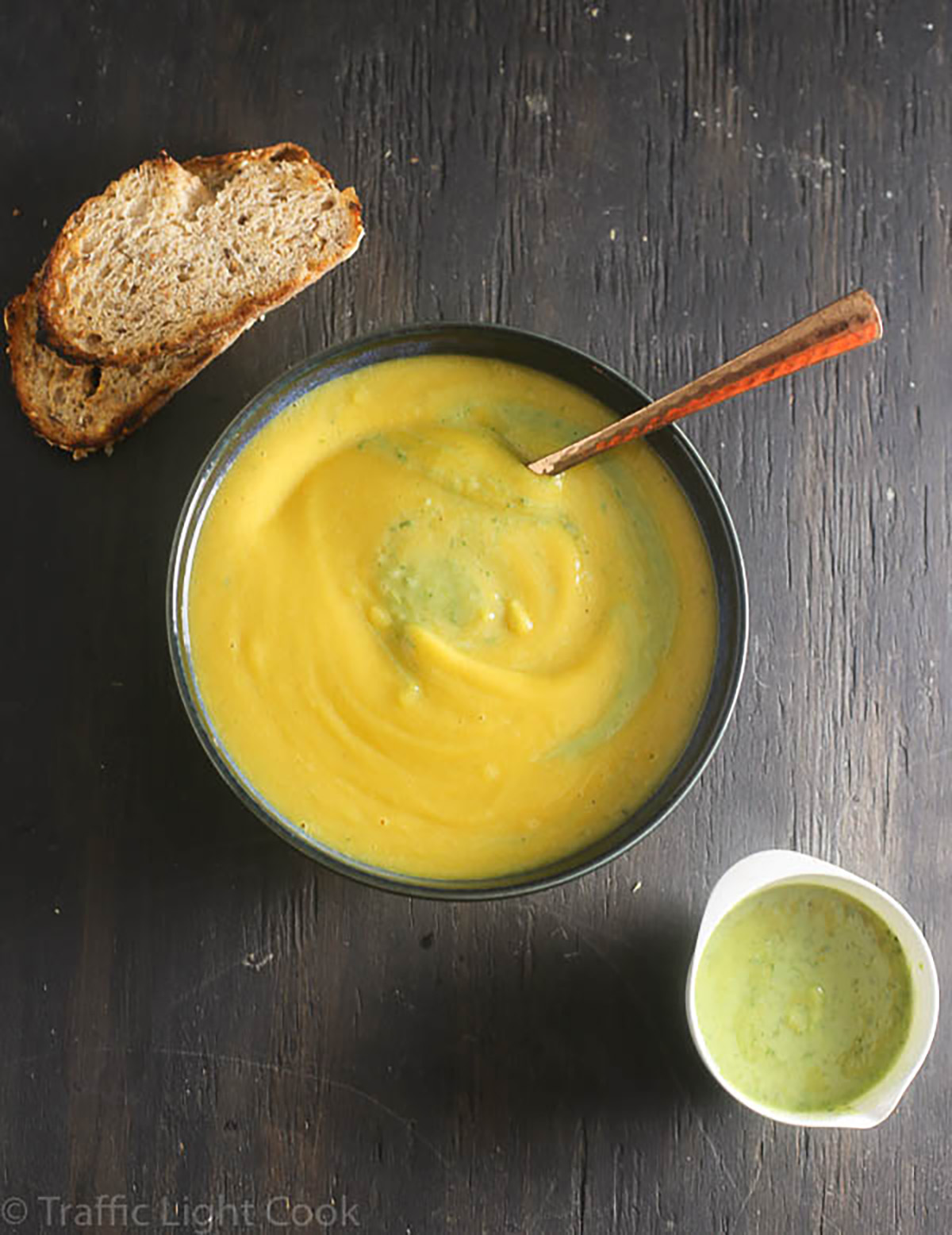 The pumpkin season is at its peak. Well, you can totally argue that the the height of the pumpkin in the season passed when you threw away the Halloween pumpkin at the front door. But don't we all look forward to the pumpkin in the pie on Thanksgiving. Let me not entangle you in that debate: the Jack-O'-Lantern pumpkins are a different (less sweet) variety than the Sugar Pie Pumpkins (used in this soup; and pies, of course). Every ingredient in this pumpkin and white bean bisque (with bean-herb garnish) works toward enhancing the sweet taste and creamy texture of the pumpkin. You can totally make two batches of the recipe and pair one with a salad and the other with whole-grain pasta (or brown rice).
This is a diabetes-friendly recipe
November is National Diabetes Awareness Month. There are two different types of diabetes: Type 1 and Type 2. The type 2 diabetes is the most prevalent type per the Center for Disease Control and Prevention [1] and also can be prevented with lifestyle. The disease (type 2 diabetes) has the higher likelihood of favoring those of us with excess body weight. It also connect well with leading a sedentary lifestyle (move, please) and making unfavorable food choices: (unhealthy) fats and excessive simple carbohydrates (more on this later.) While the type 2 diabetes can happen at any age, it increases with age and shows a dramatic jump in the incidence of happening over the age of 40. A nutrient-dense, whole-food diet (99% of all recipes on Traffic Light Cook are diabetes friendly) can help stave off chronic diseases like diabetes.
As it turns out, pumpkin in scientific research is shown to have anti-diabetic properties in animals [2]. This is not surprising given the high amounts of nutrients in pumpkin. As you can see from its color, pumpkin is a great source of beta carotene--a pigment that gets converted into Vitamin A.--an essential vitamin. In addition, pumpkin is dense in fiber and antioxidants and may have anti-carcinogenic and anti-inflammatory benefits. Combined with white beans, its nutrition quotient goes even higher; white beans are one of the best sources of calcium and hence supports bone health. One thing to note: if you add a ton of sugar to a healthy fruit like pumpkin, it is probably going to fall in the RED zone (stay tuned for a yummy, healthy pumpkin pie recipe).
What types of beans should I Use?
Any type of white bean should work. I have tried the soup with cannellini beans and navy beans; and they both turned out great. But you can also try with Great Northern beans or chickpeas. I cook beans from scratch, but you can totally use the low- or no-sodium-added canned version. As always, be sure to wash the canned beans under running water to remove the metallic taste and excess sodium.
Flavor enhancers: herbs and others
I have made plenty of different types of soups with pumpkin (stay tuned for the other recipes.) One thing I have learned from constant experimentation that pumpkin doesn't like ingredients that can shock its flavor. For example, a generous addition of cayenne pepper totally camouflages the pumpkin flavor. If you would like to add heat, try black pepper (my go-to spice for pumpkin). A mild hot green peppers such as jalapeño, in small quantities, may also work. In this pumpkin and white bean bisque, the gentle sweet flavor of fresh fennel (can totally substitute with ground fennel) and slightly citrus notes of lemon zest work really well.
In addition to fennel and citrus zest, I have also used one of my favorite Fall/Winter herbs--sage. The velvety, meaty sage leaves are added somewhat earlier than most fresh herbs in the cooking process as they tend to be hearty and slowly release the flavor. Sage brings on the comforting warm flavor with slightly astringent notes.
Cook once/eat twice and storing tips
Soups in general take more time to cook as the vegetable/fruit flavors slowly get released and mingle with other ingredients. This is why, I always make two batches of any soup. Most vegetables start to lose nutrients (even in the refrigerator) three days after cooking. Therefore, plan to use both the batches within three days. We eat it with a whole-grain toast or small salad on day one and add it to a bed of brown rice (or pasta) on day two. Before storing, completely cool the soup to room temperature and store in an airtight container in refrigerator for up to three days. Enjoy!
If you try the recipe, please let me know in the comments section. I would love to hear from you.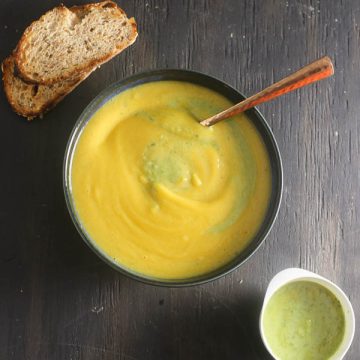 Pumpkin and White Bean Bisque (Vegan)
This vegan, gluten-free pumpkin and white bean bisque with a hint of fall flavors is so velvety that you wouldn't able to to detect the lack of heavy cream.
Ingredients
For the Pumpkin and White bean bisque
1

tsp

avocado oil

(or sub with any other type)

1

white onion

(chopped, ~1 cup, can sub other types)

3

cloves

garlic

(minced)

3/4

tsp

salt

(or to taste, no more than 1 tsp)

1/2

cup

fennel bulb

(chopped, can sub with 1 tsp ground fennel seeds)

3

cups

pumpkin

(cubed, ~1lb)

1/4

tsp

turmeric powder

(optional)

3

leaves

fresh sage*

(scant 1 tbsp, finely chopped)

1/4

tsp

freshly ground black pepper

(or to taste)

3

cups

Homemade Vegetable broth

(or sub with low- or no-sodium store bought broth)

2

cups

navy beans**

(cooked, or sub with 1, 15-oz canned)

1

tbsp

lemon zest

(about one lemon)
For the bean-herb garnish
1/2

cup

navy beans***

(cooked, or sub with other white beans)

1/4

cup

parsley

(fresh)

1

tbsp

sage

(fresh, about 3 leaves)

2

cloves

garlic

(whole)

1/8

tsp

salt

2

tbsp

water

2

tsp

extra-virgin olive oil

1

tsp

fresh lemon juice

(or sub with apple cider or white vinegar)
Instructions
To make the pumpkin and white bean bisque
Warm the oil a heavy-bottom soup pot over medium heat. Be sure not to smoke the oil. Add chopped onion, minced garlic, and 1/2 tsp of salt--cook till onions are soft (about 2-3 minutes).

Add chopped fennel (or ground fennel seeds instead of fennel), cubed pumpkin, ground turmeric (if using), freshly ground black pepper, sage leaves, and remaining 1/4 tsp salt. Sweat the veggies for 3-5 minutes; add a tsp or two of water to prevent veggies sticking to the bottom of the pan.

Add homemade vegetable broth and cooked navy beans and bring the mixture to a boil over medium-high heat. Partially cover the soup pot--leaving only a crack open-- to expedite the process (about 10 minutes).

Reduce the heat to medium-low and let the soup simmer, partially covered, for 20-25 minutes, stirring a couple of times in between to prevent sticking. In the last 10 minutes, add the lemon zest.

Remove from the heat and let the soup cool down for blending. Blend the soup until perfectly smooth and creamy. Serve with the bean-herb garnish or other favorite toppings. Enjoy!
To make the bean-herb garnish
Add all the ingredients to a blender and blend until smooth. This recipe yields 6 tbsp of garnish. Serve 1 tbsp per cup of the soup. Enjoy!
Notes
*can sub with 1 tbsp parsley or equal amount fresh cilantro
**can sub with equal amount cooked cannellini beans, chick peas, or Great Northern beans
***For a nutty flavor, use 1/2 cup pumpkin seeds soaked in warm water for at least 1/2 an hour prior to using. 
Use it as the main course
This soup is a meal on its own. Use it over pasta or rice (1 cup/per person) or on its own with a small side salad (1.5 cups/person).
To make it heart-healthy
In the bean-herb garnish replace extra-virgin olive oil with vegetable broth or water.
Decrease salt to 1/2 tsp and add 1 tbsp of lemon juice right after removing the soup from the stove.  
To Make it diabetes friendly:
In the bean-herb garnish replace extra-virgin olive oil with vegetable broth or water.
Nutrition
Serving:
1
cup
Calories:
159
kcal
Carbohydrates:
27
g
Protein:
7
g
Fat:
2
g
Sodium:
450
mg
Potassium:
572
mg
Fiber:
8
g
Sugar:
2
g
Vitamin A:
5150
IU
Vitamin C:
14
mg
Calcium:
80
mg
Iron:
2.5
mg


[1] Center for Disease Control, A snapshot of diabetes in the U.S.
[2] The hypoglycemic effect of pumpkins as anti-diabetic and functional medicines