This beet borscht not only offers the culinary experience of a different culture, it is also scores high on nutritional content.
Borscht is a soup with sour flavor profile (primarily) from Eastern and Central Europe [1]. It is quite interesting that how after watching a Cary Grant movie it ended up being a regular in my kitchen. Here is the connection: the 1942 comedy/mystery The Talk of the Town features beet borscht with an egg as a culinary catalyst to drive the movie plot forward. The description of the soup in the movie got my attention and I set out to try the recipe in my kitchen (a few years ago). The recipe makes a comeback in my kitchen during fall and winter, especially during the CSA season. This vegan version of hearty beet borscht not only celebrates beets and works like a health elixir, it also employs creativity in making a vegan egg.
When I learnt to make beet borscht, I scoured a number of different sources--cookbooks, newspapers, magazines, and the Internet-- to research the original method of making it. My research informed me that each country where borscht is popular has its own nomenclature and recipe. I settled on an old recipe from the New York Times archives: A Thick Ukrainian Borscht--dating back to March 1976. But the recipe still did not have an egg, as the Ukrainian version does not call for eggs. It appears that Jewish versions tend to have a mixture of dairy and egg [1]. So I put my imagination to work and decided to create my own version of vegan egg.
If you are getting into cooking beets this season, you may also like other blog posts on this vegetable.
A note on roasting beets
Many beet borscht recipes call for boiling or blanching beets before adding to the pot. However, I like to roast beets as the process tends to bring out the sweeter flavor of beets and retain nutrition, compared to boiling them.
To roast beets, cut the roots and tops but keep the skin. Add to a baking dish with a couple of tablespoon of water. Cover with an oven-proof lid and roast at 375°F (190°C) for about an hour (beets bigger than 2" inches may take longer ~75 minutes). Check for doneness by piercing with a fork or toothpick--it should easily slide into the roasted beet. Peeling is easy, just pinch the roasted beet skin between fingers, it would slide out of skin. If it is harder to peel, then beet is undercooked and needs more time in the oven.
A note on making vegan egg
The Talk of the Town version of beet borscht boasts of a raw egg beaten into hot soup. I was so taken by the whole description of beet borscht with an egg in the movie that adding an egg was a must to this recipe, even though I don't eat eggs. So, this also became a craft project--cutting out a circle out of 1/4" thick tofu slab with a small bowl (or cookie cutter), smearing it with fresh minced garlic, and sprinkling with a secret ingredient--black salt, which imparts hint of egg flavor when added to food (more on black salt later).

Borscht, made with beets or something else, leans toward sour notes in flavor. This is why this beet borscht with an egg has a bit of picklish taste. But the most cheerful thing about this soup, in addition to its taste and nutrition, is its vibrant color, which instantly perks you up during gray winters. Enjoy!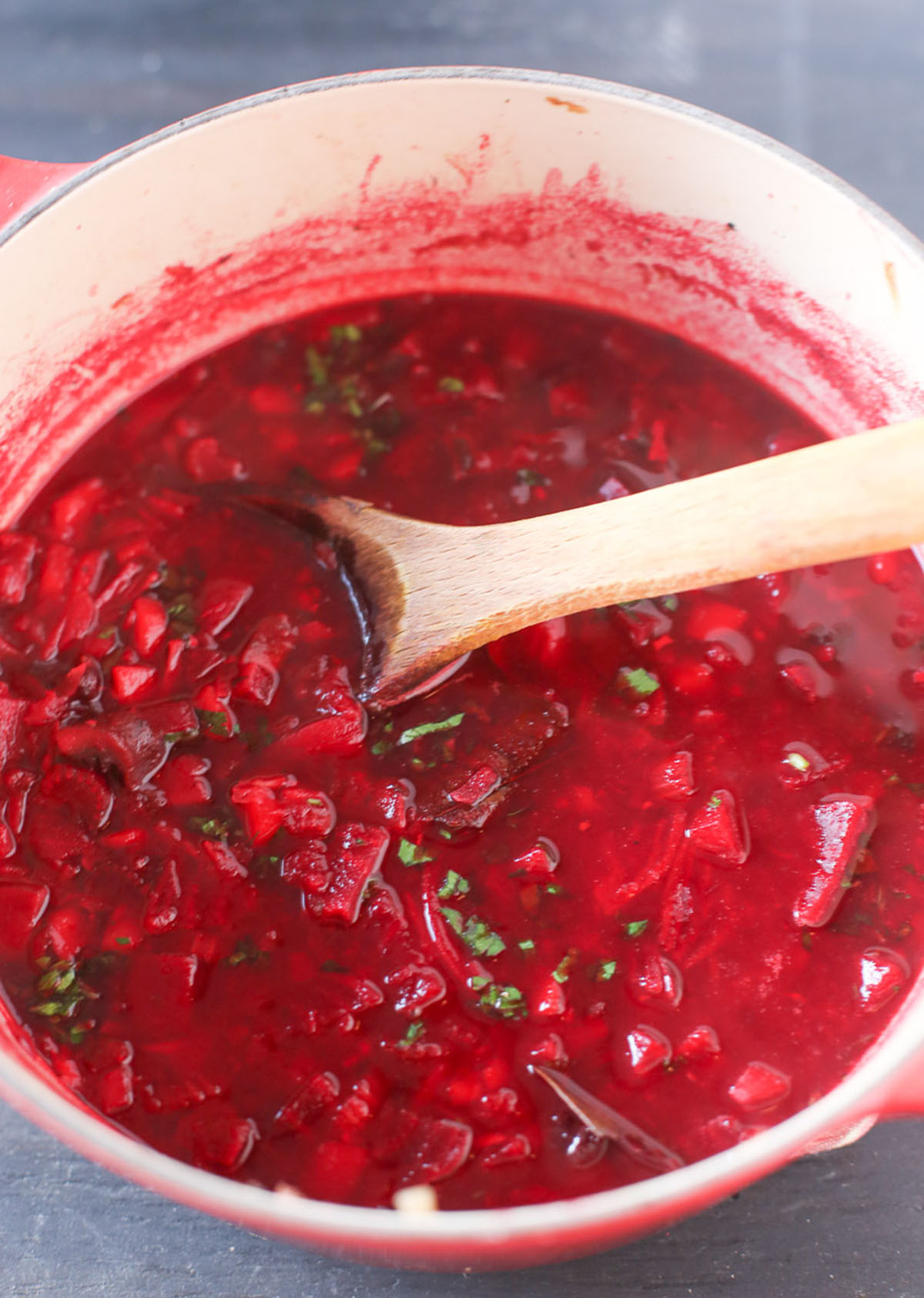 Beet Borscht with an Egg (Vegan)
This beet borscht with an egg is a vegan take on traditional (Ukrainian) beet borscht. This borscht is dense in nutrition, has traditional sour notes, and not so traditional tofu egg.
Ingredients
Beet Borscht
1

tsp

avocado oil

(or any other)

1/2

cup

white onion (or any other variety)

(1 medium, finely diced)

2

cloves

garlic

(minced)

1/2

cup

carrots (1 small)

(finely diced)

1/2

cup

celery (1 stalk)

(finely diced)

1 1/2

cup

portobello mushroom

(cubed, 1 big-size mushroom)

1/2

cup

potato (1 small)

(finely diced)

4

beets

(medium-sized, roasted cubed)

1/2

cup

cabbage (any variety)

(finely shredded)

2

tbsp

tomato paste

(or sub with 1/3 cup tomato puree)

3

cups

Homemade Vegetable stock

(or any other low/no-sodium vegetable stock)

3/4

tsp

salt

(or to taste, no more than 1 tsp)

1/4

tsp

ground black pepper

(or to taste)

1

bay leaf

2

tbsp

fresh parsley

(finely chopped, can sub with dill)

1/4

cup

red wine vinegar

(or sub with white vinegar or white wine vinegar)
Tofu Egg
1/2

block

tofu

(organic, drained and pressed for about 15 minutes)

1

tsp

garlic

(minced)

3

pinches

black salt

(optional)

1/2

tsp

avocado oil

(or any other)
Instructions
To make Beet Borscht
First, scrub and wash beets under running water. Make sure that all the grit is washed away before cooking. Trim beets' tops and roots, but keep the skin on. Add the beets to an oven-proof dish with 2 tbsp of water. Roast at 375°F (190°C) in a pre-heated oven for about 60 minutes.

Once beets are done, heat avocado oil in a heavy-bottom soup pan over medium heat; be sure not to smoke the oil. Add onion and garlic and cook for a couple of minutes stirring often. Add portobello mushroom with 1/4 tsp of salt and cook for two minutes. Add carrots, celery, and potatoes. Cover and cook for five minutes, stirring intermittently to avoid sticking. Add cubed beets, cabbage, and 1 tbsp of chopped parsley with ground black pepper and remaining 1/2 tsp of salt. Cook for another 2 minutes.

Add bay leaf, broth and tomato paste to the veggies and stir to mix well. Bring the borscht to a boil over medium heat and turn the heat down to medium-low. Simmer the borscht for 30 minutes.

Stir-in 1/4 cup of red wine vinegar and fresh parsley. Cook for another 5 minutes, then take it off the stove.
To make tofu egg
Press a block of tofu under a plate topped with a weight (if you have it, you can use Tofu Press). Cut the block of tofu into 4-1/4" thick slabs. With a small bowl or cookie cutter.

Heat an iron skillet over medium heat and smear with oil. Add the tofu rounds smeared with minced garlic and black salt to the skillet. Cook until lightly browned on both sides.

To put together, ladle beet borscht in a wide-mouth bowl and top it with tofu egg. Enjoy!
Notes
Variations:
Make it a complete meal: you can add a can of red kidney beans and 1 additional cup of liquid (broth or water) when adding broth in the cooking process to make it a complete meal. 
Make it vegetarian: Beet borscht is traditionally served with sour cream. You can add a dollop of plain greek yogurt to add creamy, sour notes. You can also top it with a poached or boiled egg. 
Make it low-sodium
This borscht is rich and complex in flavors due to the addition of many different types of vegetables, parsley, and red wine vinegar. Therefore, if avoiding salt, either add only 1/4 tsp or omit completely. It will still taste great. 
Beet Borscht recipe adapted from A Thick Ukrainian Borscht
Nutrition Facts
Beet Borscht with an Egg (Vegan)
Amount per Serving
% Daily Value*
* Percent Daily Values are based on a 2000 calorie diet.
Nutrition
Serving:
1
cup
Calories:
135
kcal
Carbohydrates:
20
g
Protein:
7
g
Fat:
3
g
Sodium:
800
mg
Potassium:
808
mg
Fiber:
4
g
Sugar:
10
g
Vitamin A:
3040
IU
Vitamin C:
18.2
mg
Calcium:
60
mg
Iron:
2.5
mg