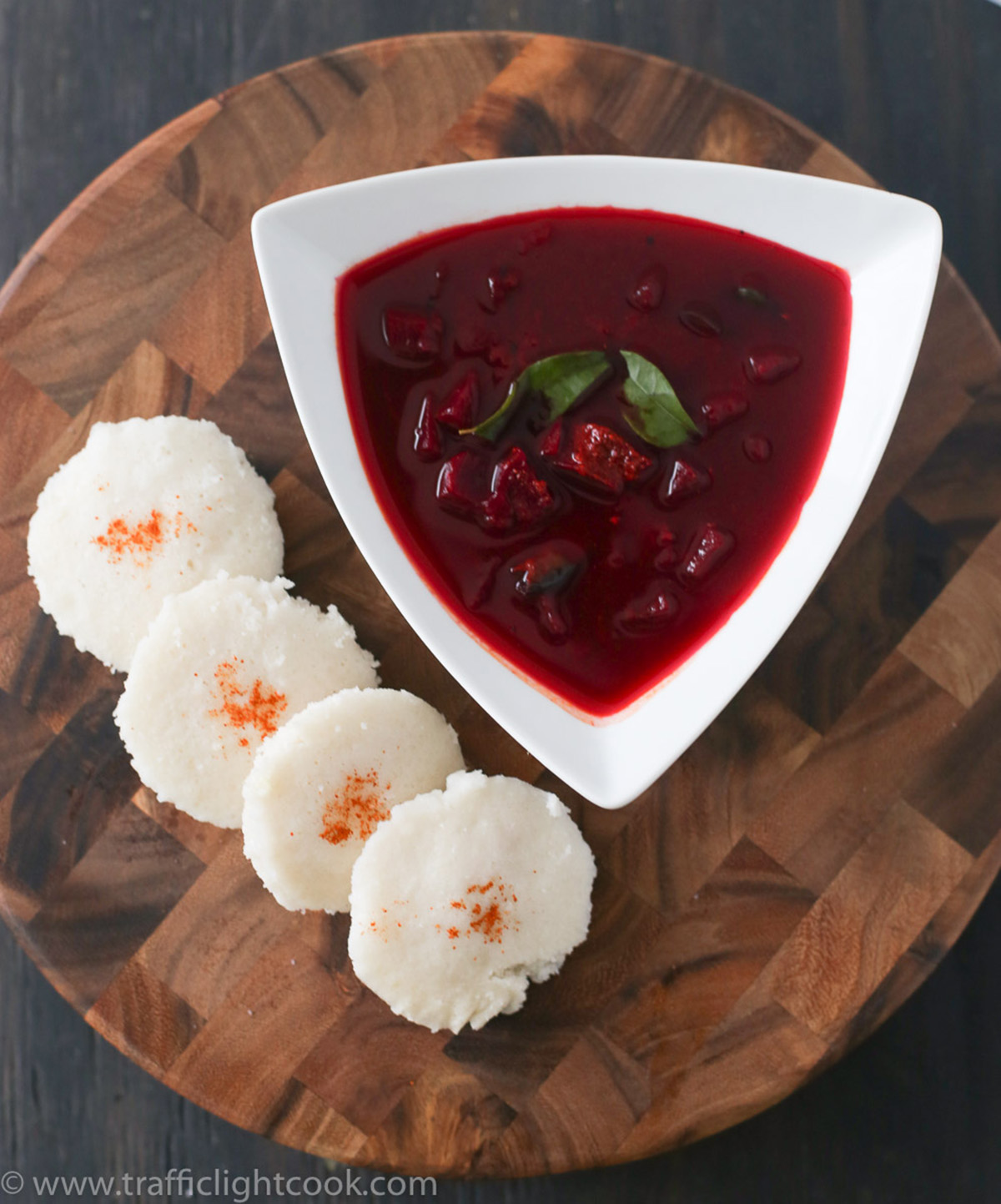 By demystifying beets, I hope I have convinced you to give this nutritional powerhouse a try. One way to eat beets more frequently without getting "beet fatigue" is to eat them in different cuisines and recipes. After making beet energy juice and picklish beet borscht with an egg, how about trying beets in Indian rasam. Although this beetroot rasam (soup) with South Indian spices is quite similar to borscht in texture, it offers the gamut of sizzling flavors--spicy, tangy, garlicy, and gingery.
This is not the traditional rasam recipe. But on my frequent travels to the Southern part of India, I have observed that rasam can be made in many different ways. Rasam in literal sense means juice (usually tamarind), but is referred to a soup made with tamarind juice, tomatoes, and spices. We are going to stay true to this definition by using all the basic rasam ingredients except adding a good amount of diced beets to increase the nutrition quotient of the soup. This beet-dense rasam recipe idea comes from a friend Neena Khan: a healthy food enthusiast who performs many culinary miracles in her own kitchen.
If you don't maintain an Indian pantry, you will need rasam power (can also substitute with sambhar powder) to get the authentic rasam taste. Most of my South Indian friends make this at home (stay tuned for the recipe), but you can also find it in Indian stores. My favorite brand is MTR (no affiliation). You can also find the brand on Amazon (links included below).
MTR Rasam Powder & MTR Sambhar Powder
Whether you are new to adding beets to your diet or a seasoned beet lover, you may also like the following recipes with and information on beets.
Beet Borscht with an Egg (vegan)
Demystifying Beets: Colorful Nutrition on your Plate
A note on tempering spices
Tempering spices, known as Tadka in India, is an integral part of Indian cooking. The technique entails cooking whole or ground spices in heated fat/oil till they are fragrant. Tempering spices can be done either at the beginning or end of the cooking process. Stay tuned for a whole tutorial on how to do tadka, but for now we will do the tempering process after the beetroom rasam is cooked. The goal of this process is to transfer the strong fragrance and flavor of spices to the dish. Curry leaves, mustard seeds, and dried red chillies are the usual ingredients in the South Indian cooking. Since the oil needs to heated to a very high temperature, extra-virgin olive oil (or any other oil that has lower smoke point) is not recommended. In India, the choice of fat for tempering is ghee, which has a high smoke point. You can also use avocado or grape seed oil: these oils feature high smoke points.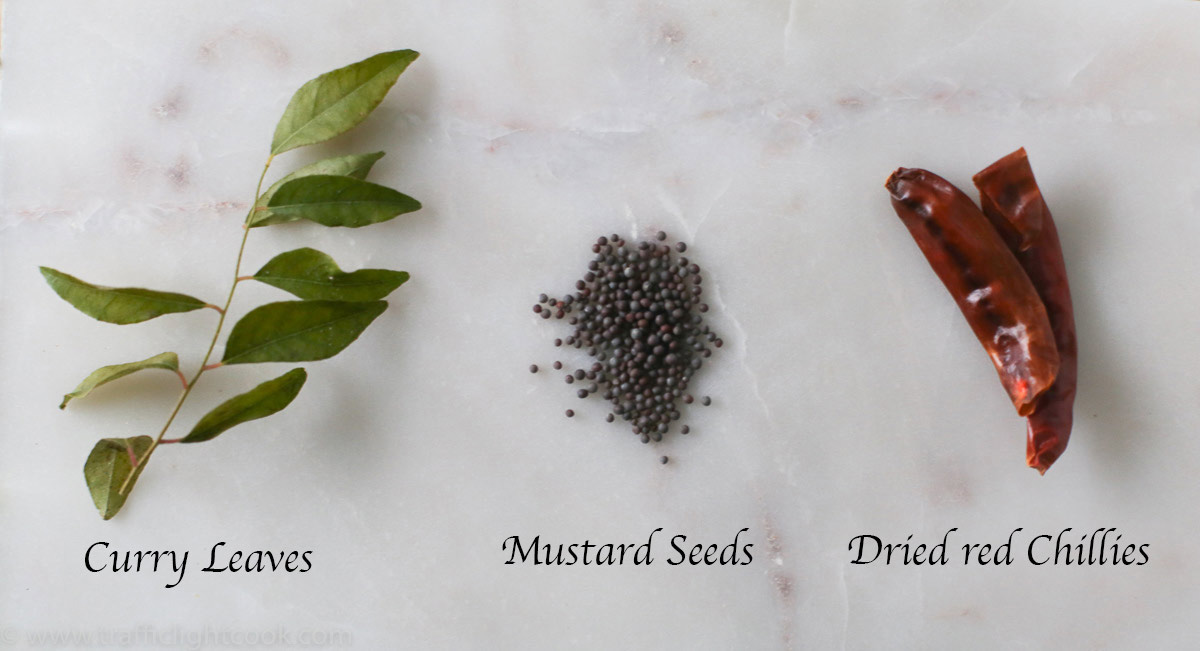 To make tadka for this beetroot rasam, heat oil in a small pan. Add a few mustard seeds. When the seeds start to crackle, add curry leaves and whole dried red chillies; cover with a lid. Once the mustard seeds stop crackling add the tempering to beetroot rasam and stir. Please note that if you are new to the process, use a pan slightly bigger than the burner flame and keep the heat on medium. If the pan/or spoon is too small, smoking oil can start a fire in the pan/spoon. Also it is best to use large steel spoon or small pan for this process; avoid utensils with any kind of coating, i.e. non-stick kind.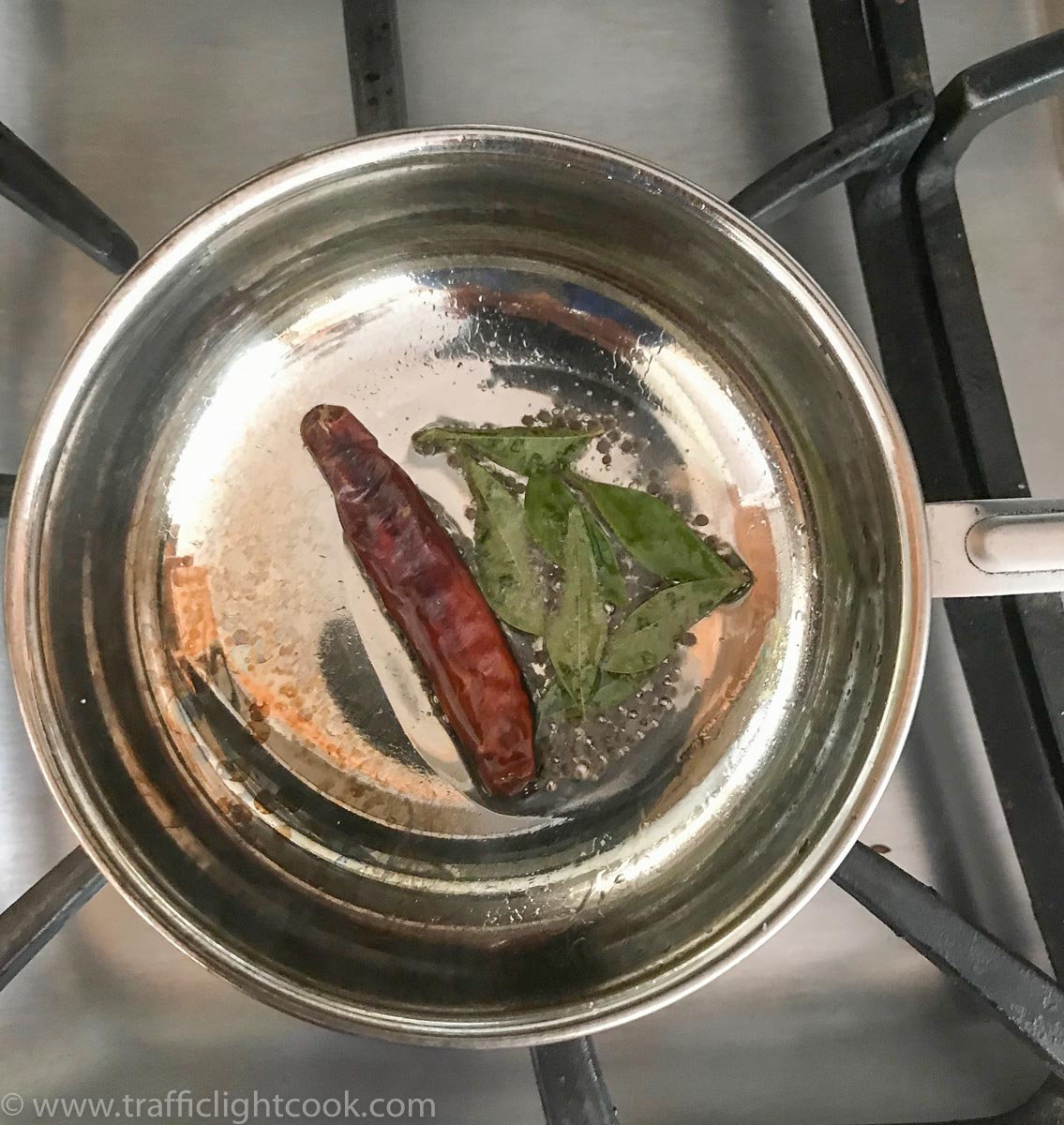 I don't use the tempering process every time I make Indian daals, curries, or rasam/sambhar as heated oil (even the high-smoke oils) can develop health-harming substances (stay tuned for a clarification on that one). Therefore, if you don't feeling like using tadka in the rasam, it will still taste good. You can serve the rasam just by itself as a soup or enjoy with brown rice or idlies (South Indian savory rice/lentil steamed cakes, also shown in the picture). Enjoy!
Now Try the Recipe:
If you try this recipe, I would love to hear from you. Please leave a comment below.
Beetroot Rasam (South Indian soup)
This vegan, gluten-free South Indian beetroot rasam (soup) is spicy, garlicy, tangy, and gingery and is sure to keep you warm during the cold winter.
Ingredients
For Rasam (soup)
1

yellow onion

(or any other kind, finely diced)

2

cloves

garlic

(minced)

1

tsp

fresh ginger

(grated)

4

red beets

(medium, finely diced)

1

tsp

rasam powder

(can sub with sambhar powder)

4 1/2

cups

water

3/4

tsp

pink Himalayan salt

(or any other kind, or to taste)

1

tsp

ginger

(fresh, grated)

2

tbsp

moong lentils

(can sub with toor daal (pigeon peas) or red lentils)

1

cup

tomatoes

(canned, chopped or sub with fresh tomatoes)

2

tsp

tamarind paste*

1/2

cup

cilantro

(for garnish, optional)
For tempering spices
2

tsp

avocado oil

(or any other)

1

tsp

mustard seeds

(black)

5

curry leaves

1

dried red chilli

(or two if you want to go spicier)
Instructions
To make Rasam (soup)
Soak moong lentils (or the kind you are using) for at least 1-2 hours to soften before cooking. Once soaked, rinse thoroughly before adding to the soup.

In a heavy-bottom pot, sweat finely diced onions with 1/4 tsp salt using Ditch-the-oil cooking method for about 2-3 minutes. Alternatively, you can use a teaspoon of oil to sweat the onions.

Once onions are cooked to a softer texture, add garlic, grated ginger, diced raw beets, remaining 1/2 tsp of salt, moong lentils, rasam powder, and water. Bring to a boil over medium heat. Once boiled, reduce the heat to medium low and simmer for about 20 minutes or till the beets are cooked to a soft texture.

Add tomatoes and tamarind paste and cook for another 20 minutes. Mash the beets and cooked lentils slightly with a flat-bottom spoon; don't over mash. Turn off heat and add the tempering.
For tempering spices
Heat oil in a steel flat-bottom serving spoon or small pan ( a cast iron pan or spoon also works). Add a couple of mustard seeds to check the temperature. Once mustard seeds start to crackle, add all the mustard seeds, curry leaves, and dried red chili. Cover with a lid and heat till seeds stop crackling. Add the tempering to beetroot rasam (soup) and stir to mix well. Add chopped cilantro before serving.
To Serve
You can serve this beetroot rasam as an appetizer by itself or as a side in main meal with rice or idlies. Enjoy!
Notes
*you can find tamarind paste in Indian and Asian stores. If you don't have tamarind paste, you can sub it either with 1 tbsp of balsamic vinegar or add 2 tbsp fresh lemon juice. Be sure to add the lemon juice after turning the heat off, before adding tempering.
**if you don't have curry leaves, add 1/2 cup of chopped cilantro after adding tempering to beetroot rasam (soup).
Serving suggestions: Vegetarian: Serve with a dollop of plain Green yogurt.
Expert Tip:
blending the soup yields better texture, especially for veggie-averse family members.
Roasting beets before adding to the rasam cuts down the cooking time by 30 minutes (Find how to roast beets here).
Nutrition
Serving:
1
Cup (heaping)
Calories:
120
kcal
Carbohydrates:
21
g
Protein:
4
g
Fat:
2
g
Sodium:
595
mg
Potassium:
559
mg
Fiber:
5
g
Sugar:
11
g
Vitamin A:
200
IU
Vitamin C:
37.1
mg
Calcium:
60
mg
Iron:
2
mg