Homemade chocolate-covered strawberries serve as a great dessert. These are quick to make and have that special handmade stamp for someone special. Be creative and include a repertoire of dried fruits to dress up in chocolate and accessorize with goodies such as shredded coconut, cacao nibs, slivered almonds and more.
Here is how to make chocolate-covered strawberries: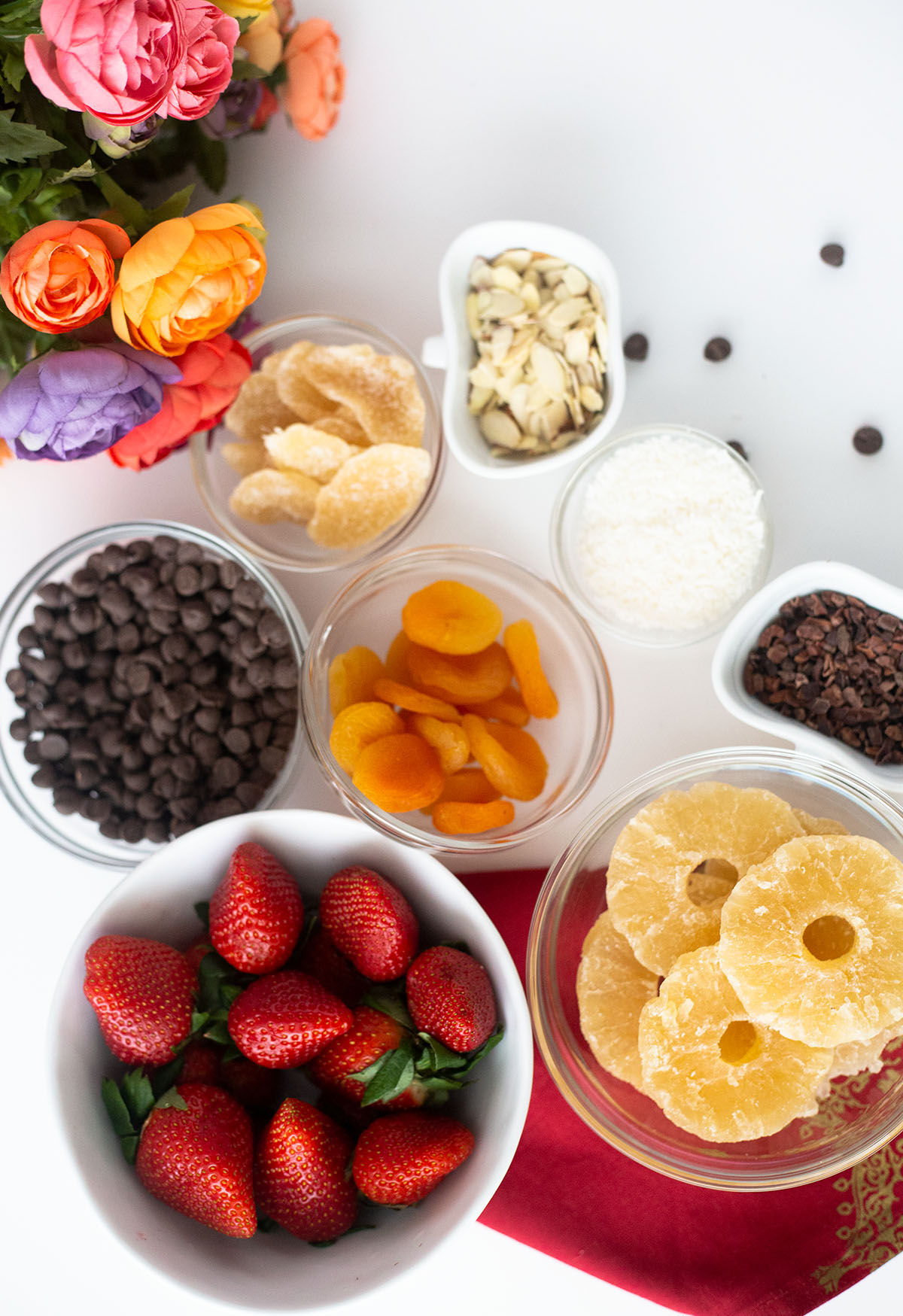 You will need strawberries or any other dried fruits that you like dipped in chocolate. I have used semi-sweet vegan chocolate chips, but you can use any kind that you like--dark or milk chocolate. If you want to create variety, choose your favorites to accessorize the dipped fruit; mine are shredded dry coconut, slivered almonds, and cacao nibs (this is chocolate in pure form, you can find it in local co-ops or health food stores). You will also need coconut oil and vanilla extract. The quality of your finished treat will greatly depend on the quality of the ingredients. Get the best quality chocolate. Choose dark red blemish-free strawberries with nice aroma. If using dried fruits, make sure they are moist, plump, and aromatic.
Wash the strawberries and dry on a paper towel. Drying strawberries is a crucial step. If not dried properly, chocolate and strawberry almost play out the water-and-oil phenomenon. If you dip even a slightly wet strawberry in liquid chocolate, it tends to bunch up and not stick properly. How do I know this? The first time I made this recipe a few years ago, my strawberries were not dry. So please make sure that strawberries are completely dry. You want to do this step at least an hour before you start melting the chocolate.
Technically, you will need a double boiler to melt the chocolate. But any two pans that fit snugly will do the job. Place chocolate chips in the smaller pan and hold it over the boiling water in the larger pan. Here is the most important rule to melt chocolate in this make-shift apparatus. Do not let the bottom of chocolate pan touch the boiling water. To do this, keep the water level shallow in the bottom pan.  Once the chocolate is melted (2-3 minutes), take it off the heat and stir coconut oil and vanilla extract. Keep stirring the mixture for 35-45 seconds and then add some hot water right out of the bottom pan. Take the top pan back to the boiling water for 30-40 seconds. Once the chocolate blends completely with oil and water, take it off the heat.
Line a baking sheet with parchment paper (wax paper may not work as the hot chocolate may melt the wax on the paper.) Also, make sure that the size of the baking sheet is compatible with your refrigerator storage. Hold a strawberry by its head and dip it in the melted chocolate. It's your choice if you want to dip it half way or three-quarters of the way-it's really flexible. By the way, this is a great project for kids, especially of you are making treats for a big crowd . Shake off excess chocolate and lay the strawberry on its side on the lined baking sheet. If you are wondering if all that wet chocolate is going to stick to the parchment sheet, then take it easy. Once the chocolate is set, it will come off easily. Repeat the process with all the strawberries and dried fruits (if using). If you are using any accessory ingredients, this is the perfect time to sprinkle those on top of chocolate-dressed fruits.
Transfer the baking sheet to refrigerator and let the chocolate set for 25-30 minutes. Take it out of refrigerator 15 minutes before serving. The strawberries taste the best if eaten within a few hours of making. After 4-6 hours strawberries have a sort of stale taste to them. Chocolate-covered dried fruits, however, can be enjoyed for a couple of weeks (mine never last that long) when stored in an airtight container in refrigerator. Enjoy!
Chocolate-dressed Strawberries
Quick chocolate-covered strawberries and dried fruits.
Vegan, gluten-free
Ingredients
3/4

lb

strawberries, fresh

around 12-16 strawberries

1

cup

semi-sweet vegan chocolate*

1

tsp

coconut oil**

1

tsp

pure vanilla extract

1

cup

dried fruits (optional)***

dried pineapple wheels, apricots, candied ginger

4

tbsp

hot water
Sprinkling Ingredients (if using)****
1-2

tbsp

dry coconut,

finely shredded

2

tbsp

almonds,

slivered

1

tbsp

cacao nibs
Instructions
Wash strawberries and dry on a paper towel. Please be sure that the strawberries are completely dry before moving onto the next step.

Place chocolate chips in a small pan and hold it over a pan of boiling water. It is important that the pan with chocolate does not touch the hot water. Once the chocolate melts (2-3 minutes), take the smaller pan off the heat. Add coconut oil, vanilla extract and 4 tbsp of hot water from the larger pan , stir for 30-40 seconds or till the chocolate mixture is homogenous.

Bring the smaller pan over the boiling water again and stir the chocolate for 30-40 seconds.

Prepare a baking sheet by lining with parchment. Hold a strawberry by stem and dip it in the chocolate. Gently shake to remove excess chocolate and lay it on the baking sheet. Repeat the process with rest of the strawberries and dried fruits (if using). Garnish with sprinkling ingredients (if using).

Transfer the baking sheet to the refrigerator. Your treats will be ready in 30 minutes. Enjoy!
Notes
* you can use any type of chocolate--milk or dark chocolate. Next time I plan on using unsweetened chocolate as the fruits lend the necessary sweetness. 
** for vegetarian option, use unsalted butter.
***if using dried fruits, increase the chocolate amount by half a cup and oil and vanilla extract by 1/2 tsp each and hot water by 1-2 tbsp. This will be enough for three pineapple wheels, 6-8 dried apricots, and 6-8 pieces of dried candied ginger. 
****the amount of sprinkling ingredients will vary depending upon how many pieces of strawberries or dried fruits you decide to accessorize.