If you are a chocolate fan, this pudding is absolutely going to WOW you. And, for those who are not (Umm, speaking of self), this chocolate pudding still offers a satisfying dessert. If you are curling inwards thinking about that avocado in the title, which is often thought of as a vegetable but is technically a fruit, you may shrink even further if I reveal that this amazing creamy avocado pudding also has sweet potato--a root vegetable--on the ingredient list. At this point, I really don't need to mention that this dessert is almost a free lunch--full of healthy fats, fiber, antioxidants, phytonutrients, and vitamins. But the fact that tops everything else is that it tastes amazing and takes only ten minutes to prepare.
If you are wondering about the objectivity of the taste claim, let me help put your curiosity to rest. I served this pudding to the two chief taste testers at home--my husband and 13-year-old son. I (deliberately) forgot to mention just one little detail--the fruit and veggie ingredients. When both of them asked for the seconds, I knew that the taste and texture were spot on. When I revealed the ingredients, the look of surprise was not as big as I had thought. At this point, I guess, they are more than used to such experiments.
Challenging preconceived beliefs and pre-learned behaviors
We often bring preconceived ideas and beliefs when trying something new . When faced with something new-- trying a new (healthy)food, starting a new/healthy habit, or be in the midst of a new trying situation--sometimes those old beliefs help us; but in my experience, often they don't. In the context of embracing healthy food (for example this pudding), the ingredients may seem unfamiliar and untried. Using fruit and veggie as the base for a traditionally decadent dessert may seem unbefitting. But how about nudging our old beliefs just a tad bit and becoming flexible to try a new behavior, a new experience, that may help boost the quality of our lives. Health benefits aside, this pudding offers better taste compared to packaged chocolate pudding. This creamy avocado pudding--made with real ingredients--tastes like pure creamy chocolate rather than artificial flavors often found in the packaged store-bought pudding.
Super easy and quick with seven ingredients
You need just seven ingredients to make this creamy avocado pudding--avocado, sweet potato, pure cacao (or pure cocoa) powder, almond milk, dates, maple syrup, and pure vanilla extract. If you don't like avocados or unable to find locally, go ahead and replace with sweet potato--this variation still tastes great; but is a bit heavy on texture. I have used cacao power--a less processed form of cacao beans than cocoa powder. Although cacao powder tends to be more nutritious than cocoa powder, there is virtually no difference in the final taste and texture between the two in this pudding. So using pure cocoa powder is totally fine. Just be cautious of not buying any "cocoa mixes," those are laced with highly processed, unhealthy ingredients.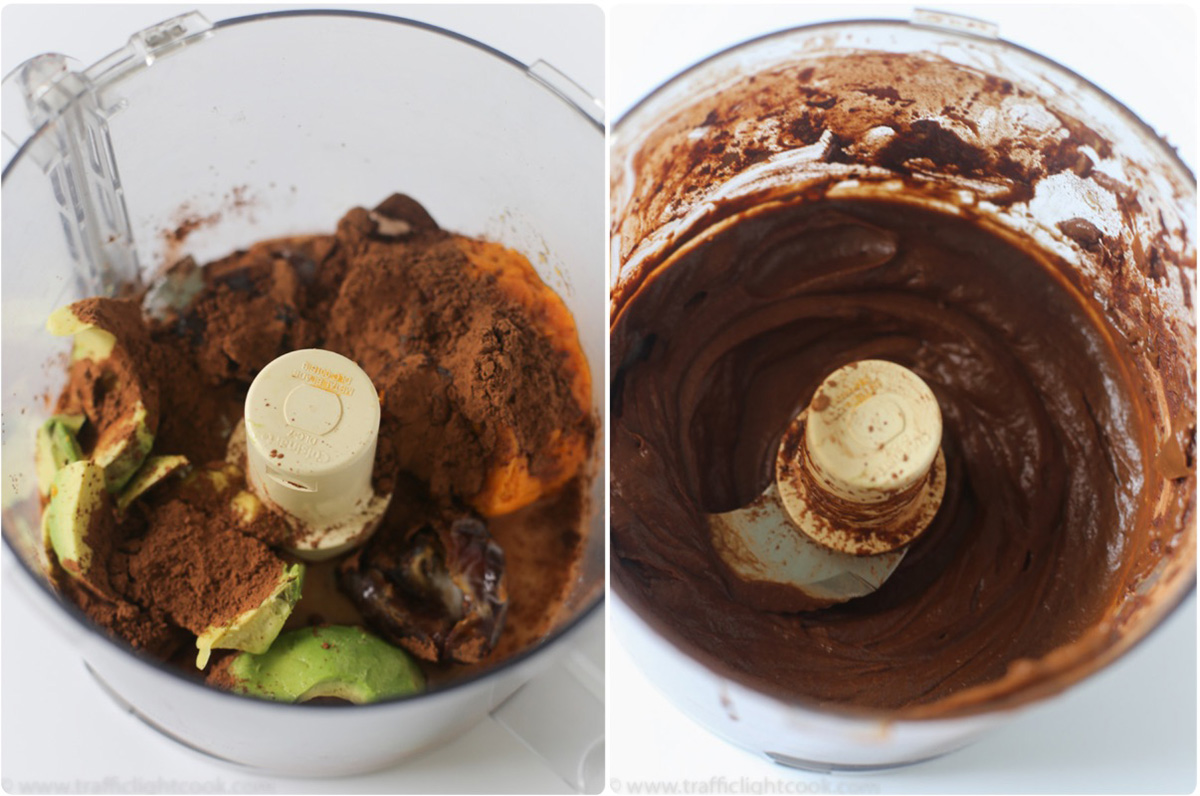 Roasting sweet potato is the only time consuming step in this pudding. You can do this while doing other cooking (inactive time). The sweet potato needs to be completely cooled before mixing with other ingredients. You can also roast sweet potato in advance and store in an airtight container for up to 2 days in refrigerator. If you are short on time to roast a sweet potato, you can totally add a banana instead. I have tried that variation as well, but did not like it as much as the sweet potato/avocado combo. The right toppings can take this pudding to a higher level of tasty--toasted coconut and almonds, and fresh berries work really well. If you really want to go decadent, serve with a dollop of homemade almond whipped cream.
This pudding tastes best when consumed within 3-5 hours of preparation. If you are not going to eat immediately, store in an airtight container in refrigerator and finish it off the next day. Enjoy!
A case of fiber-filled dessert
This creamy avocado pudding is a great dessert but it does not act like one. Most desserts, especially made with refined flours and processed sugars, get absorbed into the bloodstream quickly and produce instant, rapid rise in blood sugar. A (consistent) large spike in blood sugar in the short term can deplete energy and lead to frequent hunger sensations; in the long term, it can create insulin resistance--a condition where body cells are unable to lower blood sugar effectively. Insulin resistance can lead to type 2 diabetes. Pairing sugar ( in this pudding dates and maple syrup) with fiber ( in avocado and sweet potato) and healthy fat (avocado) helps prevent swift absorption of sugar in the blood. In fact, this fiber-dense pudding keeps you full for a long time. You can also have it as an afternoon snack that would keep you full till dinner.
Make this recipe
Do leave a comment if you make this recipe. If you have suggestions to improve, I would love to hear from you.
Creamy Chocolate Avocado Pudding
A vegan, gluten-free, fiber-dense decadent chocolate pudding sans processed sugar and offers a serving each of a fruit and a veggie.
Ingredients
4

oz

avocado

(1 medium, ripe, pitted and flesh scooped out of peel)

8

oz

sweet potato

(1 medium, roasted and flesh scooped out of skin)

5

tbsp

cacao powder

(or sub with equal amounts of pure cocoa powder)

1/4

cup

almond milk*

3

Medjool dates**

(or sub with any other type, soaked in hot water for 7-10 minutes)

3

tbsp

maple syrup***

3

tsp

vanilla

1

tbsp

dried shredded coconut

(unsweetened, optional)

6

almonds

(slivered or chopped, optional)
Instructions
Preheat over to 400°F (204°C). Wash the sweet potato till its completely grit free. Add the potato with 3 tbsp of water to a baking dish; cover with a lid or aluminum foil and roast for 1 hour. (start this process at least 2 hours before making the pudding). Once roasted, peel and cool to room temperature.

Soak dates for 7-10 minutes in hot water. If using, toast the dried, unsweetened, shredded coconut either in a toaster over or on an iron skillet. Set aside to cool. Chop or sliver the almonds, set aside.

In a food processor add cooked sweet potato, avocado, cacao (or cocoa) powder, almond milk, soaked dates, maple syrup and vanilla. Process till all ingredients are well mixed. Top with toasted coconut flakes and chopped almond. This pudding also tastes great with almond coconut whipped cream and/or berries--strawberries, raspberries, and blueberries. Enjoy.
Notes
*can sub with any other type of vegan milk alternative.
**Add one more Medjool date if the pudding is not sweet enough to your taste. 
***Add one more tablespoon of maple syrup if not sweet enough.
Make it in a blender: I have not tried it, but you should be easily able to make it in a blender. 
Variations
Make it low/no-sugar: decrease date count to 2  and maple syrup to 2 tbsp+add 3-4 tbsp of almond milk. I have tried it without any dates and maple syrup and it still tastes great--chocolaty and slightly sweet from sweet potatoes.  Omit dates and maple syrup and add 1/2 cup of almond milk (instead of 1/4 cup).
Quicker banana version: replace sweet potato with a medium, ripe (not overripe) banana.
Sweet potato only version--if you don't have ripe avocado on hand, just add 1 small roasted sweet potato instead. Increase the almond milk amount by 2 tbsp.
make ice cream: I have not yet tried this, but try freezing this to see if it turns into equally delicious ice cream. 
Nutrition
Serving:
0.3
cup
Calories:
229
kcal
Carbohydrates:
42
g
Protein:
3
g
Fat:
7
g
Saturated Fat:
2
g
Sodium:
37
mg
Potassium:
610
mg
Fiber:
7
g
Sugar:
24
g
Vitamin A:
8000
IU
Vitamin C:
4.1
mg
Calcium:
60
mg
Iron:
1.8
mg