Smoothie is a great way to consume fruits and/or vegetables on one occasion, in one glass. This protein-rich berry & mint smoothie features refreshing mint and contains no processed sugar.
I am not a big fan of concentrated protein powders, even the ones without any whey or soy protein (more on this later). Therefore, I use cooked garbanzo beans to add protein. Usually I have this protein-rich berry & mint smoothie either as a breakfast or an afternoon snack.
When I asked my husband to try this protein-rich berry and mint smoothie and told him that it had garbanzo beans, he had that, "oh gosh, how can I get out of tasting this smoothie" look on his face. But after trying, he actually liked it and said that he could not taste any garbanzo beans. If you are still iffy about adding garbanzo beans to your smoothie, maybe first try making half a recipe or without the beans. Here is how to make it: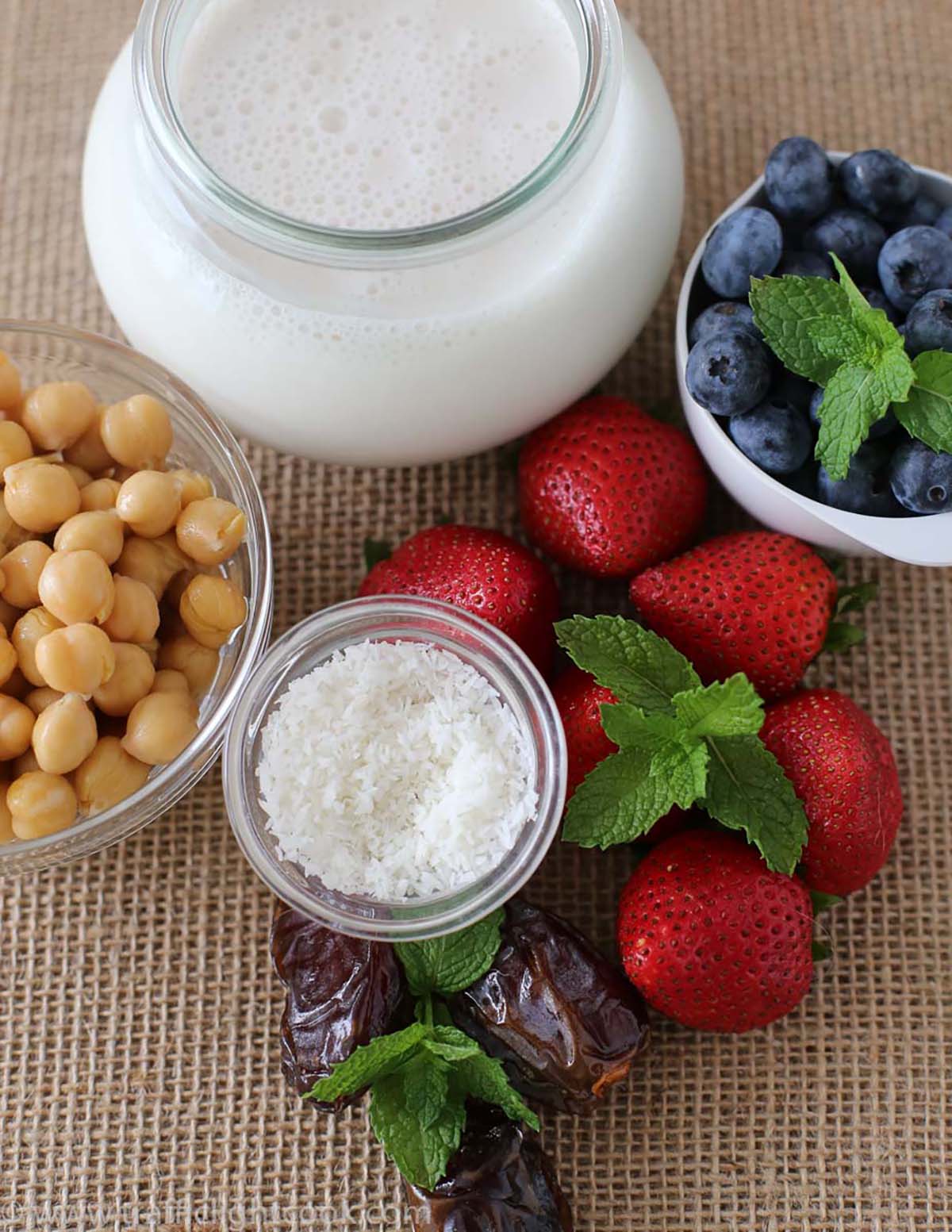 You can use fresh or frozen berries (preferably organic). During the summer, I often use freshly-picked berries. This smoothie tastes better using any one type of berry. Mixing different types of berries results in flavor confusion. Also, I have tried four different versions each with a different type of berry-- blueberry, strawberry, raspberry, and blackberries. Blueberry and strawberry versions tasted creamier and better.
Medjool date is a natural sweetener and also contributes toward the creamy texture of the smoothie. Dried shredded unsweetened coconut compliments the berry taste and adds creaminess to the texture. When buying dried coconut, please check for freshness as the rancid coconut can not only spoil the taste of the smoothie, it is also hazardous for health (more on this later).
If I have convinced you to use garbanzo beans, please use no- or low-sodium beans, if using canned. If you are going to cook garbanzo beans at home for another dish, save some for making this protein-rich berry & mint smoothie. Before adding to the smoothie, wash the beans under running water to remove any salt.
Mint is the star of the show. If you can't find fresh mint in your local grocery store, it's time to check with your friends if they have the herb in their gardens, like I did. A big thanks to my friend Madhavi for supplying with unlimited amount of fresh mint from her garden for the multiple trials of this recipe. Growing mint next summer is on top of my to-do list.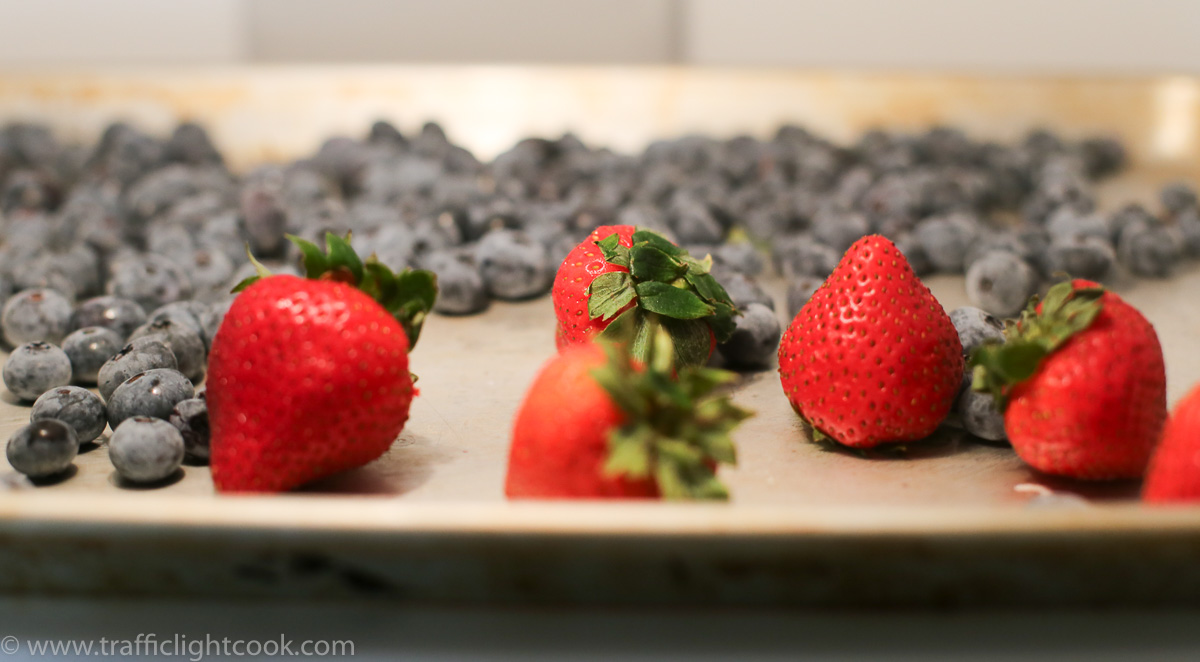 To make this smoothie, I use frozen (usually picked or bought fresh in the season and frozen at home) berries. The frozen fruit replaces ice, which tends to dilute the flavor of the smoothie.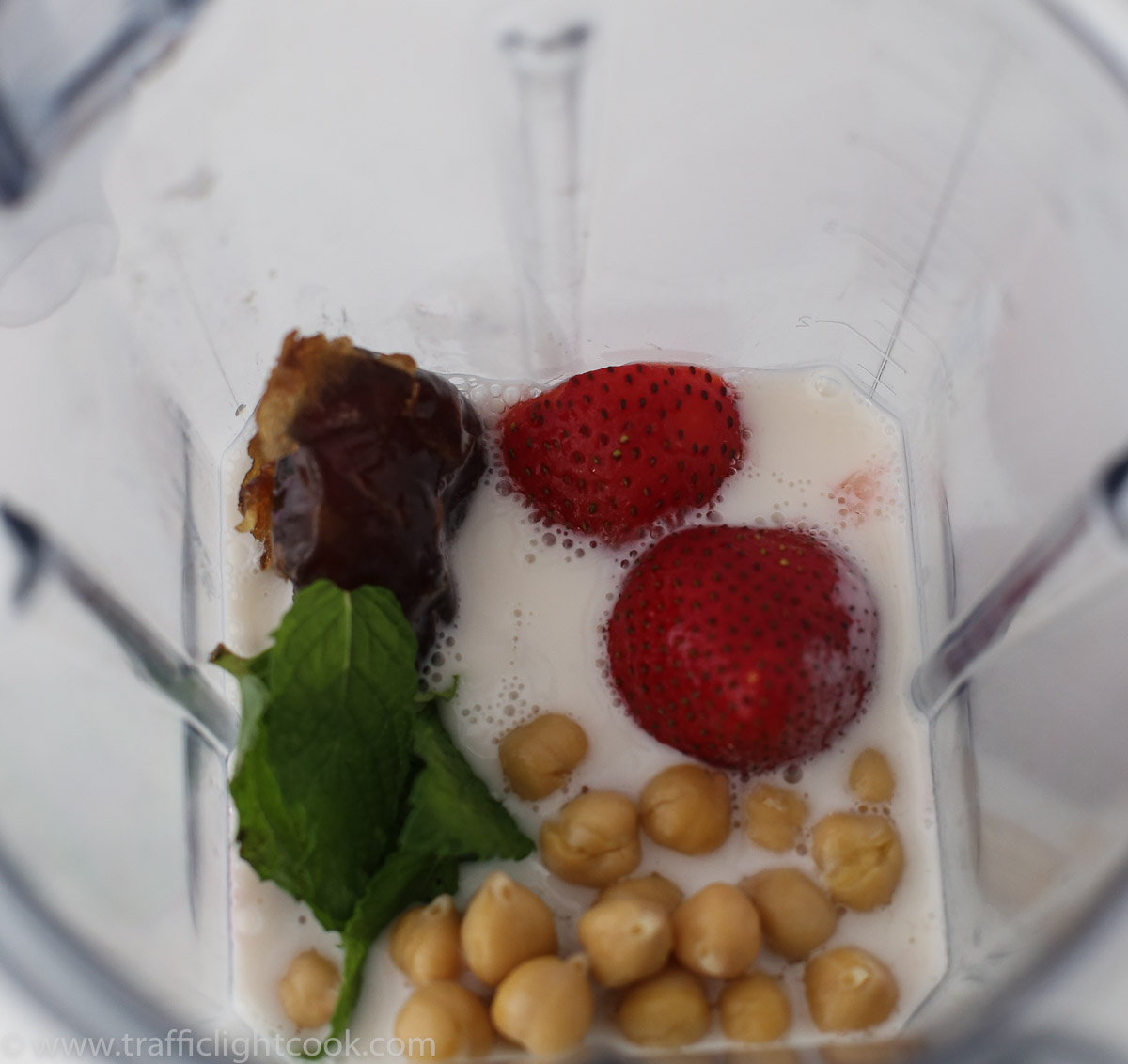 I usually freeze the berries in the summer when I pick a few pints from the berry farm. I then use them to make smoothies, compote, muffins, and cobbler. To freeze, spread the berries on top of a cookie tray in a single layer. Let the tray stay in the freezer for 1-2 hours. Take the berries out and store in a freezer storage bag or box. Don't wash the berries before freezing. You can do that just before using the berries.
Add all the ingredients to a blender and blend on high speed for 60-90 seconds, until well mixed. If you are in a hurry in the morning, don't forget to soak the blender before leaving, for the quick cleaning later.
Enjoy!
Protein-rich Berry & Mint Smoothie
This protein-rich berry & mint smoothie is made without adding any processed sugar and offers a burst of refreshing flavors, creamy texture, a high dose of antioxidants, and 6gms of protein per serving to keep you full for a long time.
Ingredients
1

glass

(8 oz) homemade almond milk

(or store-bought, unsweetened)

3/4

cup

berries*

(blueberry or strawberry, fresh or frozen)

1

medjool date**

(or any other)

6

fresh mint leaves***

(medium size)

1

tsp

dried, shredded coconut

(unsweetened, can sub with 1 tbsp fresh coconut)

1/4

cup

garbanzo beans

(home-cooked or canned)
Instructions
If using garbanzo beans, wash them in a sieve under running water to remove any salt.

The smoothie tastes better when made using one type of berry; usually strawberries and blueberries work really well. For undiluted taste, instead of adding ice, freeze the berries at least one hour in advance or overnight.

Wash the berries well and add to the blender with homemade almond milk, garbanzo beans, medjool date, coconut powder, and mint leaves. Blend well for 60-90 seconds, until well mixed. Pour in a glass and garnish with a mint leave. Enjoy!
Notes
*if using fresh berries, it works great to freeze them for 1-2 hours before making the smoothie. You can also do it overnight. If using fresh berries, add 1/4 cup of ice to the blender. 
**if using any other variety of dates, increase the amount to 2. 
***increase or decrease the number of mint leaves as per your taste. I have found a minimum of four and maximum of eight to work well in this smoothie.
Nutrition
Serving:
1
glass (12 oz)
Calories:
220
kcal
Carbohydrates:
44
g
Protein:
6
g
Fat:
7
g
Saturated Fat:
2
g
Sodium:
80
mg
Potassium:
349
mg
Fiber:
9
g
Sugar:
26
g
Vitamin A:
300
IU
Vitamin C:
5
mg
Calcium:
50
mg
Iron:
2
mg
Nutrition Facts
Protein-rich Berry & Mint Smoothie
Serving Size
1 glass (12 oz)
Amount per Serving
% Daily Value*
* Percent Daily Values are based on a 2000 calorie diet.