Cucumber and dill pairing is made in haven. Literally, the combination works every time in every recipe--soup, salad, sandwich, and pickles. Add this quick cucumber-dill salad as a side, which takes less than 10 minutes to prepare.
This quick and simple recipe speaks volumes about Traffic Light Cook's cooking philosophy, i.e., simple meal preparation is sustainable. But simple and quick meals prepared with fresh, whole-food ingredients by no means equate to "lacking in taste." This quick cucumber and dill salad offers a burst of flavor that is sure to linger on your taste buds for a while. Here is how to make it:
You need just four ingredients--fresh cucumbers (preferably organic), fresh dill, lemon, and a pinch of salt. As with any salad, fresh ingredients ensure a better-tasting salad.
I often use a mandoline to evenly slice the cucumber, but you can easily slice it with a knife. It is kind of important to consider if you would like to peel the cucumber or not. If using an organic cucumber, I usually don't peel it. Cucumber peel is a rich source of vitamin K. But if the cucumber skin is harder in texture than the flesh, then you should definitely peel it. Try a slice with peel to test before slicing the whole cucumber.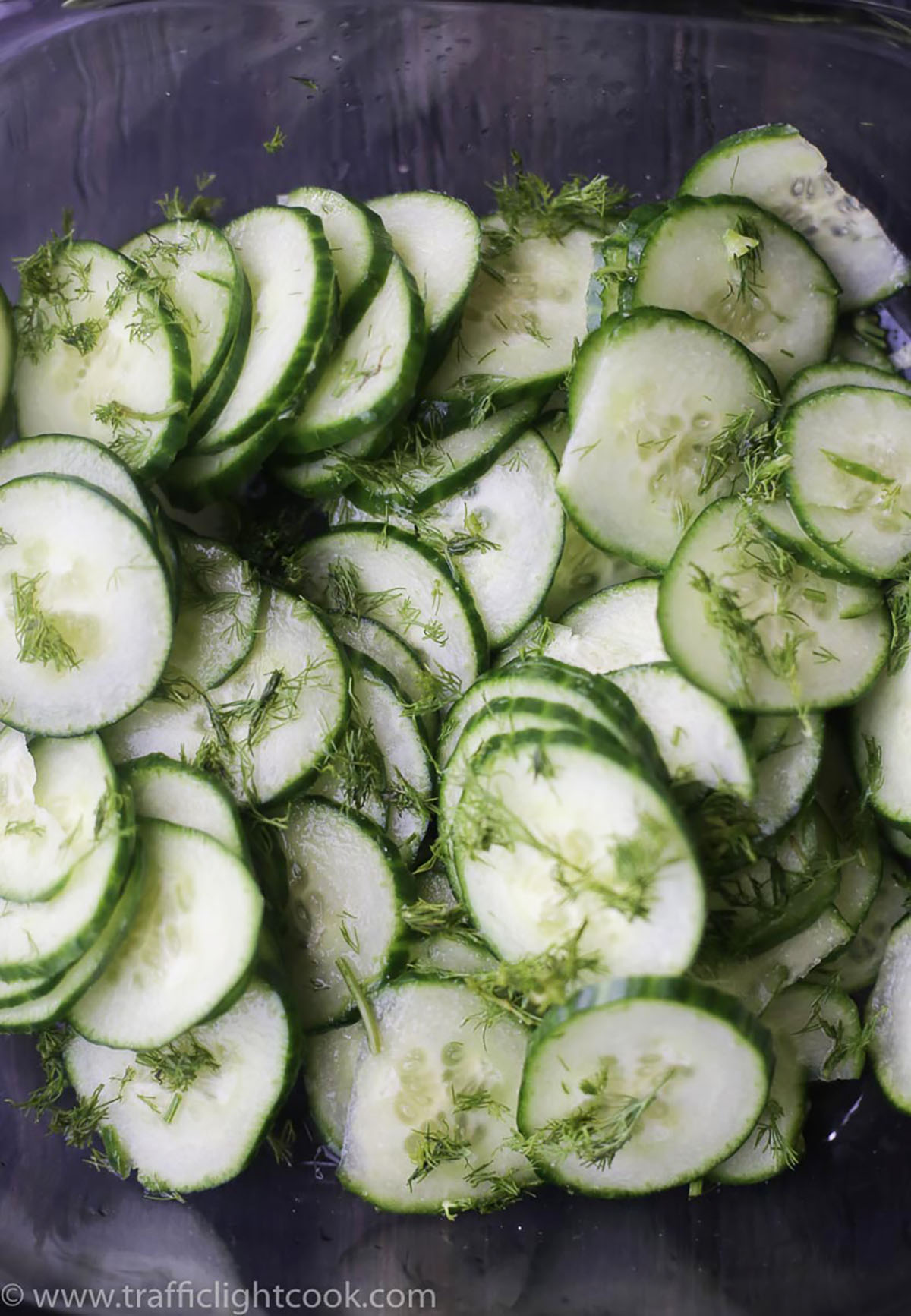 Chop the fresh dill and sprinkle it over the cucumbers along with fresh lemon juice and a pinch of salt. Mix well with flat spoons or salad-mixing paddles.
My friend Amita asked a great question (see comments) if this salad should be refrigerated before eating. Many types of salads, dips, and savory spreads taste better after they are left on their own either at room temperature or in refrigerator for better mixing of flavors. But, I personally don't like to refrigerate this particular salad, as cucumbers once mixed with salt tend to sweat a LOT and dilute the refreshing flavor of dill and lemon. If you plan to pack it in lunch box, omit salt and just add lemon and dill. It still tastes pretty good.
I find myself making this salad often during summer, when cucumber is part of almost every CSA pickup. This salad makes a great side with bean/lentil soup and bread, especially on days when I am not feeling up to cooking veggies. Enjoy!
If you have some leftover dill, you can also make this yummy
Summer Favorite Lemon and Dill Hummus .
Quick Cucumber-Dill Salad
This vegan, gluten-free easy-to-make cucumber salad offers a burst of flavor that is sure to linger on your taste buds for a while.
Ingredients
2

cups

(266 g) cucumber*

(preferably organic, thinly sliced)

2

tsp

fresh dill**

(finely minced)

2

tsp

(10mL) lemon juice

(freshly squeezed)

1

pinch

(.36g) of salt***
Instructions
Wash the cucumber(s) well under running water. If using organic cucumber, you don't need to peel it unless the peel is hard in texture.

Use a mandoline to evenly slice the cucumber. Alternatively, you can also cut in thin slices with a knife. Add the sliced cucumber to a bowl.

Wash and finely mince the fresh dill. Spread it over the cucumber along with lemon juice and a pinch of salt. Mix well with two flat spoons or clean hands. Enjoy!
Notes
*Cucumbers come in varying sizes. You may need one big or two small cucumbers. 
**You can increase or decrease the amount of dill based on your taste preference. 
***add another pinch of salt if needed. 
Nutrition
Serving:
1
Cup
Calories:
17
kcal
Carbohydrates:
3
g
Sodium:
22
mg
Potassium:
180
mg
Sugar:
1
g
Vitamin A:
100
IU
Vitamin C:
6.6
mg
Calcium:
20
mg
Iron:
0.2
mg