Among many flavors of hummus, lemon and dill is my favorite. On a hot summer day, this easy-to-make lemon-dill hummus makes a refreshing dip for cucumber, red/orange/yellow peppers, and celery or a great filling for a sandwich.
Hummus is such a versatile food that over the past few years it has become a staple in my kitchen. And when I use the word versatile, I truly mean it. Not only you can make hummus in myriad flavors, each with its own distinct personality; you can use hummus on different (eating) occasions each with unique experience. Homemade hummus can also clear some space in your refrigerator by replacing more processed and calorie-dense ingredients such as mayonnaise. It pairs just as well with rainbow-colored vegetables for anytime healthy snack as it does with pita or crackers. You can also make hummus and veggie-loaded sandwiches.
Why do I go through the trouble of making hummus at home, when I could  easily buy it at store? Well, homemade hummus is yummy, healthy, and not packed with unnecessary oil.  I never use oil in making hummus at home. Yes, not even one drop. Minimizing oil (especially highly-processed oils) consumption is part of the Traffic Light Cook philosophy.  If you like oil in your hummus, I can assure you that after trying this recipe you would not want to use oil in making hummus. Here is how to make it:
The main ingredient in making  hummus is chickpeas (also known as garbanzo beans). You can use canned chickpeas, but home-prepared chickpeas yield better-tasting hummus. I usually cook chickpeas either in a slow cooker over medium heat for about 6-8 hours or in a pressure cooker if in a hurry. In either case, I soak chickpeas overnight to soften them and get rid of phytates (more on this later). To save time, I make a big batch of  chickpeas for cooking 2-3 different chickpea recipes.  But, if you find cooking chickpeas from scratch a big hassle (though it's really not), go ahead and use canned chickpeas. When short on time, I use canned chickpeas as well.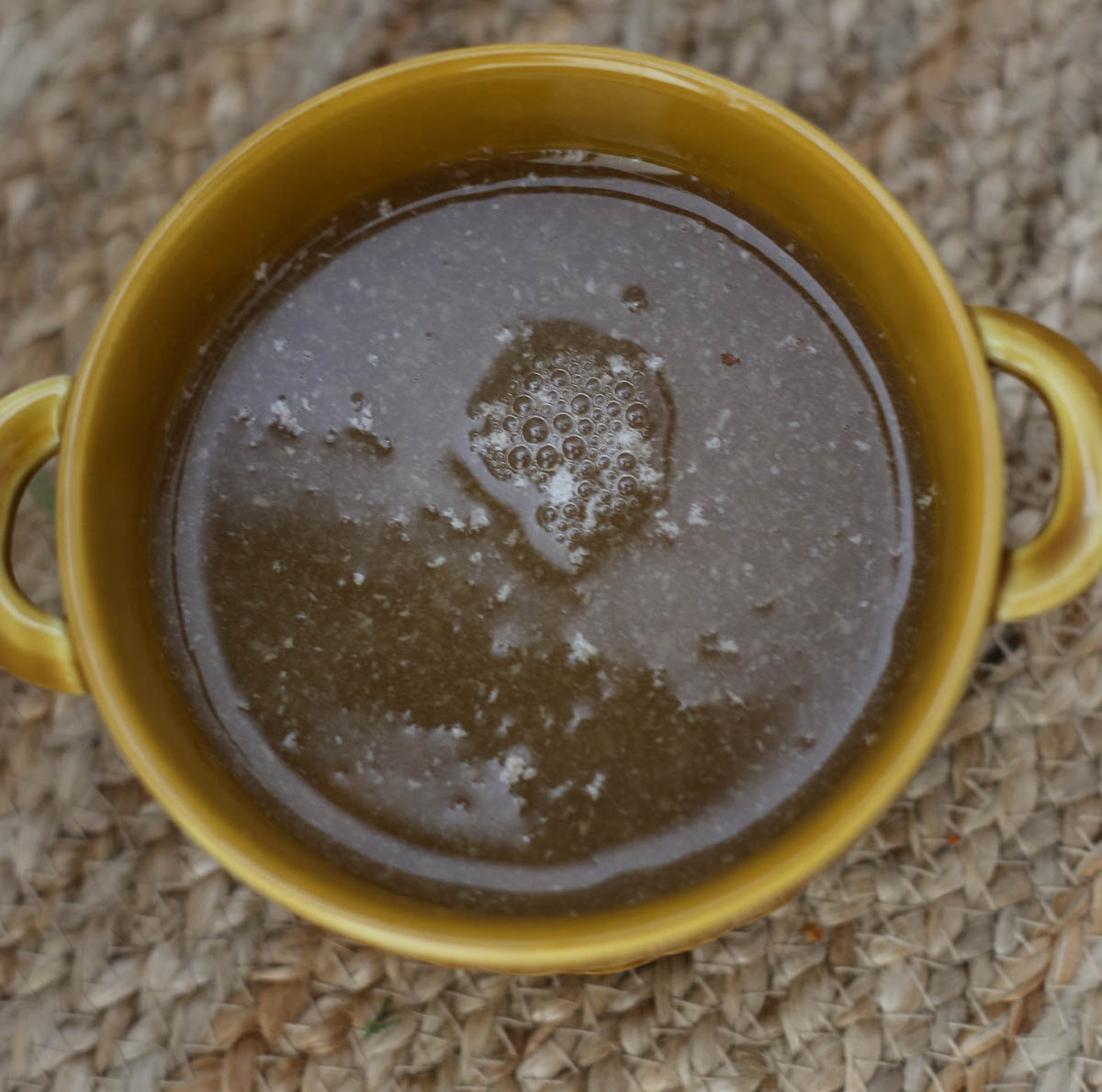 Whether you cook chickpeas at home or use canned, please don't throw away the AQUAFABA, which looks like the not-so-appetizing liquid in the picture above. If you are looking for this term in the glossary of old cookbooks, please don't waste time. The term itself was coined in 2015 and refers to the gooey, viscous, congealed liquid left over after cooking beans and lentils. Aquafaba merits its own discussion in a separate blogpost, for now the only take away is that the liquid left over after cooking chickpeas or in canned chickpeas is not to be thrown away.
Here is the trick to use canned chickpeas in making delicious hummus--boil them with the liquid that they are packed with, then drain and save the liquid. Usually, I throw away the liquid from canned beans/legumes, but need to make an exception when making hummus. Therefore, it is important to use canned chickpeas with low- or no-sodium. Whether you use home-cooked chickpeas or boil canned ones, it is super important to bring chickpeas to room temperature before adding other ingredients.
In addition to chickpeas, you also need lemon juice, fresh dill, white vinegar, fresh garlic, crushed red pepper, and above-mentioned aquafaba. To get the best flavor, it is important to use fresh dill and lemon. If you don't have dill at hand, you can safely replace it with cilantro. You can also use a small amount of tahini to get a creamier hummus. I prefer using homemade tahini, but store-bought should be fine, too. Using tahini is completely optional.
Combine all ingredients except aquafaba in a food processor or blender and pulse it a few times till chickpeas are semi-crushed. Add aquafaba and continue to pulse/grind. Start with adding 2 tbsp of aquafaba and continue to increase the amount till hummus has a creamy, but firm texture. If you want your hummus to be a bit runny, add more aquafaba. Enjoy!
Summer Favorite Lemon and Dill Hummus
This healthy and refreshing lemon and dill hummus makes a great snack with veggies, pita, or crackers. Replace processed dressings such as mayo with this lemon and dill hummus in sandwiches.
Ingredients
2

cups

(~425g) cooked chickpeas

(or 1-15oz can of chickpeas)*

5

tbsp

aquafaba**

(can sub with vegetable broth or water)

1

tsp

garlic***

(minced)

2.5

tbsp

fresh lemon juice

2

tbsp

fresh dill****

(packed)

1/4

tsp

salt

1/4

tsp

crushed red pepper flakes

1

tbsp

(15g) tahini

(optional)
Instructions
Combine cooked chickpeas (see recipe notes for using canned), garlic, fresh lemon juice, fresh dill, salt, crushed red pepper flakes, white vinegar, and tahini (if using) in a food processor or blender.

Pulse all ingredients a few times till chickpeas are semi crushed. Start with 2 tbsp of aquafaba (or vegetable broth or water) and continue to blend until creamy. It takes around 4-5 tbsp of liquid to get a creamy hummus texture.


Store in an airtight container for 4-5 days in refrigerator. Enjoy.
Notes
*if using canned chickpeas, boil with the packed liquid (aquafaba). Cool and drain and save the liquid  to use it while processing hummus to get a creamy texture. 
**congealed, gooey liquid formed during cooking chickpeas with water or broth. 
***be cautious with garlic; adding too much garlic may not let the lemon-dill flavor show up as strongly as it should. 
****You can replace dill with cilantro. The lemon-cilantro combination taste great as well. If you don't have fresh dill, you can add 2/3tsp of dried dill.
*****You can also make hummus in a blender. You may need to use more liquid (aquafaba, water, or vegetable broth) to get a creamy texture. 
Nutrition
Serving:
2
tbsp
Calories:
48
kcal
Carbohydrates:
6
g
Protein:
2
g
Fat:
1
g
Sodium:
188
mg
Potassium:
67
mg
Fiber:
1
g
Vitamin C:
1.7
mg
Calcium:
20
mg
Iron:
0.5
mg