This hot cocoa is a perfect comforting companion on cold day. This dairy-free, processed-sugar free cocoa features great taste without any fillers, commonly found in commerical hot cocoa.
I am not a big hot cocoa fan. Well, this revelation is not very inspiring as the blog post title screams COCOA! But over the years, I have figured out the reason. My first experience more than two decades ago was that of a supermarket-bought cocoa powder that you put in hot water or milk. To be honest, it tasted sweet, cloyingly sweet, with almost no hint of cocoa and off-putting taste of something else--superfluous ingredients I did not recognize at the time. Just to clarify, I did go through the cycles of buying various packaged powders and syrups for my kids, but never finished a box or bottle completely. So at some point, I stopped buying. I had almost stopped making hot cocoa at home. And then one day, I fortuitously figured out the key to making great-tasting hot cocoa while trying a new chocolate cake recipe, which called for 100% pure cocoa powder.
The cake came out really good (stay tuned for the recipe), which made me realize that the key to any great-tasting chocolate or cocoa recipe (by the way these are two different ingredients, more on this later) was to use pure and real ingredients. This led to making hot cocoa drink at home, once again, using high-quality pure cocoa powder. This recipe is my favorite as it is not overly sweet and cocoa really shows up in the drink. I am still not a huge fan, but I drink this hot cocoa a couple of times a week at this time of the year, especially to beat the winter blues. It definitely has a comfort factor to it.
The Mayans invented the drink and called it "xocolatl," which means bitter water and used crushed cocoa beans, chili peppers, and water to make the drink (R&R:1) . Even Aztecs, a few centuries later, mostly kept up with the tradition. So where did the cloying sweetness, which largely masks the real bitter-sweet cocoa taste in this classic beverage, in today's hot cocoa come from? I am still trying to find out, but in the meantime let's move on to make this spicy hot cocoa, which builds a bit on the centuries-old recipe inspired by the Mayans.
A good-quality 100% cocoa powder is key to getting a great-tasting drink. PLEASE make sure that there are no other additives in cocoa. I use dates to bring a little sweetness and texture ; some spices--ancho chili powder and ground cinnamon--to keep up with the ancient tradition. Ancho is dried version of Poblano peppers and have sweet, fruity notes followed by mildly hot flavor. In this recipe it melds smoothly with cocoa, cinnamon, and dates and largely shows up when the drink goes down the throat.
Finding this pepper may be a bit difficult, but try the local co-op or Hispanic grocery stores (ancho chilis are essential part of Mexican cooking.) If you don't find the ancho variety, dried chipotle pepper should be a good substitute. If both of these varieties are not part of your pantry, try cayenne or regular red chili powder. I found the whole dried ancho chilis at my local co-op and powdered it at home using a spice mill. Ground cinnamon is essential to boost the taste. Last but not the least--the liquid! I usually use unsweetened homemade almond milk or store-bought (unsweetened) almond milk. Feel free to use any other type. I have tried this making with cashew milk as well, but find almond milk the best complement to cocoa.
Blend all the ingredients in a blender until well-mixed and smooth. If using cayenne or regular red chili powder, don't blend at this point. Sprinkle these just before drinking the hot cocoa.
Pour the mixture into a sauce pan and stir with a whisk over medium heat. Bring the mixture to a boil (about 5 minutes) then pour into cups. Sprinkle with cocoa nibs and a pinch of ancho chili powder (optional) if you like your cocoa extra spicy. You can also top it with grated dark chocolate to intensify the flavor even more.
Every ingredient in this recipe offers health benefits, but the biggest star is pure COCOA-- a rich source of antioxidants. A 2003 Cornell University study claims that cocoa contains more antioxidants than a similar serving of red wine or tea. Many research studies have also linked cocoa with endorphin-boost, which basically means it makes you feel happier. No wonder, the Aztec king Montezuma drank 50 cups a day.
Most commercial chocolate/hot cocoa powders and syrups, especially those marketed to parents, pack a lot of sugar and other additives. While this is certainly a negative factor, another concern is that our kids will grow up not knowing the true bitter-sweet flavor of chocolate.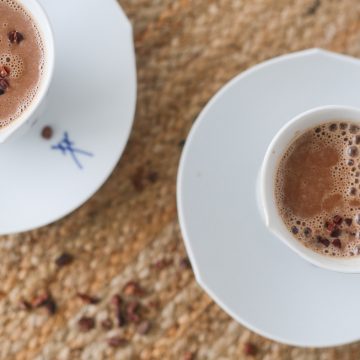 Spicy Hot Cocoa
A bit ancient, a bit modern, but simple and quick hot cocoa.
Ingredients
2

cups

Homemade unsweetened Almond Milk

or any other kind

1.5

tbsp

100% cocoa powder*

1

tsp

cinnamon powder

1/2

tsp

ancho chili powder**

2

medjool dates, or any other type***

1-2

tsp

cocoa nibs****

optional
Instructions
Blend homemade almond milk, cocoa power, cinnamon powder, ancho chili powder, and dates together in a blender.

Transfer the blended mixture to a sauce pan and bring to a boil over medium heat. Whisk the mixture a couple of times while boiling.

Carefully pour hot cocoa into two cups and top with cocoa nibs and a scant pinch of additional ancho chili powder (optional). Enjoy!
Notes
*if you like stronger chocolate flavor, increase the cocoa to 1 tbsp per cup.
**or sub it with chipotle pepper. You can also use cayenne pepper or regular red chili powder. I usually do not boil the latter two with other ingredients, but sprinkle right after boiling and pouring hot cocoa in cups. 
***medjool dates tend to be more meaty; if using any other variety use two dates per cup of hot cocoa. Also, if you like sweeter cocoa, add 1.5-2 medjool dates per cup, but not more than 2 per cup.  Alternatively, reduce the number of dates if you like hot cocoa less sweet. 
****you can also use grated dark chocolate for topping.
Make it low- or no-sugar
To make low-sugar, reduce the number of dates to 1 per cup. To make sugar-free, omit dates  and add 1 tbsp of almond meal or corn meal for texture. 
Make it vegetarian
Use dairy milk instead of nut or seed milk
Nutrition
Serving:
1
cup
Calories:
124
kcal
Carbohydrates:
22
g
Protein:
2
g
Fat:
4
g
Sodium:
122
mg
Potassium:
228
mg
Fiber:
4
g
Sugar:
16
g
Vitamin A:
185
IU
Iron:
0.9
mg
Reference & Resources
https://www.godivachocolates.co.uk/the-history-of-chocolate-mayans-aztecs.html