This post may contain Affiliate (Amazon) links. Please read the Disclaimer.
Loaded with flavors and texture--zesty, spicy, creamy- this freshly-made guacamole comes together within minutes. This best ever guacamole not only offers a healthy side to Mexican meals, it also works as a great dip with veggie crudités or other roasted veggies. The best feature is its fresh taste and healthy ingredients that are often hard to find in store-bought guacamole.

The best ever guacamole: an enzyme-loaded recipe
Food enzymes play an important role in our health. Although our bodies are capable of producing enzymes, they get depleted overtime--specially with a diet high in processed and sugar-heavy foods. Aging is another factor that contributes to decreased enzyme activity. Simply put, enzymes help us digest food and enhance digestion among other functions. The quick secret to getting more enzymes to help digestion is to include plenty of raw food in diet as the cooking process depletes enzymes from food [1].
Not only this best ever guacamole a RAW recipe, it includes the star ingredient AVOCADO--one of the few foods that is high in enzymes (digestive enzyme lipase) and doesn't need cooking to enjoy it. In addition to enzymes, avocado is a SUPERFOOD high in 20 essential vitamin, minerals, and phytonutrients [2].
Why I don't buy the store-made guacamole
The number one reason is TASTE. Avocados are high in enzyme lipase, a digestive enzyme that works on lipids (which also include fat) and can turn it rancid. This makes the guacamole taste a bit different--not fresh. Additionally, store-bought guacamole sometimes has fillers that you wouldn't use at home. By making guacamole at home, you honor your taste buds as well as your health. The most important part is that it takes only 10 minutes to put it together.
This homemade guacamole's recipe is heavily inspired from a Mexican restaurant, I ate at in Washington, D.C. a long time ago. The server brought a trolly of pre-prepared ingredients such as chopped tomatoes, onions, pepper, and lime to each table. While everything was pre-prepared, he cut open the avocado just before putting it together in a mortar and pestle.
Also the superlative "BEST EVER" comes from a taste tester, my son, who said this is the best ever guacamole he tasted, which I decided to use in the title here.
Meet the ingredients
Here are the main ingredient in this best ever guacamole.
Avocado: This is the star ingredient in this recipe. The quality of the best ever guacamole largely depends on the freshness and ripeness of the avocado you bring home. Make sure that the avocados are RIPE. To test for ripeness, gently press avocado with your fingers. If the avocado yields to the gentle pressure, i.e., caves in slightly, then the avocado is ripe and ready to be used in this best ever guacamole. Be sure that the avocado is not MUSHY. That's OVERRIPE.
Tomatoes: I have used Roma tomato, but any variety should work. Making TLC recipes is about flexibility.
Onions: red onions work great, but white and brown onions would be just as great.
jalapeño peppers: these are mild and perfect for guacamole. Be sure to deseed before mincing and adding to guacamole.
Cilantro: my favorite herb. This takes the fresh taste of all the ingredients to the next level.
Ground homemade roasted cumin: this is optional, but adds another level of complexity to the flavor. (See the recipe below for a complete list of ingredients).
Let's make the best ever guacamole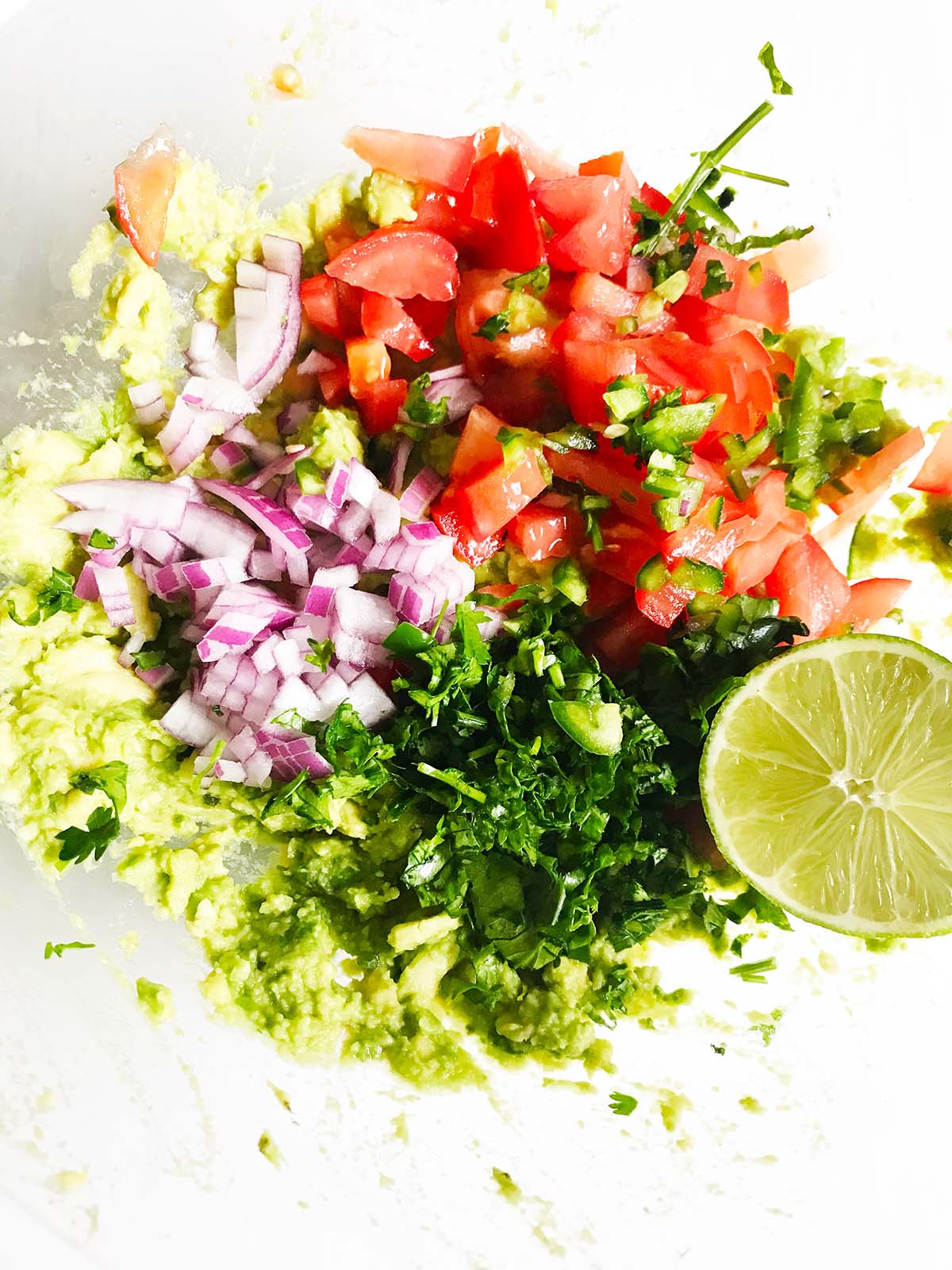 This is the easiest recipe ever. Peel and deseed the avocados and take out the flesh in a mixing bowl. Mash with the back of a flat spoon or a fork and add all the ingredients. It's that EASY!
How to use best ever guacamole?
This is such a versatile dip. While you probably eat it as a side with your favorite Mexican food, you can totally whip it up in 10 minutes to enjoy at other occasions, specially, snacks.
With crackers
Dip for veggie crudités--raw veggie sticks
Make an avocado toast at home, instead of paying insane amount of money at a restaurant.
With roasted beet rounds--my favorite (this tastes really great and so healthy)
Last but not the least, with taco chips--a global favorite.
You can also pair this best ever guacamole with :
Mexican tortila soup
Quick black bean and fresh corn salad

Meal planning tips for best ever guacamole
Avocado is one of the fruits that is not quite conducive to storage. I usually make it fresh and try to finish it. But if there are some leftovers, then AIRTIGHT is the way to go.
Add the leftover guacamole to an airtight container and pat lightly to take the air out of the dip. Then add some lime juice on top and close the lid. Store it promptly in the refrigerator. I use these airtight containers, and they do a pretty good job. There are great reviews on Amazon for this container, which appears to be designed specifically to store leftover guacamole.
I have also tried another method of storing guacamole: pack the leftover guacamole in an airtight container and add a thin layer of water (or lime juice) before closing the lid. I found this trick HERE. This method really works as the guacamole remains green and doesn't turn brown, but it does become a bit watery.
More dips, sauce, and chutney as well as avocado recipes
Step-by-step recipe of best ever guacamole
Do let me know in comments below, if you made the best ever guacamole. Enjoy!

Best Ever Guacamole
Loaded with flavors and texture--zesty, spicy, creamy- this freshly-made guacamole comes together within minutes and not only offers a healthy side to Mexican meals, it also works as a great dip with veggie crudités or other roasted veggies.
Ingredients
2

avocados

(medium, flesh scooped out)

1

Roma tomato, medium

(finely chopped, ~1/2 cup)

1/2

red onion, small

(~1/4 cup finely chopped, can increase to 1/2 cup, can sub with any other type of onion)

1/2

tsp

Himalayan pink salt*

(or sub with regular salt)

2

pinches

cayenne pepper powder

2

tbsp

fresh cilantro

(finely minced)

2.5

tbsp

freshly squeezed lime juice

(~3/4 lime, can sub with equal amount lemon juice)

1/2

tsp

homemade cumin powder

(or sub with store bought, optional)

1/2

jalapeño

(seeded, finely minced, ~1 tbsp, can increase to 1 pepper if you like more heat)
Instructions
Slice the avocados in half. Remove the pit and skin and place the soft avocado flesh in a mixing bowl. Mash with the back of a flat spoon or a fork to a texture that you like --smooth or coarse.

Add the finely chopped tomatoes, red onion, minced jalapeño, salt, finely minced cilantro, lime juice, and cumin power (if using). Stir with a fork or spoon to mix well.
Notes
Garima's Tips
Let the Guacamole sit in refrigerator for 5-10 minutes, covered in an airtight container to melt flavors. I use these glass containers, these are excellent for storing food in refrigerator.
You can omit salt completely for a salt-free version. It still tastes pretty good. 
This guacamole tastes best fresh, but you can totally store in airtight containers in refrigerator (as explained above) for about 2 days. 
Nutrition
Serving:
4
tbsp
Calories:
116
kcal
Carbohydrates:
8
g
Protein:
2
g
Fat:
10
g
Saturated Fat:
1
g
Polyunsaturated Fat:
4
g
Monounsaturated Fat:
1
g
Sodium:
200
mg
Potassium:
377
mg
Fiber:
5
g
Sugar:
1
g
Vitamin A:
344
IU
Vitamin C:
12
mg
Calcium:
10
mg
Iron:
1
mg
Recommended Resources
Enzyme Nutrition: a great book on understanding the role of enzymes in our diet.