This Homemade Multipurpose Italian-style Tomato Sauce boasts of robust and complex flavors without the fillers and high-sodium found in store-bought sauces. Use it over pasta, pizza, zoodles, or just with no-meat balls.
I took my very first bite of pasta (with tomato sauce) after moving to the U.S. eons ago. My first impression of Italian food..Umm.. was not that great. Maybe, I needed to try  multiple times to get favorably initiated to the cuisine.  However, not long after, my impression changed on my very first trip to Rome. We ate the best-tasting pasta (with tomato sauce) in a very unassuming cafe--a flavor I can still feel on the tip of my tongue. Even with my then unskilled palate, I knew that the difference was in the tomatoes, spices, and herbs. This flavor-dense homemade multipurpose Italian-style tomato sauce is inspired from that memorable first tasting of real pasta sauce in Rome.
It starts with good tomatoes
I sure can't buy fresh, Italian tomatoes here, but do strive to find the best where I live. I would say that fresh, in-season, organic tomatoes definitely make a difference. I personally believe that choosing organic is key as tomatoes do soak a good amount of pesticides (more on this later), which compromises their taste. In the season, August and September in New York, organic tomatoes in local Farmers markets, U-pick farms, and even in supermarkets are quite affordable. When not in season, I use either canned or bottled organic whole tomatoes --which ALMOST duplicate the recipe to the letter. If choosing canned, make sure to pick a brand that uses BPA-free packaging (please read the label to make sure.) Packaged tomatoes, picked and packed at the height of the growing season, tend to have better original flavor compared to out-of-season fresh tomatoes.
Should you de-seed and de-skin tomatoes?
It's best to cut off the green round etched on the middle of a tomato. If you have heard that it's poisonous, then a slightly ambiguous answer is that people who are interested in the subject to dispel this myth have uncovered that there is no scientific evidence that tomato stem and leaves are poisonous. This article published in The New York Times a while ago shines a lot of light on the topic. Personally, I don't like the taste of green stem in the sauce as it brings in a slightly bitter note.
Now coming to the core issue of deseeding and deskinning tomatoes. Considering the health aspect, the scientific evidence is contradictory and confusing (stay tuned for more information on this). If I choose to deseed or de-skin tomatoes, it is for taste and texture. In some recipes, like this pasta sauce, too many seeds and skin often gets in the way of enjoying the sauce, but keeping seeds and skin is not a deal breaker. So take your pick. If you want a smoother sauce texture, removing seeds and skin helps.
Let's make the sauce
There are two secret ingredients in this homemade multipurpose Italian tomato sauce--carrot and ground fennel seeds. While the carrot adds some body and sweetness to the sauce, fennel seeds bring in a subtle sweet flavor that seem to bind all other flavors together. Dried oregano and fresh basil (can sub with dried), both show up big in the final taste. For the final texture, you can either use a blender for finer texture or food processor for coarser texture.
I add tomato paste to the sauce, which adds to the depth of the flavor. However, I have also tried with tomato puree instead of paste, and the end result was almost similar. So just go with what you have at hand.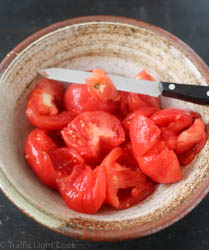 How long this sauce will last in refrigerator?
Since it is well cooked, this homemade multipurpose Italian sauce should keep in refrigerator for about 6-8 days. Make sure to store in an airtight, completely dry bottle. The duration will also depend on individual refrigerator temperature and usage habits. This sauce also freezes well; I often make two batches and freeze one in portion sizes. Although the taste is a bit diluted, the frozen tomato sauce also brings a big smile to whatever it is added to. To use the frozen version, just relocate it to the refrigerator a night before. Try to finish the frozen, thawed sauce within 3-4 days. This is why, it might be more apt to freeze in portion sizes.
Why make pasta sauce at home, when...?
When there are so many varieties available in the grocery store. My biggest issue is taste. Most brands also contain a lot of fillers including high-fructose corn syrup (spoiler alert--don't buy any food with HFCS), sugar, and excessive salt. If buying from store, buy a brand that is low in salt and devoid of HFCS or sugar. The only problem with making this sauce is that it is addictive--my family members now refuse to eat store-bought pasta sauce.
Serve this pasta sauce with zucchini noodles and meat(less) Italian balls. They taste awesome. Also try these on subs with meat(less) balls and veggie stir-fry (stay tuned for the recipe) and homemade pizza.
Meat (less) Italian-style balls
Also try other tomato recipes on TLC...
Creamy Vegan Tomato Basil Soup
Quick Brushetta with Sun-dried Tomatos
Homemade Sweet & Sour Tomato Chutney
Multipurpose Homemade Tomato Sauce (Italian)
This vegan, gluten-free flavor-dense pasta sauce celebrates the Italian classic. Use this sauce to top pasta, pizza, or a sub--its robust flavor lends a gourmet appeal to every pairing. 
Ingredients
1

tsp

avocado oil

(or any other)

1

tsp

dried oregano

1/2

tsp

ground fennel seeds

1

cup

white onion

(finely diced, 1 medium onion, can sub with red onion)

1/2

cup

carrot

(grated, 1 small)

4

cloves

garlic

8

medium

tomatoes*

(roughly chopped, all varieties except cherry tomatoes work, about 3 cups diced)

3

tbsp

tomato paste

(canned, can sub with 1/2 cup tomato puree or add 3 more tomatoes)

1/4

tsp

cayenne pepper

(can sub with equal amount crushed red pepper)

1/4

tsp

freshly ground black pepper

(or to taste)

1

date

(roughly chopped, small or sub with 1 tsp maple syrup or

3/4

tsp

salt

(can increase to 1 tsp, if desired)

1/2

cup

water

(plus 2 tbsp extra if needed)

3

tbsp

fresh basil leaves

(roughly chopped, can sub with 1.5 tsp dried basil)
Instructions
In a heavy-bottom pan, slowly heat avocado oil over medium heat: make sure not to make oil too hot or smoke. Add dried oregano and ground fennel seeds and stir with a spoon. This step takes only 10 seconds. Immediately add onions, garlic, and grated carrots. Stir often to cook. Add a few drops of water if the mixture starts to dry out and starts sticking to the bottom of the pan. Cook till carrots are softened--about 5-7 minutes.

Add chopped tomatoes and tomato paste with cayenne pepper, black pepper, salt, and chopped date. Stir to mix well and cook for two minutes till tomatoes have softened--about 2-3 minutes. Add 1/2 cup of water and stir. Bring the mixture to a gentle boil. Partially cover and reduce heat to medium-low. Cook for about 30 minutes, stirring often to prevent sticking and mixing of flavors.

Stir fresh basil leaves (or dried) and cook for another 10 minutes. Take the pot off the stove and let it cool. Once cooled, blend it (in a blender) till well mixed or process in food processor (for a coarser texture). Enjoy!
Notes
*you can also use 1, 28-oz can of whole, peeled tomatoes for the same recipe. 
Variations:
For more intense flavor: add 1/2 tsp of oregano + 1 tbsp of white wine vinegar. I make this variation with canned tomatoes in winters. 
Nutrition
Serving:
0.3
cup
Calories:
36
kcal
Carbohydrates:
6
g
Protein:
1
g
Fat:
1
g
Monounsaturated Fat:
1
g
Sodium:
300
mg
Potassium:
169
mg
Fiber:
1
g
Sugar:
3
g
Vitamin A:
2000
IU
Vitamin C:
5
mg
Calcium:
20
mg
Iron:
0.5
mg