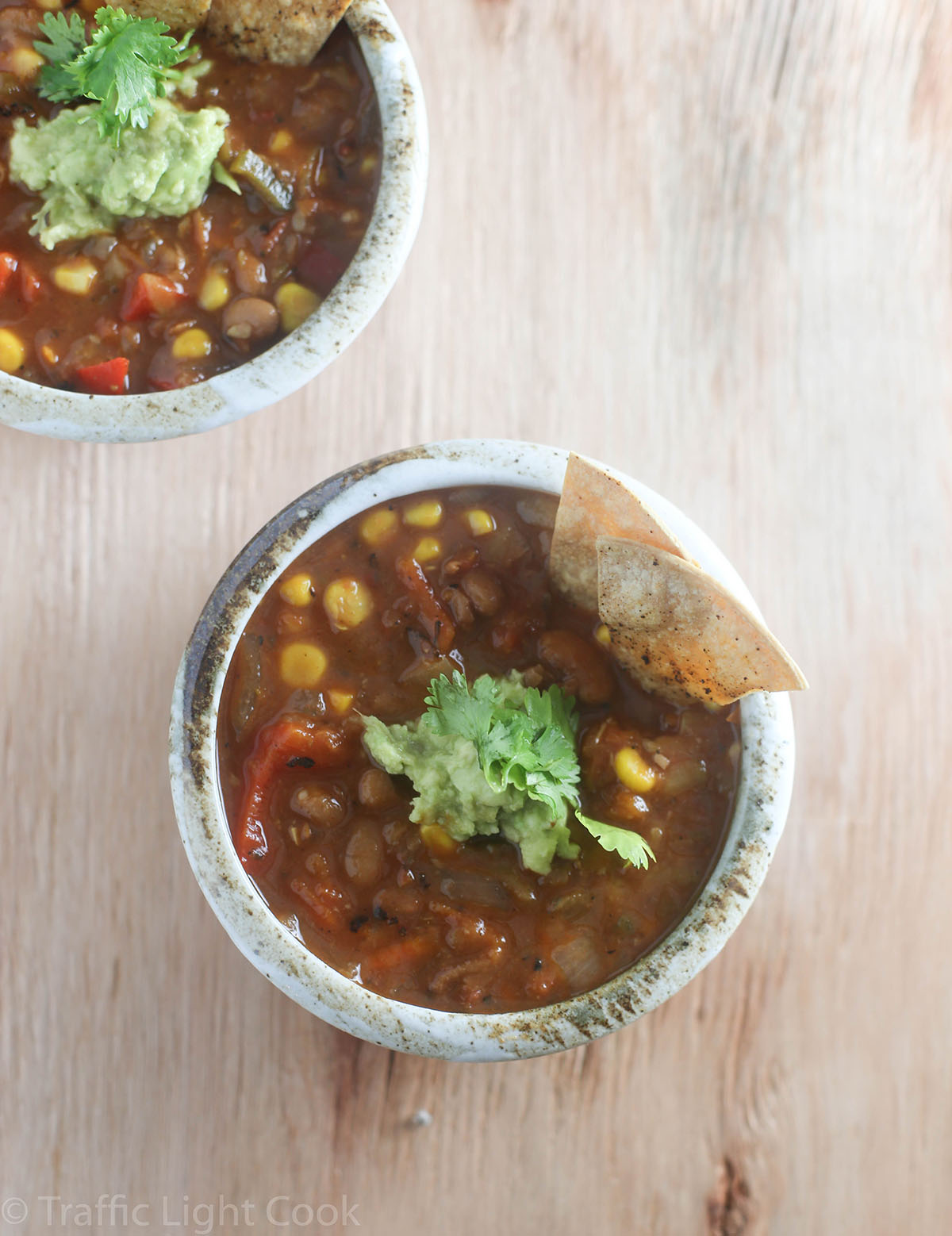 Mexican food is one of my favorites; it's so full of zest, spice, and flavor. Over the past (many) years, I have had the opportunity to eat at some of the most authentic Mexican restaurants (in the U.S.) One tip I can give you if happen to stop by an authentic Mexican restaurant: be sure to ask the server to adjust the heat level (yes, I mean chillies) when you order the food. This Mexican Tortilla soup with pinto beans is inspired from the true culinary flavors of Mexico. This soup is a great one-pot meal; you can enjoy it either on its own or over a bed of brown rice. Also, you can totally make multiple servings and freeze the leftovers to enjoy on days you don't feel like cooking. As winter is on its way; I know, this Mexican tortilla soup with beans is going to make recurring appearance in my kitchen.
What types of beans work well in this soup?
Beans are the backbone of this soup; this food group (beans) offers plenty of protein and fiber without loading up on saturated fat (as from animal protein.) It is best to minimize saturated fat in diet, especially if you have any cardiovascular health markers such as cholesterol, high blood pressure, etc. In the interest of keeping fewer ingredients at hand, I always try a substitute of an ingredient if the substitution creates somewhat similar results--flavor, texture, etc. It makes cooking any recipe less rigid. In this recipe, I have tried three different types of beans in three separate trials: pinto beans, black beans, and red kidney beans. All three worked really well. Pinto beans lend a slightly creamier texture. I cook beans from scratch at home, but you can totally use canned version. If using canned, be sure to read the label to buy one with the lowest amount of sodium. Before using, run the canned beans under running water to wash off the metallic taste and extra sodium.
Choosing chillies
Using different types of chillies, especially a combination of fresh and dried ( often ground), is a hallmark of Mexican cooking. The combination of chillies adds flavor and heat, which always makes it easier to create a flavorful recipe without using loads of oil. Traditionally, this soup uses Ancho chillies, but I have replaced that with ground chipotle chilli peppers as it is easily available in my local grocery store (remember easy over rigid). You can totally replace the ground chipotle pepper with red chilli power.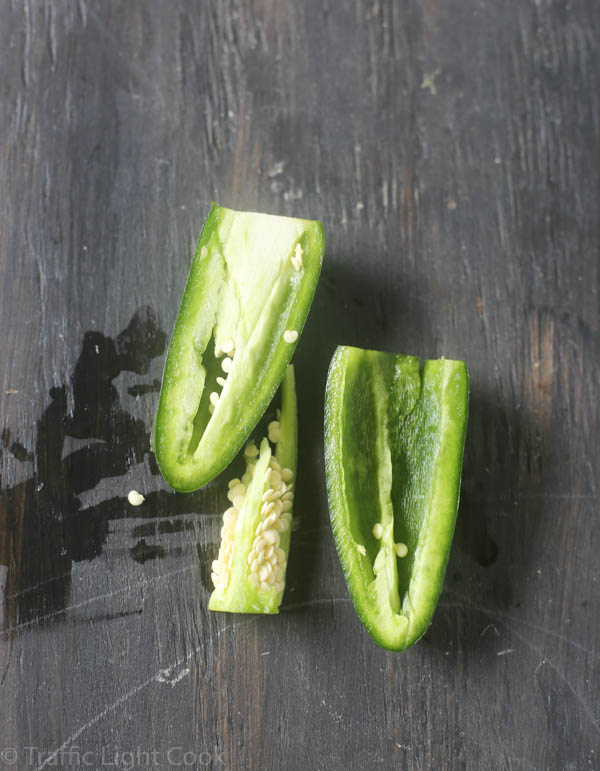 This Mexican Tortilla soup with beans combines fresh chilli peppers and dried chillies. Fresh chillies bring their own personality to the total flavor profile and are indispensable. You can use jalapeño or Serrano peppers. The latter tends to have more heat. If both of these are not available, green chillies will do just fine. Regardless of the variety you use, always deseed green chillies/peppers.
Cook once, eat twice--how to freeze and reuse
This Mexican tortilla soup with beans freezes quite well. You can store it in refrigerator for up to 3 days to enjoy the nutrition from the loads of veggies in the soup. It should be fine refrigerator for up to five days in an airtight container; however, the nutritional value of the veggies incorporated declines. You can add it to a freezer safe container; the soup will be fine for about 4 weeks. Remember, extended refrigeration or freezing reduces the vegetable nutritional value; hence, in these instances be sure to pair up this soup with a big serving of vegetables or salad. To use the soup from freezer, it is best to  thaw it overnight in refrigerator. Heat in a heavy bottom pan over medium heat and top with fresh cilantro. If you are going to make extra to freeze, don't add lime juice to the portion you intend to freeze. Enjoy.
More Mexican and soup recipes on TLC
One-pot meal
This Mexican tortilla soup is great on its own with homemade tortilla chips. You can also enjoy it with corn bread like chili or over a bed of rice. We usually eat with tortilla chips the first day and pack for lunch with rice the second.
Mexican Tortilla Soup with Pinto Beans
If you are craving spicy burst of flavor from a one-pot meal on a cool autumn day ( or evening), try this vegan, gluten-free Mexican tortilla soup with beans, either on its own or over a bed of brown rice.
Ingredients
To make the Mexican tortilla soup with beans
1

tsp

avocado oil

(or any other type)

1

cup

white onion

(1 medium, finely chopped, can use any other type)

4

cloves

garlic

(minced)

1

cup

carrots

(grated, 1 medium)

1.5

cups

zucchini

(grated, 1 medium to large)

1

red pepper

(roughly chopped, can sub with 1 Anaheim pepper)

1

jalapeño pepper

(seeded and minced, or to taste)

1

tsp

homemade cumin powder

(or store-bought)

1

tsp

ground chipotle pepper

(or sub with equal amount red chilli powder or 1 tbsp Chipotle in Adobo sauce, use per taste)

3/4

tsp

salt

(or to taste, no more than 1 tsp)

1/4

tsp

cayenne pepper powder

(or sub with red chilli powder)

2

cups

pinto beans*

(home cooked, or one 15-oz can)

1

cup

corn kernels**

(fresh or frozen, or sub with another cup of beans)

2.5

cups

Homemade vegetable broth

(or low-sodium store bought)

1-2/3

cups

crushed tomatoes

(1-14oz can, fire-roasted variety works well)

1/4

cup

fresh chilantro

(chopped)

1

tbsp

fresh lime juice
To make corn tortilla chips
3

corn tortillas

(6" diameter cut into equal-size triangles or strips, can sub with wheat tortillas)

1

tsp

avocado oil

(can use any other kind; preferably not extra-virgin olive oil)

1

pinch

homemade cumin powder

1

pinch

chipotle pepper powder

(or chilli powder, optional)

1

clove

garlic

(minced)
Instructions
To make the Mexican Tortilla Soup with Beans
In a heavy-bottom pan, heat avocado oil over medium heat. Add chopped onions and minced garlic. Stir and cook for 3-4 minutes, until onions softens a little. If needed, add a 1-2 tsp water to prevent the onions and garlic from sticking. Add chopped red peppers, jalapeño peppers, grated carrots, and salt--cook for 3-4 minutes or until peppers are a little soft. Add zucchini and corn kernels and cook for 2 minutes.

When all the veggies and corn are a little soft (about 8-10 minutes), add cumin powder, chipotle chilli powder, and ground cayenne pepper: stir well to mix. Add pinto beans, crushed tomatoes, and homemade vegetable broth and stir to mix. Bring the mixture to a boil over medium heat; cover partially and cook for 40 minutes, stirring often to prevent sticking on the bottom of the pan.

The soup will have the consistency of slightly diluted chili or stew. Add more broth or water if it's too thick. Once the soup is done, stir in freshly-chopped cilantro and lime juice. Immediately after, take the pot off the stove and serve hot with homemade tortilla chips.
To make corn tortilla chips
Preheat over to 350°F. With a brush or fingers smear oil and sprinkle spices on tortillas; then cut into equal-size triangle or stripes. Bake for about 25 minute in a cookie/baking sheet lined with parchment paper. Serve hot with the bean soup.
Notes
*can sub with equal quantity cooked black beans or red kidney beans. Can also mix all three types. 
**when buying corn--fresh or frozen, always look for organic or non-GMO variety.  
Make it heart healthy
Use only dried, ground chili power. The chipotle in adobo sauce is high in sodium and fat. 
Use Ditch-the-oil cooking method instead of oil. 
Decrease salt to 1/4-1/2 tsp and double the amount of lime juice. 
Nutrition
Serving:
1
cup
Calories:
158
kcal
Carbohydrates:
29
g
Protein:
5
g
Fat:
3
g
Sodium:
524
mg
Potassium:
529
mg
Fiber:
6
g
Sugar:
6
g
Vitamin A:
4555
IU
Vitamin C:
39.8
mg
Calcium:
69
mg
Iron:
1.9
mg
JOIN TLC! SUBSCRIBE TO GET ONCE A WEEK HEALTHY, TASTY, PLANT-BASED RECIPE OR HEALTH BYTE.