This quick, no-bake chocolate granola bar is made without any processed sugar and added fat. This bar is a hybrid between a sweet treat and energy snack and great for lunch box. It almost tastes like a brownie, but boasts of a healthy ingredient list.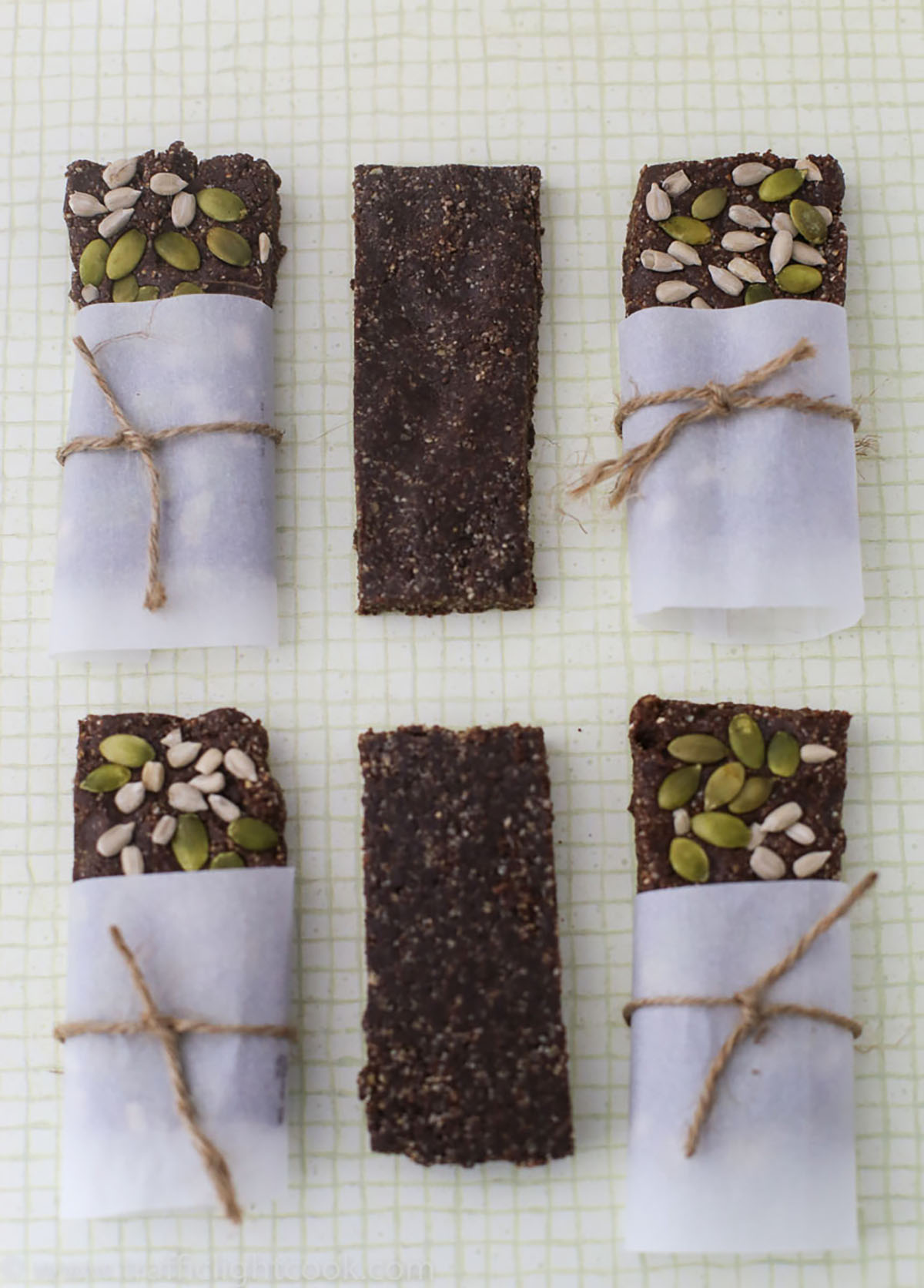 If you are allergic to nut and peanuts, this granola bar makes an excellent replacement for you.
You need just six ingredients. The base of this granola bar is quick oats. If you have traditional oats at hand, no worries, just use those instead of quick oats. If you follow a gluten-free diet, you can use gluten-free oats.
The combination of sunflower seeds and pumpkin seeds works really well as the latter balances the slightly bitter flavor of sunflower seeds. If you are not allergic to nuts, you can also use the combination of walnuts and sunflower seeds.
For sweetener, Medjool dates are always my favorite as they tend to be meatier than the other varieties. Therefore, if you are using any other variety, you may need to use more to get the same flavor. For the liquid sweetener, I often use maple syrup, but you can replace it with date syrup or honey. The key ingredient to get that favorite brownie flavor is a good quality cocoa powder. Please, please (I know I am writing "please" twice) make sure that you use pure unsweetened cocoa powder and not something that looks like cocoa powder. Also, don't forget to add vanilla extract to the list of ingredients.
The first time I made this no-bake chocolate-oat granola bar, I added everything together in the food processor as I was in a hurry. But the second time, I added dry ingredients first followed by dates, maple syrup, and vanilla extract. The second method resulted in better taste and texture. Start with oats, followed by seeds, cocoa powder, dates, maple syrup, and vanilla extract. Once the mixture starts to scoop up in the food processor, it's time to take it out onto a parchment (or wax paper)-lined small cookie tray.
Smooth out the mixture on the cookie tray and score the no-bake chocolate chip granola bars in desired shape and size. Try to make at least 8 bars from one recipe.You can also top the bars with a medley of pumpkin and sunflower seeds. You can remove the bars from the cookie sheet and store in an air-tight box right away; or after scoring the bars you can refrigerate them for 10 minutes for easy removal. These bars will be good in refrigerator in an airtight container for 8-10 days and on counter top (at room temperature) for 4-5 days. But since it's summer, I like to store mine in refrigerator. Enjoy!
Other sweet treats with no processed sugar on TLC...
Healthy Hazelnut & Cacao Energy Balls
No-bake Chocolate-Oat Granola Bar
This back-to-school no-bake chocolate-granola bar is made without any processed sugar and added fat and tastes almost like a brownie.
Ingredients
1

cup

(51g) quick oats, sprouted

(using sprouted oats highly recommended, but can sub with regular kind*)

1/2

cup

(60g)sunflower seeds**

(raw)

1/2

cup

(60g) pumpkin seeds**

(raw)

1/4

cup

(22g) cocoa powder

(unsweetened, pure)

1

tsp

pure vanilla extract

4

dates**

(preferably medjool dates)

4

tbsp

(59 mL) maple syrup

(can sub with date syrup or honey)

1

tbsp

(7.5g) sunflower seeds

(raw, for topping, optional)

1

tbsp

(7.5g)pumpkin seeds

(raw, for topping, optional)
Instructions
Process the quick oats in a food processor till grainy in texture. Add 1/2 cup sunflower seeds and 1/2 cup pumpkins seeds and pulse a few times till well-mixed with and about the same texture as processed quick oats. Add cocoa powder and pulse 2-3 times to mix it with the oat and seed mixture.

Add 4 dates and pulse again to mix the dates with the dry mixture. Then add maple syrup and vanilla extract and pulse till the mixture bunches up around the central blade.

Take the mixture out in small cookie tray lined with either wax paper or parchment. Press it to spread evenly in the desired thickness. Score the bars on the cookie tray with a butter knife. If you are going to use sunflower and pumpkins seeds as a topping, you can spread on the flattened mixture and press gently till they stick.

You can cut the granola bar in desired shape and size right after pressing, but it is usually much easier to do this step if you refrigerate the scored granola bars for 10 minutes. You can store these granola bars in an airtight container for up to 8-10 days in the refrigerator or up to 4-5 days at room temperature. Enjoy!
Notes
*If using regular oats, if it best to enjoy these bars infrequently as high amount of phytates in raw oats can hinder the absorption of essential minerals such as calcium, zinc, iron, and magnesium. 
**if not allergic to nuts, you can also use one part walnuts and one part pumpkin or sunflower seeds. You can also replace sunflower and pumpkins seeds with 1 cup of melon seeds, which are readily available in India. 
** if not using Medjool dates, use 5-6 dates.
Gluten-free Variation
Replace regular oats with gluten-free oats. Rest of the ingredients in the recipe are gluten-free. 
Low-fat variation
Omit sunflower seeds and replace with 1/2 cup of oats. 
Nutrition
Serving:
1
Bar
Calories:
190
kcal
Carbohydrates:
26
g
Protein:
5
g
Fat:
8
g
Saturated Fat:
1
g
Sodium:
3
mg
Potassium:
287
mg
Fiber:
3
g
Sugar:
14
g
Vitamin C:
0.1
mg
Calcium:
35
mg
Iron:
1.9
mg
Other healthy sweet treats on TLC...