These energy balls contain two nutrient-dense ingredients: sesame and oats. Sesame seeds are an excellent source of many essential minerals including copper, manganese, calcium, magnesium, iron, phosphorus, and zinc. Similarly, the nutrition profile of rolled oats reads more like a nutritional supplement. But oats' biggest asset is high fiber, which promotes satiety--meaning keeps you full for a long time. This is why, these sesame & oat energy balls are an excellent source of energy, especially when you are out and about.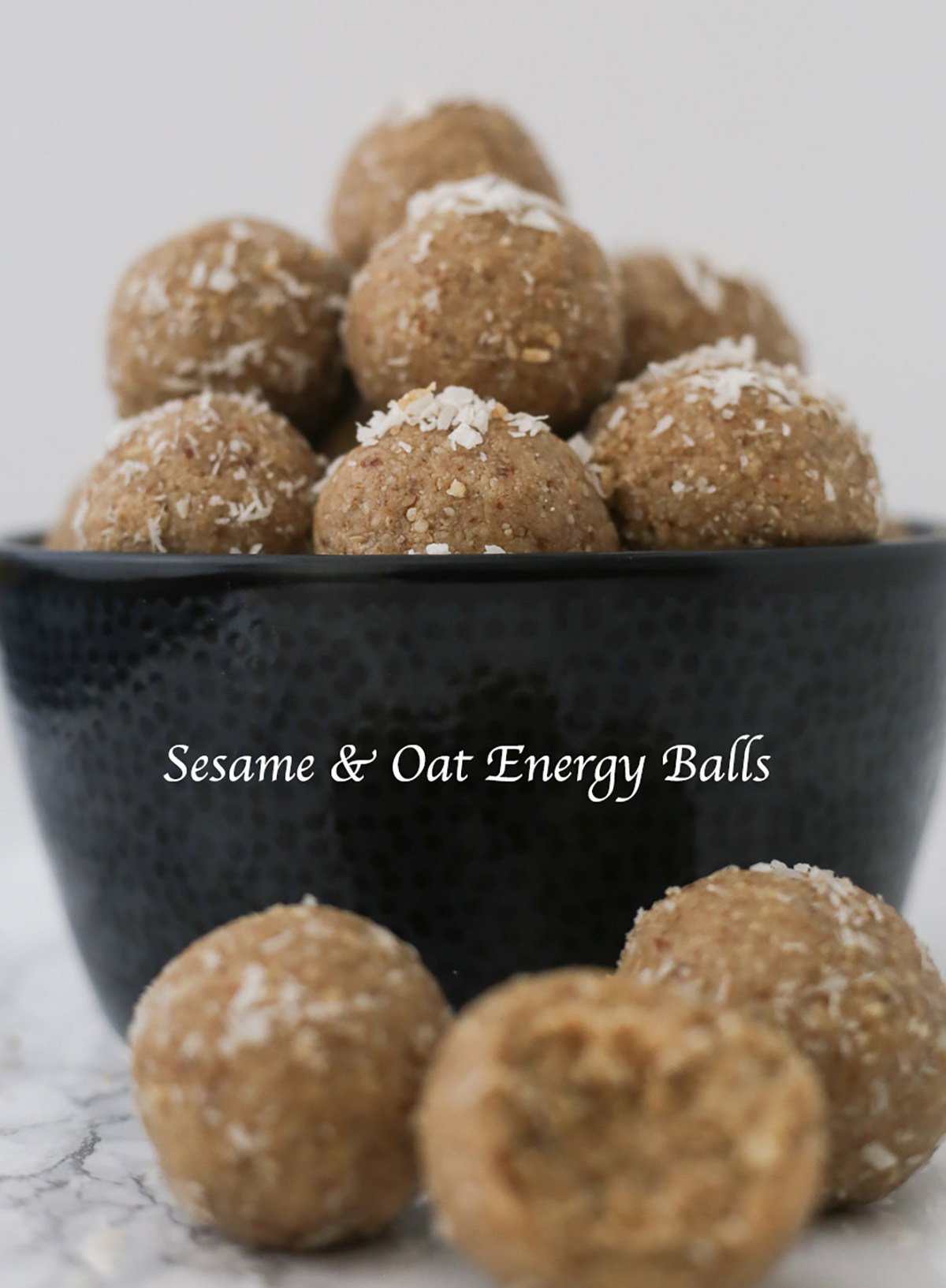 I find these energy balls a great afternoon pick-me-up. But, when running low on time in the morning to have my usual breakfast, these balls offer a great (breakfast) alternative. The best thing about these sesame & oat energy balls is that it takes only ten minutes to make them. These energy balls double up as a sweet treat and are made with only six ingredients. Here is how to make sesame & oats energy balls:
Let's make the Sesame and Oats energy balls
I use white, hulled sesame seeds. For oats, my choice is quick oats or traditional oats. One benefit of using instant oats compared to traditional oats is that they yield slightly smoother texture. Dates and maple syrup work both as sweeteners as well as binders in this recipe. If you use it, you can substitute maple syrup with honey as well.
A note on phytates on oats: Oats contain high amount of phytates–a natural substance that stores phosphorus in plant seeds. Most grains–cereals, legume, and beans contain phytates. The downside of consuming grains without removing phytates–especially if you rely heavily on grains/lentils/beans in your diet–is that they can obstruct the absorption of a few essential minerals such as calcium, iron, zinc, and magnesium. Cultures that rely primarily on grains, have figured out the ways to remove/reduce phytates from grains. Oat is particularly high in phytates and sprouting is one of the best ways to considerably reduce phytates in oats. If you are concerned about phytates, you can use sprouted oats.
I have tried the following two brands, if you are interested in using sprouted oats. Personally, I use regular oats more often than sprouted oats.

For flavor, I use green cardamom powder. However, if you don't have cardamom in your pantry (or are not a great fan of the flavor), cinnamon, vanilla powder, or liquid vanilla extract should work as well. Shredded unsweetened coconut adds a subtle texture and flavor to these balls.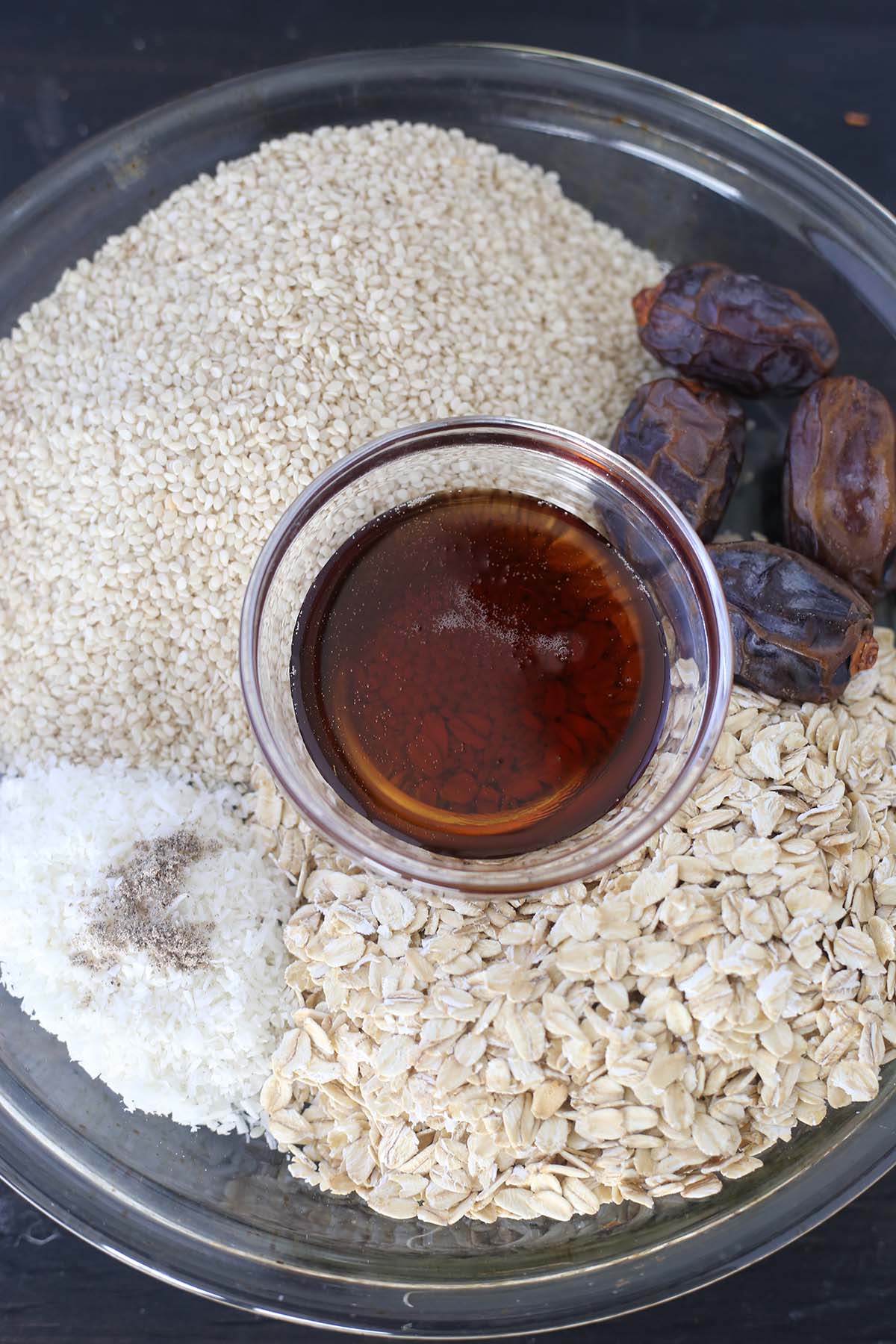 Start by toasting sesame seeds. The goal is to lightly toast the seeds to release flavor but not change the color.
Process oats in a food processor till they are grainy in texture (not finely powdered). Add sesame seeds and pulse a few times till oats and sesame seeds are mixed well. Add dates, shredded coconut, ground cardamom, and maple syrup and process till everything mixes well and forms a sticky dough.
Divide the processed mixture into 12 equal parts and roll each part into a ball and then roll each ball in the bed of unsweetened shredded (dry) coconut. If you have kids, this can be a fun project for them. Enjoy!
TLC tip on eating energy balls
While these energy balls are super healthy and nutritious , they are so delicious that they can be addictive--especially if you have a sweet tooth. Therefore, it is best to stick to eating just one to two balls per occasion. Sesame like most other seeds is high in fat and dates/maple syrup, even though natural, are natural forms of sugar. And, it is best to enjoy sugar in moderation for optimal health (more on this later).
NOTE: If you use metric system for measuring ingredients, please click on "Metric" in the recipe box.
Sesame & Oat Energy Balls
These vegan sesame & oat energy balls are great to get anytime energy boost. Made with only six ingredients, you can make these balls in 10 minutes.
Ingredients
1

cup

traditional rolled oats or quick oats

can sub with 3/4 cup sprouted oats

1

cup

sesame seeds

white, hulled

4

Medjool dates

or any other

3

tbsp

maple syrup*

can sub with honey

1

tsp

cardamom powder

can sub with equal amount cinnamon powder or pure vanilla powder or extract

3

tbsp

finely shredded (dry) coconut

unsweetened
Instructions
Start by lightly toasting sesame seeds on an iron skillet over medium heat**. Toast for about 4 minutes. After toasting, keep the seeds aside to bring to room temperature.  

Process oats in a food processor***till grainy and coarse in texture. Add the sesame seeds and pulse for around 10-15 times to mix well. 

Add dates, maple syrup, ground cardamom, and 1.5 tbsp shredded dry coconut and pulse till the mixture forms a sticky dough.

Take the dough out on a big plate and divide into 12 equal parts. Roll each part into a ball and each ball in the bed of remaining (1.5 tbsp) shredded (dry) coconut.

Store in refrigerator for up to ten days****. 
Notes
Notes
*If you like sweeter flavor, you can add one more tablespoon of maple syrup. 
**alternatively you can spread sesame seeds on an unlined baking tray and bake for 4-5 minuts in the oven preheated to 350 degree Fahrenheit (176 Celsius).
***I have not tried it, but you should be able to make this recipe in a high-speed blender as well. 
****It is fine to pack these in lunch bag or a snack box without any cold pack as long as you consume by late afternoon. 
Make it Gluten-free
For a gluten-free version, replace regular rolled oats with gluten-free rolled oats. 
Nutrition
Serving:
1
Energy ball
Calories:
141
kcal
Carbohydrates:
17
g
Protein:
3
g
Fat:
7
g
Saturated Fat:
1
g
Sodium:
2
mg
Potassium:
156
mg
Fiber:
2
g
Sugar:
8
g
Vitamin A:
10
IU
Calcium:
130
mg
Iron:
2.2
mg