Vegetable broth brings a big smile to the finished dish, especially soups. Homemade broth makes for an extra big smile. If only soups could smile! But they do, and you know it when you taste a great soup.
The first time I made the broth (nearly two decades ago), I found the process extremely laborious and wasteful when I had to throw away a big mound of vegetable mash left over after straining the broth. But when I had the soup, I could totally justify the hard work.
Over the years I have tried making veg broth many different ways— recipes varying from basic to fancy. This recipe remains my favorite because it is simple and works well in different types of cuisines. At the most basic level making vegetable broth means extracting flavors out of vegetables/herbs/spices by simmering (ever so) gently over low heat. Although, the quality of finished broth will largely depend on the freshness of vegetables, don't hesitate to use all those half-forgotten, sad-looking veggies in your crisper. The flavor of finished broth, one that brings a smile, is slightly sweet and fragrant and does not overpower the flavor of the end dish.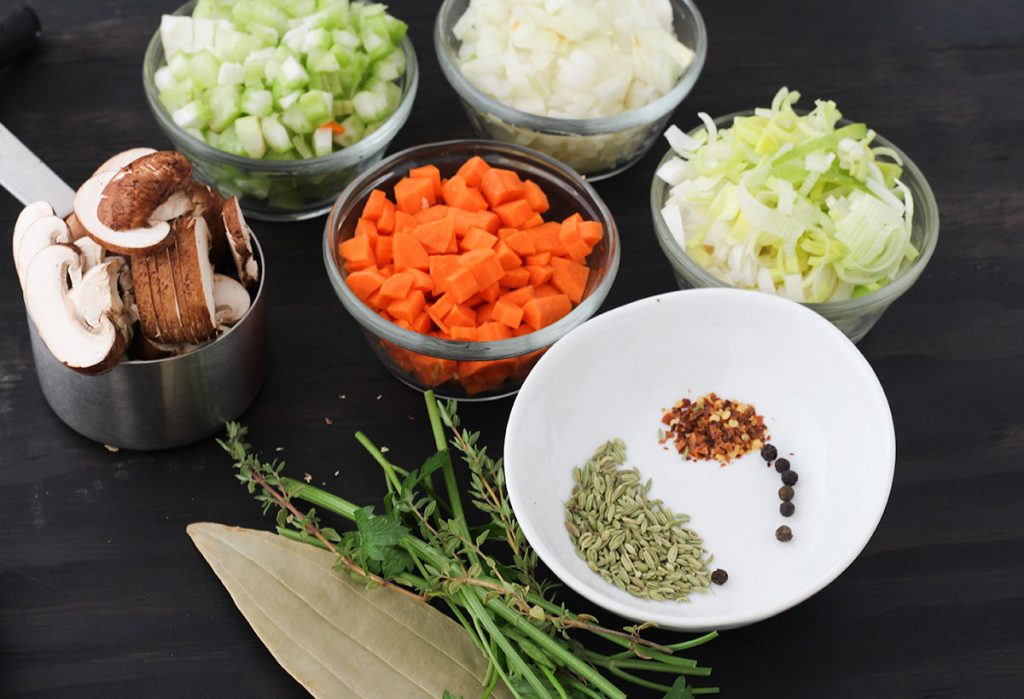 Dice the vegetables— garlic, onion, leek, celery, mushrooms, carrots and whatever else you want to put in it. Corn kernels (fresh or frozen), tomatoes, fennel (fresh bulb or dried seeds), and turnips also work well. It's pretty flexible—just remember sweet and mild. Gather up all the herbs and spices—thyme, parsley stems, bay leaf, black peppercorn, crushed red pepper (optional) and dry fennel seeds (if using), in one place.
Avoid using strong-flavored veggies such as broccoli and peppers (any color) as they tend to bring in their own personality into the end recipe. Imagine eating a butternut squash soup with a hint of broccoli or peppers when you expected to bask in the comfort of honey-sweet flavor of butternut squash. The caveat is if you are making a broccoli-heavy (or any other strong-flavored vegetable) recipe, then the broccoli-accented broth may work well. I also avoid adding anything leafy. I have tried adding leafy herbs (basil and parsley) and vegetables (Spinach), and once served a green-tinted, supposed to look yellow, curried lentil soup. This is why herb stems work best in imparting flavor without adding extra (green) color.
Start with sweating the vegetables in half a teaspoon oil- begin with onion and garlic, then mushrooms, then hearty vegetables like carrots, celery, fennel bulb, and/or turnips. Then add tomatoes (if using). I usually don't add any salt to the broth as I use celery , which is naturally high in salt and imparts slight salty notes to the broth. But if you want to add a little salt, it should be fine. Although I would recommend not using more than 1 teaspoon of salt for this recipe.
Once the vegetables soften, around 7-10 minutes, add cold water. Cold water is important. Remember we are slowly extracting flavors from vegetables. Adding warm/hot water will promote veggies to cook faster on the outside and lock the flavor in rather than releasing it (out). When the broth starts simmering, around 20 minutes, reduce the heat to medium-low. The best flavor extraction happens when the broth is simmering under the top layer of liquid, gently, slowly. Give it another 20-30 minutes to get a flavorful broth.
When the broth is done, filter it through a fine-mesh sieve in another pan to cool it faster. The broth can be a bit cloudy; if your recipe calls for clear broth use a fine cloth on the sieve to avoid getting the thin brownish-green film that forms on the top.
It may seem like a herculean task to make broth at home; it did to me, initially. Once I started using the homemade broth, however, I found it difficult to go back to the packaged version, which I still buy when I am super busy. To save time, I sometimes make broth in big batches (double or triple the recipe based on expected usage) and freeze it in 2-4 cups jars/containers. Just make sure that broth is completely cooled before funneling into bottles for refrigerating or freezing. If freezing in glass jars, be sure to leave appropriate space between broth level and jar mouth, usually 1-2 inches. The broth will last in the fridge for 3 days and in freezer for a month. It may last longer, but mine gets finished well before the month is over. Defrost it overnight in the fridge and use within 1-2 days after defrosting. After bottling the broth, the vegetable pulp can now find a safe home in compost.
Easy Homemade Vegetable Broth
A no-sodium flavorful broth to bring smile to your soups and more!
Vegan, gluten-free, soy-free
Ingredients
1

medium

onion

diced, (1cup)

2-3

cloves

garlic

minced

1

leek

(only the (white and light green part)

2

small

carrots

diced, (1 cup)

1-2

ribs

celery

diced (1 cup)

4

oz

cremini mushroom

(1cup) (or any other type)

5-7

stems

parsley

(without leaves)

2-3

sprigs

fresh thyme

(1/2 tsp, if using dried)

1

bayleaf

4-6

black peppercorns

cracked

1

tsp

fennel seeds*

1/8

tsp

crushed red pepper

(optional)

1/2

tsp

avocado oil

10

cups

cold water
Instructions
Heat the oil** on medium heat in a stockpot. Add onions and garlic; sweat*** for 1 minute.

Add mushrooms, sweat for another minute. Add celery, carrots, and any other vegetable (if using), except tomato. Sweat for 4-6 minutes. Add tomatoes (if using). Add bayleaf, fennel seeds, and peppercorns.

Add the cold water and bring to a gentle simmer (about 20 minutes). Reduce the heat to medium-low and simmer gently for another 20-30 minutes.

Remove from heat and filter the broth through a fine-mesh sieve into a broad mouth pan for quick cooling. Once the broth is completely cooled, funnel it into bottles. You can use this now in countless recipes!
Notes
*if using fresh fennel, don't use fennel seeds
**Fat-free variation: Skip sweating the veggies in oil. Add 10 cups of water to the diced vegetables and bring to a gentle simmer. Reduce the heat to medium-low and simmer for another 45 minutes. This version may have a bit raw, pungent taste to it, but not a huge deal as you would not be able to detect it in the end dish. 
***Sweating is a cooking technique where vegetables are cooked over medium heat in a little bit of oil without browning. When vegetables are soft around the edges and begin to show beads of sweat, move onto the next step. 
Nutrition
Serving:
57
g
Calories:
26
kcal
Carbohydrates:
5
g
Fat:
0.4
g
Sodium:
21
mg
Sugar:
2
g