Soups are a great addition to main meals in any season. This immunity-boosting, nutritious, energizing celery and sweet potato soup is super creamy without adding any cream.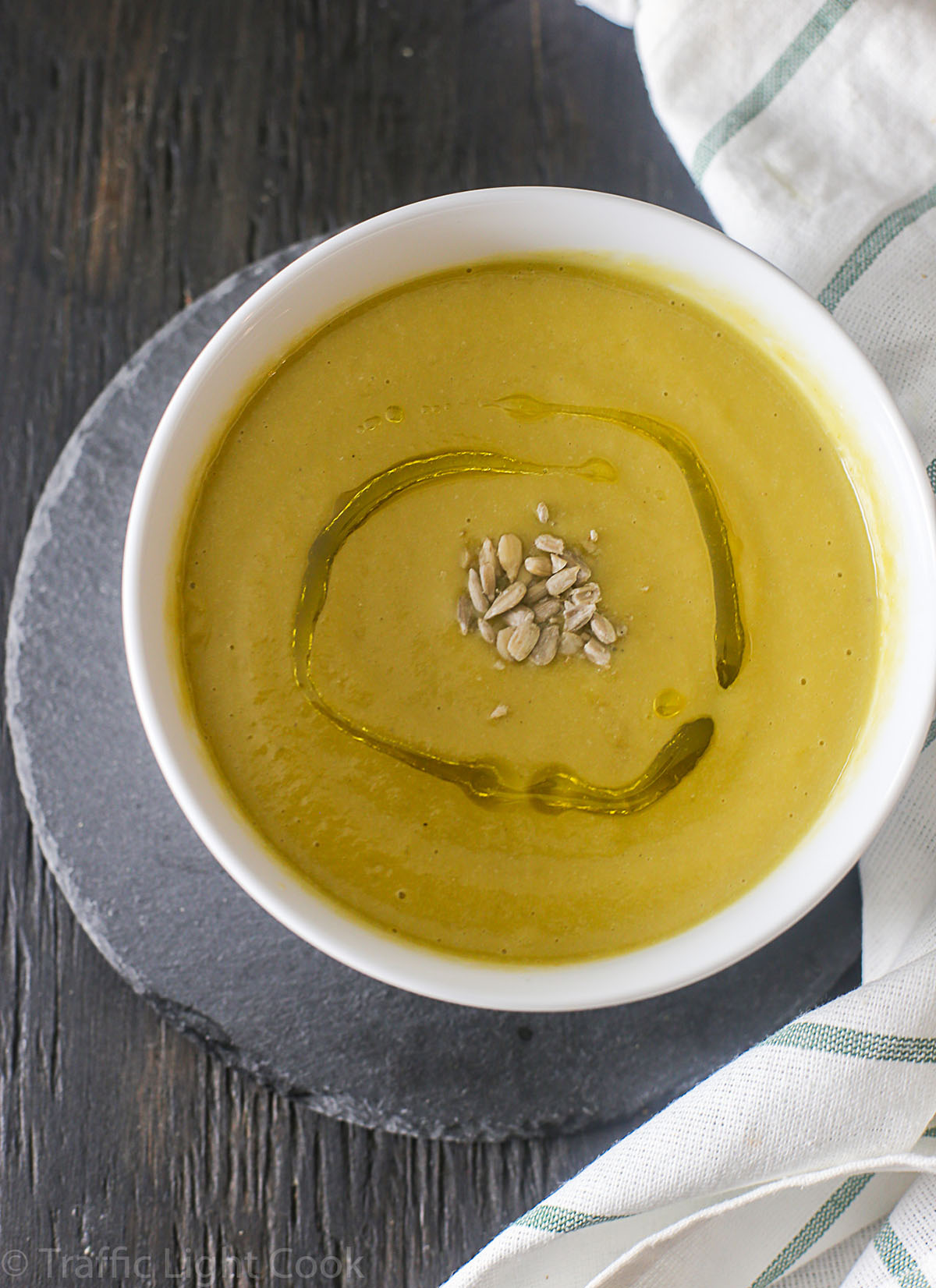 You can make this soup pretty much in any season as celery is an all-season vegetable. To be flexible, you can also replace sweet potato with either regular white potato or equal amounts of carrots. But sweet potato lends this soup a subtle sweetness that is hard to replicate by its worthy substitutes.
Soups are a tasty and easy way to get your vegetables
Vegetable soups, like this energizing celery and sweet potato soup, offer two servings of vegetables in one shot. Vegetables, unarguably, are the healthiest ingredient in our diet. Many research studies have demonstrated the link between the high intake of vegetables with longevity and reduced risk of many chronic diseases, particularly cardiovascular (heart) disease.
While soup is a good way of getting your vegetables, it's best to stay away from canned soups. Not only canned soups are high in sodium and other chemicals, they lack the delicate, naked taste of vegetables. Eating canned soup frequently can habituate your taste buds to crave more salt and not appreciate the actual taste of vegetables. Most restaurants also add more salt in soups than necessary, primarily to appeal to our pre-seasoned palates, which crave highly salty food. By making soups at home, you can control the amount of salt and quality of vegetables-fresh and organic (preferably).
Let's make the creamy celery and sweet potato soup (vegan)
Celery is in season all around the year. This green vegetable offers a host of health benefits--lowering inflammation and the risk of cardiovascular diseases as well as cancer. It is an energizing vegetable due to its alkalizing nature. Celery is one of the few vegetables that is naturally high in (natural) sodium. Therefore, you don't need to add much salt to this soup. In fact, if you are avoiding salt due to health reasons, you can totally make this soup without adding any salt and it still tastes pretty good.
If you are looking to energize your mornings, you may also like:
Anti-inflammatory Minty Celery Pineappleade
Add healthy fats to veggie-loaded dishes to create food synergy
In this energizing celery and sweet potato soup, the creamy base comes from using raw sunflower seeds. You can also use blanched and de-skinned almonds or pumpkin seeds. Soaking seeds before adding to the soup makes the soup creamier and tastier. Moreover, adding nuts or seeds, the source of healthy fats, create a food synergy with the veggie-loaded soup.
Eating vegetables with small amounts of healthy fats, such as raw nuts/seeds or very small amounts of extra-virgin olive oil or avocado oil, helps absorb the nutrients in vegetables better. This is because some vitamins--vitamin A, Vitamin D, Vitamin E, and Vitamin K--are better absorbed in fat. Drizzle a dash of extra-virgin olive oil over this creamy celery and sweet potato soup as a topping--especially for kids.
Meal plan the energizing celery and sweet potato soup for lunch or dinner
Soups are best eaten fresh. Most vegetables start losing their nutritional value as soon as they get on the chopping board. It is best to eat this soup within three days of cooking. I often make to last for two servings and pair with different dishes. You can pair this soup with any lentil or bean dish. For example, this soups pairs well with:
To store freshly made soups in refrigerator:
Bring the soup to room temperature. It's best not to store warm/hot food in the refrigerator. It can spoil other foods stored in your refrigerator. Store in an airtight container for up to three days in the refrigerator. You can also freeze this soup for up to 3-4 weeks, but it may not offer the same dose of nutrients compared to eating freshly-cooked soup.
When ready-to-eat from refrigerator, reheat over medium heat in a heavy-bottom pot till hot. Please don't boil the soup again. Contrary to the popular belief, heating in a microwave actually does the least damage to the nutrients in veggies. To use from freezer, take the soup out a night before in refrigerator and heat over medium heat.
More nourishing soup & broth recipes on TLC
Step-by-Step recipe: energizing celery and sweet potato soup
This soup takes about 40-45 minutes to prepare, so allocate your time accordingly. If you make this soup, I would love to hear from you--please leave a comment below. Enjoy!
Energizing Celery and Sweet Potato Soup
This vegan, gluten-free celery and sweet potato soup offers creamy texture without adding any cream. The main ingredient celery offers anti-inflammatory and digestive benefits while sweet potato adds an array of vitamins and minerals.
Ingredients
1/4

cup

water*

1

white onion

(medium, ~1cup, chopped)

3/4

tsp

salt

(or to taste)

12

oz

Celery

(~10 celery stems, chopped)

8

oz

sweet potato

(~1 medium sweet potato, cubed, can sub with equal amount potatos)

1/4

cup

sunflower seeds

(soaked in warm water for at least 1 hour)

2

pinches

freshly ground black pepper

(or to taste)

3

cups

homemade vegetable broth**

(or sub with store-bought low-sodium broth)
Instructions
Step 1: Soak the sunflower seeds in warm water 1 hour ahead of making the soup. (Total Time: 2 minutes)

Step 2: Bring all the ingredients together on the ( cooking) counter. Wash all the vegetables thoroughly under running water.

Chop the celery and onion; and peel and cut the sweet potato into cubes. You can either chop/cube roughly or finely. Finely cut vegetables cook faster, but the end result will be the same. (Total Time: 10 minutes)

Step 3: Heat a heavy-bottom soup pot over medium heat. Add 1/4 cup water***. The water should sizzle when added to the pot. Add onions with salt to the sizzling water and cook until soft, about 2-3 minutes. (Total Time: 4-5 minutes)

Step 4: Add the chopped celery and cubed sweet potatoes to the pot and cook until soft. Add one to two tablespoons of water if the vegetables start sticking to the pot. Keep stirring the veggies to prevent sticking to the pot. (Total Time: 5-7 minutes)

Step 5: Add the freshly ground black pepper and stir and add the broth along with soaked sunflower seeds. Bring the soup mixture to a boil and reduce the heat to medium low. (Total Time: 15-17 minutes)

Step 6: Partially cover the soup pot and let the soup simmer till all the veggies have disintegrated and very soft. Stir the soup mixture a couple of times for better mixing. Test by pinching the veggies between your thumb and index finger. (Total Time: 18-20 minutes)

Step 7: Let the soup cool down for at least 15-20 minutes. If you have time, you can wait to let it come to room temperature. Puree the soup mixture on high speed until well mixed. Serve hot on its own or with a dash of extra-virgin olive oil or toasted sesame seeds. (Total Time: 3 minutes)
Notes
*if you would like to use oil instead of water, replace water with 1 tsp of oil of your choice. I use avocado oil.
**Add one more cup, if you like your soup toward watery consistency. 
***For detailed instruction on cooking without oil, checkout Ditch-the-oil cooking method.
Note: To make it heart healthy, replace sunflower seeds with equal amount cooked navy beans or garbanzo beans. Reduce the salt to 1/4 tsp. 
Nutrition
Serving:
1
cup
Calories:
123
kcal
Carbohydrates:
18
g
Protein:
3
g
Fat:
4
g
Polyunsaturated Fat:
2
g
Monounsaturated Fat:
2
g
Sodium:
547
mg
Potassium:
506
mg
Fiber:
4
g
Sugar:
5
g
Vitamin A:
8650
IU
Vitamin C:
5.8
mg
Calcium:
70
mg
Iron:
1.1
mg
More Soup Recipes...