This homemade roasted ground cumin is aromatic and adds an earthy and nutty flavor to any recipe that calls for it. Adding spices like ground cumin to foods enhances their aroma and taste. Therefore, using a healthful flavor enhancer such as ground cumin may help reduce the amount of salt or oil-ingredients  that produce negative health impact when used in excess-in cooking.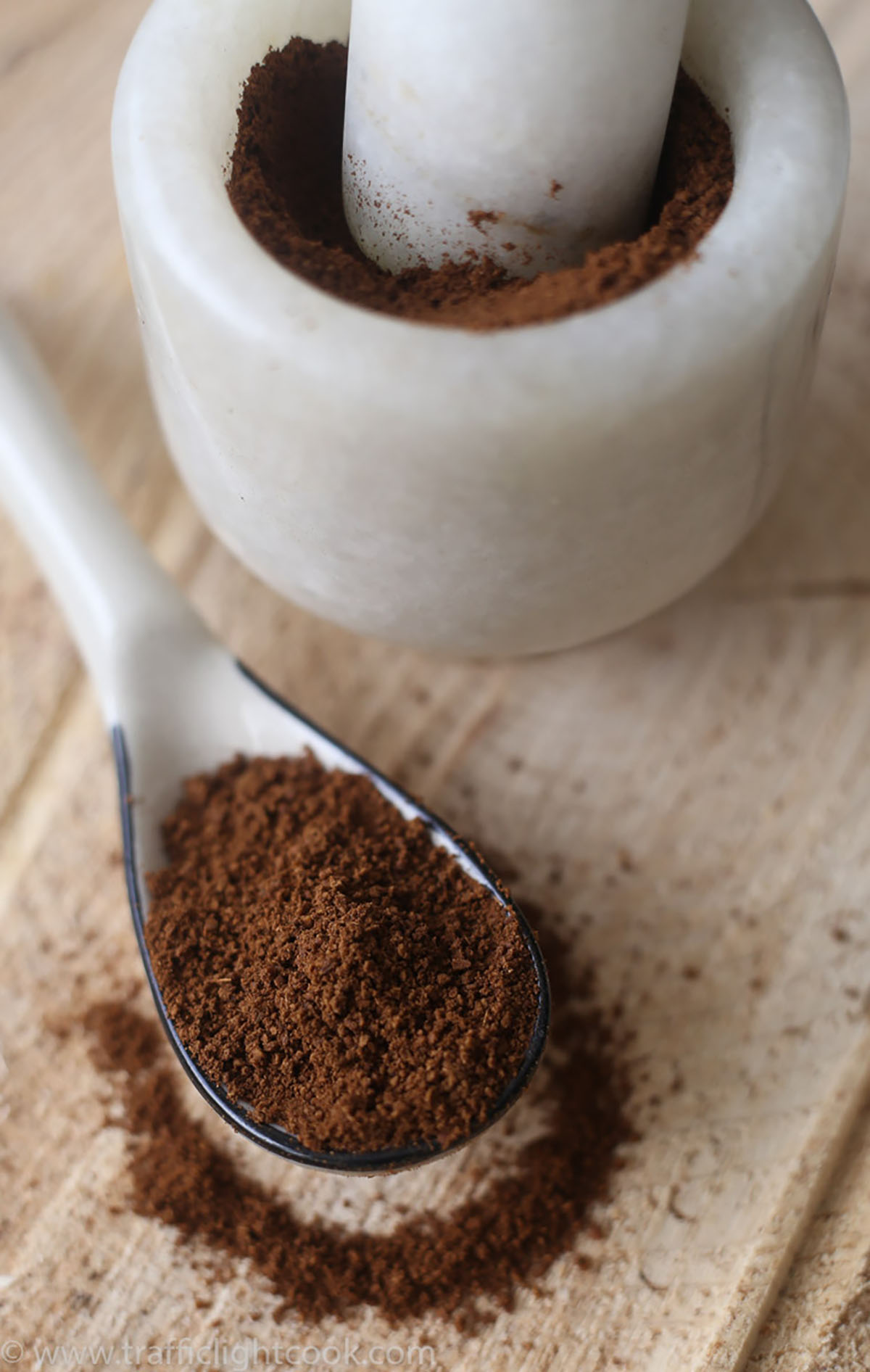 Cumin is a staple spice in many global kitchens but shows up quite a bit in Indian, North African, Middle Eastern, and Mexican cuisines. Ground cumin is a an essential ingredient in traffic light cooking.
Why homemade ground cumin?
I grew up in the northern part of India, where cumin is pretty much used in every lentil, curry, and vegetable recipe. A number of rice and yogurt-based recipes also call for cumin.  In addition to Indian, I also use ground cumin in my favorite global recipes such as Moroccan lentil soup, enchilada sauce, black bean burrito, three-bean chili, guacamole and more. The list is kind of long and will unfold as I share these recipes on this blog (stay tuned).
I love the aroma of roasted, freshly ground cumin. The aroma is reminiscent of my grandmother's kitchen, where the cumin scent often hovered faintly in the air. It reminds me of my mom's kitchen, which was often redolent with the aroma of roasted ground cumin. That was the scent I expected to find when I opened my first bottle of store-bought cumin almost two decades ago. Yes, it smelled like ground cumin, but it was so faint that I almost snorted cumin powder in an exaggerated effort to smell the aroma I was looking for. Memories aside, that cumin powder also did not add much flavor to my food.
Therefore, a few years ago, I resolved to make homemade cumin powder; and lo and behold the color, aroma, and taste profile matched my expectations. This experience taught me that if a spice does not do its job of adding adequate flavor and aroma, we continue to rely on other additives like salt and oils (in excess) to enhance flavor in our food. Therefore, using stale spices does not fully offer the intended experience of enhancing food flavors.
How to make homemade roasted ground cumin
It is super easy and quick to make homemade roasted ground cumin. Here is how to make it: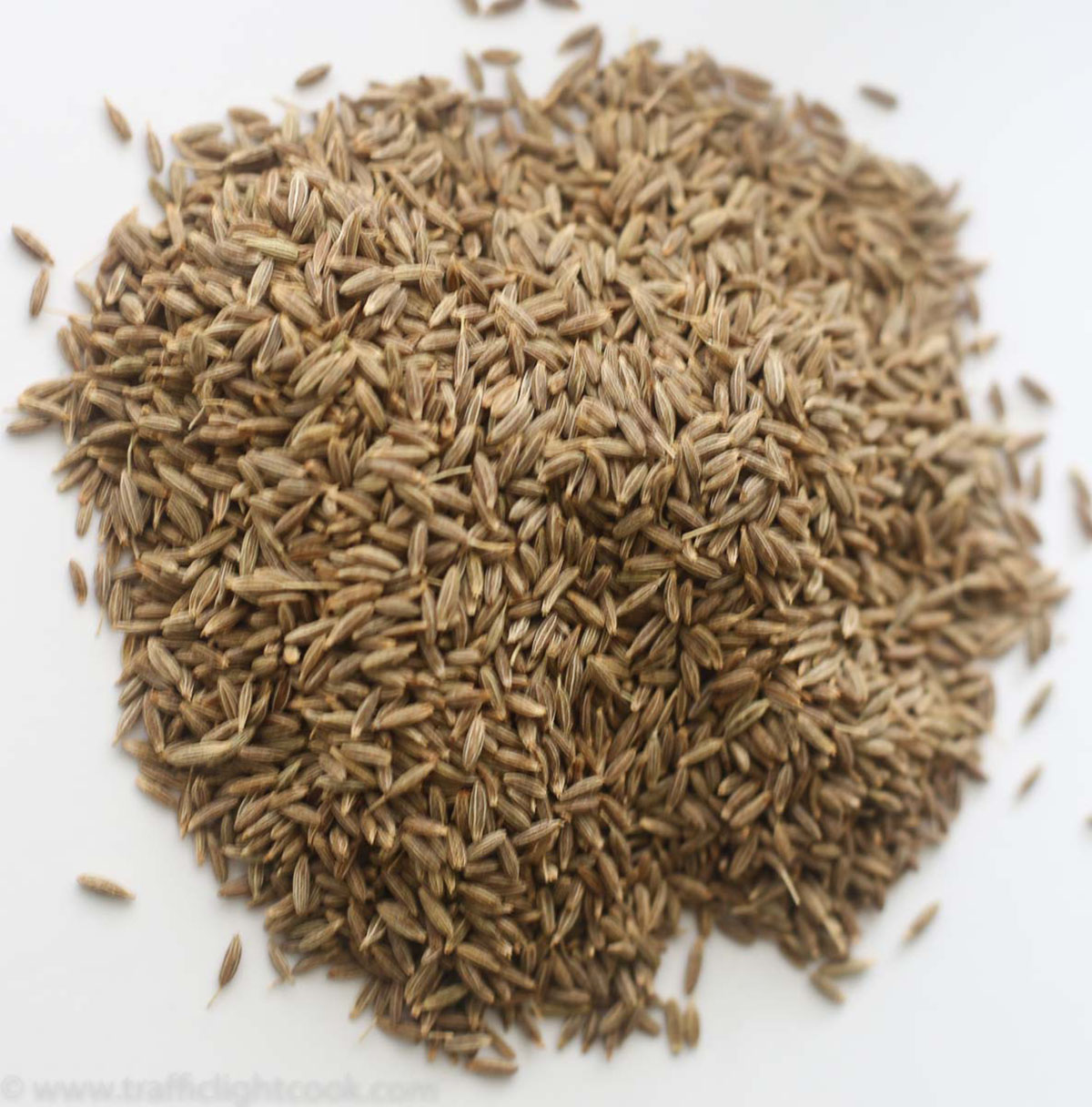 I use two different varieties of cumin--brown and black. Typically, the brown variety is used to make ground cumin. It's a good idea to check the expiration date  on package when buying whole cumin seeds as stale seeds don't yield the best ground cumin. Preheat an iron skillet over medium heat for about 45 seconds and then add cumin seeds. Stir often with a wooden spoon for even roasting and avoid burning the seeds. I roast half-a-cup of seeds for about 3-4 minutes. Roasting time may increase with the amount of seeds.
In addition to the time, I also keep an eye on the changing color of the seeds while roasting. Roast only until the seeds turn slightly darker than the original color (as in the pic above). The color of well-roasted cumin seeds should never turn black. If you start seeing a few charred seeds, it's time to turn the heat off.  Cumin seeds burn easily and if they do, they taste bitter. Then there is only one place for them in your kitchen--your compost bin. Another indicator of well-roasted cumin seeds is its nutty, slightly earthy, and pungent aroma.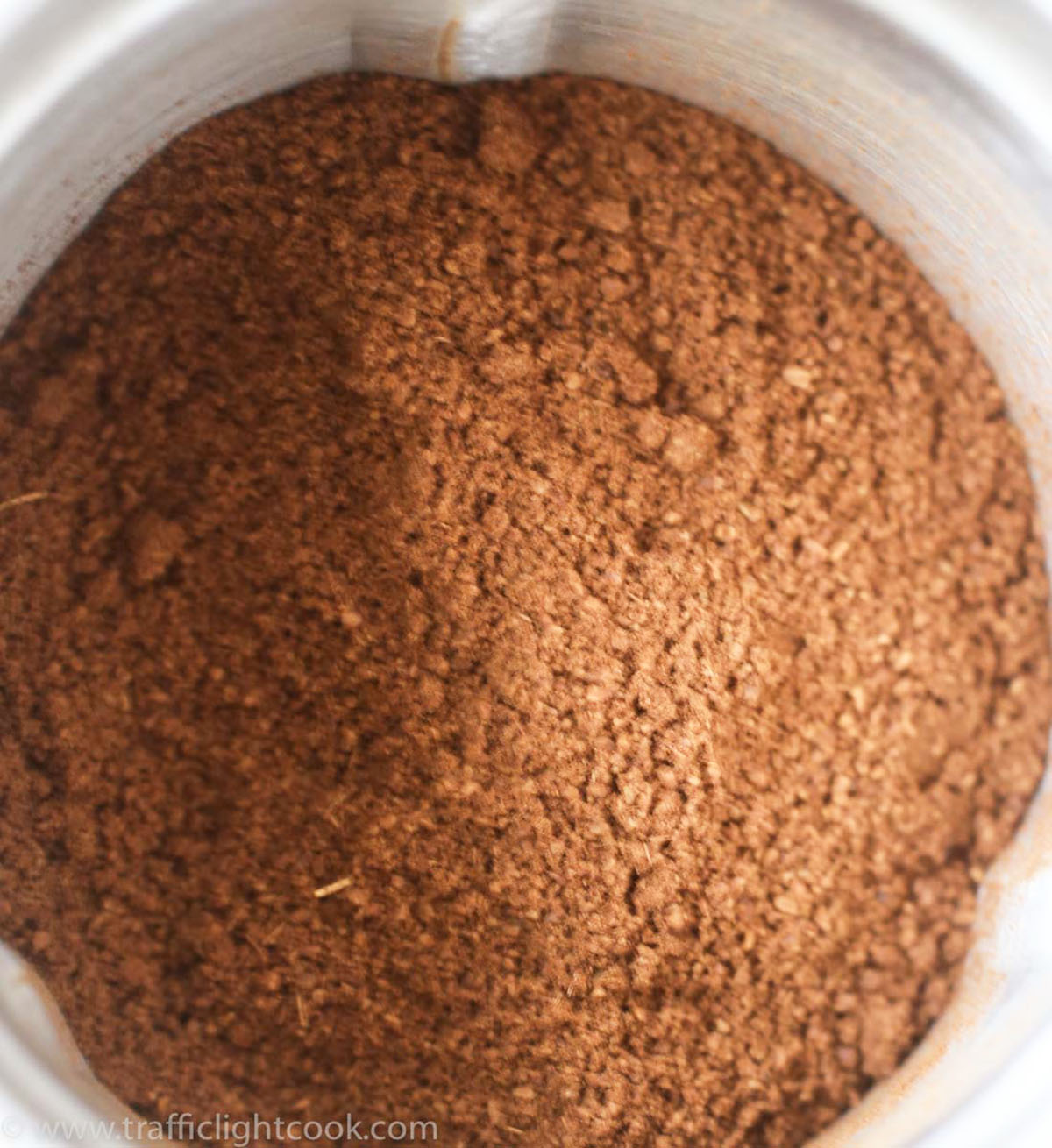 Once the cumin seeds are well roasted, keep aside to bring to room temperature. I use a spice grinder to grind roasted cumin seeds; a mortar and pestle would work as well. The texture of ground cumin is your choice. You can grind roasted seeds to a grainy texture or a fine powder. You can store the freshly-ground cumin in your spice cabinet for about six weeks in an airtight container. I usually remake at this point. If you don't use ground cumin frequently in your cooking, it is best to make less in quantity and store in refrigerator.
Rules of using roasted ground cumin
Roasted ground cumin has strong flavor and aroma; therefore, keep the following in mind when using this spice:
Use roasted ground cumin sparingly. It is best to taste the flavor after adding ground cumin to a recipe. The addition of ground cumin should boost other flavors rather than adding its own. Once you start tasting ground cumin in the recipe you have too much and it may overpower other flavors. How do I know this? I have gone through a few cumin-flavor loaded dishes. You are only looking for a hint of ground cumin.
It is better to add roasted ground cumin either in the middle of or toward the end of cooking, instead of adding it first thing in the oil or any other cooking medium. Since by roasting we have already activated cumin's flavor, further roasting can make it bitter. Therefore, it is best to add it to a recipe once you have added other spices, veggies, lentils, or beans, etc.
What to look for in pre-packaged ground cumin
If you don't have enough time to make ground cumin at home, the next best alternative is the store-bought pre-packaged option. Here are a few tips on making the best choice when buying at a store:
It's best not to buy mega-size box or bottle of ground cumin, especially if you don't use ground cumin frequently in your cooking. Spices lose flavor with consistent exposure to heat, moisture, air, and light.
Buy in small packaging and store in refrigerator after opening the package. Make it a point to finish before the "best by" date on the package.
Many grocery stores and co-ops offer spices in the bulk section, where you can buy spices in small quantity. Please make sure that the turnover of spices is high in your store. The bulk bins also offer the advantage of sniffing spices for freshness before buying.
Now that you know how to make and use roasted ground cumin, you can use it in:
Herb-infused, Carrot, Mango, Moong Lentil Salad.
NOTE: If you use metric system for measuring ingredients, please click on "Metric" in the recipe box.
Homemade Roasted Ground Cumin
Experience the true magic of aromatic ground cumin in your cooking by making it at home in a matter of minutes.
Ingredients
1/2

Cup

Cumin seeds

(brown)
Instructions
Heat an iron skillet over medium heat for a minute. Add cumin seeds and stir often to turn the seeds for even browning. Roast seeds for 3-4 minutes. Once roasted seeds will become a darker shade of brown and diffuse a nutty, earthy aroma.

Remove the skillet from the heat and transfer the seeds to a plate for faster cooling. Once the seeds have come to room temperature, use either a spice or coffee grinder* to grind the seeds.
Nutrition
Calories:
23
kcal
Carbohydrates:
2
g
Protein:
1
g
Fat:
1
g
Sodium:
10
mg
Potassium:
111
mg
Vitamin A:
80
IU
Vitamin C:
0.5
mg
Calcium:
60
mg
Iron:
4.1
mg