This veggie-loaded quinoa & split chickpea upma is a makeover of a traditional South Indian breakfast. With meal-planning tricks given with the recipe, you can whip up this nutritious breakfast in no time.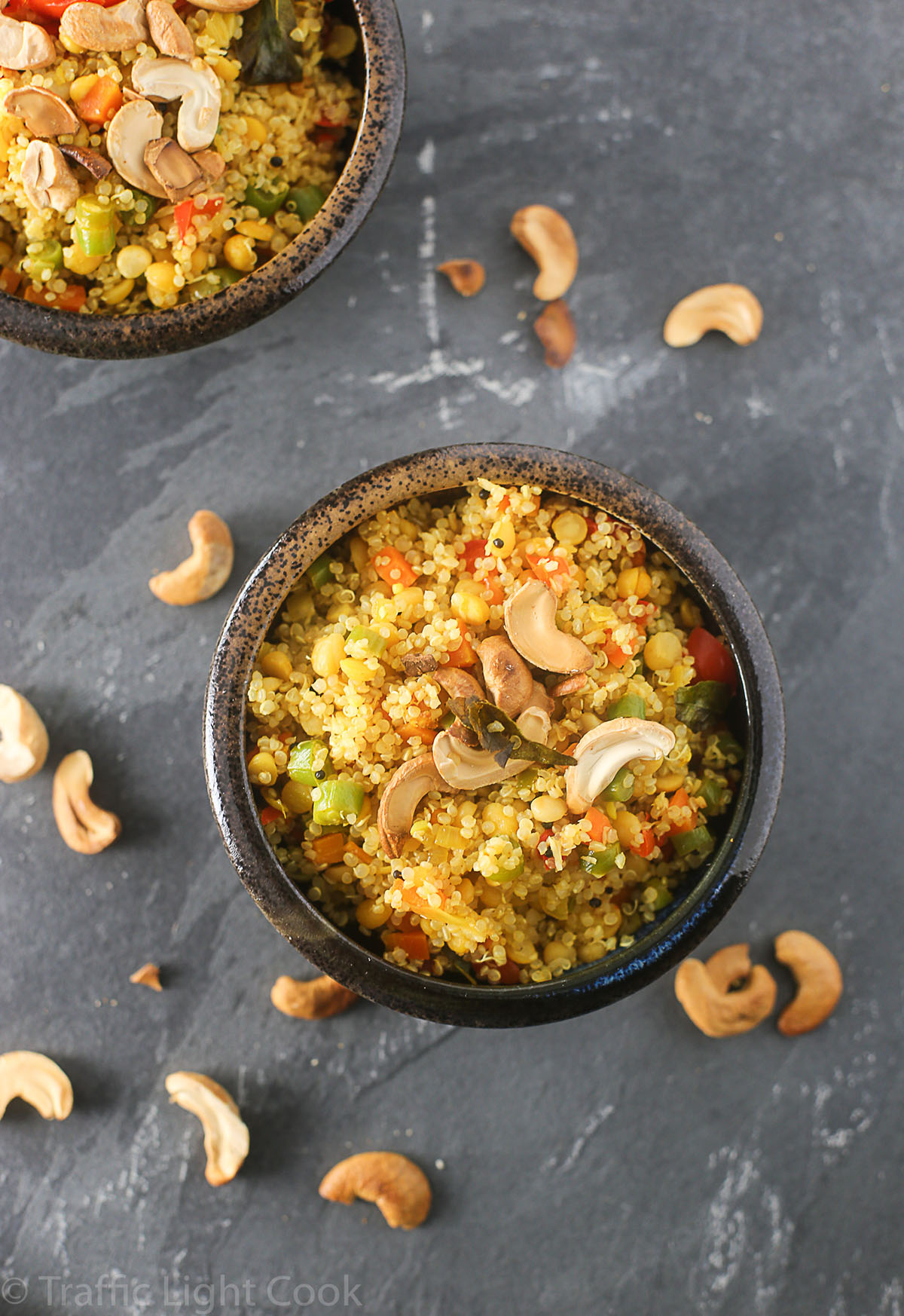 An energizing breakfast sets an energetic tone for the rest of the day. Not having a proper breakfast can shortchange your energy levels, at least in the short term [1]. This veggie-loaded quinoa split pea upma offers enough protein and fiber to keep you full and energetic throughout the morning.
TLC makeover of a traditional Indian breakfast
Upma is a traditional south Indian breakfast made with rava (cream of wheat). As  I have removed (reduced) wheat from my diet over the past few years after turning 40, I have been trying to give a makeover to the traditional Indian recipes requiring wheat by replacing it with gluten-free grains. While I am not strictly gluten-free, I try not to eat wheat for more than 1-2 servings in a week. If you are over 40, it might be worth checking for gluten sensitivity or intolerance. One quick benefit I noticed of eliminating/reducing  wheat from my diet was the increased physical energy (stay tuned for more benefits of removing wheat in diet after 40 ). 
I also use higher than traditional amounts of lentils (daal) in this upma recipe to increase the protein content of this delicious breakfast. Nutrient- and fiber-rich quinoa forms the base of the recipe, which keeps you full for a long time. Also see:
Demystifying Quinoa: Energy-Boosting Ancient Pseudocereal
Make Veggie-loaded quinoa & split chickpea upma--step by step
Step 1: Soak the split peas (channa daal) overnight or for at least four hours. You can find split chickpeas in Indian grocery stores and many mainstream grocery stores in the U.S. I also often buy quinoa and Indian groceries on Amazon.com. If unable to find split chickpeas, you can also replace it in equal amount with dried yellow split peas. Soak quinoa at the same time as split peas. Soaking quinoa is optional. I have not tried it, but you should be able to replace quinoa with cooked millet. (Total time: 5 minutes)
Step 2: Rinse and cook the soaked split chickpeas and quinoa. Do the chickpeas and quinoa cooking in parallel. Add split chickpeas to a small pan with water and cook over medium heat. Skim the layer of white foam that shows up when cooking chickpeas (many most lentils and beans). Once cooked, drain and keep aside. Also prepare the quinoa. You can either preare quinoa on stovetop (How to cook fluffy quinoa (stove top)) or use an instant pot (Instant pot quinoa (healthy and fluffy)).
To expedite the process in the morning, you can prepare and store these two ingredients in refrigerator either on the previous evening. (Total time: 15-20 minutes)
Step 3: Assemble everything. Start by tempering the flavorful spices and herbs. In South Indian cooking, the trio of mustard seeds, dried red chilies, and curry leaves form the spice/herb base. To temper spices, heat oil over medium heat; it is best to test the oil temperature by adding a few mustard seeds. If the seeds start to crackle the oil is at the right temperature. Continue to add the rest of the seeds, dried chilies, and curry leaves. If you are unable to find curry leaves, no worries. Replace curry leaves with fresh cilantro. However, add cilantro in the last step of making this recipe instead of during tempering. (Total time: 30-60 seconds).

Step 4: Once the seeds have stopped crackling, add onions and salt: cook for 2-3 minutes or until soft. Add a few teaspoons of water if onion starts sticking to the bottom of the pan. Once the onion is cooked, add all the finely chopped veggies and cook till soft. (Total time 8-10 minutes).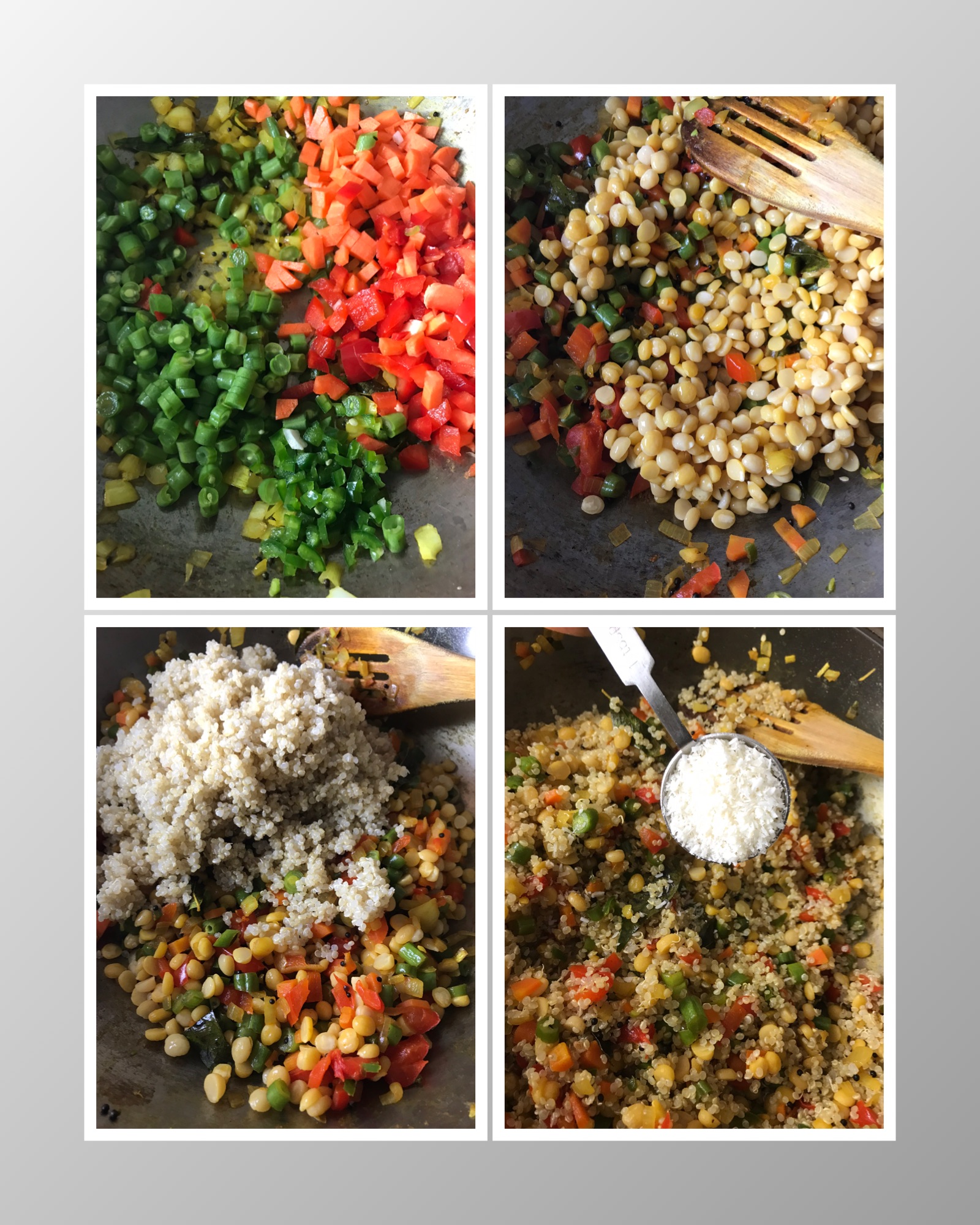 Step 5: Add cooked split chickpeas and chili powder. Stir to mix with the veggie mixture. Add quinoa and stir. In the parallel, pop the cashews in a toaster oven or add to a per-heated skillet over medium heat on stove top. (Total time 2-3 minutes.)
Step 6: Add the shredded coconut and freshly squeezed lemon juice--stir to mix well. Take the pan off the stove immediately after adding the lemon juice and garnish with toasted cashews. (Total time: 1-2 minute).
Meal plan veggie-loaded quinoa & split chickpea upma for your breakfast
Are you are wondering how you are going to make this multi-ingredient, multi-step recipe for your workday breakfast? Here is the easy answer.
Plan the recipe ahead of time. Buy all the ingredients during your grocery day.
Prepare chickpeas and quinoa a day or two in advance. Make 2-3 batches of chickpeas and quinoa respectively and freeze for up to a month.
To prepare the recipe for breakfast, just cut the veggies (10 minutes) and add everything to tempered spices (total 25-30 minutes).
Prepare the whole recipe the evening before or on a weekend. This will keep in an air-tight container in refrigerator for up to 4 days. To enjoy the veggie nutrition, strive to finish in three days.
This veggie-loaded quinoa & split chickpea upma is also a great choice to pack for your lunch.
If you have not made upma before, try this recipe on a weekend first.
Enjoy on its own or with Cilantro-Mint chutney.
You may also like the other Indian breakfast on TLC:
Protein-rich Poha (a savory rice flake dish)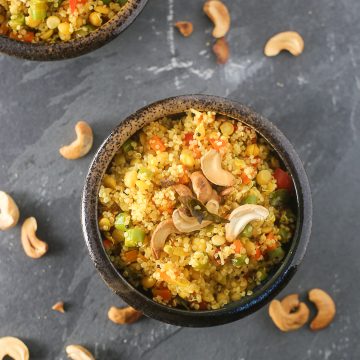 Veggie-loaded Quinoa & Split Chickpea Upma
Start your day with this healthy Indian breakfast of veggie-loaded quinoa & split chickpea upma. This vegan, gluten-free breakfast is full of Indian spice flavors that starts your day on an energetic note.
Ingredients
1/2

cup

split chickpeas

(channa daal, dry, can sub with dried yellow split peas)

1

cup

water

(to cook split chickpeas)

3/4

cup

quinoa

(dry)

1-1/2

scant cup

water*

(to cook quinoa)

1

tsp

avocado oil

(or sub with any other high-smoking point oil)

1

tsp

mustard seeds

2

red chillies**

(dry)

1

green chilli

(finely minced, can sub with jalapeno peppers)

10

curry leaves***

(fresh or dried)

1

white onion

(medium, ~1 cup, finely chopped, can sub with any other variety)

8

green beans

(around 1/3 cup finely chopped, fresh)

1/2

red peppers

(or any other color, about 1/2 medium, finely chopped)

1

carrot

(small about 1/3 cup, finely chopped)

1/4

tsp

red chilli powder

( or to taste, can sub with equal amount cayenne pepper, optional)

3/4

tsp

salt

2

tbsp

dried shredded unsweetened coconut

(even better, fresh grated coconut in equal amount)

1

tbsp

lemon juice

(freshly squeezed)

2

tbsp

cashews

(halved, toasted, can sub with toasted pumpkin seeds)
Instructions
To prepare the split chickpeas
Soak the split chickpeas overnight or for at least four hours prior to making this recipe. Rinse under running water and add to a small heavy-bottom pan with one cup water and cook over medium heat for about 15 minutes. To check for doneness, chickpeas should be cooked through, but still be firm and hold their shape. Transfer the cooked chickpeas to a fine-mesh sieve and let the excess water drain.
To prepare the quinoa
Soak quinoa overnight or for 3-4 hours (optional). Rinse (soaked or not soaked) quinoa well in a fine-mesh sieve under running water. Add to a heavy-bottom pot with 1.5 cups of water. Cook uncovered till all the water is absorbed. Fluff the quinoa with a fork and set aside.
To assemble the upma
Heat avocado oil in a wide-mouth pan. Test with a couple of mustard seeds--the seeds should start to crackle. Once the oil is at the right temperature, add dry red chillies, mustard seeds, curry leaves, and green chillies. stir to mix the seasoning.

Add finely chopped onion and salt to the seasoning and cook for 2-3 minutes. Add a teaspoon or two of water if the onion starts sticking to the pan. Add the finely chopped carrots, beans, and peppers. Cook for 5-7 minutes, until cook through and soft.

Add the cooked split chickpeas and red chilli powder-- stir to mix well with the veggie mixture. Add the cooked quinoa and mix well. Stir in the unsweetened dried coconut and lemon juice. Stir to mix well. Immediately take the pot off the stove.

Toast the cashew halves either in a toaster oven or in an iron-skillet over stovetop. Garnish the upma with toasted cashews and serve hot with cilantro-mint chutney. ENJOY!
Notes
*If you have soaked the quinoa, 1-1/3 cup of water should be enough. 
**omit chilies if you don't like heat in your food
***If unable to find curry leaves, it's totally ok to replace with cilantro. However, you will add cilantro toward the end of the cooking process; curry leaves are added at the beginning. 
Make it heart-healthy and diabetes friendly:
Reduce salt to 1/2 tsp (use kosher salt) and add 1 more tbsp of lemon juice.
Omit dried unsweetened coconut. 
Nutrition
Serving:
1
cup
Calories:
244
kcal
Carbohydrates:
37
g
Protein:
10
g
Fat:
6
g
Saturated Fat:
2
g
Sodium:
399
mg
Potassium:
552
mg
Fiber:
9
g
Sugar:
5
g
Vitamin A:
2750
IU
Vitamin C:
86.6
mg
Calcium:
50
mg
Iron:
2.9
mg
You may also like other Indian recipes on TLC..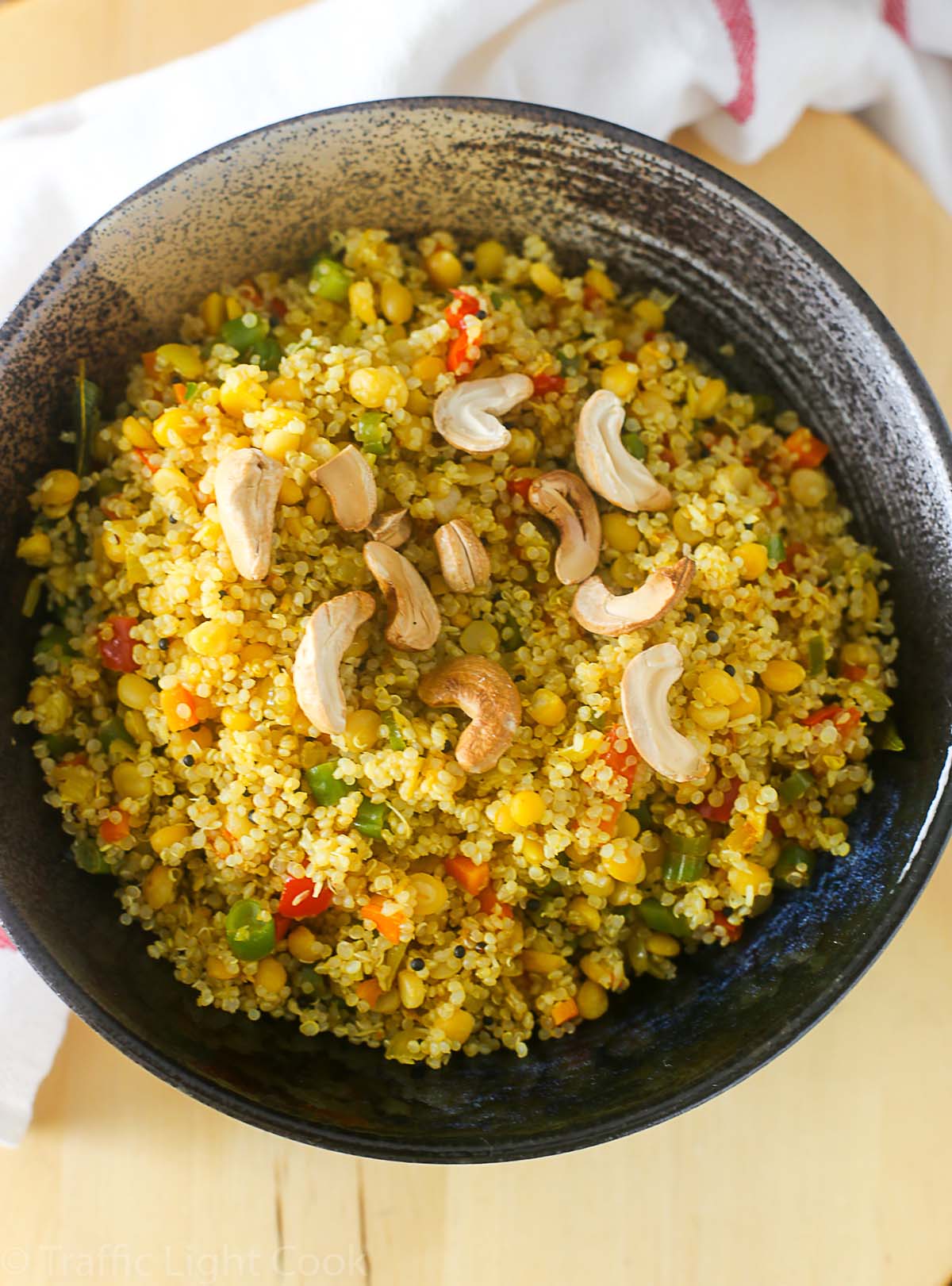 Resources: