Good ideas breed better ones; even, bad ideas once expressed and duly discarded pave the way for the good, better, and best. But having ideas and not expressing them doesn't bring anything new in the world. So, I am glad that I expressed the idea and practice of making quick homemade almond milk on Traffic Light Cook a while ago. A friend started making almond milk at home with the TLC recipe, but soon came up with a better idea--making almond milk without throwing away the leftover almond meal. By the way, I have switched 100% to making almond milk at home as the store-bought nut-, seed-, and grain-milk may possibly have adverse health effect ( especially on digestive system) with prolonged usage. Curious, why? keep reading...
Commercial non-dairy beverages contain emulsifiers
If you have made almond or any other type of non-dairy beverage at home, you probably know that the base ingredients (for example, almonds and water) tend to separate. But the commercial non-dairy beverages don't exhibit this behavior. The reason is the addition of emulsifiers in commercial non-dairy beverages, a fact often overlooked by us--the consumers--on the ingredient list. These additives on the ingredient list read like carrageenan, locust bean gum, and Gellan gum and more. These emulsifiers in some studies have been linked to negative health effects , especially on the digestive system (stay tuned for a detailed blog post on the adverse health effects of emulsifiers). If you drink commercial non-dairy beverages and consume other food products containing gums and other emulsifiers on a daily basis and are experiencing any digestive issues (such as constipation, bloating, or gas), try eliminating emulsifiers from your diet.
Let's make no-waste almond milk
This recipe comes from a family friend, who follows a 100% vegan diet. He started making almond milk at home following the original TLC recipe: Quick Homemade Almond Milk. However, not finding a whole lot of use for almond meal, he experimented with incorporating the meal in the milk. The resulting almond milk is quite gritty. However, once he shared his experience with me, I realized that most of the time I use almond milk in foods that don't require non-gritty milk--in making morning oats, smoothies, soups, and more. My morning tea is the only occasion to use strained almond milk.  If you want to make both kinds in one shot, strain from the same recipe  enough for non-gritty milk and  add back the meal back to the other version.
To make this homemade almond milk (no-waste recipe) start by soaking almonds a night before (or ten hours in advance). If you forget to soak the night before (I definitely sometimes do), add almonds to very hot (not boiling) water and let it sit for at least six hours. Once soaked, rinse almonds in a strainer under running water. Now it's time to cook the soaked almonds. Bring a small pot of water to boil and add the soaked almonds. Boil for about 90 seconds and transfer cooked almonds to a strainer. Cool under running water. Peel the cooked almonds; after cooking, it is super easy to peel almonds. It took me less than five minutes to peel half cup of almonds. Add almonds and filtered water along with any flavorings--dates, maple syrup, vanilla, cinnamon or whatever you fancy in your daily dose of milk. Blend and transfer to a glass (or any other) air-tight container. This milk will last in refrigerator for 4-5 days. Enjoy in your cereal, any type of porridge, soups, and smoothies.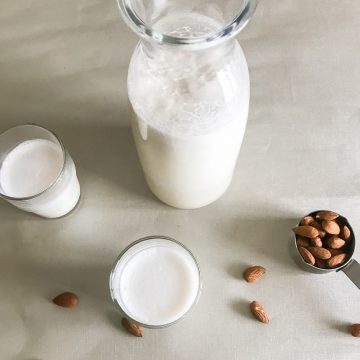 Homemade Almond Milk (no-waste recipe)
You can now enjoy almond milk without worrying about what to do with the leftover almond meal. This almond milk recipe incorporates almond meal and tastes creamy, delicious, and homemade.
Ingredients
1/2

cup

raw almonds

(soaked for 10 hours, or at least 6 hours in hot water)

6

cup

water

(filtered, room temperature)

1

medjool date

(or any other variety, optional)
Instructions
Soak almonds overnight or for ten hours. If in a hurry, soak in hot (not boiling) water for at least 6 hours. Throw away the soak water and rinse soaked almonds under running water in a sieve or colander.

Boil 4 cups water in a pan and add soaked almonds. Let the almonds boil for about 90 seconds. The goal is to soften almonds enough to get well blended with water. Transfer blanched almonds to a colander and let cool to room temperature.

Peel almonds and add to blender with water and medjool date (if using). Blend till well mixed. Transfer milk to a glass bottle or any other storing container. This will stay fresh in an air-tight container in refrigerator for up to 4 days. Enjoy!
Notes
Variations:
To make cinnamon-flavor version add 1/4 tsp ground cinnamon
For vanilla-flavor version add 1/2 tsp vanilla extract 
Update: 11/09/2018
Increased the amount of filtered water to 6 cups per 1/2 cup of almonds. The milk still comes out pretty creamy with higher yield and lower fat content. 
Nutrition
Serving:
1
cup
Calories:
79
kcal
Carbohydrates:
5
g
Protein:
2
g
Fat:
5
g
Sodium:
12
mg
Potassium:
111
mg
Fiber:
1
g
Sugar:
3
g
Calcium:
42
mg
Iron:
0.5
mg