Poha is a popular savory Indian breakfast made with beaten rice (flattened rice or rice flakes). On the surface, it may seem that rice may not be the best grain to break your fast; however, this protein-rich poha (a savory rice flake dish) recipe offers a complete package-taste and nutrition for busy mornings as it takes only 20 active minutes to make it.
One little-known nutritional fact about rice flakes is that it is rich in probiotics as rice (in husk) goes through fermentation when making beaten rice. This is why rice flakes are an easy-to-digest form of rice because fermented foods act as digestive aid in our gut. In this recipe, beaten rice is paired with sprouted lentil--an easy-to-digest form of lentils that are naturally high in protein. This is why, you can also pair this poha with a soup or salad for a light lunch.
Choose thick and brown variety to make poha
If you are new to the beaten rice concept, it is a form of rice made by parboiling rice while still in husk and then drying before making beaten rice. The boiling and drying process leads to fermentation--and hence adding probiotics to the end product. In the U.S., you can find beaten rice in Indian stores as well as regular grocery stores with a dedicated Indian section. It comes in two varieties: thick and thin poha. Always choose the thick variety for this recipe.
Rice flakes also come in white and brown variations. The brown type tends to be healthier; but it can also be harder to find, especially where I live. In the U.S., I have only been able to find brown poha in big-scale Indian grocery stores. Therefore, I have used what I could find--the white type-- in this recipe.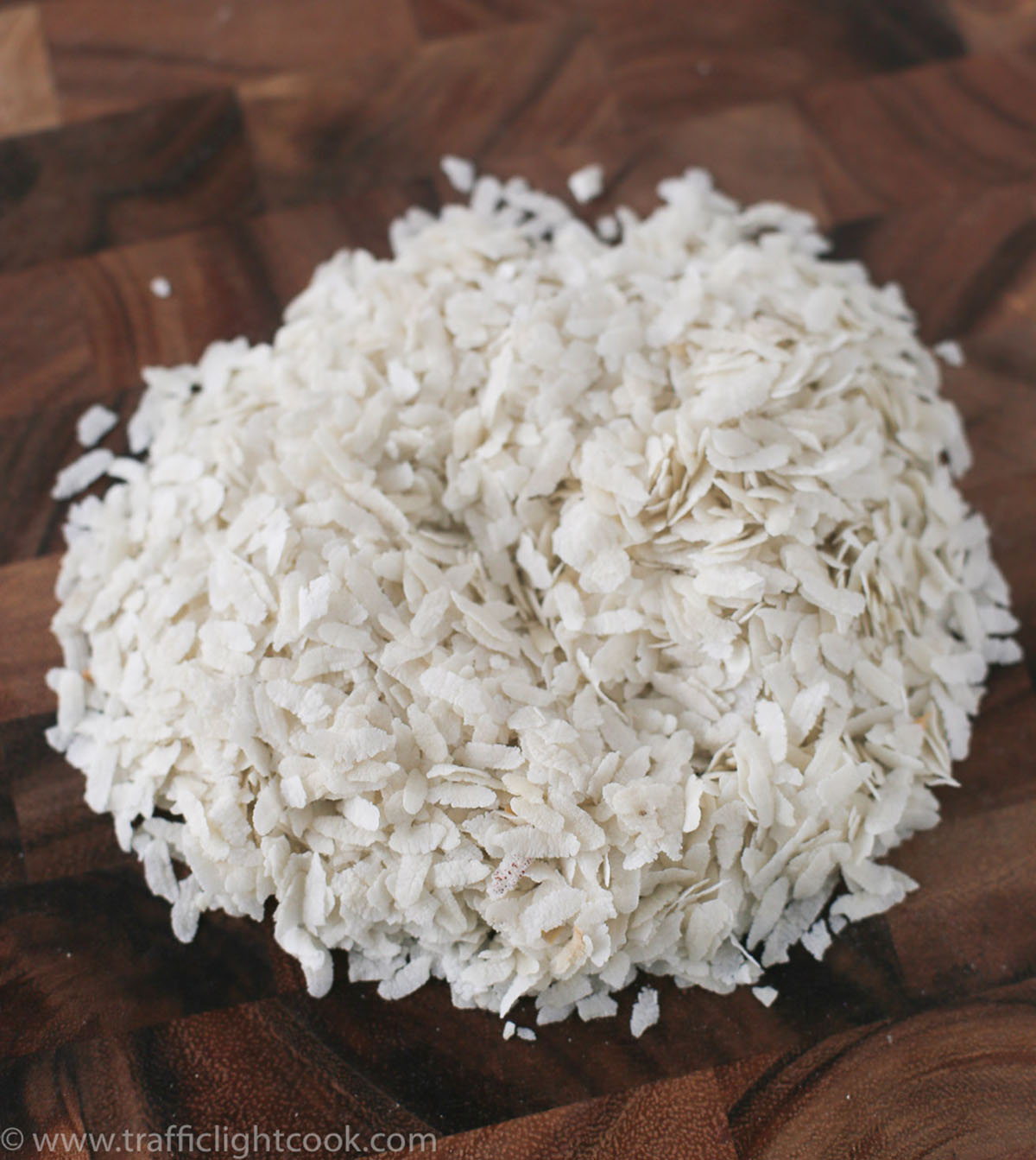 Sprouting lentils
Sprouting grains have multiple benefits and the foremost is that the process gets rid of anti-nutrients such as phytates (stay tuned for a detailed blogpost), which increases the grains' nutritional value and makes them easy on the digestive system. Sprouting also adds fiber. This is why adding sprouted lentils to rice flakes offers a filling breakfast, both due to high-protein (in lentils) and fiber. I have used whole moong lentils, but you could also use sprouted whole brown lentils or whole Bengal gram (kala chana).
It can take 3-4 days to make sprouts. Soak lentils overnight, then put in a bean sprouter. I use a nifty bean sprouter from Amazon. It is super easy to use and clean.
You can also make sprouts in a kitchen towel (stay tuned for the method). I make sprouted grains regularly; therefore, I often don't need to plan in advance. However, if sprouting is not something you do on a regular basis, please plan accordingly. You can also add regular cooked and drained lentils instead of sprouts as I did in this Herb-infused, carrot, mango, moong lentil salad. Split yellow moong also works really well in this protein-rich poha.
The process
It is super important to soak rice flakes just the right amount of time; otherwise poha can turn out pretty soggy. It is still edible, but the texture can be a bit off. Wash the thick rice flakes in a sieve or small-hole colander. Make sure that every rice flake is washed and wet. Set aside for 10-12 minutes, covered by a wet kitchen or paper towel.
Next, temper spices (in this case whole mustard seeds). Heat one teaspoon oil in a wide-mouth, heavy-bottom pan. Add mustard seeds and cover the pan. When mustard seeds stop sputtering add green chili and turmeric. Then add onion and cook till it's soft. Add a few drops of water, if the the onion start sticking to the bottom of the pan.
Add sprouts, cayenne pepper, salt, and potatoes; cook for about two minutes till well coated in spice and onion mix. Add rice flakes and mix well--for about a couple of minutes. Add maple syrup and fresh cilantro and mix well--1 minutes. After turning off heat, add fresh lemon juice and mix well. Enjoy with cilantro-mint chutney or ketchup. This protein-rich poha also makes a good on-the-go packed lunch, especially with a hearty salad. You can store this poha for up to three days in an air-tight container. Add a few drops of water and reheat to refresh. I do have to add that it tastes the best the day you make it. Enjoy!
Other healthy Indian recipes on TLC..
Herb-infused Carrot-Mango-Moong Lentil Salad
Veggie-loaded Quinoa & Split chickpea Upma
Protein-rich Poha (flattened rice)
Easy to digest, full of flavors, this savory flattened rice Indian dish offers a lot on a morning breakfast plate or pair it with a hearty soup or salad for lunch.
Ingredients
1

tsp

avocado oil

1

cup

rice flakes

(beaten rice, thick variety, preferably brown)

1

cup

sprouted moong lentils

(about 1/4 cup dry)

1/2

tsp

mustard seeds*

1

green chilli**

(deseeded, finely chopped or slit in half)

1/4

tsp

turmeric

(ground)

1/2

tsp

salt

(or to taste, preferably no more than 3/4 tsp)

1/4

tsp

cayenne pepper

(or to taste, can sub with red chili powder)

1

onion

(medium, scant one cup, chopped)

1

potato

(medium, boiled and cubed)

1

tsp

maple syrup

(can sub with equal amount of sugar or gur)

3

tbsp

lemon juice

(about 1 medium lemon)

1

cup

cilantro

(fresh, finely chopped)
Instructions
Rinse beaten rice in a colander or sieve under running water till every grain of rice is wet. Transfer poha to a flat-bottom pan or plate and cover with a wet kitchen towel (or paper towel) and let it sit for at least 10 minutes but no more than 12 minutes. Start this process 10-12 minutes before the next step.

Heat oil in a wide-mouth frying pan, wok, or kadahi. Add mustard seeds and chopped green chili. When mustard seeds stop sputtering add onion, turmeric, and 1/4 tsp salt. Cook onion until soft--about 2-3 minutes. Add a few drops of water if it starts sticking to the bottom of the pan. Once onion is soft, add sprouted moong, cayenne pepper, and boiled, cubed potato and remaining 1/4 tsp salt. Stir well to coat potato with the mixture (about 2 minutes). Moong should be slightly soft, but still have a bite to it.

Add pre-soaked beaten rice and stir to mix well. Add maple syrup and finely chopped cilantro and mix well. Turn off the heat and add fresh lemon juice. Enjoy poha with ketchup or cilantro-mint chutney.
Notes
*add 1/2 tsp more if you like your poha a little heavy on mustard seed taste.
**you can add one more chili if you like spicier poha; however, too many chilies can drown out the mustard taste. 
Variations:
Add peanuts: you can also add dry-roasted peanuts as garnish. 
Add tomato: add a coarsely-chopped tomato in the last two minutes of cooking. 
Add non-sprouted lentils: soak lentils overnight and cook in water enough to cover. Cook till soft but not mushy. Drain and add instead of sprouted lentils. Yellow split moong and whole brown lentils (saaboot masoor) works really well. 
No potatoes--if avoiding potatoes, this recipe taste just as great without adding spuds.
Nutrition
Serving:
1
cup
Calories:
310
kcal
Carbohydrates:
65
g
Protein:
6
g
Fat:
2
g
Sodium:
450
mg
Potassium:
460
mg
Fiber:
3
g
Sugar:
3
g
Vitamin A:
400
IU
Vitamin C:
19.8
mg
Calcium:
50
mg
Iron:
3.1
mg
More breakfast recipes on TLC...