Eating pancakes for breakfast can boost your comfort level up a several notches. However, white flour pancakes, while a comfort to the palate, tend to rob our energy as soon as just a few minutes after eating. Try the TLC Silver Dollar Chocolate chip pancakes that will keep you full and energized for a long time. 
If you are intrigued by the name silver dollar in the title, let me clarify that it's nothing do with any fo the ingredients in the recipe. It has everything to do with the size of the pancake. The origin of this size is linked to the size of historical U.S. silver dollar, which had a diameter of one-and-a-half inch. Silver dollar pancakes originated as two inches in diameter. Today silver dollar pancakes signify smaller pancakes, about 2-3" in diameter. The name has its roots in history; however, the size, in my opinion, has a big significance for health. The pancake size is just right for starting your day on a high energy note.
Energizing ingredients
There is a simple link between white flour pancakes and energy crash: white flour, devoid of fiber, causes a quick blood sugar spike, much as caused by eating sugar. A quick rise is followed by a quick fall in blood sugar, which tends to make us feel tired and hungry even after eating a tall stack of pancakes. Whole grain flours keep their fiber intact, which results in slow and steady rise in blood sugar, which in turn provides positive physical and mental energy. The fix is easy: just replace white flour with minimally-processed, whole-grain flour.
Amaranth and garbanzo bean flour: These silver dollar chocolate chip pancakes incorporate a blend of amaranth and garbanzo bean flours. Both amaranth and garbanzo beans flours have a higher protein content than wheat; this is why you will feel full with only 2-3 silver dollar-size pancakes. Both amaranth and garbanzo bean flours are readily available at most supermarkets. My favorite go-to brand is Bob's Red Mill for amaranth and garbanzo bean flours.
Baking powder: Baking powder is an important ingredient in making pancakes. It makes pancakes light and fluffy. However, many popular baking powder brands contain aluminum; do check the one you have and throw away if it contains aluminum. Always look for aluminum-free baking powder. Again, Bob's Red Mill is a great choice.
Flax seeds: flax seeds offer the best form of fat that our body needs--Omega-3 (more on this later). And some experts have demonstrated that when cooked or baked into food, flax seeds still retain their nutrients. They are also an excellent source of good fiber. To derive the maximum benefit, as far as possible, use freshly ground flax seeds. Whole flax seeds are commonly available in most grocery stores. It's best to buy in small packages and store in refrigerator
Psyllium Husk: This may be a new ingredient for many. However, this is a popular, natural digestive aid in India--taken with hot milk or water to relieve constipation and with yogurt to sooth diarrhea. Are you wondering what is this natural, fiber-rich husk doing in this pancake recipe? Well, in the absence of wheat gluten, psyllium husk works as a binder. It also provides a bit of fiber, which makes you fill full without eating a tall stack of pancakes.
You can find psyllium husk in most Indian stores as well as on Amazon.com. In India, Sat Isabgol is the most popular brand (available in Indian stores and Amazon.com). I have also tried Anthony's Organic Psyllium Powder, which also works quite well.
. . . .
Flavor, texture, and syrup/compote choice
These pancakes are soft and fluffy. However, the flavor profile is somewhat slightly different than the regular white-flour pancakes. Using the right amount of vanilla extract (please use pure vanilla extract not an imitation) and chocolate chips does the trick to mask the garbanzo bean flour flavor. The best feature of these pancakes is that they are super filling, so you need only 2-3 silver dollar-size pancakes to get the energy you need from you breakfast.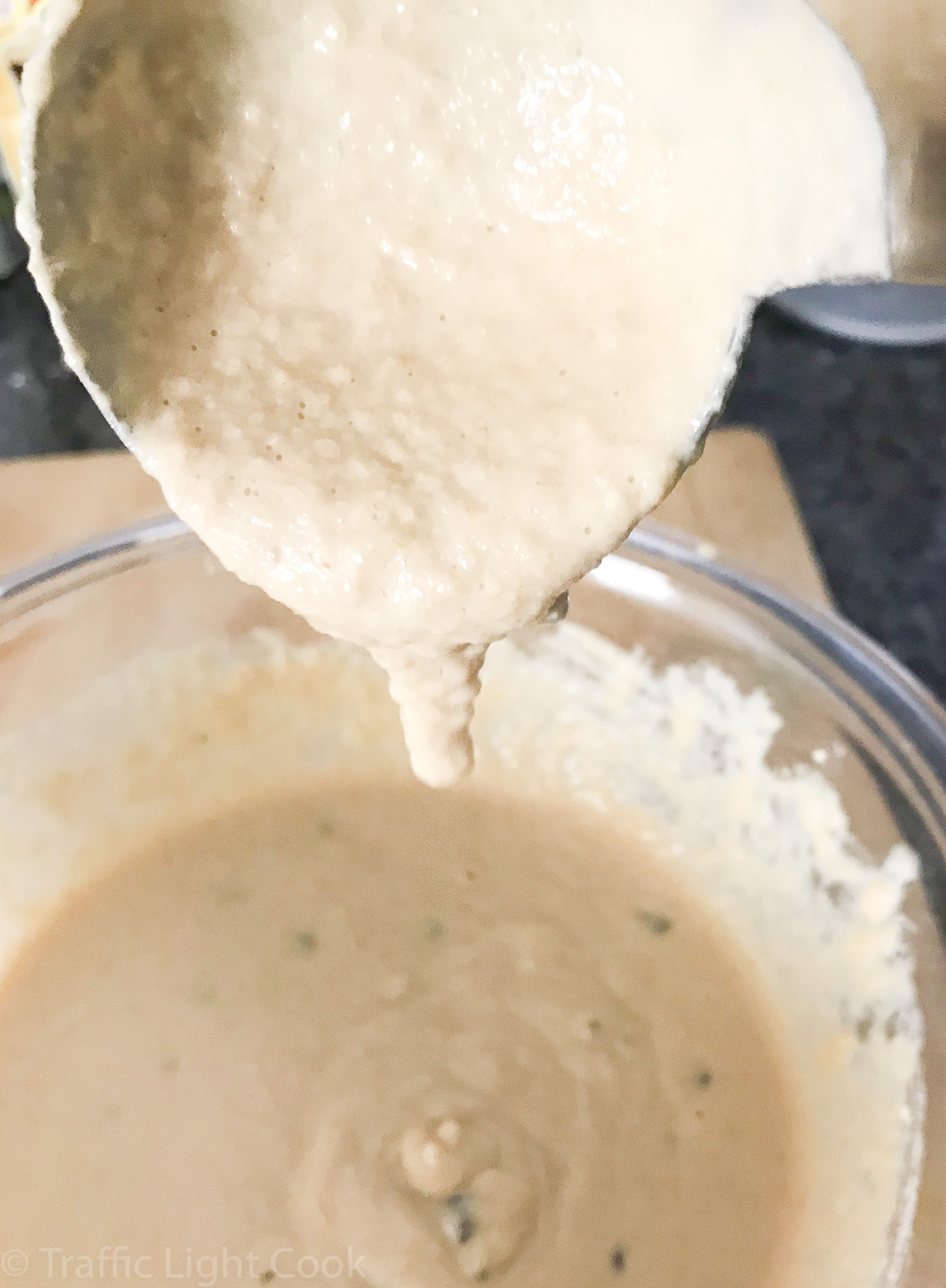 And, please, please only eat with either 100% pure maple syrup, fruit jams, compotes, or TLC Multipurpose Almond Whipped Cream. NEVER USE CORN SYRUP, AGAVE SYRUP, or FRUIT SYRUPS as they tend to be highly processed and are often linked with a host of health issues. More importantly, they are not natural.
Meal plan silver dollar chocolate chip pancakes for breakfast
If you have not used amaranth or garbanzo bean flour before, it may take one to two tries to get used to the texture and flavor of these flours. Once you have all the ingredient for the recipe, it becomes super easy and quick to put together these pancakes for breakfast. Here are some meal planning tips to include these pancakes in your breakfast.
First time around, make these pancakes on a weekend, when you have a bit more time at hand.
Mix the dry ingredients for 2-3 recipes; store in portion size in dry storage bags or boxes in a refrigerator. Use within 2-3 weeks.
Make a double batch and store in refrigerator for up to five days. Reheat in a toaster oven or in a skillet over stove top to enjoy a quick pancake breakfast.
Let's make silver dollar chocolate chip pancakes
Here is the step-by-step recipe for silver dollar chocolate chip pancakes. Enjoy!
Energizing Chocolate Chip Silver Dollar Pancakes
These fluffy, gluten-free chocolate chip silver dollar pancakes keep you energized for a long time.
Ingredients
Dry Ingredients
1/2

cup

amaranth flour

1/2

cup

garbanzo bean flour*

1

tbsp

flaxseed meal

(preferably freshly grounded)

1

tsp

baking powder

(aluminum free)

1/4

tsp

salt

4

tbsp

coconut palm sugar

(or sub with 3 tbsp regular sugar)

1.5

tbsp

psyllium husk

1/4

cup

chocolate chips
Wet Ingredients
1

flax egg

3/4

cup

homemade almond milk (no-waste recipe)

(plus 1/4 cup to use as needed, or sub with store-bought)

2

tbsp

apple sauce

(unsweetened)

1

tbsp

sunflower seed butter

(or sub with almond, cashew, or peanut butter)

1/4

cup

water

(to use as needed if the batter starts to thicken)

4

tbsp

maple syrup

(to top the pancakes)

4

tsp

coconut oil

(or sub with avocado oil)

1

tsp

pure vanilla extract
Instructions
Start out by making a flax egg--add 3 tbsp of water to 1 tbsp of flax meal, stir really well and set it aside. (Total time: 2 minute)

In a mixing bowl, combine all the dry ingredients. Stir well with a whisk till there are no clumps in the mixture. (Total time: ~ 5 minutes)

Add almond milk, apple sauce, sun butter, and flax egg to a measuring cup and stir with a hand whisk till the mixture becomes homogenized. The pancake batter should be of pouring consistency. If it is thicker, just add more almond milk 1 tbsp at a time. Let the batter sit for 1 minute. (Total time: ~5 minutes)

Heat an iron skillet over medium heat. It is important that the skillet is hot before pouring the batter. You can test the skillet by adding a small drop of batter; if the batter sizzles, the skillet is ready. Add 1 tsp of coconut oil to the heated skilled and add about two tablespoons of batter for each pancake with a spoon. Flatten the batter a little with the back of the same spoon to form a pancake. If the batter has thickened, add a tbsp of water at a time till it's of pourable consistency. Add as many pancakes as you can without crowding the skillet.

It is important to let these pancakes cook over medium heat. You can also cover the skillet with a lid to expedite the process. Once done, flip to cook the other side. It takes about 2-3 minutes cook each side.

Serve hot with maple syrup and homemade almond cream. Enjoy!
Notes
*I haven't tried it yet, but chickpea flour (Besan) should work as well. 
Make it heart healthy: Instead of using coconut oil, use 1/4 tsp avocado oil per three pancakes. 
Nutrition
Serving:
3
pancakes
Calories:
300
kcal
Carbohydrates:
49
g
Protein:
4
g
Fat:
12
g
Saturated Fat:
6
g
Cholesterol:
2
mg
Sodium:
186
mg
Potassium:
213
mg
Fiber:
6
g
Sugar:
26
g
Vitamin A:
50
IU
Vitamin C:
0.8
mg
Calcium:
140
mg
Iron:
1.8
mg