If you had to choose your favorite season, which one would you choose? Mine is summer. But, to be fair to the winters, I love the holiday season, cherish the smell of festive pine cones, and make hot chocolate. But when weather.com forecasts subzero temperatures for days on and gets it on the mark, I need a few pick-me-ups. This hearty immunity-boosting winter minestrone is one of them.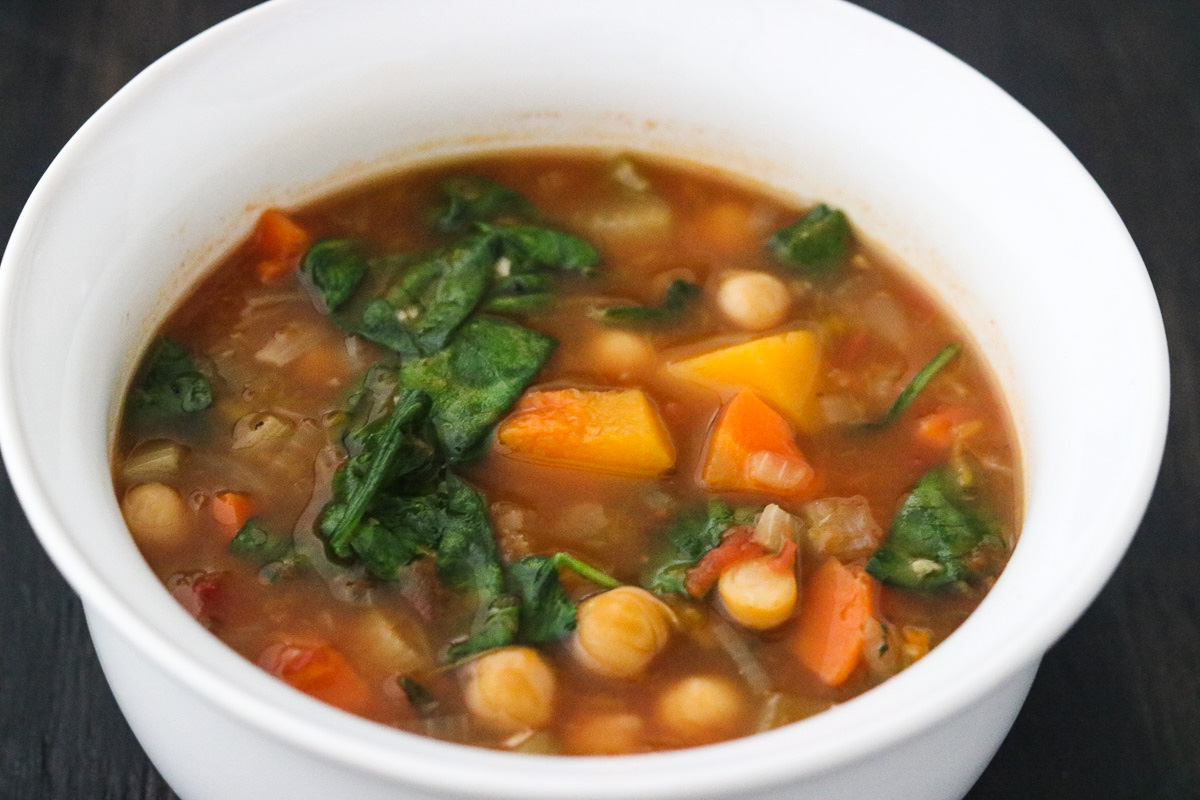 Maybe because it has my favorite winter vegetable butternut squash or maybe the piney smell of fresh rosemary is reminiscent of fall pine needles in my backyard or maybe because all those multicolored veggies offer the promise of boosting my immunity in the dead of winter…I can go on to find reasons to make this soup but you need none. This hearty, flavorful minestrone is full of colorful vegetables. I find rosemary, the herb, a bit too loud in summer soups, but it strikes just the right notes at this time of the year. And fresh thyme makes just the perfect pairing.
Let's make Immunity-boosting winter minestrone: Step-by-step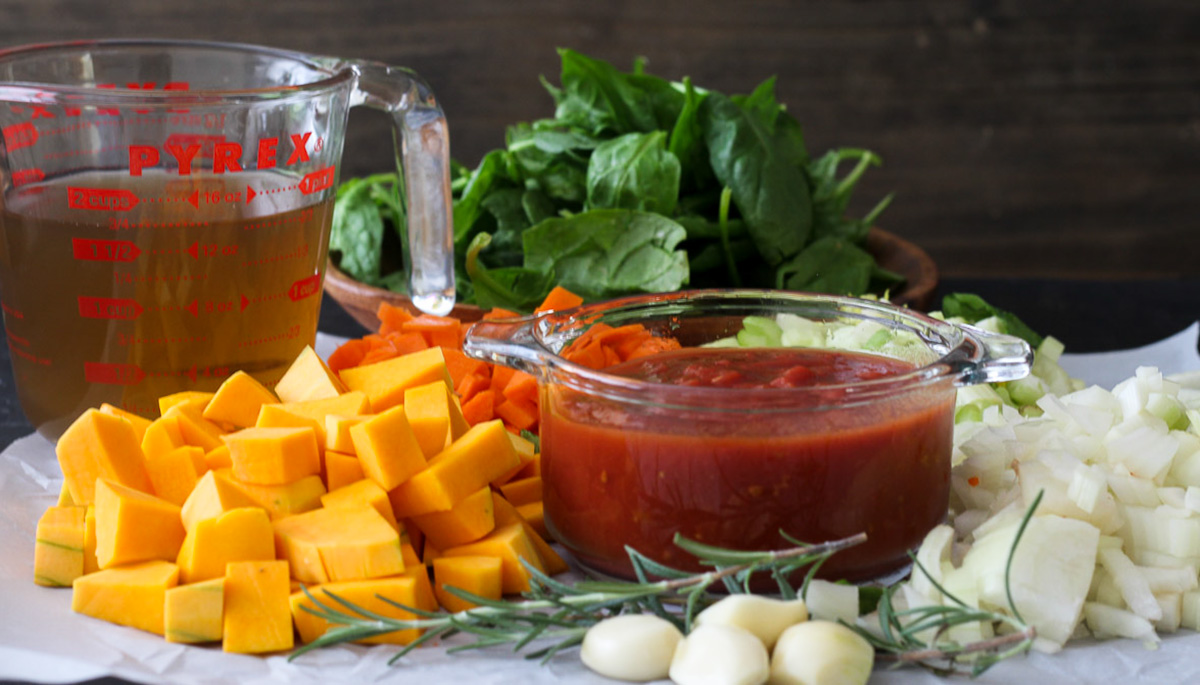 Get all the ingredients together. Chop the onion, butternut squash, celery (can sub it with green beans and/or zucchini), and carrots. Peel and mince the garlic cloves. Get the veggie broth (preferably homemade and low sodium) and fresh herbs out of refrigerator or out of cabinets or wherever you store your dried herbs (if using). Don't forget the fresh spinach.
Heat one teaspoon of oil over medium heat in a soup pot. Add onions and garlic and cook until translucent (~2 minutes). Add celery and cook it until soft. It is kind of important to soften the celery before adding carrots and squash because it takes longer to soften than other veggies (~5-7 min). Next, add carrots and squash and cook until soft on the edges (~5-7 min). Add (low-sodium) crushed tomatoes, one bay leaf, salt, and ground pepper. You can add rosemary at this time or hold it until later. Rosemary is a hearty herb and should hold it bravely even if cooked for long.
Add 6 cups of vegetable broth. Let the soup simmer for 35-40 minutes over medium heat. To expedite the process, partially cover the pot.
Add fresh thyme, garbanzo beans (or any other beans, it's quite flexible), and spinach. Simmer for another 10-15 minutes. Enjoy the soup with garlic bread or any other kind you like with your soups.
Immunity-boosting Winter Minestrone
A colorful hearty soup with lots of flavor!
Vegan, gluten-free, soy-free
Ingredients
1

tsp

avocado oil

1

medium

onion, chopped

about 3/4 cup

3

cloves

garlic,

minced

2

ribs

celery,

1 cup

1

cup

butternut squash, heaping cup

1

large

carrot,

about 1 cup

1

14oz

can crushed tomatoes,

low-sodium

6

cups

homemade vegetable broth,

or any low-sodium

1

bay leaf

1

tsp

fresh rosemary, roughly chopped,

or 1/3 tsp dried

2

tsp

fresh thyme leaves,

or 1/2 tsp dried

4

cups

fresh spinach,

(preferably baby spinach)

1

15oz

can garbanzo beans, preferably no-salt added,

(or any other beans)

3/4

tsp

salt,

or to taste

1

tsp

ground black pepper, or to taste,

(preferably freshly milled)
Instructions
Heat the oil on medium heat. Then add onions and garlic. Cook until onions are translucent (about 2 minutes).

Add celery; cook until soft around edges (~5-7 minutes). Then add chopped butternut squash and carrots; cook until soft (~5 minutes)

Add crush tomatoes, bay leaf, and fresh (or dried) rosemary along with vegetable broth, salt, and ground pepper. If short on broth, you can add half broth and half water (about 3 cups each). Let the soup simmer on medium heat for about 35-40 minutes.

Drain and rinse garbanzo beans out of can and add to the soup. Add spinach and thyme. Cook for another 10-15 minutes. Enjoy!
Notes
*the amount of dried herbs can vary depending upon their age and storage conditions. Add a little more if you like your herbs to show  up in the soup. 
*If the soup is too hearty for kids, coarsely blend half of the soup and remix.
*nutrition information is an estimate and can change if high-sodium broth, tomatoes, and beans are used. This recipe uses no-salt added homemade vegetable broth, low-sodium crushed tomatoes, and no-salt added garbanzo beans. 
Make it flexible
replace rosemary with 1/4 cup of chopped fresh basil (or 1 tbsp dried)
replace celery with zucchini and/or green beans. Just add it at the same time as carrots and butternut squash. 
I have not tried it, but can replace butternut squash with any other type. 
replace spinach with other greens, swiss chard works well
Nutrition
Serving:
227
g
Calories:
140
kcal
Carbohydrates:
26
g
Protein:
6
g
Fat:
2
g
Sodium:
410
mg
Fiber:
7
g
Sugar:
5
g
Calcium:
100
mg